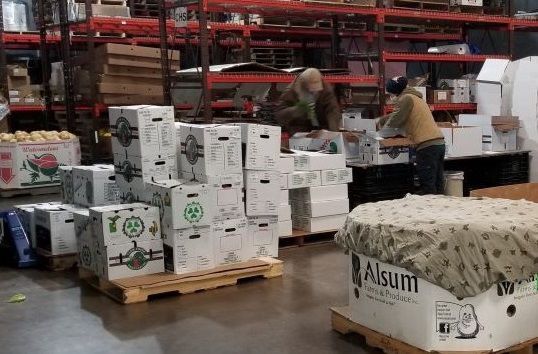 In this time of economic uncertainty, the Vernon Economic Development Association (VEDA) continues to provide assistance to both new and established businesses in the local area and as far away as New York and Montana. Since it was established as a non-profit organization in 2006, it has helped over 950 businesses nationwide. So far this year, VEDA Executive Director Sue Noble has provided consultation services to 74 businesses locally, in the greater La Crosse area, Milwaukee, and even in California. Her assistance includes information on CARES Act funding available to Wisconsin small businesses, in addition to information and resources regarding food processing, business planning, tourism, financial resources, and numerous other topics.
The Food Enterprise Center, established by VEDA in 2010 to create an environment for business innovation at 1201 N. Main St. in Viroqua, currently has 26 entrepreneurial business tenants providing more than 90 jobs. Businesses benefit from sharing common areas, meeting rooms, on-site technical assistance, one-to-one business counseling, access to resources, peer mentoring, and the synergy of co-locating with like-minded people.
The work of Community Hunger Solutions (CHS) and Fifth Season Cooperative, both located at the Food Enterprise Center, is especially vital to quality of life at this time for small family farmers and those in need of food. Through a partnership with Hunger Task Force Milwaukee and the Hunger Relief Federation, CHS is receiving $10,000 in grant funding from the Wisconsin Department of Agriculture, Trade and Consumer Protection to pay small family farmers for produce that is picked, packaged and made available to the community. Additional food resources, including milk, cheese, frozen pork, chicken, and beef, potatoes, fruits and other items are being delivered to CHS by Hunger Task Force of La Crosse. All these food resources have been purchased from Wisconsin farmers with DATCP funding and funding through the Dairy Recovery Program.
Over the past year, CHS has provided more than 150,000 pounds of fresh produce and dairy products to families in our communities through partnerships with food pantries in Readstown, La Farge, Soldiers Grove, Gays Mills, Boscobel, Viroqua and Westby. More than 1,400 families have been served by the Family Food Boxes program available by pickup at the Food Enterprise Center on Friday afternoons. The success of CHS also depends on help from our communities. The program has 30 volunteers who contribute their time and efforts (over 1,000 hours so far this year) sorting and packing food in the warehouse, to help CHS accomplish its mission.
Fifth Season Cooperative also benefits area farmers, processors, distributors, and buyers through the regional food distribution system it has developed at the Food Enterprise Center. Local and area food products are sourced from members and shipped from the Center to retail, wholesale, co-op grocery stores and institutional markets that are local, regional, and national. Families are eating healthier because of the coordination VEDA provides with food grown and processed in our region.
If you have business needs or want information on possible office, production or storage space at the Food Enterprise Center, contact Sue at 608-638-8332 or at snoble@veda-wi.org.
Let us know how we can help you.

Kathy Neidert is a member of the Vernon Economic Development Association (VEDA) Board of Directors.