The La Crosse Region and Chippewa Valley: A Cyclist's Paradise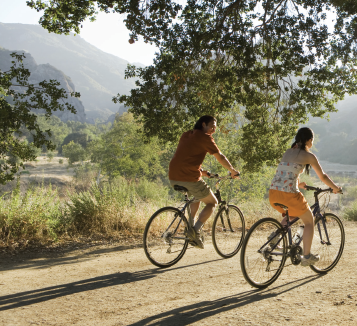 With its scenic and rugged terrain, smooth backroads and some of the best mountain bike trails the region has to offer – all within an hour of a midsized city, the La Crosse region and the Chippewa Valley are a cyclist's paradise. More than 250 miles of flat limestone trails, twisting singletrack through steep blufflands, and hundreds of miles of paved roads with endless opportunities for climbing: there's something for riders of all ages and abilities, and breathtaking scenery. It's no wonder two-time Tour de France champion Greg LeMond trained here.
Bisected by the Mississippi River, the Driftless region of southwest Wisconsin and the Bluff Country of southeast Minnesota and northeast Iowa features unique terrain and endless cultural and outdoor opportunities. From racing to cruising, you'll find something your speed. If you're ready to venture off the bike path, the Driftless region offers some of the best road riding opportunities in the country. From the flat highways on either side of the Mississippi River to the rolling two-lane country roads that snake through coulees and over ridges, there are endless options.