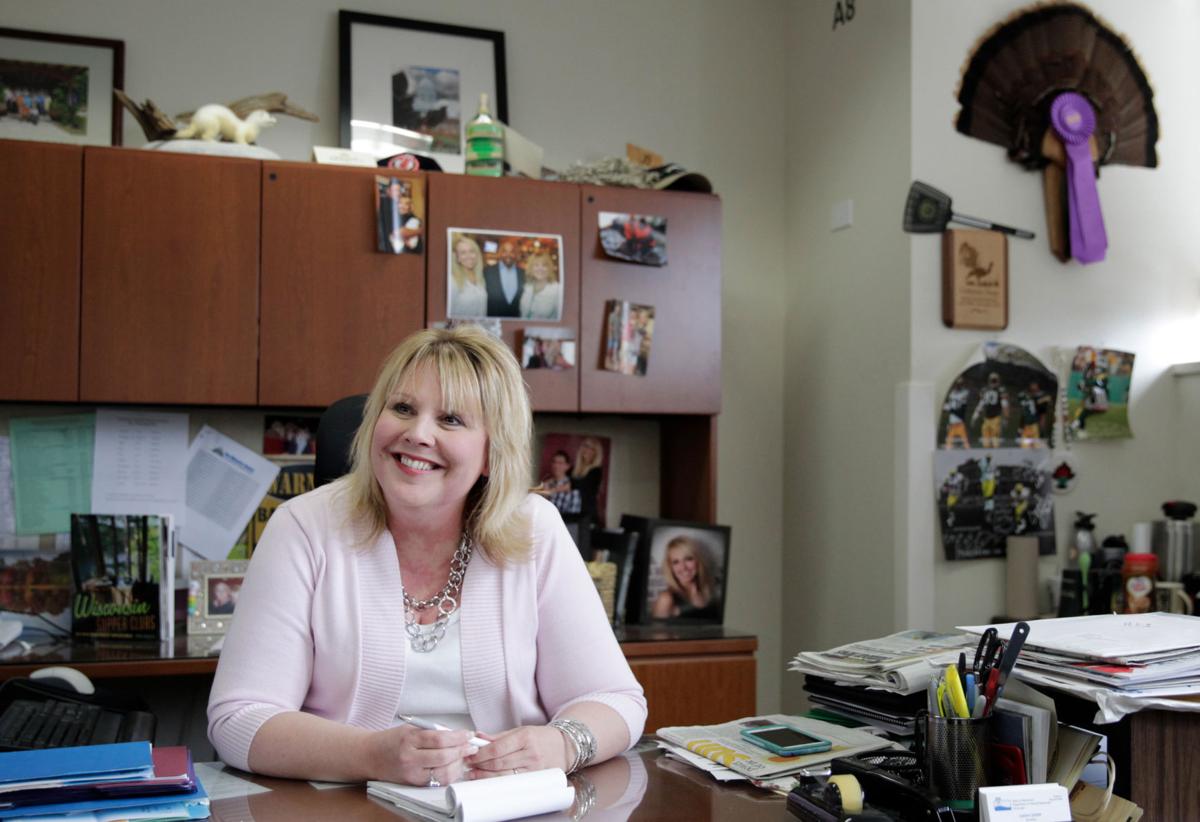 MADISON — Wisconsin Department of Natural Resources Secretary Cathy Stepp is leaving the agency to become deputy administrator in an Environmental Protection Agency regional office.
"The White House presented me with an opportunity I couldn't ignore," Stepp said Tuesday morning in an email to agency staff. Stepp was active in Donald Trump's successful campaign for president last year.
Gov. Scott Walker, a Republican who appointed Stepp six years ago to instill a "chamber of commerce mentality" in the agency, praised her Tuesday.
"Cathy is a strong, trusted reformer, who will serve the country well at the EPA," Walker said.
Under Stepp's administration, department effort to control fine-particle air pollution was called a failure by the EPA, and the state's nonpartisan Legislative Audit Bureau found the agency failed to enforce its own standards for industrial and municipal water pollution 94 percent of the time.
Stepp is a former Republican state representative who appeared on stage at Trump's Wisconsin rallies, and later said she didn't know he viewed climate change as a Chinese hoax.
She created a public uproar last year when she ordered information on the human activity largely responsible for global warmingto be removed from the DNR website.
She has said she believes there is substantial scientific debate about the conclusion of 97 percent of climate scientists that humans have caused global warming.
In her email to DNR staff Stepp said looked forward to new challenges at the federal level.
"I'm excited about the possibility of bringing some of the reforms we've been able to put in place here in Wisconsin to the national stage," Stepp said.
Stepp was an outspoken critic of the agency before she became its chief. She has lamented that changing the DNR sometimes has been cumbersome compared to the ease with which she could adjust staffing at a McDonald's she once managed.
In a 2016 interview, she claimed progress in what she called her primary mission of forcing the agency to provide better customer service. Stepp said she exhorted employees to address the public with an unfailingly pleasant tone and a full willingness to explain.
"Some people misconstrued that, at least early on, to infer that it means something that it doesn't mean: saying yes to every question you are asked, granting every permit that's applied for," Stepp said in the interview. "What it's really about is being able to speak to people the way they speak to each other, being able to help people comply with the rules and explain the 'why' behind the 'what' that we do."
Under Stepp, enforcement of environmental violations has declined, vacant staff positions have increased and both the EPA and the state Legislative Audit Bureau have pressed the DNR to remedy deficiencies in water quality programs. Citizen groups and the EPA have urged the department to do more about contaminated drinking water in areas with large animal feedlots.
Stepp said her record as a DNR critic had given her credibility to defend the agency's budget. Republicans who control state government have cut department programs that did scientific research unfavorable to their views on climate change and potential environmental harm from mining.
Elected officials demanded that the DNR focus on its "core mission," prompting a reorganization that dispersed remaining research scientists, altered law enforcement in parks, and involved reducing or shedding of public education efforts such as the DNR's magazine and presence at the state fair.
Walker commended Stepp, saying that under her leadership the DNR used common sense measures to protect the environment.
"As DNR secretary, she led an outstanding work force committed to preserving and promoting our natural resources, while placing a strong focus on customer service and common sense," Walker said. "We will miss her optimism and energy at the DNR, and we wish her success in her new role."
Trump has vowed to dismantle the EPA. His EPA administrator, Scott Pruitt, has taken steps to delay or block more than 30 environmental rules in his first few months, the New York Times has reported.
Stepp's new position is in the EPA Region 7 office in Kansas City. The region encompasses the states of Iowa, Nebraska, Kansas and Missouri, as well as nine tribal nations.
Stepp, 54, is a Wisconsin native who represented a Racine district in the state Senate from 2003 to 2007. She was a homebuilder who was sharply critical of the DNR before Walker appointed her to the DNR.
Stepp will hand the department reins on an interim basis to DNR deputy secretary Kurt Thiede on Aug. 31. Thiede, who holds a UW-Stevens Point degree in wildlife biology, served as a DNR land administrator, customer service supervisor and wildlife manager before Walker appointed him deputy secretary in 2015.