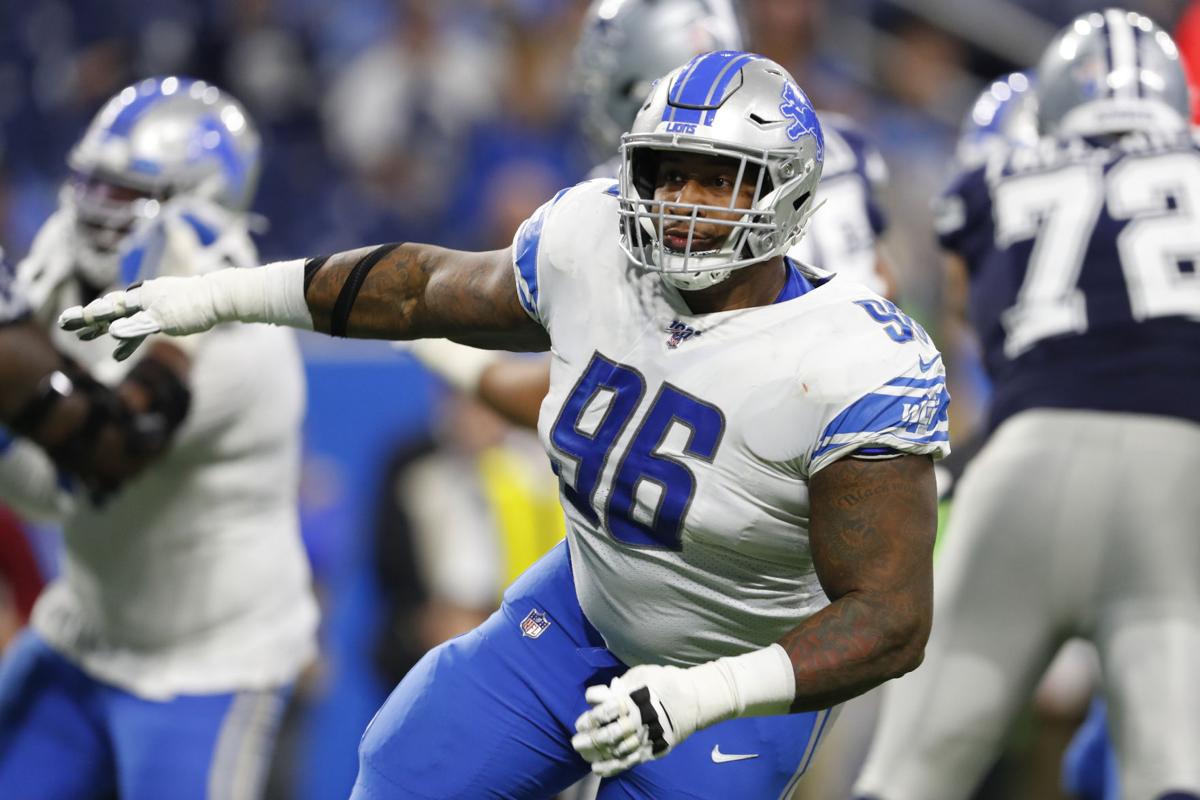 GREEN BAY – Mike Daniels was there in 2015 when the Green Bay Packers brought wide receiver James Jones back. He was there in 2018 when they brought defensive back Tramon Williams back.
Now, the ex-Packers Pro Bowl defensive tackle would love to be there when the Packers bring … well, him back in 2020.
Unsigned after his one-deal with the Detroit Lions expired after the season, Daniels has been working out on his own at home during the COVID-19 pandemic, waiting for NFL facilities to re-open so he — and a host of other still-unsigned veterans with lingering injury questions — can get back on a roster and get back to work.
And while Daniels says his agent has fielded calls from a number of teams inquiring about him after his truncated season with the Lions, which ended for him landing on injured reserve in mid-December, he said this week that a reunion with the Packers would be perfect.
"Anything that I have heard (from the Packers) is classified," Daniels said during an interview on ESPN Wisconsin earlier this week. "What I will say is that I'm very excited about the possibility and opportunity of coming back – if that were indeed a thing. Green Bay is home. It's one of my homes – New Jersey, Iowa (and) Green Bay, Wisconsin. So to be able to return back to where I started my NFL career and now I'm way more mature, polished, would be great."
Daniels was in the final year of his deal, and releasing him wiped his $7.6 million base salary off the books. Gutekunst said at the time that the Packers tried to trade Daniels but acknowledged that uncertainty with his foot injury made that difficult.
Asked if the Packers 2019 defense would have been better with Daniels on it, Gutekunst replied, "I think it is probably (true). Mike is a very good player, and you never want to see a good player walk out the door, but there are also guys who are eager and ready to have their shot. We're excited to see what they can do.
Added head coach Matt LaFleur, who had just been hired a few months earlier: "I've been around Mike for a short period of time. I know he's meant a lot to this community, he's meant a lot to this football team. Obviously, having to prepare for him in the past, I still think he's a really good player. You always want to keep good players. Unfortunately, that's part of this business. There's tough decisions that you have to make."
If the Packers wanted to bring back Daniels, who turned 31 earlier this month, they could probably do so at a reasonable cost. Despite being gashed for 285 rushing yards by the San Francisco 49ers in their NFC Championship Game loss in January, the Packers made no significant additions to the defensive line rotation this offseason, adding only ex-Miami Dolphins defensive lineman Gerald Willis off waivers and signing journeyman defensive lineman Treyvon Hester after the draft.
The Packers are high on Kingsley Keke, a versatile fifth-round pick last year who had a limited role in their defensive line rotation as a rookie, but 2017 third-round pick Montravius Adams has been a keen disappointment during his first three seasons. The team did not select a true defensive lineman in last month's draft, either.
After registering 26 tackles, two sacks, five tackles for loss, eight quarterback hits (second-most on the team) and 14 quarterback pressures (tied for third) in 2018 – a far cry from his Pro Bowl season of 2017, when he had a career-high 72 tackles, 11 TFLs, five sacks (third on the team), one forced fumble, 14 QB hits (third on the team) and seven QB pressures in 14 games – Daniels' productivity dropped further in his one year in Detroit.
Although he played well for the Lions when he was on the field, finishing with 10 tackles, two tackles for loss, a sack, and two quarterback hits in just 189 snaps, he missed five games early in the season when he injured his other foot, then played in six games in November and December before landing on IR with an arm injury. He believes the injuries, coupled with team facilities being closed and preventing club doctors from examining would-be signees, have kept him from finding a new home this offseason.
"I'm one of many, many players who aren't signed because of it," Daniels said of the pandemic, pointing to ex-Carolina Panthers quarterback Cam Newton as the highest-profile example. "This situation has really created a unique free-agency situation. That's why it's so important to stay on top of your work."
Daniels admitted being cut just before training camp was difficult last summer but said he "wasn't surprised by it," given his salary and the injury.
"I was really looking forward to bouncing back, getting into the groove of things, and got shown the exit. That's just how football goes," Daniels said. "Nobody wants to get cut. Nobody wants to get released. It's a bad feeling. But, it's the business. And I learned a lot this past season."
Chief among those lessons were how to be a more effective leader. Frequently one of the team's most outspoken, tough-talking players, Daniels said that a return to Green Bay would mean a different approach in that department.
Daniels hinted that he felt like he had to be that type of leader because of some of the less outgoing personalities on his side of the ball, and that he'd be able to take a less vocal, more lead-by-example role if he returned because Za'Darius Smith, Preston Smith, Jaire Alexander and recent addition Christian Kirksey have the kinds of personalities that the previous culture lacked.
"I have so much more to offer than what I did in the seven years that I was there – which is crazy to think. So that would really be an awesome thing," Daniels said. "I'm not saying everyone needs to go and spend a year on another NFL team, but to be in another locker room, to see the different culture and the players (was good). They had a very good, tough, hard-nosed, nobody-respects-us culture over there.
"You learn a lot when you see something different. You get out of your comfort zone and what you're familiar with and that has really helped me grow as a leader, be more of an effective leader. I was, really, in some ways a more effective leader in my one year in Detroit than I was my final year in Green Bay. I was definitely a lot more action-oriented. I didn't have to be as vocal because a lot of those guys were.
"In Green Bay, now you've got Jaire, you've got Za'Darius, you've got Kirksey … I feel like the personalities there are different. Those are really Type A personalities. They're really going to let you know you've got to pick it up. They're not afraid to go there. And that's something I was criticized for quite a bit. Because when things go bad, that's when people start to look at guys and go, 'Oh man, that guy's talking too much.' We've had some great players and great teammates, but it definitely has a more vocal, more active atmosphere, and I can come in and be the wise old vet teaching young guys, showing young guys by example. I think that's what I've learned the most.
"Being back in that position where you have to really earn the respect of the locker room, it's very humbling. So now I feel like the rookie all over again but with the same veteran wisdom. And that's what I'm really excited to bring back if I come back to Green Bay, or wherever I go. I'm really excited to bring that element back."
Be the first to know
Get local news delivered to your inbox!