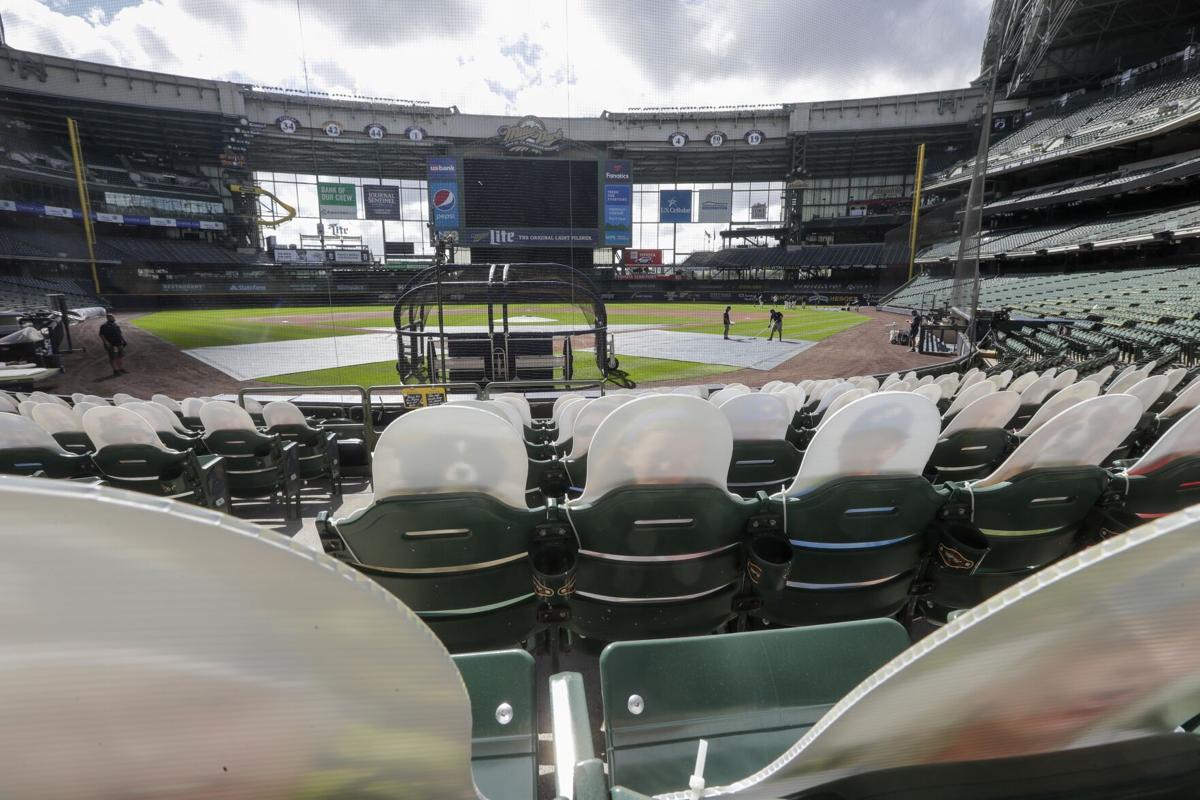 MILWAUKEE — There will be no baseball in Milwaukee this weekend.
Instead of playing the St. Louis Cardinals for three games to open the home portion of their 2020 schedule the Brewers instead played the waiting game after six members of the Cardinals tested positive for COVID-19, leading Major League Baseball to postpone the remainder of the three-game series Saturday.
The originally scheduled home opener, set for Friday afternoon, was postponed when two members of the Cardinals tested positive for the virus. Following a further round of testing that led to four more positive results, the teams' Saturday game was postponed while Sunday's scheduled doubleheader — consisting of seven-inning games — was called off later Saturday evening.
Makeup dates were not announced.
The announcement of Sunday's postponement came a few hours after Brewers president of baseball operations David Stearns discussed the situation on a video conference with reporters.
"We understand that Major League Baseball needs as much information as possible before making decisions about cancelling games," Stearns said. "We're prepared to play each and every single day until we're told otherwise and that's the way we're going to approach it. We don't know about tomorrow yet but we'll be prepared to play tomorrow until we're told we're not."
According to ESPN, Stearns and the Brewers got that message a few hours later and now won't return to the field until at least Monday, when they're scheduled to host the Chicago White Sox at Miller Park.
By then, the Brewers will have gone four days without playing a game. The team has been working out at Miller Park during their unexpected break but the layoff will likely require some adjustments, especially for the starting rotation.
Brett Anderson was scheduled to come off the injured list Friday and make his first start of the season. Manager Craig Counsell had said earlier in the week that starters for the remaining games wouldn't be determined until after Anderson's start, leaving Brandon Woodruff — who struck out 10 and allowed one hit over 6⅓ innings in a 3-0 victory over Pittsburgh on Wednesday — in line to take the mound on regular rest against the White Sox.
"At the moment we can keep guys throwing lightly on the side," Stearns said. "If this goes much longer we'll probably have to allow guys to get off mounds and throw a little bit more aggressively, and that'll shake up our rotation a little bit."
The loss of Sunday's doubleheader brings the total number of COVID-related postponements to 33 games through the first 11 games of the season. A majority of those postponements are a result of an outbreak among members of the Miami Marlins, which led to that team being sidelined for a week, while also affecting the schedules of the Yankees, Phillies, Orioles and Nationals.
After the Cardinals' results brought the total number of positive tests to 29, the concern about baseball's ability to play out the remainder of its 60-game season began to grow — not because of the total number of positive cases, but rather the concentration of those cases and the speed with which they can spread.
"The challenge we're facing — and it's a big challenge we need to understand — is that the positives we have had are concentrated in smaller spaces and smaller groups," Stearns said. "So the positives we've had are not distributed equally across the industry, they seem to be occurring in a couple of clubs, which clearly indicates that there's community spread within these clubs once someone gets it.
"We need to study carefully the practices that are in place in certain instances where there have been positives and no community spread and the practices that are in place where there have been positives and robust community spread, and we need to learn. If we can learn best practices and we can learn ways to keep everybody safe, that would clearly be really beneficial. We have to learn whether this is something that's in our control or not."
Commissioner Rob Manfred warned Tony Clark, the executive director of the MLB players union, Friday that the season could be canceled if players don't stringently follow the rules outlined in the league's protocol.
Stearns doesn't want to see that happen. He has been pleased with the Brewers' willingness to buy into the protocol but also knows that just one positive test has the potential to sideline the entire team, and any others the Brewers may face.
"We knew we were going to have to be adaptable as an industry, and I think we are," Stearns said. "But we have to be able to minimize mistakes. If we can do this safely, I want to go forward."
Concerned about COVID-19?
Sign up now to get the most recent coronavirus headlines and other important local and national news sent to your email inbox daily.