Paul Chryst has made clear his desire for University of Wisconsin football players to maximize their opportunities during spring practices.
With a number of veteran players either not practicing or participating in a limited fashion, young Badgers have had more chances to get first- and second-team reps during group and team portions of practice.
At UW's second open practice of the spring on Tuesday, a handful of those young players showed promise and might be carving out paths to playing time.
Here are four observations from Tuesday's practice:
Nelson almost ready
Playing with physicality and a quick first step off the line, redshirt freshman Jack Nelson has been getting the first-team snaps at right guard for UW this spring.
The four-star recruit from Stoughton had a good day, winning one-on-one pass-rush reps against defensive end Isaiah Mullens, a likely starter on the D-line next season. Nelson also helped create a big hole on a run for running back Brady Schipper during a team session.
"He's somebody that has a lot of passion for the game," senior center Kayden Lyles said of Nelson. "He goes out and he gives it his all every play, whether he's right or wrong on the assignment. So we definitely need somebody like that on the O-line, not somebody that's timid or playing to make sure that their assignment is right, but actually just going out there and just fully committed to it and playing.
"I've been trying to work with them to be able to calm down and get his assignment right, obviously, because that's most important. But I think he's in a really good spot in where he's at right now and contributing. Once he gets that down, he's going to be one good player."
One can see there are times when Nelson gets off-balance as he's climbing to the second level, but those technique errors can be cleaned up through the spring and summer.
Bollers has the tools
Freshman outside linebacker T.J. Bollers flashes speed and aggressiveness when he's rushing the passer. Especially when coming out of a three-point stance — something UW's outside 'backers are practicing more of this spring — there's an explosiveness in his first two steps that will be an asset to him at the college level.
But there's also a bit of hesitation when Bollers is in a two-point stance that the four-star early-enrollee has to work out this spring. What's encouraging is Bollers knows he's got a learning curve to adjust to at the college level and he's looking for ways to accelerate his acclimation.
"He's come to me multiple times asking me about different techniques and stuff like that," junior C.J. Goetz said of Bollers. "I feel like everything right now is just new to him and he's just getting used to it. I know in high school he had his hand in the ground all the time. So I feel like the biggest thing is for him is just getting comfortable now standing up, learning every technique, mastering our techniques. But he has a really good attitude and I think that he has a very good upside to him."
Learning to play in space will be an adjustment, but perhaps more on the mental side than physical, because he's fairly fluid when he turns and runs with a tight end or a back out of the backfield. Once he puts it together, he's got flexibility to get under blockers and the power to run through them.
Big spring for Njongmeta
Maema Njongmeta was in line to compete for a backup spot at inside linebacker for the Badgers last season, but a preseason injury hampered his development and he was limited to playing in one game, the Duke's Mayo Bowl against Wake Forest.
Now a redshirt sophomore, Njongmeta is still in position to compete for a spot at inside linebacker, and he's getting a good number of chances this spring to earn a role. Senior Mike Maskalunas and redshirt freshmen Malik Reed and Jordan Turner didn't practice Tuesday, so Njongmeta got a heavy dose of second-team reps behind senior Jack Sanborn and junior Leo Chenal.
The 6-foot, 234-pounder would've had a sack in live action after coming through untouched on a blitz and maintained proper pursuit angles on a pair of runs away from him.
Adding more depth at inside linebacker is important for UW this spring and Njongmeta would be a good option for the group if he can stay healthy.
High-energy practice
Tuesday's on-field work, especially the team sessions, featured a good deal of cheering and excitement from both the offense and defense. It was a heightened atmosphere over Saturday's open practice.
A would-be sack by sophomore outside linebacker Nick Herbig got the defense going and a 40-plus yard catch by junior A.J. Abbott after he got behind safety John Torchio elicited praise on from the offense.
From the infirmary
Here's a look at who didn't participate or was limited Tuesday. This list is unofficial and injury designations reflect Saturday's status report. UW did not provide a status report Tuesday.
OUT
DL Keeanu Benton (left leg)
RB Jalen Berger (leg)
OL Logan Brown (Non-COVID illness)
RB Julius Davis (leg)
TE Jaylan Franklin
ILB Mike Masklanas (core)
DE Cade McDonald
CB Semar Melvin (right arm)
OLB Riley Nowakowski (right leg)
DL James Thompson Jr. (right leg)
DL Bryson Williams (right leg)
OLB Aaron Witt
LIMITED
WR Danny Davis
CB Faion Hicks (both legs)
WR Kendric Pryor (left leg)
---
Five things to watch on Wisconsin's offense as spring football starts
MERTZ AND CHRYST TOGETHER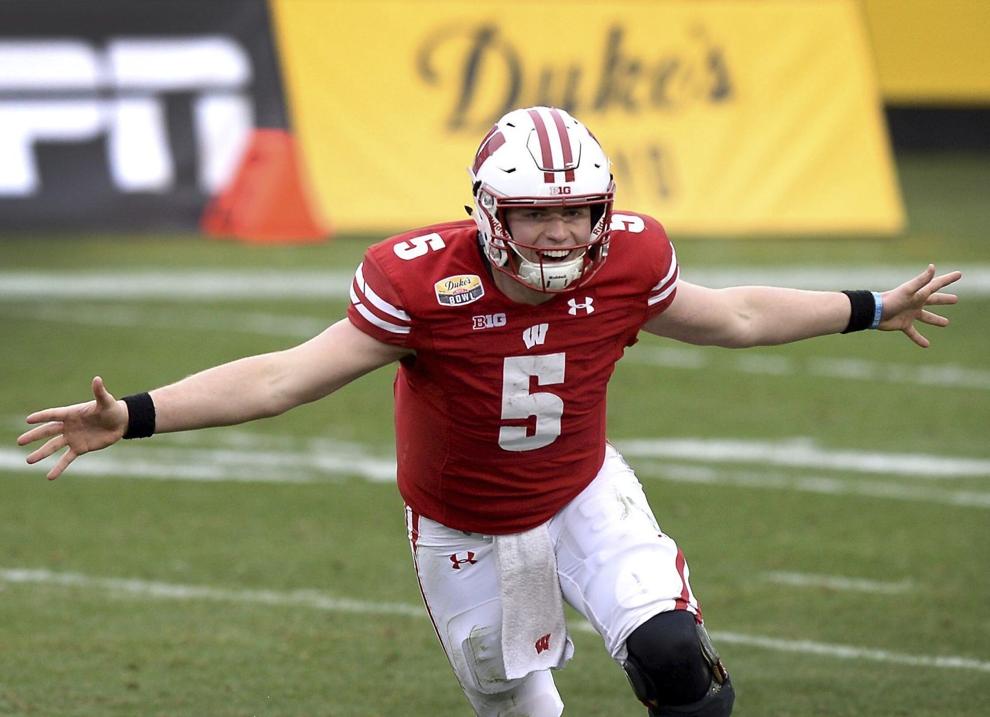 Redshirt freshman Graham Mertz struggled to find consistent rhythm after a record-setting performance in his starting debut. Mertz completed just under 57% of his passes, threw four touchdowns and five interceptions the rest of the season after completing 20 of 21 passes against Illinois, tying a program record with five touchdowns.
Cutting down on turnovers — Mertz also lost two fumbles last season — is the first step, but doing so will be the result of establishing better timing in the pocket. A majority of Mertz's interceptions last seasons were due to holding the ball too long or trying to throw a pass too late and the window of opportunity closing.
Coach Paul Chryst's track record of coaching quarterbacks at UW includes the heights of Russell Wilson's stellar season in 2011 and a through line of consistent, smart play. Spring practices are the time to meld that coaching with Mertz's talent so the quarterback can take a big step forward this fall.
WHO'S BEHIND BERGER?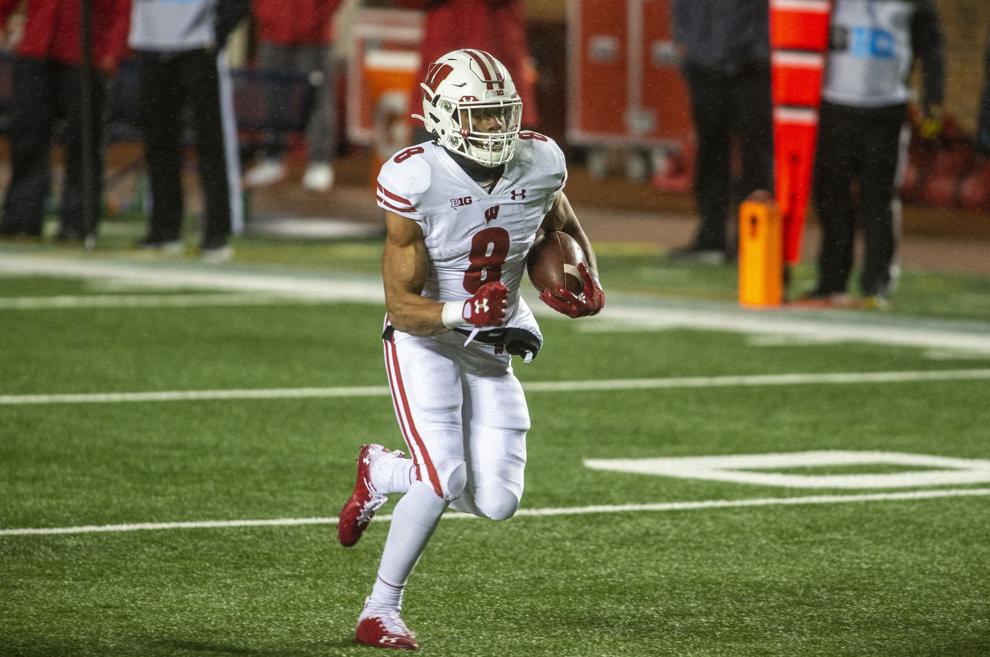 Jalen Berger showed flashes of being the next in the line of great Badgers tailbacks last season, displaying good vision and a suddenness to his cuts that make him hard to tackle. He led UW last season with 301 yards rushing despite playing four of the seven games — he missed the opener against Illinois due to a nagging injury from training camp then missed games against Iowa and Minnesota due to COVID-19.
The Badgers have a solid starting running back with Berger returning, but the depth behind him is a significant question mark. Isaac Guerendo was expected to be in the backfield rotation last season, but he was limited to one game due to unspecified injuries. Julius Davis is another option, but the redshirt freshman only played in one game last season as well.
ANOTHER TIGHT END THREAT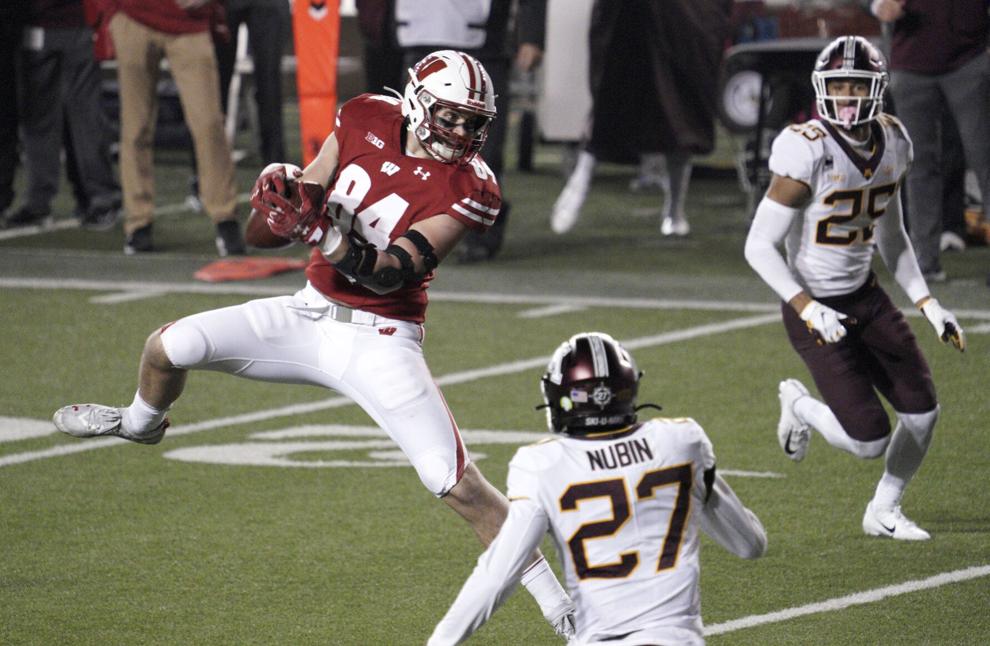 Junior Jake Ferguson returning to the Badgers instead of taking a shot at the NFL not only gave the team its leading receiver back, but also a guide for a talented but inexperienced group of tight ends behind him.
Redshirt freshman Hayden Rucci established himself as the top blocking option in the second tight end spot and likely will be used in a similar role next season, but associate head coach Joe Rudolph said last fall he felt Rucci was developing as a receiver, too. Sophomore Jack Eschenbach was the only tight end besides Ferguson to tally a catch last season.
Cam Large, a 2020 recruit, and Jack Pugh, an early enrollee in the 2021 class, also are waiting in the wings as receiving threats. Ferguson said in December that spring practices are pivotal for this group to develop.
"I couldn't imagine myself after that first year if I didn't have a spring ball," Ferguson said. "That's literally where I gained all my knowledge, how I got really good at my technique — blocking or route running, whatever, and they didn't get that (in 2020). And I think that's really tough on them. Not just physically, but mentally as well. Just not being able to learn, day in day out, getting all the coaching."
DEVELOPING DEPTH ON THE O-LINE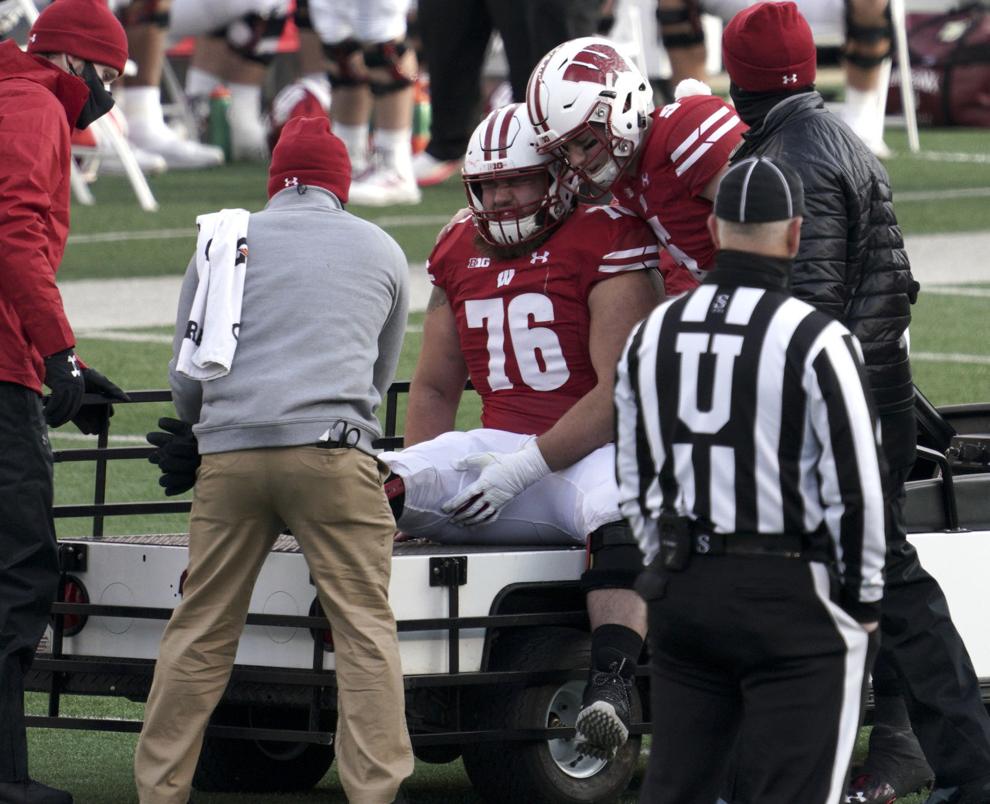 UW's offensive line wasn't the dominant force that fans have come to know in 2020, but that could change in 2021.
After filling in well at left tackle in the second half of the Duke's Mayo Bowl, that spot is former five-star recruit Logan Brown's to lose. Center Kayden Lyles will return from a knee injury in the fall, and the right side has established veterans in guard Logan Bruss and tackle Tyler Beach. Josh Setlzner is presumably a frontrunner for the left guard spot, but touted 2020 recruits like Jack Nelson and Trey Wedig could be pushing for a role there.
Few players behind the aforementioned group have much experience. Cormac Sampson provides depth at center and freshman Tanor Bortolini played extensively when Lyles and Sampson were hurt last season. How the young linemen take advantage of spring reps will determine how much competition there is for roles this fall.
YOUNG RECEIVERS FINDING NICHES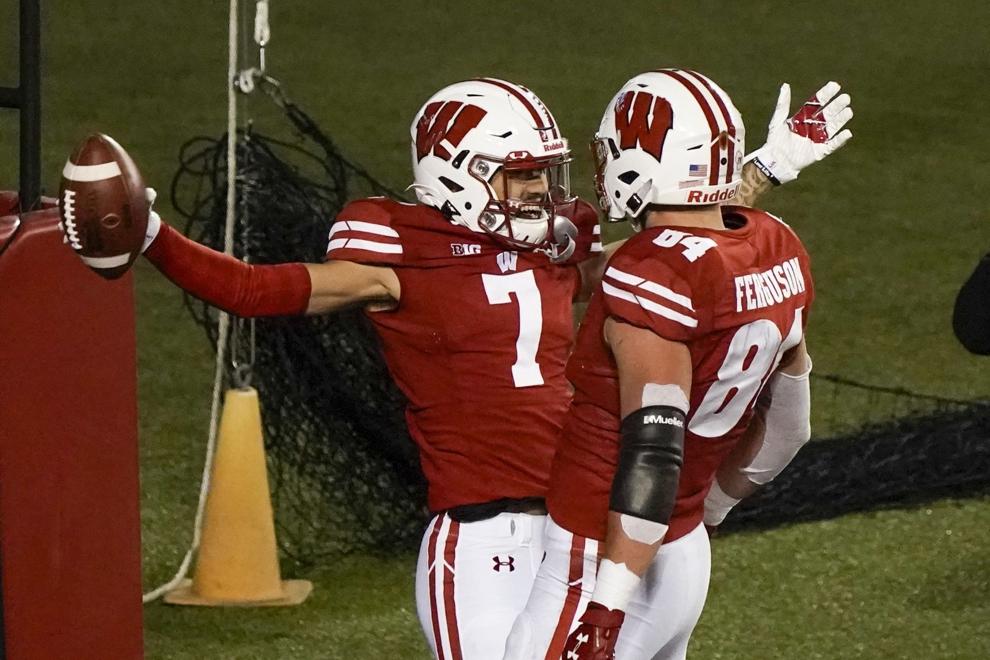 UW got welcomed news this offseason when seniors Danny Davis, Jack Dunn and Kendric Pryor all decided to come back for their final years in the receiver room. Davis and Pryor battled injuries most of the season, with Davis missing five games and Pryor four. Dunn emerged as a solid option on short routes, posting career highs in catches (28) and receiving yards (255).
Freshman Chimere Dike had strong moments last season, but he had trouble getting open consistently.
This will be the first spring practices the receivers get with position coach Alvis Whitted, who was hired last year just before the pandemic hit the U.S. Whitted's task this spring is to develop the younger group of receivers — players like Dike, Devin Chandler and Isaac Smith — into dependable options this fall. Chandler showed good burst as a returner last season, and he might be a candidate for a head-turning spring session after two classes of receiver recruits failed to break through.