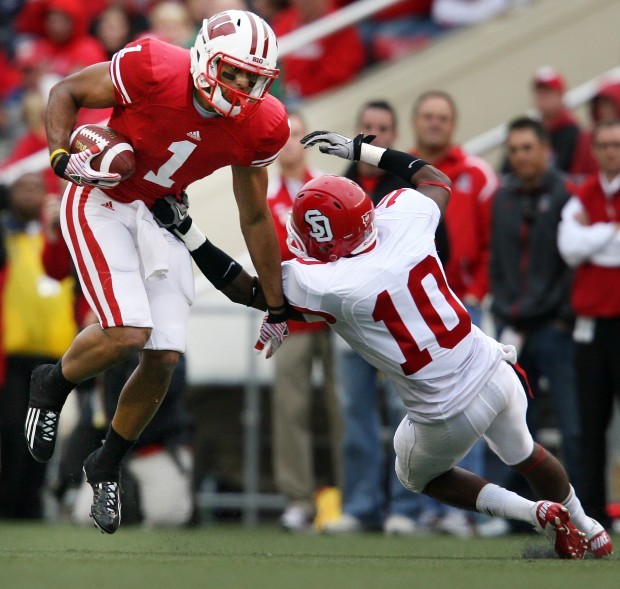 MADISON (AP) - Nick Toon arrived at Wisconsin with the high expectations that naturally come with having big-time game and a famous last name.
Now having shaken off an injury-plagued 2010 season, Toon finally is showing the consistent production that could make him an NFL player this time next year - and he's gaining on his father in the Badgers' record books.
Toon had a career-high 155 yards receiving and two touchdowns in Wisconsin's 59-10 victory over South Dakota on Saturday. The son of former Wisconsin and New York Jets standout Al Toon, Nick believes he can follow his father's path to the NFL.
``Definitely,'' Toon said. ``I think a lot of people have aspirations of playing at the next level in college, and hopefully that's something that will happen for me down the road. But I've got to take care of business here every week and see what happens.''
Going into Saturday night's highly anticipated conference opener against Big Ten newcomer Nebraska at Camp Randall Stadium, Toon is bound to start getting his share of national attention - especially now that quarterback Russell Wilson is getting the ball to Toon and others in what has been a surprisingly pass-happy Badgers offense.
``He's a guy that, when he's healthy and playing well, is as good as any wide receiver in the country,'' Badgers coach Bret Bielema said. ``I think right now the part that's exciting is that ... we are football team that's getting a lot of recognition. The quarterback, running back, wide receiver and a couple of offensive linemen might be as good as there is, not only in our conference but in the country, and that's going to get out there a little bit.''
Toon thinks he can be one of the best receivers in the country, and welcomes the expectations.
``It's a personal goal of mine, and I definitely think I have the ability to do that,'' Toon said. ``I've just got to go out and prove it every week.''
A red-shirt senior, Toon has 128 catches for 1,874 yards and 13 touchdowns in his career. He is just three catches behind his father for fourth place on Wisconsin's all-time receptions list.
Toon isn't overly concerned about passing his dad in the record books, but he is happy to have the chance.
You have free articles remaining.
``It's pretty cool,'' Toon said. ``Obviously, my dad had a lot of success here and at the next level. He was a great player, and to have the opportunity to surpass him on some of that stuff, I'm truly blessed to be able to do that.''
Has he talked to his dad about it?
``He mentioned it to me, and we talked about it briefly, but that's about it,'' Toon said.
But Toon's career numbers could be even better if not for a turf toe injury that cost him time last season.
``You really never play at 100 percent,'' Toon said. ``There's always something going on. But when you can be healthy for the most part, which is the goal, it's easy to go out and play.''
In the Badgers' four non-conference wins, Toon has 21 catches for 353 yards. His five touchdowns already are a career high for a season, and he's averaging 16.8 yards per reception.
Toon has caught at least one touchdown pass in three straight games, the longest streak of his career. His 59-yard TD catch in the second quarter of Saturday's game was the longest catch of his career.
Wisconsin is 9-0 in games when Toon scores a touchdown.
``He's doing a great job,'' Wilson said. ``That's a testament to his hard work, his talent and every single day in practice going 100 percent. That's what we need.''
This season is Toon's last chance to show NFL scouts he can play, and he's determined not to squander it.
``There will always be a sense of urgency when it's kind of your last opportunity,'' Toon said. ``You can't really think about that stuff but at the same time, you just go out and play and have fun. If things are going to happen, they'll happen. If not, they won't.''