At the end of what had been a long, frustrating day, University of Wisconsin men's basketball coach Greg Gard received a phone call Wednesday night from a man he considers one of his mentors in the business.
Gard wouldn't reveal the specifics of that conversation during a news conference the following day, but it's safe to say the caller was offering support to someone who clearly needed it at the time.
That it was Michigan State's Tom Izzo on the other end of the line isn't surprising. He and Gard have been tight for years.
But the timing was interesting, nonetheless: Gard and the Badgers (12-9, 5-5 Big Ten) will close a tumultuous week by hosting Izzo's No. 14 Spartans (16-5, 8-2) on Saturday at the Kohl Center.
Not only is UW coming off back-to-back defeats on the road, it has lost eight consecutive times to Michigan State.
Oh, and the Badgers will try to end those streaks with a shorthanded lineup. Hours after sophomore wing Kobe King announced he was leaving the program on Wednesday, the Big Ten Conference handed down a one-game suspension to UW junior guard Brad Davison.
That leaves UW with seven scholarship players for the game against the Spartans. Included in that mix is junior forward Micah Potter, who was injured late in the Badgers' 68-62 loss at Iowa on Monday night but is apparently OK to play against Michigan State.
It's no wonder Izzo felt compelled to reach out to Gard, who on Thursday tried to offer perspective on what seems like a once-promising season slipping away.
"You go through a season one day at a time and you keep trying to get better every day," Gard said. "That's why sports are such a great teacher of life, because you have to go through ups and downs and adversity and there's times when things are going to go your way and there's times when you feel like, are you the windshield or are you the bug?"
Gard was encouraged by the fight the Badgers showed at Iowa, especially considering King had told coaches and players two days earlier that he was leaving the program. Losing King, who led the Badgers with 12.6 points per game in Big Ten play, is a huge blow to a UW offense that struggled with consistency even with him in the lineup.
"It's just about playing our game, you know?" fifth-year senior guard Brevin Pritzl said. "The guys that we have that are still here, it's going to be a loss missing Kobe and what he brought to the table for us, but that's on us to come together as a team and make up for what isn't there. It's really just comes down to sticking with each other, uniting, and playing with that same intensity and fire that we show."
As the program was still coming to grips with King's departure, it learned Davison had been suspended for what the conference called a "pattern of similar behavior" that included a Flagrant 1 foul late in the Iowa game.
That leaves the Badgers with three scholarship guards: Pritzl, junior D'Mitrik Trice and junior Trevor Anderson. Walk-on Walt McGrory may figure into the backcourt rotation.
Perhaps Gard can inspire his team with a history lesson before the game. The Badgers had lost four of their first six games under Gard after he took over for Bo Ryan midway through the 2015-16 season, but a home win over No. 4 Michigan State began a stretch that included 11 wins in 12 games for UW.
The bad news? That upset was the last time the Badgers have beaten the Spartans, a skid that includes a pair of single-digit decisions at the Kohl Center.
A victory over Michigan State this time seems even more improbable considering UW is down two starters from the lineup that was beaten soundly by the Spartans in East Lansing two weeks ago.
"I think the coaches did a good job, even after Kobe's announcement came out to the team, the coaches instilled confidence into the rest of the team, the team that was still here and the players that were playing at the time," Trice said. "I think that really carried into the (Iowa) game. Played a little bit more confident, a little bit more free, and I think that's when we started playing like we know how to play and we were clicking on all cylinders.
"I think that's where the coaches have got to continue to work on, instilling that confidence into the guys that are here and the guys that are playing. I think that is a huge motivator for us going into Saturday, that even with the guys that we have that we can make a run and an impact."
UW will reach out to King for an exit interview of sorts at some point, according to senior associate athletic director for external communications Justin Doherty.
A day earlier, the former Mr. Basketball out of La Crosse Central told the State Journal his primary reason for leaving was how King and other teammates were talked to by Gard. King, who declined to go into specifics, also said he's not the only one on the team who is frustrated.
UW athletic director Barry Alvarez on Friday morning declined an interview request from the State Journal regarding the King situation. Later in the day, following a closed session to end a UW Athletic Board meeting at Camp Randall Stadium's Heritage Hall, Alvarez quickly left the room before reporters had a chance to approach him.
"I think every situation, when a student-athlete leaves the university or leave the program, every situation is different and has its own set of circumstances around it," Doherty said. "Our philosophy here, our approach here, has always been that we want what's best for the student-athletes and in this case, if a student-athlete feels it's in their best interest to leave at a given time, then they need to do what's best for them and from our standpoint, we support them in terms of helping them in that transition."
---
Preview: Badgers vs. No. 14 Michigan State
UW VS. NO. 14 MICHIGAN STATE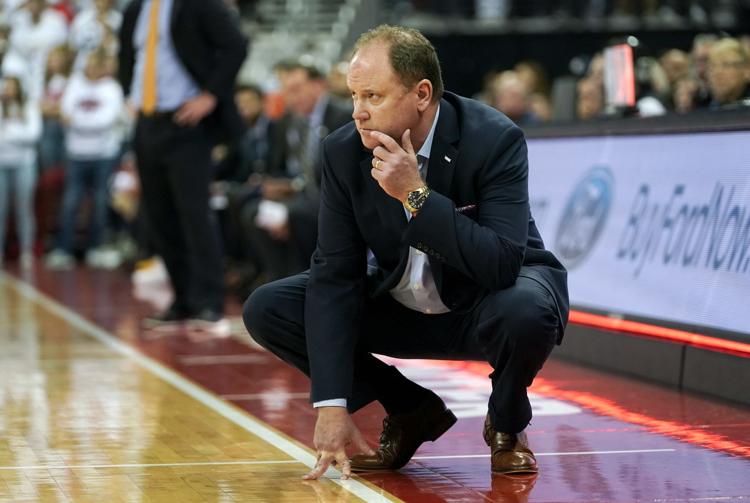 TV: Ch. 47, with Gus Johnson and Jim Jackson
Radio: 1310 AM and 101.5 FM, with Matt Lepay and Mike Lucas
BADGERS (12-9, 5-5)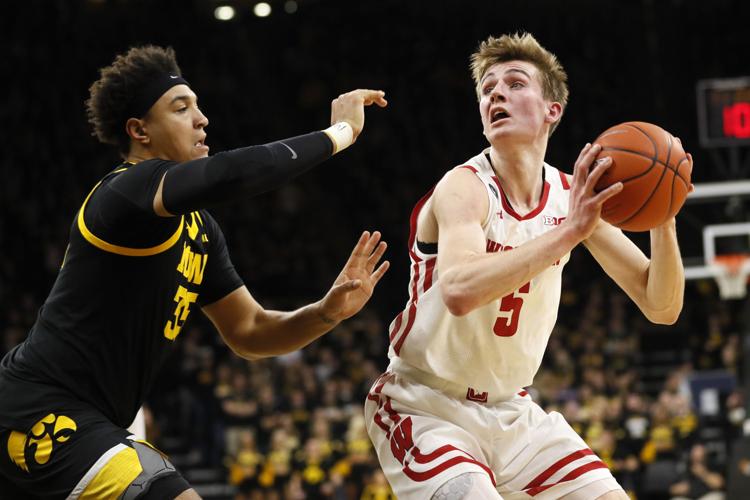 Coach: Greg Gard, 92-56 in his fifth season at UW.
Player to watch: Freshman forward Tyler Wahl (above) made his first career start in UW's 68-62 loss at No. 18 Iowa on Monday night. Wahl finished with four points and seven rebounds in 26 minutes against the Hawkeyes.
PROBABLE UW STARTERS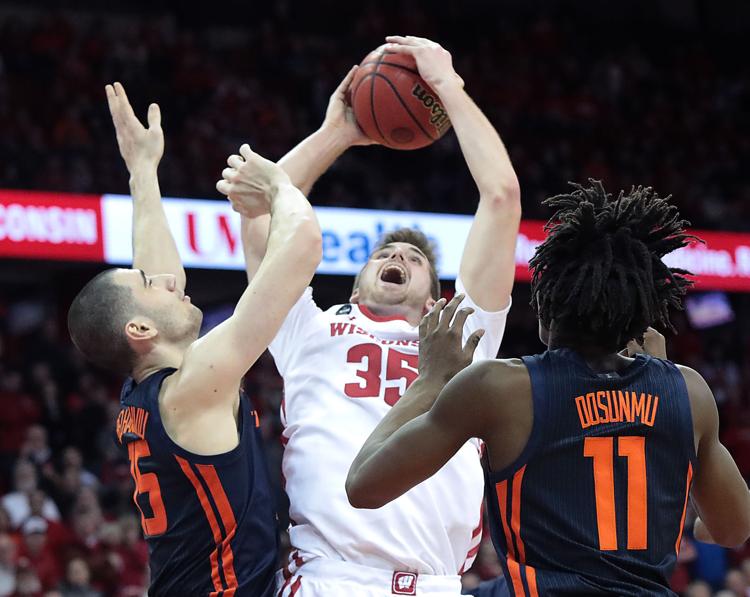 | | | | | |
| --- | --- | --- | --- | --- |
| No.    | Name      | Ht.    | Year    | PPG    |
| 2  | Aleem Ford     | 6-8  | Jr.  | 7.6  |
| 5  | Tyler Wahl   | 6-7  | Fr.  | 2.9  |
| 35  | Nate Reuvers (above)    | 6-11   | Jr.   | 13.8  |
| 0  | D'Mitrik Trice       | 6-0  | Jr.  | 9.4  |
| 1  | Brevin Pritzl   | 6-3  | Sr.  | 7.4  |
KEY BADGERS RESERVES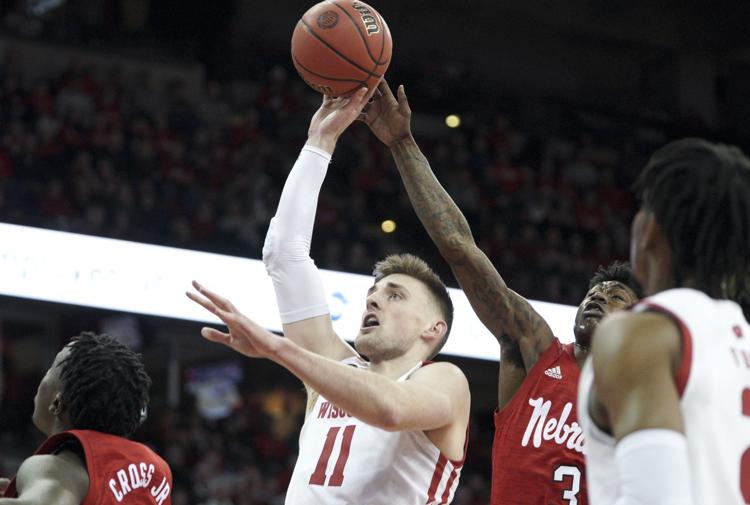 | | | | | |
| --- | --- | --- | --- | --- |
| No.    | Name     | Ht.    | Year    | PPG   |
| 11  | Micah Potter (above)     | 6-10   | Jr.  | 9.3  |
| 12  | Trevor Anderson    | 6-2  | Jr.  | 1.6  |
| 3  | Walt McGrory   | 6-3  | Jr.  | 1.6  |
YOU SHOULD KNOW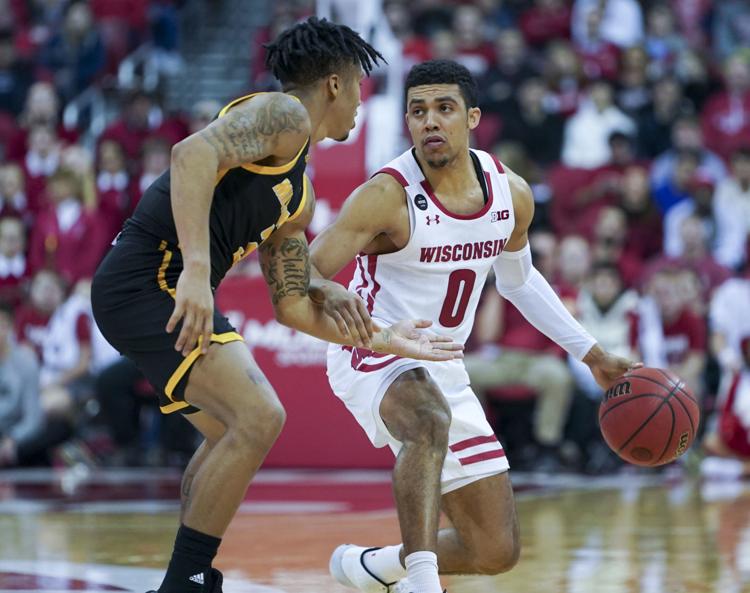 D'Mitrik Trice (above) is 8 of 13 from 3-point range over his past three games. He made three 3s while finishing with 16 points, nine rebounds and six assists — all team highs — in the loss at Iowa. … UW was 10 of 19 from the free throw line in back-to-back road losses to Purdue and Iowa. … The Badgers allowed a combined 29 offensive rebounds in those losses to the Boilermakers and the Hawkeyes.
SPARTANS (16-5, 8-2)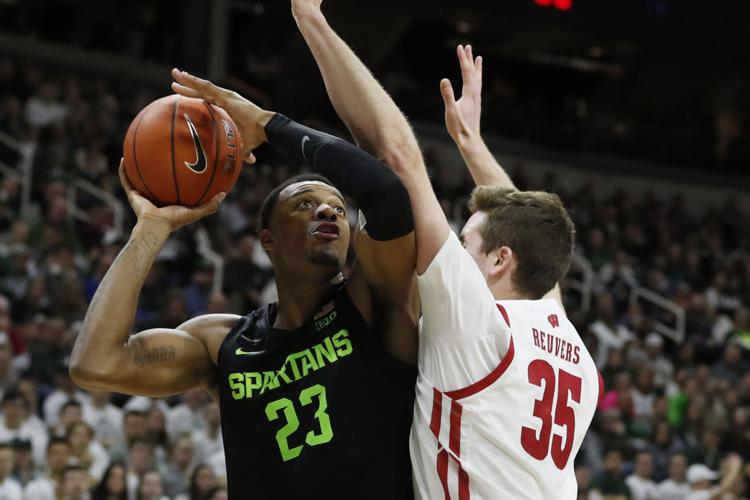 Coach: Tom Izzo, 622-237 in his 25th season at Michigan State.
PROBABLE MSU STARTERS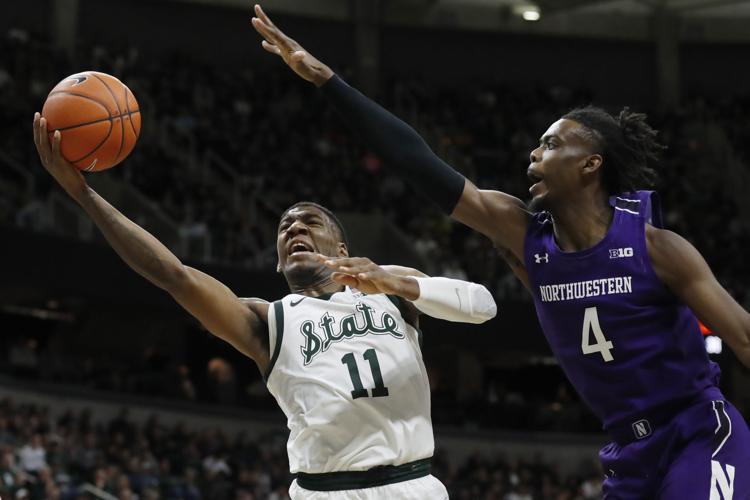 | | | | | |
| --- | --- | --- | --- | --- |
| No.    | Name     | Ht.    | Year     | PPG     |
| 25  | Malik Hall    | 6-7  | Fr.  | 4.8  |
| 11  | Aaron Henry (above)    | 6-6  | So.  | 9.7  |
| 23  | Xavier Tillman    | 6-8  | Jr.  | 13.8  |
| 5  | Cassius Winston    | 6-1  | Sr.  | 18.0  |
| 44  | Gabe Brown  | 6-7  | So.  | 8.5  |
KEY SPARTANS RESERVES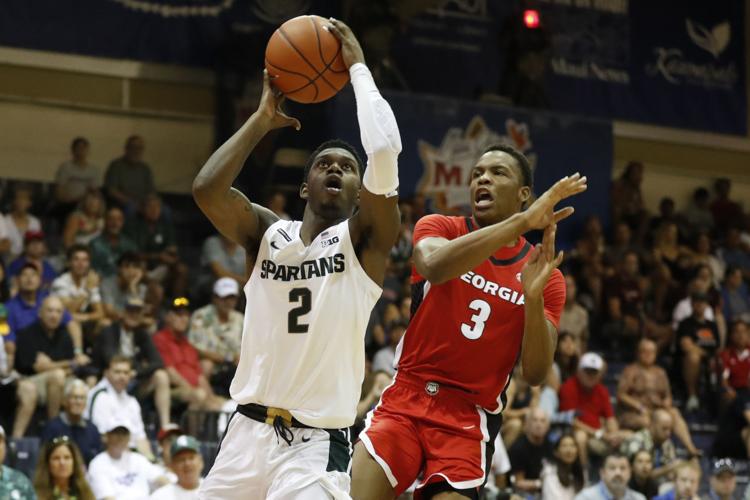 | | | | | |
| --- | --- | --- | --- | --- |
| No.    | Name      | Ht.   | Year    | PPG    |
| 2  | Rocket Watts (above)     | 6-2  | Fr.  | 6.8  |
| 30  | Marcus Bingham     | 6-11   | So.  | 4.5  |
| 3  | Foster Loyer  | 6-0  | So.  | 3.9  |
| 15  | Thomas Kithier    | 6-8  | So.  | 3.4  |
| 34  | Julius Marble   | 6-8  | Fr.  | 2.2  |
YOU SHOULD KNOW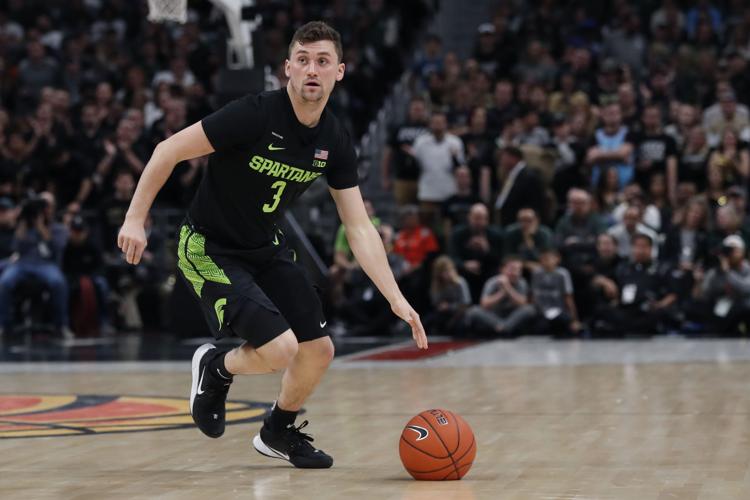 Foster Loyer (above) went 4 of 6 from 3-point range and finished with 12 points in Michigan State's 79-50 home win over Northwestern on Thursday. … Cassius Winston is shooting 85.7 percent from the free throw line, which leads the Big Ten. … Per Ken Pom, Michigan State is the only Big Ten team that is in the top 20 in both adjusted offensive efficiency (13th) and adjusted defensive efficiency (17th).
Be the first to know
Get local news delivered to your inbox!