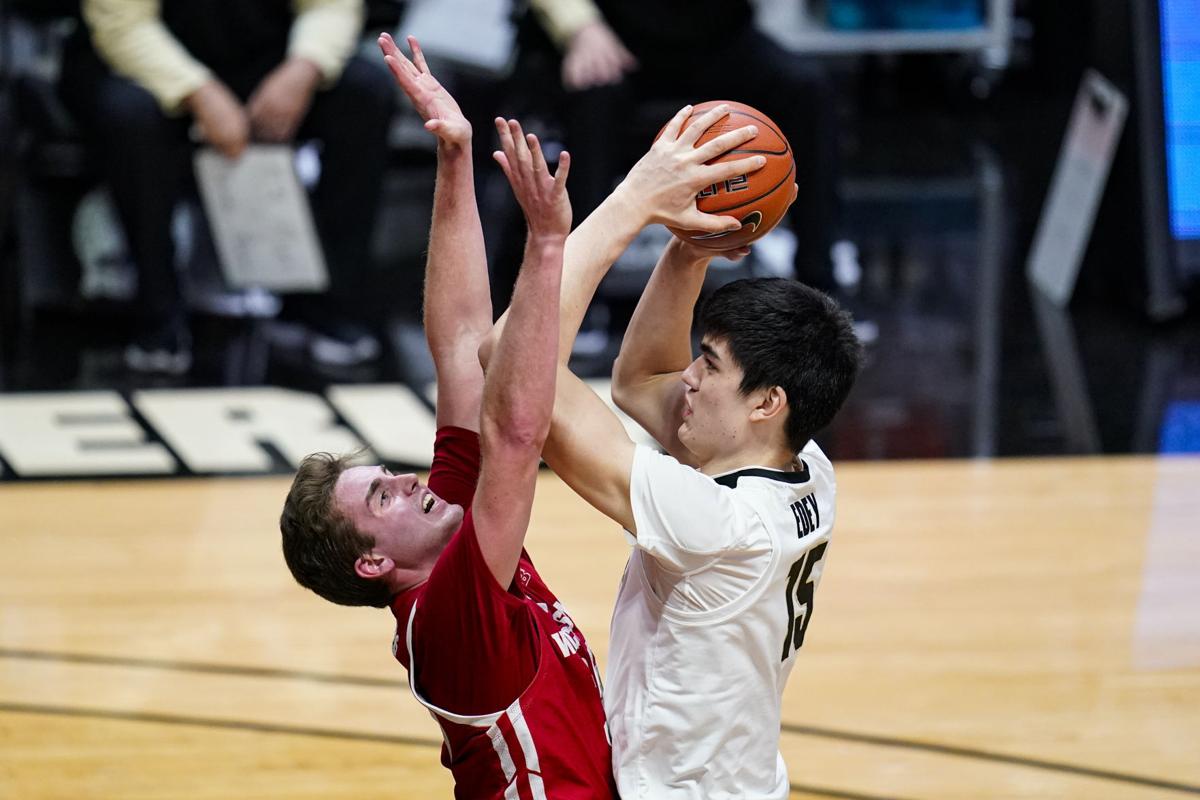 Mackey Arena seemed like an unlikely place for the shots to magically start falling for the University of Wisconsin men's basketball team.
The venue has been a house of horrors for the Badgers over the years and that tradition continued Tuesday night in West Lafayette, Indiana.
Freshman center Zach Edey scored a career-high 21 points to lead No. 23 Purdue to a 73-69 win over No. 25 UW, dropping the Badgers to 4-42 all-time at Mackey.
The loss dropped UW (16-10, 10-9 Big Ten) to 0-7 against ranked opponents since the start of 2021.
"This league's tough and it's super frustrating when you can't get some of those wins against the top teams," senior Nate Reuvers said. "But we've still got everything in front of us here."
There was plenty to like on offense for UW, which placed five players in double figures. Senior guard Brad Davison led the way with 15 points for the Badgers, who got 11 points apiece from Reuvers, Micah Potter and Aleem Ford and 10 from D'Mitrik Trice.
UW had only six turnovers, went 16 of 21 from the free throw line and averaged 1.13 points per possession.
Imagine how efficient the Badgers would have been had they just knocked down 3-point shots at a decent rate. They finished 7 of 29 from beyond the arc, missing 22 of their final 26 attempts after starting the game hot.
UW settled for 3-pointers at times, but there were also plenty of wide-open looks that it failed to convert. Reuvers, the only UW player made available to the media following the game, was 0 of 3 from beyond the arc.
"I felt, personally, I had all great looks and just wasn't able to get one of them to go down, which is frustrating," he said.
UW's defense, particularly on the interior, let it down.
Jaden Ivey added 18 points for the Boilermakers (17-8, 12-6), while Aaron Wheeler had 11.
Purdue standout Trevion Williams spent most of the second half in foul trouble, but the 7-foot-4 Edey picked up the slack by scoring 14 points after halftime. He helped Purdue finish with 36 points in the paint. Purdue averaged 1.22 points per possession.
Whether it was Reuvers or Potter, neither could keep Edey from the ball in good position.
"Edey was a handful," UW coach Greg Gard said. "They do such a good job of spacing around both him and Williams. I thought we did a decent job at Williams, he got loose there at the end (for a dunk). Edey obviously, his size, there are some things there that are harder to combat and they put him in a good position and find him and stretch you out with other shooters around him. So it's hard to get help to him."
UW was within 65-64 after Potter's putback with 2:30 remaining, but Eric Hunter Jr. answered with a drive and score on the other end.
Ford had an open 3-pointer from the left wing go in-and-out and Trice had a not-so-open look from beyond the arc blocked the next trip down the floor.
After Williams outworked Reuvers for position and finished with a dunk to give Purdue a 69-64 lead, Trice made a 3-pointer from the right wing with 28.4 seconds remaining.
Even after Isaiah Thompson made two free throws to extend the Boilers' lead to four, UW had a chance. But Purdue blew up the ensuing possession and UW lost its poise, with Davison forcing up a bad shot from the perimeter.
"I thought at that point of time we could have attacked the rim and not had to settle for that quick of shot or that type of shot," Gard said.
Hunter missed two free throws and Ford scored to cut Purdue's lead to 71-69 with 3 seconds left, but Ivey sealed the win with a pair of free throws.
"I thought we played well enough to win this game," Reuvers said. "It came down to the end and they ended up making a few more plays than us."
---
Photos: Badgers come up short on the road