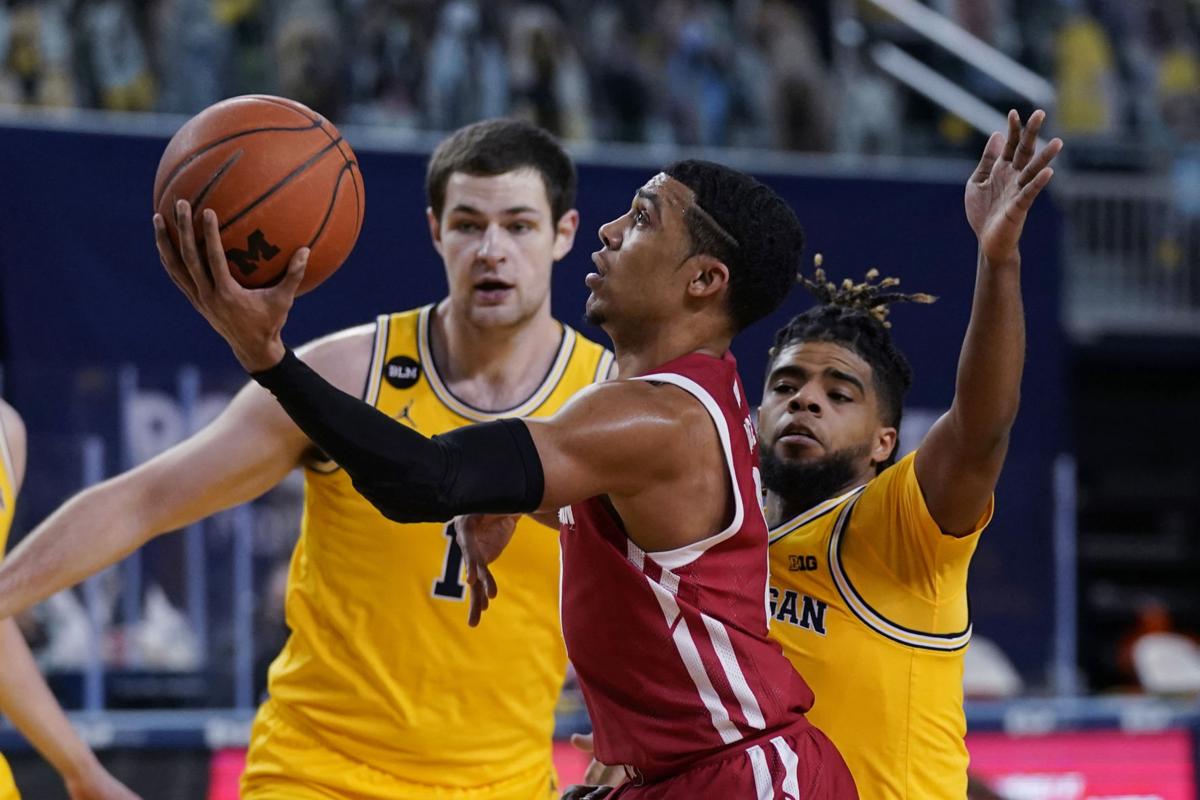 ANN ARBOR, Mich. — There was a windshield and a bug Tuesday night at Crisler Center, but that's not where the analogy ends.
After the collision that made a mess of its reputation, the University of Wisconsin men's basketball team stuck around and put up a fight. So much so, in fact, that the object in Michigan's mirror at the final buzzer was closer than it appeared.
Don't be confused by a final score — No. 7 Wolverines 77, No. 9 UW 54 — that, as ugly as it was, ended up being more flattering than the Badgers deserved. While it didn't go down as the most-lopsided defeat under coach Greg Gard, this one certainly qualifies as one of the most embarrassing performances of that era.
The Badgers trailed by as many as 40 points before they finally decided enough was enough and fought back. The result, a 25-8 surge over the final 10 minutes of the game, made the final deficit less humiliating but didn't take away the stain from getting routed on national television.
Senior point guard D'Mitrik Trice, the only UW player made available to reporters following the game, was left to explain how it felt to look up at the scoreboard midway through the second half and see his team trailing 69-29.
"When you get down by that much, it's just about inching back and winning every 4 minutes," Trice said. "I think the guys that were out there, especially toward the end of the game, really put some fight out there and put some heart into it. But obviously we have to do that for 40 minutes or you can be down 40."
Senior point guard Mike Smith had 16 points and six assists for the Wolverines (11-0, 5-0 Big Ten), who put their foot on the gas pedal late in the first half and never looked back. Smith led four Michigan players in double figures, a group that also included Franz Wagner (15), Isaiah Livers (13) and Hunter Dickinson (12).
As pretty as these top-10 teams' records were entering the game, both UW and Michigan were light on what could be considered signature victories.
Michigan has been impressive, no doubt, but that success hardly has come against a murderer's row of opponents. Entering their biggest game of the season to date, the Wolverines had zero wins over teams in the Top 30 of the KenPom rankings.
Something had to give, and here's the takeaway from what was supposed to be a matchup of Big Ten title contenders: Michigan is legit and the Badgers — well — they've got another eye-opening loss on a résumé still lacking great wins.
What bothered Gard most about this defeat?
"Our lack of aggressiveness," he said. "I think that was the difference. We only had six team fouls, I think we only had two at half and they were both on (Micah) Potter. That told me we were not aggressive enough, we were not physical enough and they were. They were able to put us on our heels. Once the game was out of hand, I thought we responded better. We got back to being a little bit more of ourselves."
But by that time, the damage had been done. Michigan used 36-3 run that extended over both halves to turn a close game into blowout.
The Badgers, who start five seniors and have another coming off the bench, looked dazed and confused as the Wolverines blasted through them.
"They came out with a lot of energy, a lot of fight, they came out aggressive and we kind of got pushed back on our heels," Trice said. "We never responded the correct way and the way that we wanted to."
Trice scored a game-high 20 points and Potter added 12 for the Badgers (10-3, 4-2), but no other UW player had more than six.
UW shot just 30.8% from the field against the Wolverines' suffocating defense.
Not only did the Badgers have trouble stopping a multi-faceted Michigan offense, they went through one of the biggest offensive droughts in recent memory.
While the Wolverines were scoring at will during their big run, the Badgers were in the midst of scoring three points over a span of 23 possessions. UW ended the first half with 10 consecutive empty possessions and, after a three-point play by Aleem Ford to start the second half, went the next 12 trips up the floor without scoring.
For all the offensive firepower Michigan has, its relentless defense was the star of the show against the Badgers.
"They pressure the ball really well," Trice said. "They get in passing lanes, they get steals, they make you feel a little bit uncomfortable and I think they did a great job of doing that throughout the whole entire game."
After back-to-back baskets by senior center Nate Reuvers pulled UW within 26-23 with just six minutes to play in the first half, Michigan answered with a 14-0 blitz heading into halftime.
After Ford's three-point play, the Wolverines scored the next 22 points.
"I've seen them do that to teams time and time again," Gard said. "We talked about it. You try not to put yourself in those positions, but also how do you respond to it? And that's the disappointing thing is how we responded to it."
---