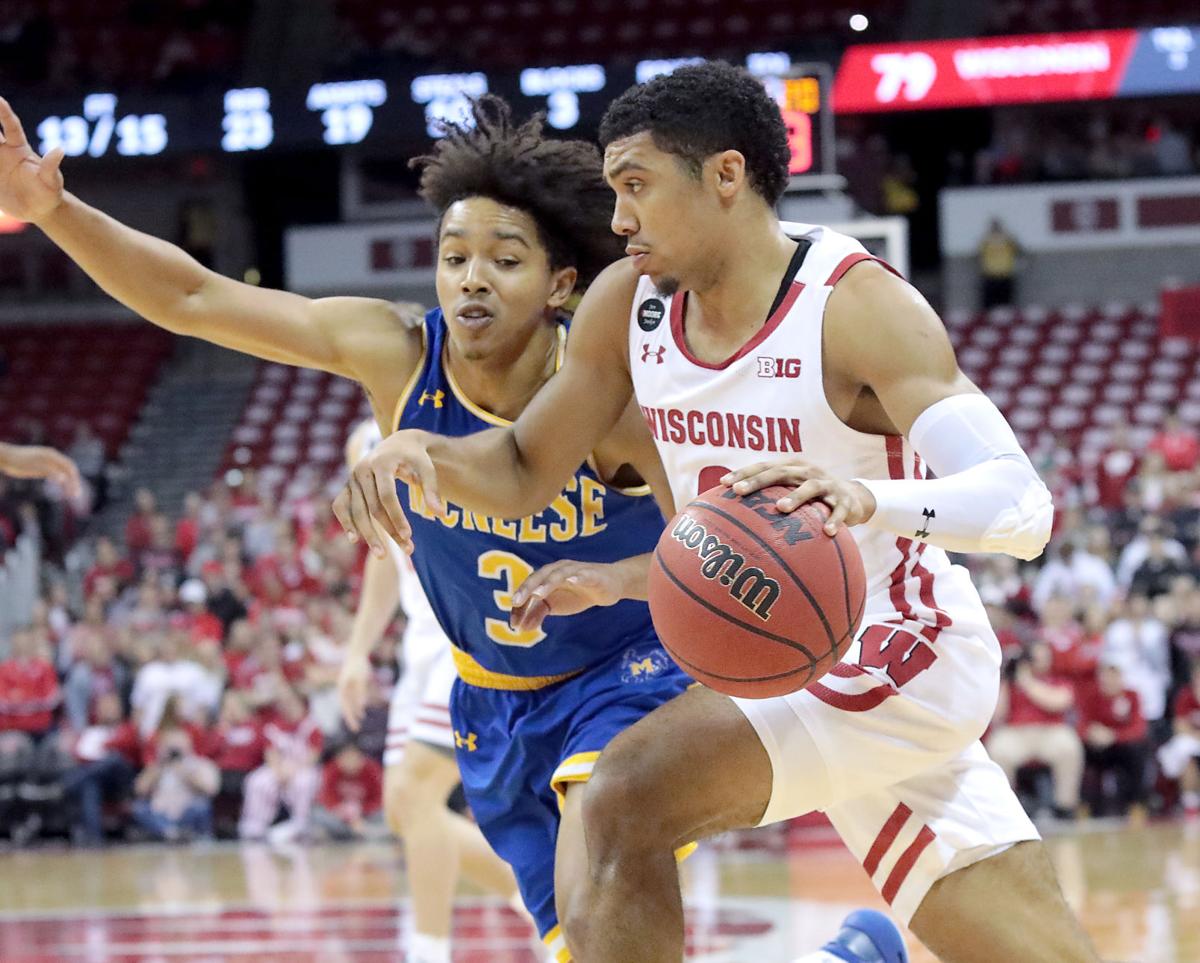 Crowd sizes dropped to the lowest average on record for University of Wisconsin men's basketball games at the Kohl Center in 2019-20, even as the Badgers went on a run to the Big Ten Conference title.
UW's 16 regular-season games averaged 11,801 tickets scanned, the lowest in 14 seasons of data available and a 7% drop from 2018-19.
The count of tickets scanned is a representation of the number of fans who actually are in the venue for a game, and it's sometimes thousands less than what's listed as the attendance. The announced attendance figure includes the number of tickets planned to be distributed, but the actual distribution tally usually is lower because of unused tickets for recruits, player guests and visiting team fans, according to a UW spokesman.
The previous low for ticket scans average since UW started keeping records in the 2006-07 season was 11,870 in 2017-18. The high was three years before that, 14,418.
In 2019-20, the 16 regular-season games had between 14% and 49% of tickets go unused. The average was 26%.
More tickets were used for conference and late-season games, however, with a season-high 14,424 showing up for the March 1 outing against Minnesota. The Badgers' 71-69 victory was their sixth straight; they also won their next two to claim a share of the Big Ten championship.
Conference games have been a better draw over the years — they've produced about 2,000 more ticket scans than non-conference contests on average. The Big Ten moving to a 20-game schedule in 2018-19, adding one conference home game each year, should theoretically give UW more to entice fans to use tickets.
UW's 2019-20 Big Ten home schedule, however, didn't include Iowa and Michigan, historically two of the top four conference opponents in average scan count behind Michigan State and Ohio State. The average ticket scan count for Big Ten games was 12,300 compared to an average of 14,111 for the previous 13 seasons.
The Badgers ranked sixth in NCAA men's basketball and first in the Big Ten in home announced attendance in 2019-20, averaging 16,912 — 98% of the Kohl Center's 17,287 capacity. Six of 16 home games were announced as sellouts. There were eight announced sellouts in 2018-19 and 17 in 2017-18, the season in which the team's streak of announced sellouts of regular-season games ended at 64.
UW was 21-10 and about to enter the Big Ten tournament when the 2019-20 season ended early because of the COVID-19 pandemic.
Explore all the ticket data in the interactive graphic below. All seasons now compare the number of tickets scanned to the number of tickets distributed, with the announced attendance included as a line.
Be the first to know
Get local news delivered to your inbox!