Dick Bennett's phones wouldn't stop ringing earlier this week.
While the former University of Wisconsin men's basketball coach was conducting an interview on his landline, he momentarily got distracted because his cellphone was chirping. Finally, Bennett politely asked his wife, Anne, to answer it or, if she preferred, just ignore it. As long as she got the phone out of earshot, it didn't matter.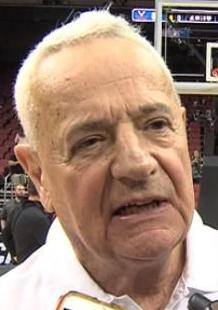 After returning to his conversation with a reporter, Bennett seemed surprised by how many people wanted to talk to him about Virginia making it to the Final Four. "You'd think it was my team," he quipped.
The Cavaliers aren't Dick Bennett's team, but they're his boy's team. That's still the word this father uses when he refers to his only son, even though Virginia coach Tony Bennett will turn 50 in June.
And what does a proud papa do when his kid accomplishes something big? He talks … and talks … and talks.
That's what Tony found Dick doing late Saturday night after Virginia had outlasted Purdue 80-75 in overtime to secure the Cavaliers' first trip to the national semifinals in 35 years. Tony politely interrupted an interview Dick was doing on the court, wrapped his arms around his father and delivered a message: Thank you.
"It was very special," Dick said of that moment. "I felt just wonderful for him, for those kids."
Dick was Tony's coach at UW-Green Bay and, the younger Bennett said last week, the reason he got into coaching 20 years ago.
While the elder Bennett didn't discourage Tony from becoming a coach, he fretted that the stressful profession would do to his son's insides what it had done to his. "I thought he'd be a good coach," Dick said Monday from his home in central Wisconsin, "but I don't think I was particularly encouraging."
That didn't stop Tony from following in his father's footsteps. After playing in the NBA and later in New Zealand, where he dabbled in coaching, Tony returned to the United States and spent the 1999-2000 season as a graduate manager for the Badgers.
When UW was making its run to an improbable Final Four that season, Tony was dressed in baggy khakis and making sure the chairs were set up for players on the court during timeouts. He knew his father was nearing the end of a long career that began as a high school coach and included stops at UW-Stevens Point and UW-Green Bay, and Tony just wanted to be by his side.
"I didn't know what I was going to do," Tony Bennett said last week. "And then, bang, that first year I'm a volunteer manager, he goes to the Final Four and I'm like, 'Well, that seems pretty easy and pretty fun, maybe I'll get into this coaching thing.' I didn't realize how tough it was."
Joy and pain
Still, Tony has made it look easy at times. He finished off the rebuilding project started by Dick at Washington State before moving on to Virginia, where he's posted a .739 winning percentage in 10 seasons.
But Tony also has experienced the stress and heartache his father so desperately wanted him to avoid. Before his greatest coaching accomplishment to date — the Cavaliers (33-3) will meet Auburn (30-9) in a national semifinal on Saturday in Minneapolis — Tony first had to deal with a historic failure.
Register for more free articles.
Stay logged in to skip the surveys.
Virginia entered the 2018 NCAA tournament with 31 wins and a sweep of the ACC regular-season and tournament titles on its resume, but the Cavaliers became the first No. 1 seed to lose in the opening round when they dropped a 74-54 decision to 16th-seeded Maryland-Baltimore County.
As delighted as Dick is that his son has reached a Final Four, it's possible he's more pleased with how much class Tony has shown while dealing with the fallout from that crushing defeat that ended the previous season.
"He handled it certainly better than I ever could have," Dick said.
Over and over this season, Tony has talked about learning from that defeat and moving forward rather than dwelling on it.
He also has spoken eloquently on the topic of perspective, even using his father's experience in an anecdote last week. When the Badgers beat Purdue in the Elite Eight in Albuquerque, New Mexico, on March 25, 2000, Tony made sure to position himself in the back of the room during his father's postgame news conference.
Dick was asked if that moment was one of the greatest he'd ever experienced. Tony listened to the answer and, 19 years later, still has it memorized almost word for word.
"He said this: 'From a feeling state, euphoria, yes it is. But it doesn't compare with faith, with kids, family, grandkids.' He said, 'Because I know what truly matters, it enables me to enjoy what seems to matter, like this.' I've remembered that quote and I've tried my best to live by it."
Father knows best
Dick Bennett spends a couple of weeks each fall in Charlottesville, Virginia, observing the Cavaliers during their preseason practices. He watches video of the team's games during the season like a coach would, but he waits for questions from Tony rather than stick his nose in the Cavaliers' business.
But make no mistake, Tony asks questions. A lot of them.
"I think Tony has an incredible advantage over so many other coaches in the business because at the touch of a cellphone he can go to not just a guy who has been where he's been, not just a guy who can advise him, not just a mentor, but someone who loves him, someone that would take a bullet for him," said Brad Soderberg, who was Dick's top assistant at UW and is now on Tony's staff at Virginia. "He has at his disposal the opportunity to say, 'Dad, this isn't working.' Or, 'What did you do in this situation?' And he'll know that the information he's getting is coming from a guy who sat in the same chair, not a guy who's just trying to give good advice."
Dick's advice to his son and Soderberg this week was simple: Amid the seemingly endless media requests off the court, make sure practice time remains sacred.
Father also told son to enjoy the experience. That's what Dick will be trying to do, too, even though watching his son's team play in person has been a struggle for him.
For years, Dick avoided going to games because the stress was too much. He went to Charlotte last year hoping he could will himself to attend the game against Maryland-Baltimore County, but Dick couldn't bring himself to go to the arena. Perhaps that was for the best, based on how the game turned out.
But watching how Tony handled that adversity convinced his father that it was time to overcome his demons. He was there for both games in Louisville, an emotional old coach who couldn't resist barking orders from the stands at times.
When it was over, father and son embraced on the court and Dick watched with pride as Tony cut down the nets. After so many close calls, Dick was there to witness the breakthrough.
"Last year was the depth of disappointment," Dick said. "This year was the height of ecstasy."