NASSAU, Bahamas — The University of Wisconsin men's basketball team long has been considered a defensive-minded team.
The Badgers (4-1) had one of the best scoring defenses in the nation last season, holding opponents to just 66.0 points per game. They currently have the best 3-point defense, limiting teams to 11.1% from beyond the arc this season.
UW junior guard Max Klesmit had a huge defensive play Wednesday when he blocked a shot by Dayton's Kobe Elvis in the Battle 4 Atlantis opener to earn UW a spot in the tournament semifinals.
The UW offense had been sluggish the first four games of the new season with senior Tyler Wahl and sophomore Chucky Hepburn going through shooting slumps while the Badgers shot 35.4% as a team entering play Thursday.
The Badgers offense struggled out of the gate against the Jayhawks, trailing 33-20 at halftime. Wahl and Hepburn were 2 of 10 before the break, and the Badgers' leading first-half scorers — Klesmit and Connor Essegian — only had six points apiece.
That changed in the second half as UW overcame a 15-point deficit to make things interesting down the stretch.
"I feel like in the first half, we kind of forced some shots," Wahl said. "The second half, I feel like we did a better job of kind of letting the game come to us and not getting sped up. Just getting the shots that we know are good."
The momentum started to swing toward UW when Essegian hit a 3-pointer to cut Kansas' lead to single digits with 14:25 to go. The Badgers then went on a 15-7 run over the next 6:07 to tie the game at 48-48.
The Badgers got big plays from a number of players down the stretch. Klesmit had a steal and fast-break layup. Essegian had a steal that ended with Hepburn sinking a free throw. Carter Gilmore grabbed an offensive rebound off his own missed shot and put it back for two points.
Klesmit ended the run with a 3-pointer to even things with just more than eight minutes left in regulation.
"I thought we settled in a little bit more," UW coach Greg Gard said. "We got the ball in high percentage areas, took the right 3s, for the most part. Defensively we were able to get some stops and get some momentum and were able to stack good possessions together."
The Jayhawks took back the lead, pulling ahead by as many as eight points with 3:40 left.
Wahl was stuck watching from the bench as Kansas built the momentum after he picked up his fourth foul with 9:17 remaining. He finally re-entered the game with 3:22 left and caused some major problems for Kansas.
Kansas coach Bill Self said that UW was a hard team to prepare for with only a day's worth of practice in the tournament setting. The Jayhawks hadn't worked much on trapping the post, allowing Wahl to take advantage.
Wahl scored nine consecutive points, including a put back of his own miss and was fouled. He made the free throw to pull the Badgers within a point 60-59 with 1:31 remaining.
"He didn't hurt us by catching the ball on the post," Self said. "He hurt us by catching off the block and then backing us down and going to score. That's more on me than the players, but he's good. He had a rough game (Wednesday). So you knew he would bounce back, and he bounced back big."
Kansas guard Kevin McCullar hit a 3-pointer to tie the game and force overtime, but Wahl wasn't done.
Wahl scored five points for the Badgers in overtime, including a three-point play where he hit the shot and converted the free throw. His performance wasn't enough to carry the Badgers to a win, but it was enough to show his two-game slump was over.
Wahl matched his career-high with 23 points — only four of which came in the first half — to go with 10 rebounds.
"We're not in that position with two opportunities on the last possession to grab that one if it's not for him," Gard said. "I thought we had other guys on the floor that helped battle us back and tie back then battle back again. (Wahl's) a part of that but other guys stepped up and created some energy and some momentum for us as well."
Those contributions came in the form of Essegian's career-high 17 points, which pushed him to second on the Badgers with 9.2 points a game, and Klesmit's 13 points, his highest scoring output in a Badgers uniform.
One person who didn't show up was Hepburn, who was UW's second leading scorer heading the Battle 4 Atlantis. But the sophomore is averaging 8.2 points after three lackluster performances.
Hepburn was 2 of 9 overall and 1 of 1 from 3-point range to finish with six points against the Jayhawks. He had a chance to win the game for the Badgers in regulation but came up short.
"We'll take whatever he can give," Gard said. "We'll look back through and I'll always grade out shot quality, not necessarily looking at stats because sometimes you're getting good shots and they're not going down. Sometimes you're in a position where you're taking tougher shots and that impacts your percentages.
"He'll learn from this and you know, help us get ready for the next one."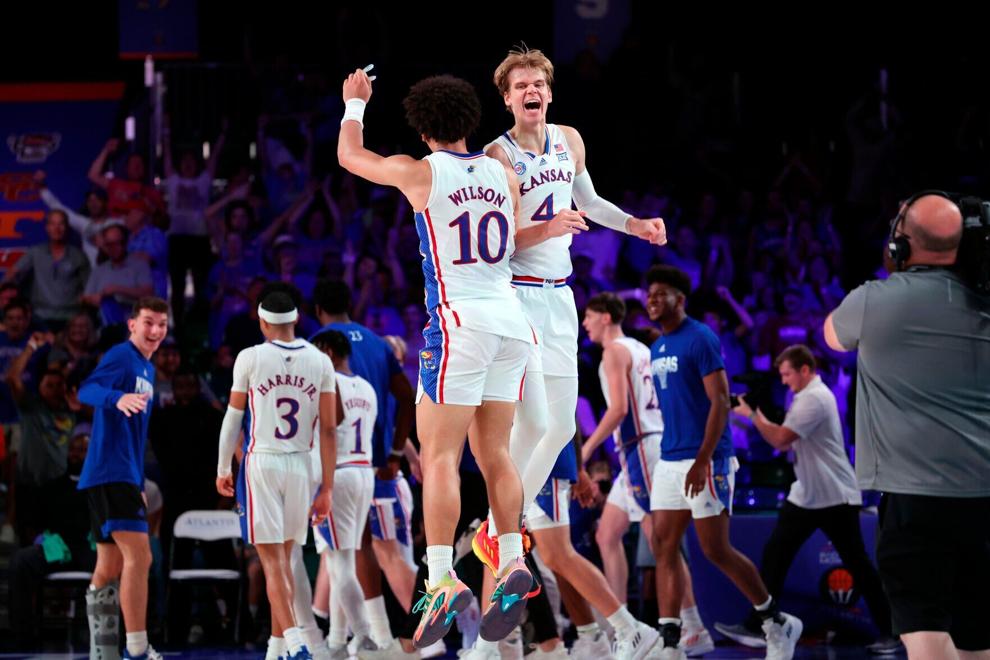 The Badgers finished the game shooting 38.7% from the field and 31.0% from 3-point range.
The result wasn't what the Badgers wanted, but it was their toughest opponent yet.
"Really proud of our guys," Gard said. "They battled, but they know how good a team we can be. We're not quite where we need to be. We're getting closer, but this will help us."