It's almost as if Sacia Vanderpool was destined to be a Badger.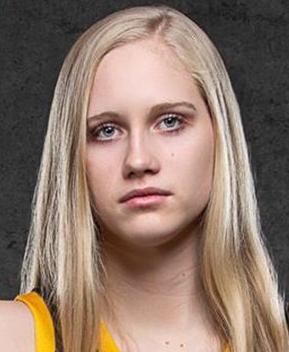 That's just what she will be after the 6-foot-4 post player from Byron, Minnesota, committed to become part of the University of Wisconsin women's basketball team's 2021 recruiting class.
Vanderpool will be following a family tradition as part of the fourth generation to attend UW, joining her sister Ella, a junior this fall, her dad Brian, his parents and grandparents.
In addition, her mom Heather's great uncle was Verner Suomi, a legendary UW professor who was known as the "father of satellite meteorology" and founded the UW Space Science and Engineering Center.
"It's kind of been my dream school, I guess," said Vanderpool, who's been coming to Madison several times a year and has attended numerous UW football, basketball and volleyball games. "I've always felt a connection with the campus because I've been coming there for a while. It's felt like home."
That sense of connection served UW coach Jonathan Tsipis well, even as Vanderpool's list of suitors grew in recent weeks to include LSU, Texas Tech and Virginia Commonwealth, with Kansas State among those hoping to get in the mix.
UW had been recruiting Vanderpool for more than a year and she attended the Badgers' Elite Camp last summer. But until recently her scholarship offers had come mostly from mid-majors like Northern Colorado, North Dakota State, Southern Utah, UC-Riverside and Ivy League member Penn.
But her AAU coach, Tylor Coley of FBC the North, said the list of big schools would've exploded if the spring and summer seasons hadn't been wiped out by the COVID-19 pandemic.
"She's definitely one of those late kids that everyone was kind of sleeping on," said Coley, whose daughter Chase played at Iowa while his younger daughter Kendall recently committed to Nebraska. "Then boom, her recruiting went through the roof in the last month. If we had gotten to play this summer she would've gotten a lot more offers.
"But Wisconsin was her school all along. I think she's a good get for them."
Coley sees Vanderpool as a versatile big who still possesses the perimeter skills from her younger days before she outgrew the position and has a rapidly developing set of post moves and the frame and mentality to hold her own around the basket.
"She's going to be a monster because she has that little edge to her," Coley said. "She's a nice kid off the court, but between the lines she has that edge to her. She beats up on her younger brother Zach, and he's relentless. Her mom says she usually has to break them up.
"Over the last 10 months Sacia has picked up a lot of physicality and toughness and size. She's been lifting weights and when she gets (to UW) she's going to be a frightful sight on the court. And she can step back behind the 3-point line and really shoot it."
Vanderpool, who has a 3.96 GPA, averaged 16 points, nine rebounds and nearly four blocks per game as a junior, shooting 54% from the field, 43% from 3-point range and 81% from the foul line.
"I'm versatile," Vanderpool said. "I can shoot the 3 and also go down low. The main thing I focused on this year are my post moves, being in the paint and shooting with either hand. I definitely have to get more aggressive and physical and I know I can."
Vanderpool becomes the second member of the 2021 recruiting class, joining 5-10 guard Krystyna Ellew of Chicago Taft. As things stand now, the Badgers have one scholarship remaining for the class, with that spot believed to be reserved for Beaver Dam guard Maty Wilke, the top recruiting target for several years.
Be the first to know
Get local news delivered to your inbox!