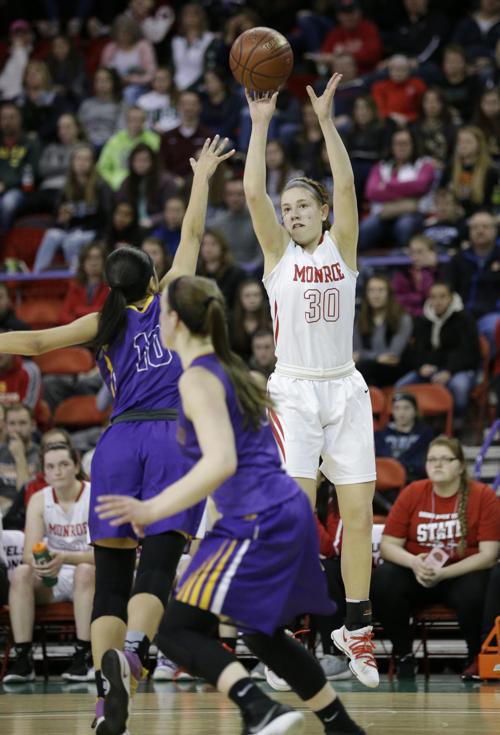 Sydney Hilliard made it official on Saturday, announcing her commitment to join the University of Wisconsin women's basketball program in 2019.
But for all practical purposes, Hilliard has been a Badger in spirit most of her life.
"Just growing up being a Badger fan, I've kind of always been wearing red and white ever since I was born," said Hilliard, a highly-recruited point guard from Monroe. "When I was growing up, I'd be in the Kohl Center watching them play. Now it's kind of crazy to think that I'll be playing there one day. I'm just excited."
That excitement no doubt is shared by UW coach Jonathan Tsipis, though NCAA rules prohibit him from discussing recruits until they sign a National Letter of Intent.
Still, it has been no secret Hilliard had been high on his 2019 recruiting wish list ever since he watched her play in an AAU tournament in Stoughton shortly after he was named UW coach two years ago.
He had plenty of company, as Hilliard attracted the attention of numerous schools and received offers from Marquette, UW-Green Bay, UW-Milwaukee, Minnesota, Iowa, Indiana, Nebraska and South Dakota State.
In recent months, she had narrowed her choice down to UW or Marquette. But in her heart of hearts, she already had a good idea what she would decide.
You have free articles remaining.
"During basketball season I thought about it quite a bit," she said. "I kind of knew, but I didn't want to for sure make my decision, especially as we were making a run to the state tournament. After the state tournament, it really made me realize how much I wanted to wear a Wisconsin uniform.
"I've been on campus quite a few times, whether it was a football game or watching one of their games. I've gotten to know the staff really well and know my future teammates pretty well, too. I think just getting to know coach Tsipis a little more helped with my decision."
The 5-foot-11 junior averaged 22.3 points, 6.3 rebounds and 2.8 assists in leading the Cheesemakers to a 24-3 record and their second consecutive trip to the WIAA state tournament. She scored 25 points in Monroe's 67-63 loss to New Berlin Eisenhower in the Division 2 semifinals.
Monroe coach Sam Mathiason has watched Hilliard's growth as a player from her early days and said she still has more to come.
"The way that she works and the drive that she has, she's added something to her game every year," Mathiason said. "Her sophomore year she developed that mid-range game and this year she became much more comfortable shooting the 3.
"I think she's just going to continue to expand what she can do and how she can score on the offensive end. The next part of that arc is to continue to grow into her body and add the strength she's going to need at the college level. I think there's a lot more room for her to continue to keep getting better."
Although initially uncomfortable with all the recruiting attention, now that it's behind her Hilliard has an appreciation for the entire process.
"Obviously, at the beginning it was kind of overwhelming," she said. "I was kind of a big nervous wreck. But I think just getting through the process and looking at it now, it has been exciting to get this opportunity because I know not a lot of people get to do this. So I'm just thankful I got to be one of them."
Hilliard becomes the fourth player to commit for the 2019 class, joining 5-11 Tara Stauffacher of Beaver Dam; 6-3 Sara Stapleton of Centennial High School (Circle Pines, Minnesota); and 6-1 Julie Pospisilova of Prague, Czech Republic.