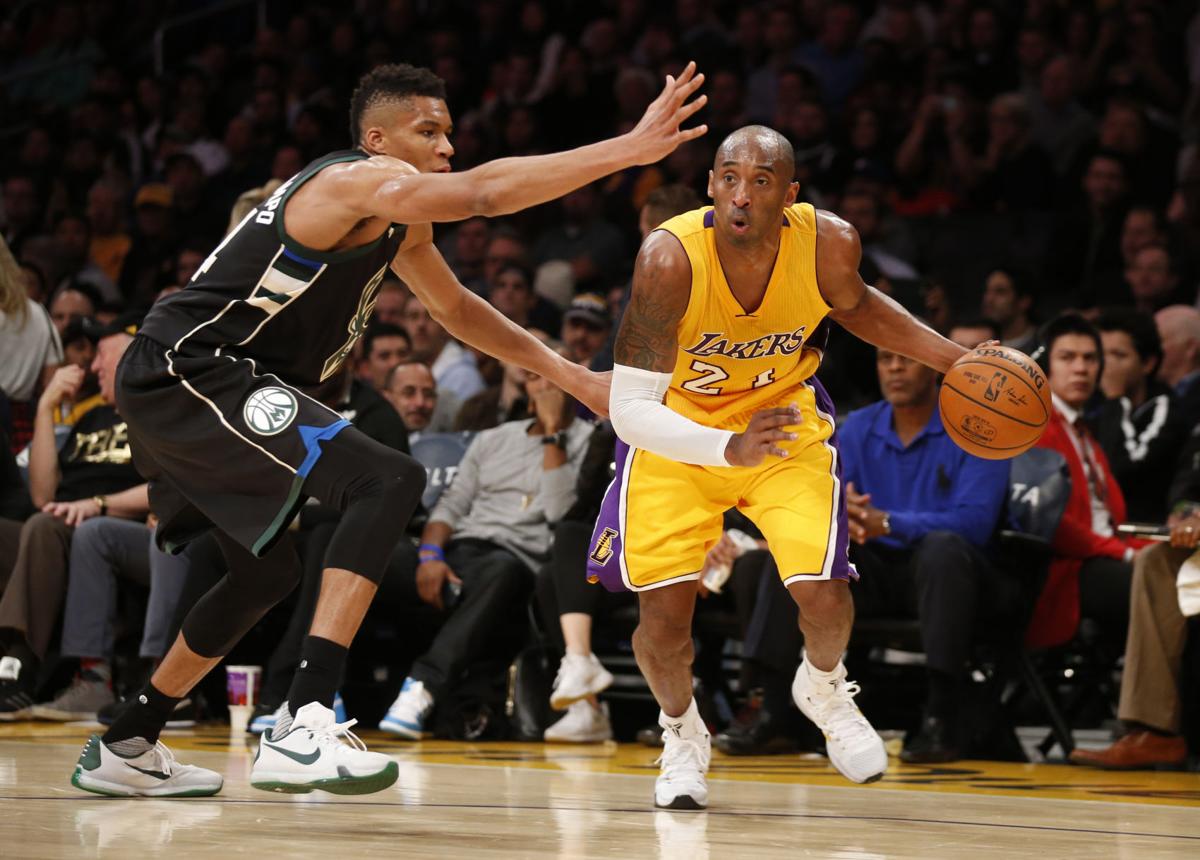 MILWAUKEE — The Kobe Bryant Farewell tour stopped in Milwaukee on Feb. 22, 2016, and while Bryant scored 15 points on 3-of-12 shooting in 24 minutes of action, his final Bradley Center appearance was overshadowed by Giannis Antetokounmpo, who nearing the end of his third NBA season had just started to show flashes of what was to come.
"I talked to him for quite a bit," Bryant told reporters after the meeting. "(Jason Kidd) was saying the biggest thing for a player is to decide what he wants to be. Does he want to be a great player or not? I told him that's a choice he has to make but if you want to be a great player, you have to make certain sacrifices and really go after it.
"He has the physical tools, the intelligence. Now it is just a matter of him believing in himself and going after it. He has the talent to be a great player."
A year later, enjoying retirement, Bryant took to Twitter to issue challenges to the game's current crop of stars and Antetokounmpo wanted his.
Antetokounmpo fulfilled that challenge last season, becoming the first Bucks player to win the award since Kareem Abdul-Jabbar in 1974.
That might not have happened had Antetokounmpo not been invited to take part in a Nike event that Bryant was also slated to attend. Antetokounmpo expressed a desire to work out with Bryant as he looked for ways to grow his game.
"I want to ask him if I can come to L.A. to work with him," Antetokounmpo said in an interview with Eric Nehm, now with The Athletic.
He wasn't looking for shooting tips, either. Antetokounmpo wanted to pick Bryant's brain to learn how he thinks in the hopes of picking up a bit of the "Mamba Mentality" that Bryant made famous during his record-setting career.
You have free articles remaining.
"Kobe is one of the greatest players to ever play the game," Antetokounmpo said. "I knew that I (was) going to learn a lot from him. I just wanted to take from him his thought process like what he thinks about the game. How he thinks the game. Does he think about recovery? Stuff like that."
His wish was granted that summer and Antetokounmpo, wanting to make it abundantly clear that he was there to work and not for PR reasons, showed up for his workout session three hours ahead of schedule.
"I'm here to get better. Simple as that," Antetokounmpo said. "I think he understands that. And that's why we both took that practice really, really serious. He was open about what he thinks about the game, what he thinks about me as a player and what he thinks about the Bucks."
In 32 career appearances against the Bucks, Bryant averaged 24.2 points on 43.3% shooting with 5.1 rebounds and 4.8 assists.
Sixteen of those games were played in Milwaukee where Bryant averaged 23.5 points with 5.7 rebounds and 5.0 assists.
In all, Bryant's Lakers went 24-8 against the Bucks including an 11-5 mark in Milwaukee.
Antetokounmpo had deleted all of his social media accounts Sunday night while the Bucks, who face the Wizards Tuesday night in Milwaukee, issued a statement expressing their condolences.
"Kobe Bryant demonstrated an extraordinary passion for basketball and love for his family. His legendary impact on the game will continue forever and he will be terribly missed by the Bucks organization and basketball fans across the globe.
"We are devastated and shocked by this tragedy and for the loss of his daughter, Gianna, and the others on board. Our deepest condolences and prayers go out to the Bryant family, the Lakers and those who are affected."
---
Flashback photos: Kobe Bryant plays his final game in Milwaukee