DULUTH, Minn. — As drama goes, this installment of the Border Battle was fitting for a Frozen Four semifinal.
And it probably was fitting that the big goal at the end for the University of Wisconsin women's hockey team came from someone who had so many chances earlier in the game.
Caroline Harvey scored on a wrist shot 16 minutes, 47 seconds into overtime Friday as the Badgers defeated archrival Minnesota 3-2 at Amsoil Arena.
It was the first time in four tries that the Badgers have defeated the Gophers in an NCAA semifinal, and it came after the Badgers absorbed a kick in the gut late in regulation with a Gophers tying goal.
But UW recovered from that setback and will play defending national champion Ohio State in Sunday's championship game.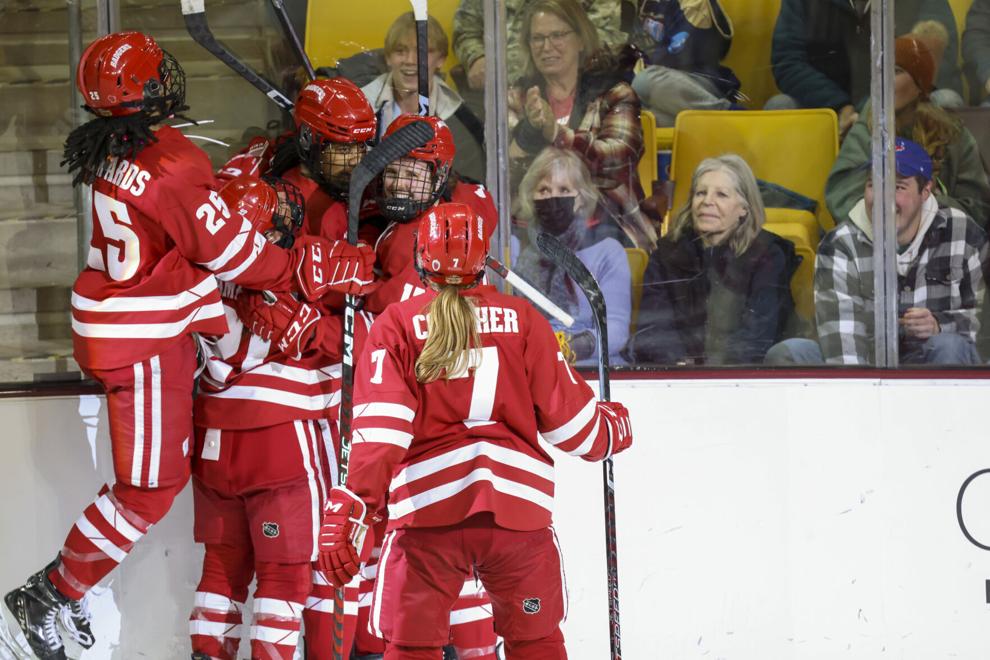 Harvey, a freshman who was named a second-team All-American on Thursday, had 11 of UW's second-period shot attempts and eight of its 17 shots on goal. She got one to go in on her 14th shot on goal of the game.
"Honestly, I blacked out. It was pretty crazy," Harvey said.
The Badgers (28-10-2) lost semifinals to Minnesota in 2014, 2015 and 2016. They improved to 5-4 all-time against the Gophers (30-6-3) in the NCAA Tournament.
Minnesota tied it with 71 seconds left in regulation when Madeline Wethington's slap shot from the top of the left circle redirected in off Badgers defender Nicole LaMantia. The shot was going wide right of the net but hit LaMantia's hip.
That came after the Badgers rallied with two goals in 53 seconds and got big saves from goalie Cami Kronish.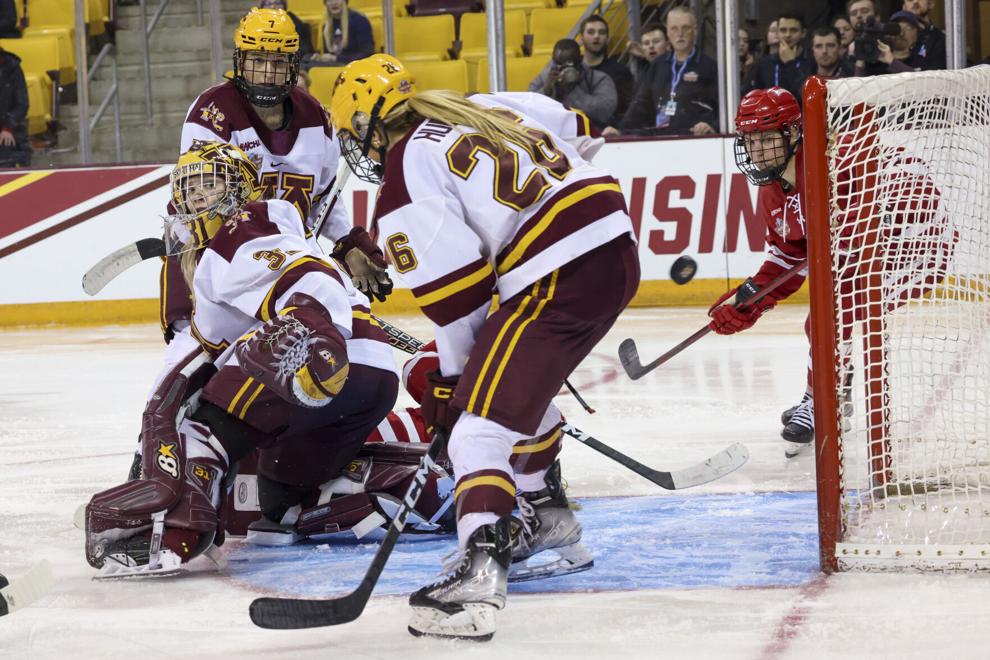 Laila Edwards, who helped spark UW's offense after a slumbering start, took a Jesse Compher faceoff win to the net and wrapped the puck around Gophers goalie Skylar Vetter.
Maddi Wheeler led UW on a 2-on-1 rush up the left side on the next shift and delivered a perfect pass across to Sophie Shirley for the putaway.
It was just Shirley's second goal in 22 games since the winter break.
"Our team knew we were due to score," Harvey said. "We kept pressing on them. We were so close for so long. ... Our team has so much fight in us, so much grit. We knew we were going to come back and we knew we were going to get the job done today."
The Badgers had to kill an interference penalty to Vivian Jungels and later got point-blank saves by Kronish on Taylor Heise, Savannah Norcross and Madison Kaiser to maintain the lead.
But they couldn't get to the finish line in regulation, and the teams headed to overtime for the third time this season.
UW had a 2-on-1 rush a little more than a minute into the extra session, but Casey O'Brien couldn't get a pass through to Shirley because of a nice sliding block by Gophers defender Nelli Laitinen.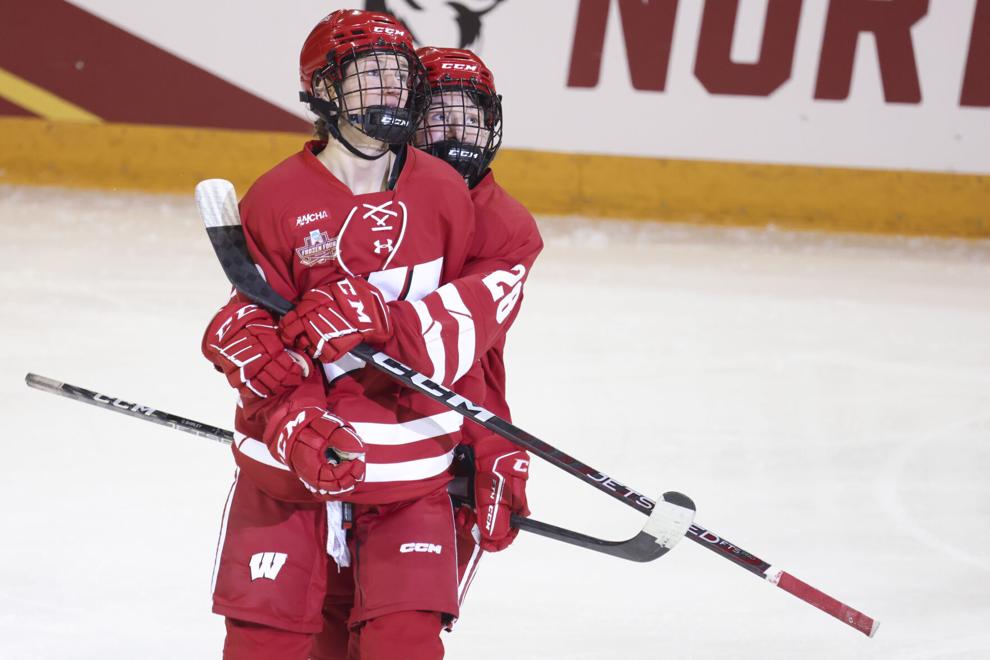 LaMantia blocked a Peyton Hemp shot from the slot around four minutes into overtime.
Kronish had to make a save with her right pad about 10 minutes into the extra session after Harvey gave up the puck on the blue line and Norcross went up ice with the puck. Kronish also denied Abbey Murphy from the left side.
"I didn't expect this to be an easy game," said Kronish, who made 37 saves. "Minnesota's a really skilled team, and we've had a lot of good battles with them this year. It's just been a mental preparation for games like this. You grow, you become mentally stronger and you're able to get over things better."
The Badgers couldn't get the puck over the goal line during a dominant second period. They outshot the Gophers 17-7 in the middle 20 minutes, but Vetter kept them off the scoreboard.
The best chance was in the final seconds of the frame, when Lacey Eden got to the top of the crease to redirect LaMantia's shot from the top of the zone. But Vetter stayed in front of the puck after it changed directions.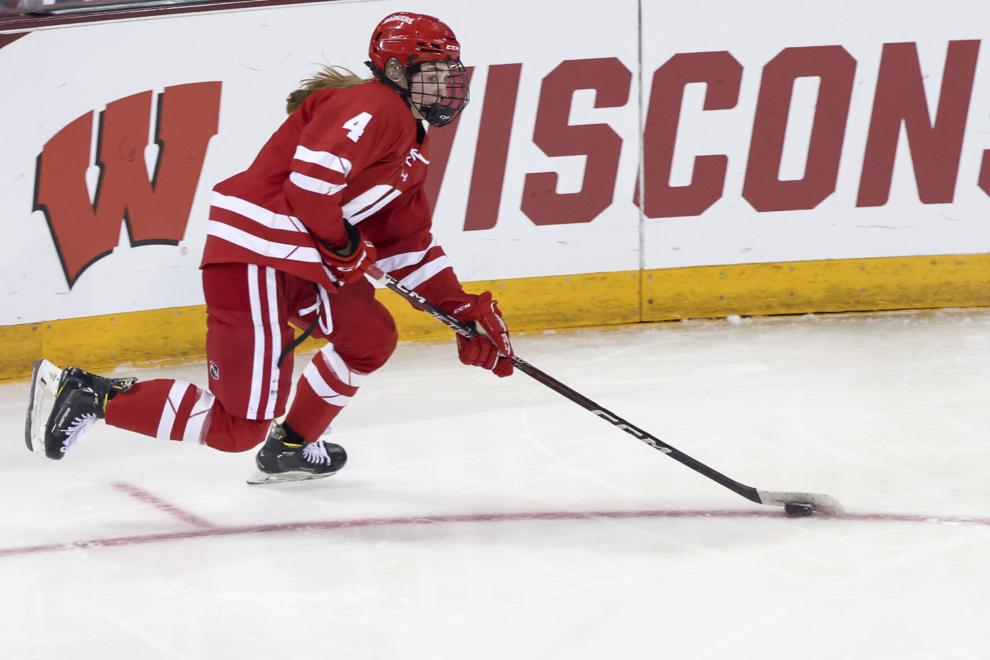 UW had a power play earlier in the period, but it nearly turned to disaster when Eden gave away the puck at the top of the zone and Heise went in on a breakaway. But Kronish made a save, aided by a tripping penalty called on LaMantia.
The Badgers got the puck around Minnesota's net often in the middle frame and had Vetter out of position but couldn't draw even.
"I thought we were going to get one for so long," Harvey said.
Minnesota looked like the looser team early and converted that into a lead just 3:23 into the game.
Emily Oden's shot from the top was wide right but caromed off the solid back boards into the left circle, where Heise fired it into the top left corner.
Badgers coach Mark Johnson said he urged his players midway through the first period that they had to move their feet and get the puck in the offensive zone.
"We've got to get the puck in the offensive zone," he said. "We've got to try to create some opportunities. ... In that latter part of the first period, we started to do some things better and then we built off that."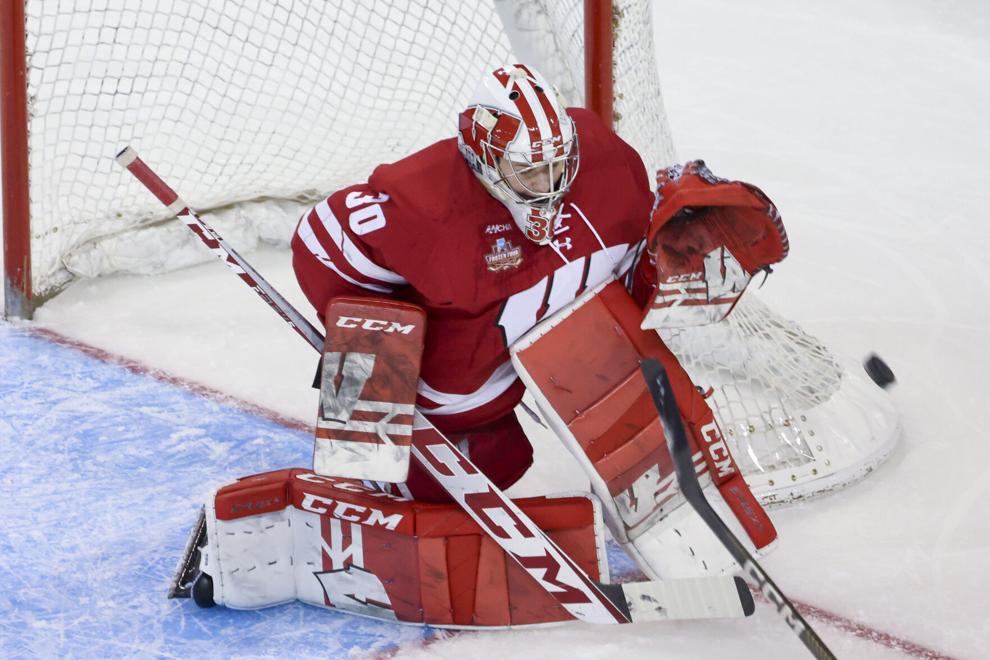 The Badgers had a power play after they gained composure but failed to get a shot on goal over the two minutes.
A good shift by Edwards — a block at the blue line and a successful chase down ice for the puck — led to three UW shots. But none of them greatly challenged Vetter.
Edwards was one of the Badgers' more involved players offensively early. She had three of UW's six shots on goal in the first period.
| | | | | | | |
| --- | --- | --- | --- | --- | --- | --- |
| Wisconsin  | 0  | 0  | 2  | 1  | —  | 3  |
| Minnesota  | 1  | 0  | 1  | 0  | —  | 2  |
First period: M — Heise 30 (Oden, Boreen), 3:23. Penalty: Huber, M, 11:40.
Second period penalties: Zumwinkle, W, 6:31; LaMantia, W, 6:59; Compher, W, 16:08.
Third period: W — L. Edwards 13 (Compher), 6:32; S. Shirley 12 (Wheeler), 7:25. M — M. Wethington 6 (Heise), 18:49. Penalty: Jungels, W, 10:48.
Overtime: Harvey 13 (Compher, Curl), 16:47.
Saves: W (Kronish 8-7-12-10) 37; M (Vetter 6-17-6-6) 35. Power plays: W 0-for-2; M 0-for-3. Att. — 3,425.