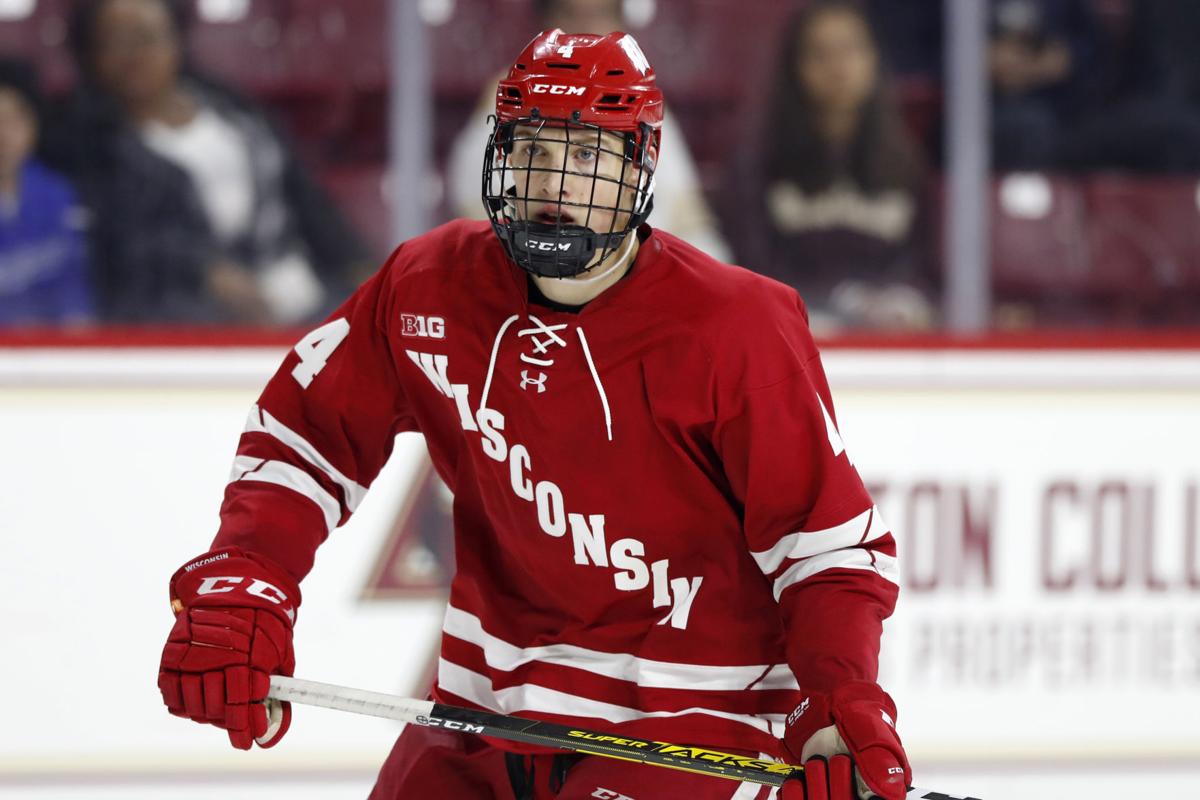 Dylan Holloway's aggressiveness can be a great thing for the University of Wisconsin men's hockey team.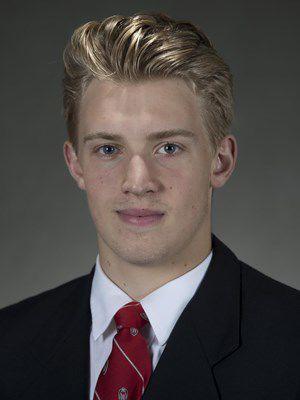 The freshman forward helped create the first of three Cole Caufield goals last Friday with a neutral-zone hit on the Notre Dame puck-carrier. He showed strength on a drive up the right side a night later by using his left shoulder on a defenseman and keeping possession of the puck on his backhand.
But Holloway has been caught being overaggressive this season, as evidenced by his leading the Badgers with 18 penalties in 23 games. That's six penalties more than the closest teammate and one shy of the most among Big Ten Conference players.
To a degree, UW has to live with Holloway toeing the line between physicality and penalization because of what he can contribute when he's in that zone.
"I think you can play really aggressive and still stay on the line," Holloway said. "You can still finish your checks, make hits, push guys and crash the net hard. But there's a line, too. You've just got to try to do all that without taking penalties."
Holloway was sent to the penalty box in both games of UW's split at Notre Dame. On Friday, it took less than a minute for him to end up there for goaltender interference after his rush to the net ended up with him taking out Notre Dame's Cale Morris.
"You play hard, sometimes you go to the box," Holloway said. "On that particular play, I was just taking the puck hard to the net. I couldn't stop myself before I ran into the goalie. I'd still take the puck that hard to the net any game."
Physical play has been much more of a constant in Holloway's freshman season than scoring. As the Badgers' regular season reaches its final 10 games, with Minnesota visiting the Kohl Center on Friday and Saturday, Holloway is stuck on three goals and eight points.
It has been a head-scratcher with the NHL draft first-round prospect, who produced 101 points in 64 games across the regular season and playoffs last season for Okotoks in the Alberta Junior Hockey League.
Since recording a point in three straight November games, Holloway has just two in his last 12 contests. One was a goal against Michigan on Nov. 30 and the other was an assist against Ohio State on Jan. 11.
Lately, however, Badgers coach Tony Granato has been heaping praise on Holloway.
"He's played well enough to look like he should have more points," Granato said. "One of these days, the points will catch up with the chances he's creating."
Timing mishap
Granato said the Big Ten apologized for a timing error by off-ice officials that added what he said was another 42 seconds to the second period on Saturday.
That was to the detriment of the Badgers, who were whistled for a penalty and allowed a 5-on-3 goal in the final 18 seconds of the period — time that shouldn't have been left on the clock.
After Notre Dame scored with 3:35 remaining in the second period to take a 2-1 lead, the timekeeper at Compton Family Ice Arena didn't start the clock for nearly three-quarters of a minute after the faceoff.
"The period would have been over 42 seconds earlier but because of a human error, there's nothing they can do," Granato said Monday. "They said 'sorry.'"
Timing errors normally are corrected at the next whistle, when off-ice officials alert the referees and fix the clock. That didn't happen Saturday, and the Badgers went into the third period trailing 3-1 after Cal Burke's goal with 7.1 seconds left. They lost 5-2 after cutting the deficit to 3-2 in the opening minute of the third period.
Possession lost
The Badgers have had their two best games of the season in terms of possession in the last two weeks and have lost both.
Even more, UW didn't score a single even-strength goal in a 4-0 loss to Michigan State on Jan. 17 and last Saturday's game at Notre Dame.
Those games produced the Badgers' highest percentage of even-strength shot attempts, a statistic that serves as a proxy for puck possession. They had 61.6% of the attempts against the Spartans and 58.2% against the Fighting Irish.
For the season, UW is a tick over 50%. It has been over 50% in 12 games and below in 12.
From the infirmary
Center Alex Turcotte, who missed Saturday's game with a lower-body injury, sat out practice Monday but is expected to play Friday, Granato said.
Be the first to know
Get local news delivered to your inbox!