Tarek Baker's goal with 3:32 remaining gave the University of Wisconsin men's hockey team a 1-1 tie with Clarkson on Friday at the Kohl Center.
Neither team scored in a five-minute overtime and because it was a non-conference game, no shootout was contested.
Nick Campoli put Clarkson ahead midway through the third period.
Three stars
No. 3: Jared Moe had a few stellar stops among his 24 for the Badgers.
No. 2: Ethan Haider made 33 saves for Clarkson.
No. 1: Baker's late goal helped UW avoid a sixth straight loss.
Three key plays
Haider made a nice save on UW's Brock Caufield from the slot with five minutes left in the first period. Caufield had a lot of room around him to shoot but the goalie denied the shot with his left pad.
Moe was in the middle of a side-to-side move but he still was able to turn away Chris Klack's tap of a Noah Beck shot that got blocked toward the left of the net. That kept the game 0-0 with less than eight minutes to play in the second period.
Baker won a faceoff and then finished off a rebound of shots by Daniel Laatsch and then Ryder Donovan to tie the game.
Up next
The Badgers and the Golden Knights close the non-conference series at 6 p.m. Saturday. The game will be on Bally Sports Wisconsin.
Pregame
The University of Wisconsin men's hockey team will try to break a five-game losing streak without one of its top defensemen when it plays Clarkson on Friday at the Kohl Center (7:04 p.m., Bally Sports Wisconsin Plus, BigTenPlus.com, 1310 AM).
Corson Ceulemans came down with an illness late in the week and is out for the series opener. The Badgers are down to six available defensemen — Jake Martin and Shay Donovan also are out ill and Mike Vorlicky is injured.
Ceulemans' absence will force chances to the Badgers' top power-play unit, which has struggled through the season but has improved recently.
UW has lost six in a row only once in the last seven seasons — the final six games of the 2017-18 campaign.
Badgers (4-10)
Jack Gorniak - Brock Caufield - Sam Stange
Carson Bantle - Tarek Baker - Ryder Donovan
Roman Ahcan - Dominick Mersch - Mathieu De St. Phalle
Caden Brown / Zach Urdahl - Owen Lindmark - Liam Malmquist
Jesper Peltonen - Anthony Kehrer
Daniel Laatsch - Luke LaMaster
Scratches: F Max Johnson, F Brayden Morrison, D Corson Ceulemans (ill), D Jake Martin (ill), D Mike Vorlicky (injured), D Shay Donovan (ill).
Golden Knights (7-4-2)
Chris Klack - Zach Tsekos - Jack Jacome
Ayrton Martino - Ryan Richardson - Anthony Romano
Alex Campbell - Mathieu Gosselin - Luke Santerno
Nick Campoli - Luke Mobley - George Grannis
Lukas Kaelble - Michael Underwood
Jordan Power - Dustyn McFaul
Officials
Referees: Jonathan Sitarski and Kevin Corbett.
Linesmen: Bill Hancock and Jonathan Sladek.
Badgers by position: Learn more about the 2021-22 Wisconsin women's hockey team
FORWARDS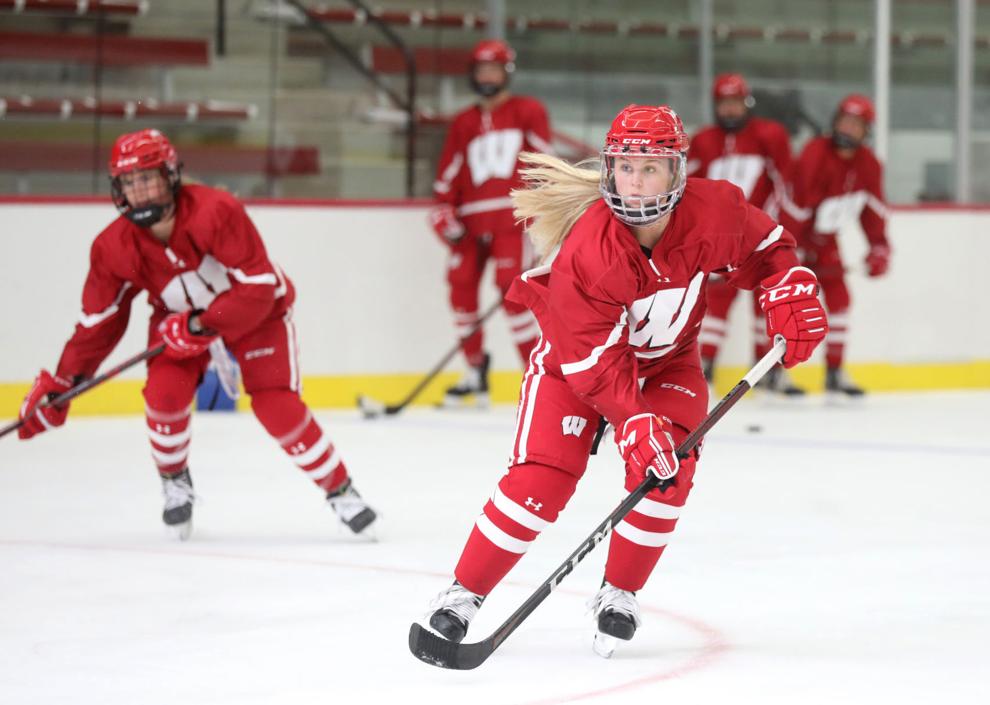 Roster
| | | | | |
| --- | --- | --- | --- | --- |
| No. | Name  | Year  | Height  | Hometown  |
| 8 | Makenna Webster  | So.  | 5-2 | St. Louis  |
| 9  | Sophie Shirley  | Sr.  | 5-9  | Saskatoon, Saskatchewan  |
| 12  | Grace Shirley  | Jr.  | 5-7  | Saskatoon, Saskatchewan  |
| 15 | Caitlin Schneider  | 5th-Sr.  | 5-4  | Glenview, Illinois  |
| 16 | Maddie Posick  | 5th-Sr.  | 5-7  | Stoughton  |
| 18  | Marianne Picard  | Fr.  | 5-6  | Repentigny, Quebec  |
| 19  | Daryl Watts  | 5th-Sr.  | 5-6  | Toronto  |
| 20  | Brette Pettet  | 5th-Sr.  | 5-3  | Kentville, Nova Scotia  |
| 23  | Sarah Wozniewicz  | Fr.  | 5-7  | Cochrane, Alberta  |
| 26  | Casey O'Brien  | So.  | 5-4  | Milton, Massachusetts  |
| 28  | Maddi Wheeler  | So.  | 5-4  | Erinsville, Ontario  |
Breakdown
The Badgers have the potential to form the most potent line in the country with left wing Daryl Watts, center Brette Pettet and right wing Sophie Shirley. They combined to score 42 of the team's 79 goals last season, including an NCAA-best 19 by Watts. But it's also worth considering that UW might be able to better fill its offensive depth by spreading them over the top two lines like the team did last postseason.
Casey O'Brien has the makings of a top-six center and the Badgers need it because that's not a position with a large amount of depth. Makenna Webster was the Frozen Four Most Outstanding Player last season after she scored in both the semifinal and championship games. O'Brien, Webster and Maddi Wheeler got only about half of the games that freshmen normally experience in their first year, so their growth curve will continue into this season.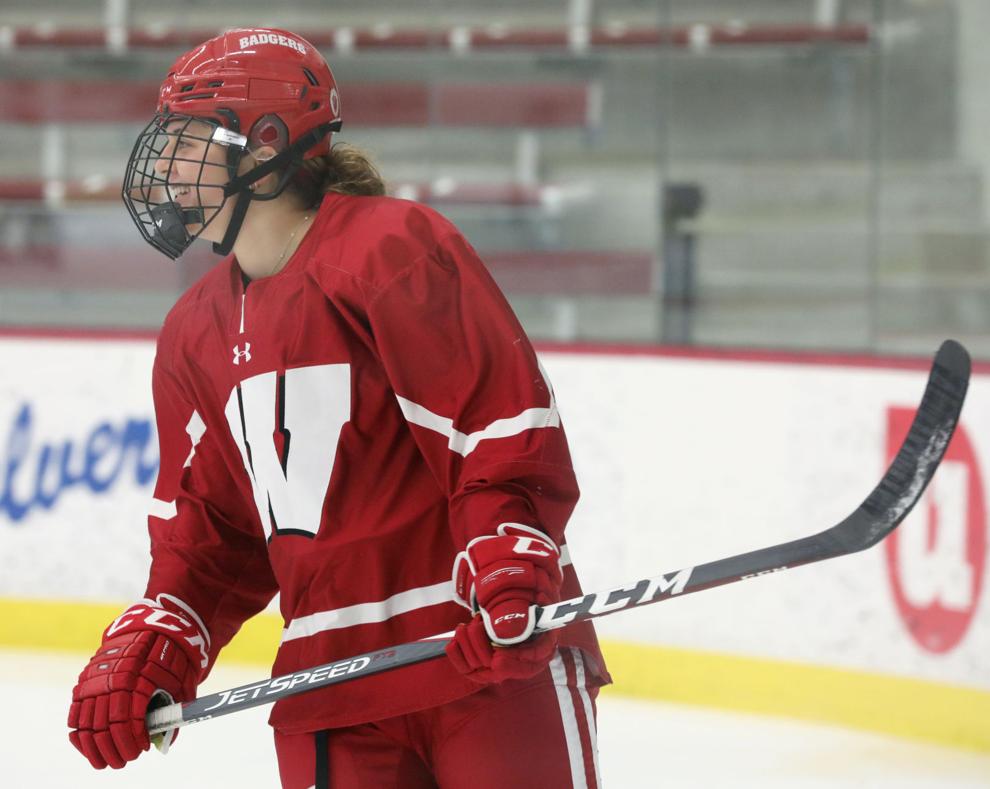 With Britta Curl and Lacey Eden competing for spots on the U.S. Olympic team, the Badgers will need bigger roles out of some returning players who had been used sparingly in the past and quick contributions from freshmen Marianne Picard and Sarah Wozniewicz.
Breakout potential
Caitlin Schneider scored only twice last season after recording nine goals as a junior. The Badgers could use a boost from her and she should get the opportunity to provide it.
The number
49% | UW's faceoff winning percentage in 2020-21, ranking 17th of 30 NCAA teams. The Badgers were first at 60.5% in 2019-20.
DEFENDERS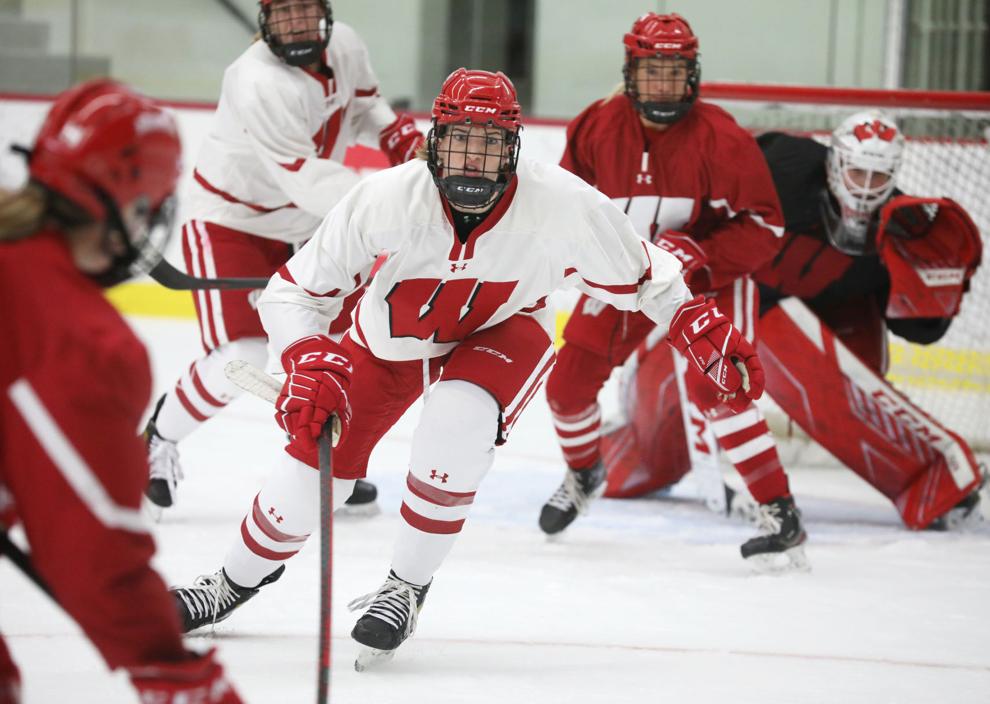 Roster
| | | | | |
| --- | --- | --- | --- | --- |
| No. | Name | Year | Height | Hometown |
| 3 | Sophie Helgeson | Fr. | 5-6 | Roseau, Minnesota |
| 5 | Kendra Nealey | Sr. | 5-11 | Madison |
| 13 | Grace Bowlby | 5th-Sr. | 5-8 | Edina, Minnesota |
| 14 | Mayson Toft | So. | 5-8 | Lowry, Minnesota |
| 21 | Nicole LaMantia | Sr. | 5-4 | Wayne, Illinois |
| 24 | Katie Kotlowski | R-So. | 5-10 | Warroad, Minnesota |
| 25 | Chayla Edwards | Jr. | 5-9 | Cleveland |
Breakdown
The Badgers will feel the loss of Natalie Buchbinder, who was selected for the U.S. Olympic residency process, but the entrance of Kendra Nealey via transfer from Cornell should help provide some cover. Nealey didn't play last season because the Ivy League canceled the schedule during the pandemic. She'll be able to take advantage of a less strenuous beginning for UW, which isn't set to face a ranked team until playing at Minnesota Duluth on Oct. 15 and 17, to get back up to speed.
Grace Bowlby led NCAA defenders with 18 assists last season and was UW's first first-team All-American at the position since Meaghan Mikkelson in 2007. Bowlby played in all 136 games over her first four seasons with the team. Nicole LaMantia was just as dependable in her first three campaigns, going 98 for 98. Chayla Edwards gives the Badgers a stable presence in the defensive zone and a willingness to block shots.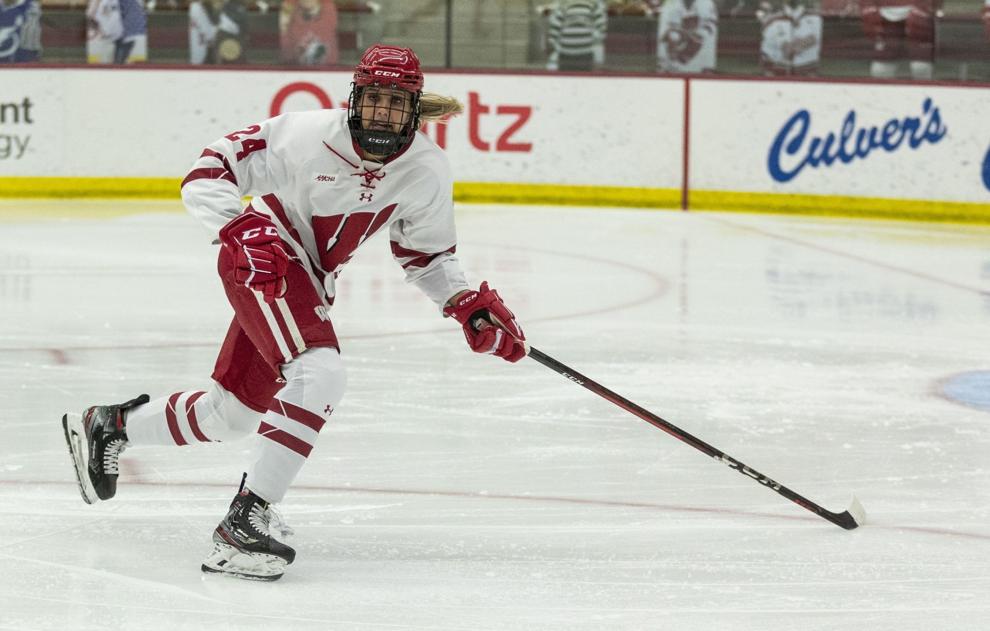 UW traditionally is stingy on defense stemming from good puck control and movement in its zone. This season shouldn't be much different in those areas.
Breakout potential
Katie Kotlowski had a quietly effective redshirt freshman season in 2020-21 playing alongside Bowlby. Even if her defensive partner gets most of the accolades, Kotlowski's contributions won't go unnoticed for long.
The number
3 | Goals scored last season by Badgers defenders. Two were by LaMantia, one by Buchbinder.
GOALIES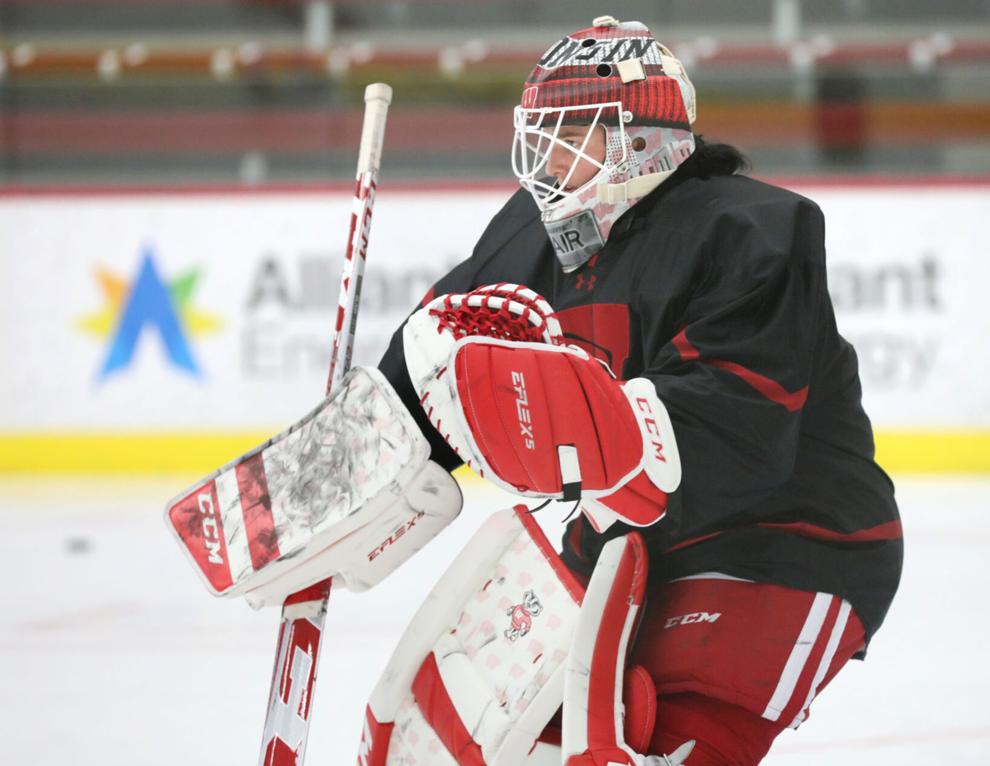 Roster
| | | | | |
| --- | --- | --- | --- | --- |
| No. | Name | Year | Height | Hometown |
| 1 | Jane Gervais | R-Fr. | 5-8 | Valcourt, Quebec |
| 29 | Kennedy Blair | 5th-Sr. | 5-7 | Bismarck, North Dakota |
| 30 | Cami Kronish | R-Jr. | 6-0 | New York |
Breakdown
The Badgers have been reliant on transfers in goal for the last half decade, and this season is shaping up to be no different. Kennedy Blair is entering her sixth year of college at her third school. She started at North Dakota but the school ended its women's hockey program after her redshirt year in 2016-17. She then played three years at Mercyhurst before backstopping the Badgers' NCAA championship last season.
Goalies originally recruited by UW have started only five of the team's 136 games in the last four seasons, since Kristen Campbell arrived after North Dakota's shutdown. Transfer movement has kept the Badgers strong at a position that has produced two Patty Kazmaier Award winners and four All-Americans for UW in the last 15 years.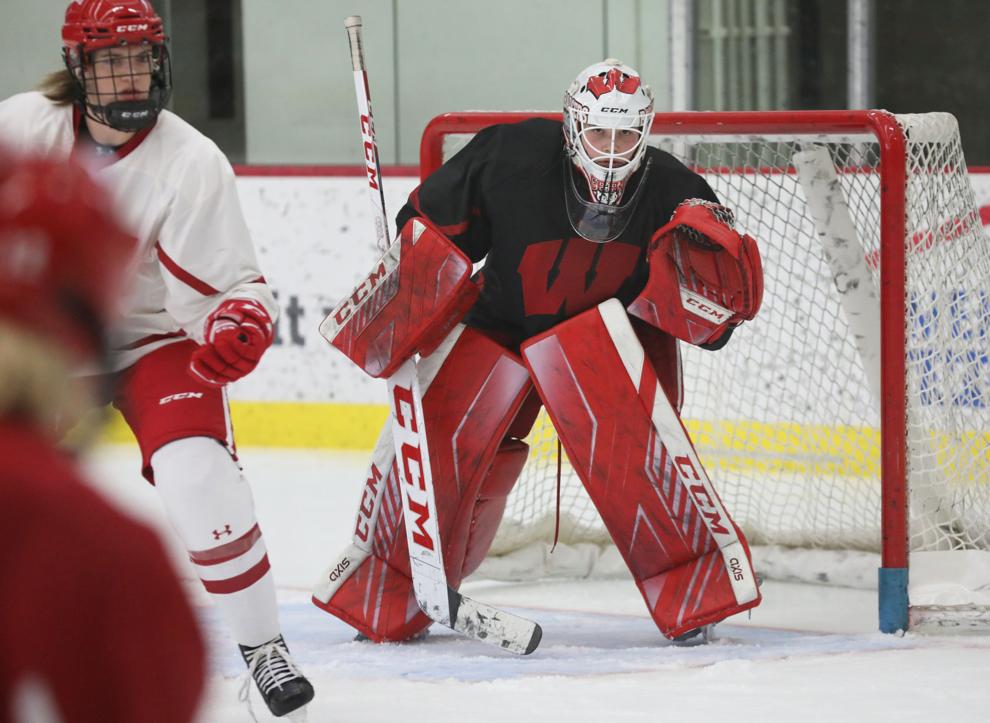 Blair's .935 save percentage last season was a career best but good for only 13th nationally. That's a top 10 stat in most seasons but the shortened 2020-21 campaign featured less scoring on average.
Breakout potential
Jane Gervais' development will be an item to monitor. She redshirted last season after arriving from the powerhouse Stanstead College prep team in Quebec.
The number
24.52 | Average shots on goal per game faced by Badgers goalies last season. It was the first time since the 2013-14 season that the number was above 20.