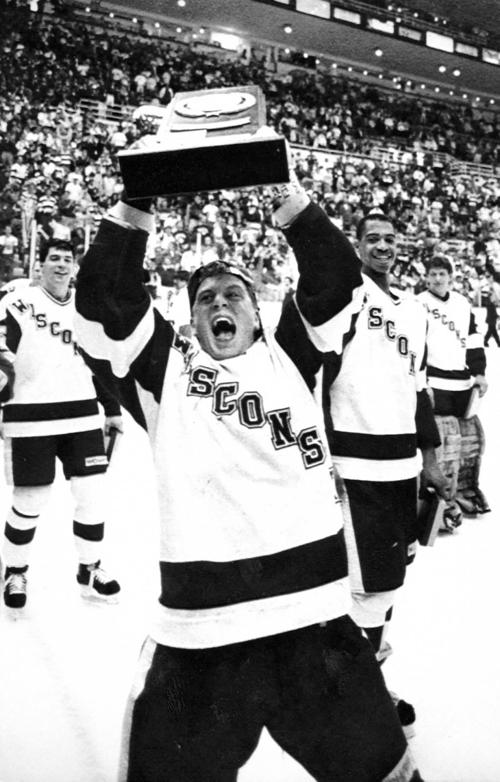 In one of their final conversations, Rob Andringa and Tom Sagissor talked about successes and regrets, the framework of life.
Lying beside his longtime friend, who had stopped chemotherapy treatment for colon cancer, Sagissor brought the conversation back to one of their biggest shared triumphs: the 1990 NCAA title with the University of Wisconsin men's hockey team.
A few months earlier, they were celebrating the 30th anniversary of that day in Detroit when their team became champions for life, a finishing piece of a strong bond for the group.
Sagissor told Andringa that he was "the juice" for that team. In typical fashion, Andringa put it back on Sagissor, telling him he was following his lead.
"He would fill your tank," Sagissor said. "There's a lot of people in life, they empty your tank. He's just not one of those people. When you're with him, he fills your tank. That's why people wanted to be around him. He was really a special dude in that regard."
A Madison native, Andringa was remembered as an incredible athlete — he was honored in three sports at Madison Memorial before playing hockey and baseball for the Badgers — but gained friendship, those close to him said, for a selfless nature and an infectious personality.
"He's the ultimate Badger," former UW teammate Duane Derksen said. "He's got his own 'Ringo' Bucky on State Street, and it's for a reason: He epitomizes us."
Tributes to Andringa poured in from teammates, friends and colleagues Friday night and Saturday.
'Wonderful ambassador'
Mark Osiecki, his defensive partner with the Madison Capitols junior team and the Badgers, said Andringa "exemplified what it is to be a Badger hockey player: leader, energetic, caring, selfless. He never cared who got credit, he just wanted Badger hockey to have success."
Said Badgers coach Tony Granato: "There is no one that has represented us in a more beautiful and positive way than Rob."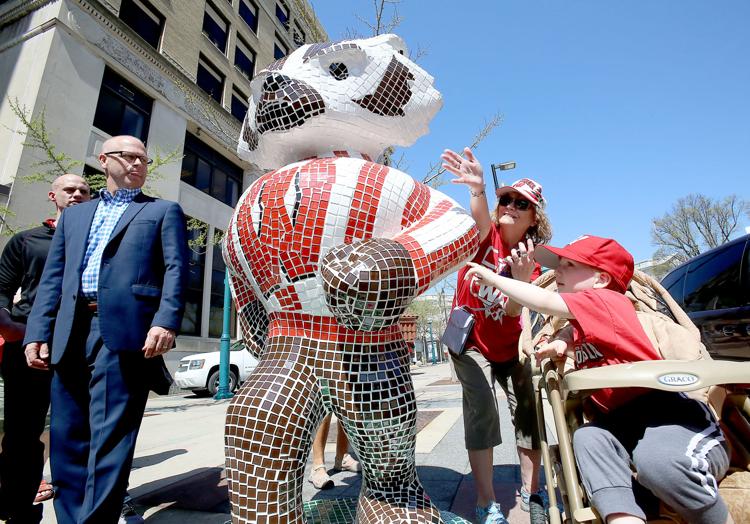 After playing two sports for the Badgers, Andringa also served as a "wonderful ambassador" for the school, athletic department and Madison, athletic director Barry Alvarez said.
Andringa was a member of the UW Athletic Board and president of the National W Club for letterwinners.
"His enthusiasm for life was infectious," Alvarez said in a statement. "Rob will be greatly missed by all who knew him, especially the Badger hockey teammates with whom he won a national championship and forged lifelong friendships. The thoughts and prayers of all Badgers are with Rob's family and friends."
Enthusiasm was one of the reasons Andringa succeeded as a color commentator on Badgers broadcasts starting in 1996 and then with the Big Ten Network starting in 2013.
Another reason, longtime friend and radio and TV booth partner Brian Posick said, was he told it like it was. His honesty earned respect from coaches and players.
Their partnership on the air worked, Posick said, because they were close when the microphones weren't on.
"To be fortunate to work with a friend, I don't think it gets any better than that," he said.
A versatile athlete
Inducted into the Madison Sports Hall of Fame in 2011, Andringa was remembered for being a natural at whatever sport he tried.
He helped Memorial to a 24-0 season and state hockey championship in 1984-85 before playing his final two high school seasons with the Capitols.
In football, he was an all-conference pick at quarterback and also played linebacker. He hit .612 in his junior season to earn Big Eight player of the year honors in baseball.
Andringa fulfilled a dream by playing hockey for the Badgers, but he also joined the baseball team after his season on the ice was over.
"He had the most athleticism of anybody I ever played with," Sagissor said. "He could pick up a football and be the best quarterback. When we played screw-around basketball, he was like Steve Alford. If we were playing volleyball, he'd be the best volleyball player."
John Byce grew up with Andringa and remembers a West Madison Little League game where Andringa hit a grand slam and a three-run home run off him. Whether it was in driveway basketball or whiffle ball in the yard, there was always a competition for Andringa to get into.
Later, they became UW teammates and had sons play hockey together.
A tight-knit group
On the 1990 team, Byce was one of the scoring leaders while Andringa was a spark-plug defenseman. To Byce, that group staying remarkably close for 30 years was all on Andringa.
"I think we owe it all to him that these guys are still my best friends today," Byce said. "Without him and his efforts, always being the one to put the events together, we're all going to have to pick up the slack because he's truly amazing in every way to do that."
Mark Johnson, the Badgers women's hockey coach who's the career goal-scoring leader for the UW men's program, said he recently reminisced with Andringa about growing up on Madison's southwest side.
The Andringa family lived down the block from the Johnsons, a fortuitous break that gave Rob Andringa a future Madison icon to watch on the neighborhood rink and an entry into the Badgers locker room as a stick boy for UW coach Bob Johnson.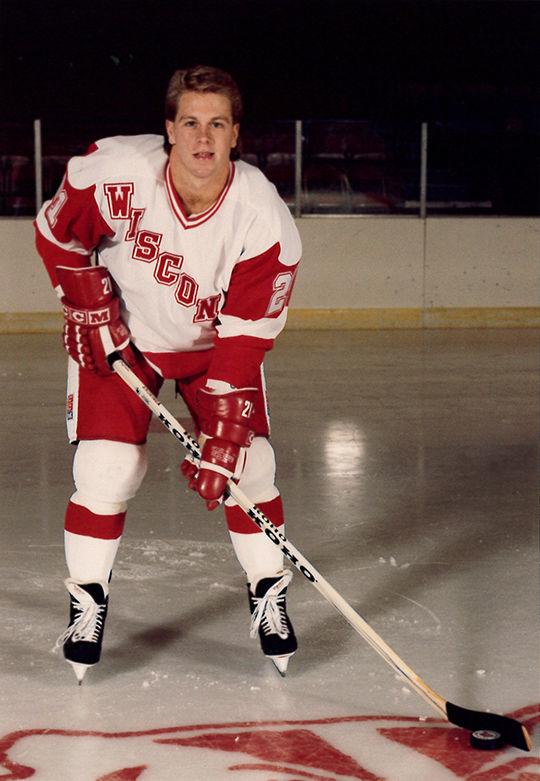 As an adult, Andringa retraced the footsteps through his playing career by giving back at various levels of hockey. One vivid memory that Mark Johnson carries is walking in for the first day of instruction at the Bob Johnson Hockey School in Colorado to find Andringa, ready to serve as a coach, lacing up his skates and drinking a Diet Mountain Dew.
"As much as he benefited and his family benefited from working at the hockey school, he was able to touch a lot of people and affect a lot of people's lives by giving back to the sport," Johnson said.
'Great motivator' as coach
Andringa also worked with youth hockey teams and was a head coach of the Capitols and an assistant at Memorial.
During a semifinal game of the 2000 WIAA state tournament, Andringa delivered a passionate intermission speech that helped Memorial to an overtime victory en route to the championship. (Not to be forgotten is he did so basically on his way out of the Dane County Coliseum to get to the Kohl Center for a Badgers broadcast.)
As longtime Spartans coach Vic Levine remembers it, Andringa's speech was reminiscent of Herb Brooks' to the 1980 U.S. Olympic team: "This is the moment you've been waiting for."
"When he was talking like that, every player was just on the edge of their seat, paying attention, because that's just the way Rob was," Levine said. "An extremely great motivator of coming up with sayings and things like that. In terms of his coaching ability, that was his strength."
The connections Andringa had to Madison and its hockey community always stood out to Don Granato, his teammate for two years with the Capitols and four years with the Badgers. And Andringa's knowledge of and love for UW hockey and its history earned him a nickname from Granato: Bucky Badger.
"Because he just exemplified everything good about Wisconsin and the Badgers," Granato said. "He brought that energy to everything we did, whether it was pregame, postgame, sitting in the dorms. Whatever it was, he was Bucky Badger to me."
A 'go-to' guy
Sagissor first met Andringa in the summer of 1985 when they were assigned to be roommates at a national midget hockey camp in Colorado Springs. They later became teammates at UW and co-workers at RBC Wealth Management.
Sagissor hired Andringa to be senior managing director of the firm's office in St. Paul, Minnesota, in 2015. Moving from his longtime home in Madison was one of the successes to Andringa because, he told his friend, few thought he'd be able to leave his hometown.
One of the regrets was not marrying his wife, Christi, until 1996. The comment caught Sagissor off guard, and he pressed Andringa on it.
"When you start living with someone and you start having kids and you start sharing all these cool experiences, he goes, I never knew how good life could be until I did that," Sagissor said, recalling his conversation with Andringa. "And he goes, I just wish I would have done it sooner."
The Sagissor and Andringa families had regular dinner engagements on Sundays. Whether it was on the ice or in the office, Andringa was a valued person, Sagissor said.
"He was an inspiration because he was the epitome of a team," he said. "I always prided myself on being the heart and soul of the team, but he was the glue that kept the heart and soul together. He was right there. If I needed somebody to get something going, he was my go-to. When he moved up to St. Paul, I spent a bunch of time with him. And he was my go-to up here."
Be the first to know
Get local news delivered to your inbox!