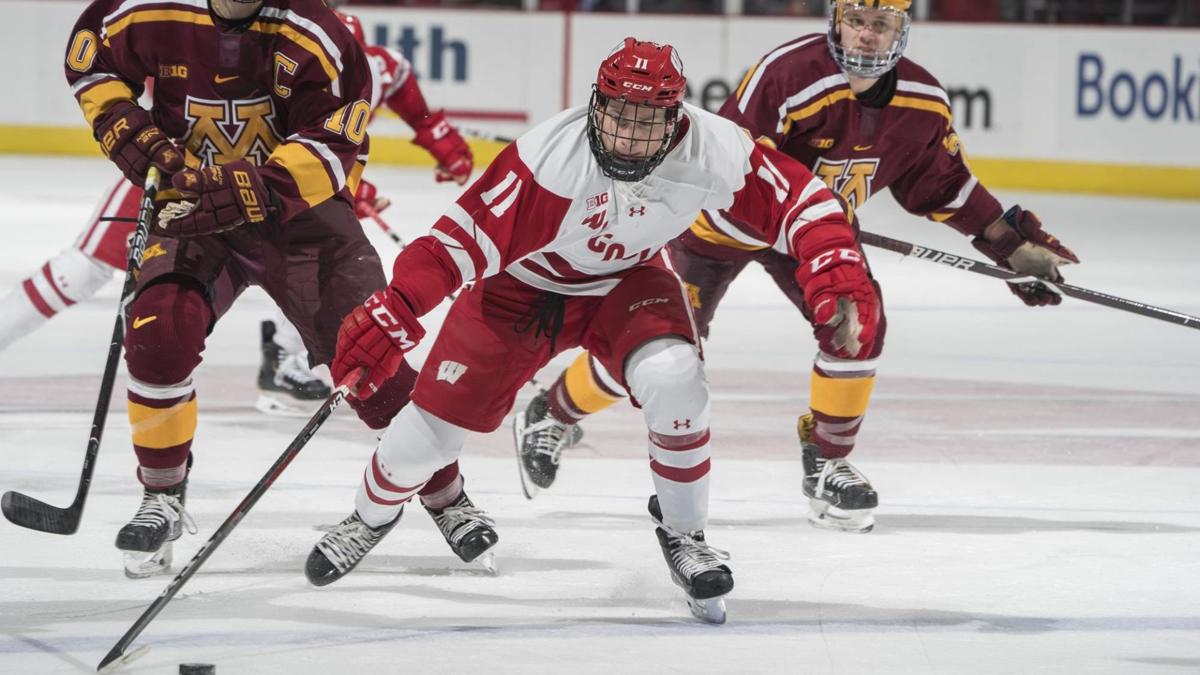 The new hockey rink that West Salem christened a little more than a year ago is the nice, functional facility the La Crosse County village needed to house its hockey programs.
It will never be the home ice to Jack Gorniak the Meat Locker was.
Officially the Lions Community Shelter, the building along East Avenue was essentially a pole barn that, during the winter months, became an indoor ice facility.
The Meat Locker — so named by Gorniak's uncle for its temperature and tight quarters — was where Gorniak grew into the player who's now a sophomore with the University of Wisconsin men's hockey team and a fourth-round draft pick of the sport's most storied franchise, the Montreal Canadiens.
"It's basically open 24/7," Gorniak said of the building, which isn't much more than four walls of garage doors and a low roof. "You can go in there and skate wherever you want."
Gorniak spent his formative years there, first watching brother Tyler, four years his elder, take the ice before he, too, put on skates.
"That's the main reason I got into it — just going out and playing," Gorniak said. "It wasn't really too much playing (with youth teams) at first. It was going out and just having fun on the ice and playing with my buddies."
Gorniak has taken his own road to NCAA hockey, starting from that memory-filled barn where he helped West Salem/Bangor earn its first two WIAA state tournament appearances in 2017 and 2018.
Now, he's trying to develop the finer points of his game with the Badgers, building on a base of some of the quickest feet on the team.
Speed hasn't been enough, however, to get Gorniak into the scoring much this season. At the same time, he has been in competition just for a spot in the lineup.
That continues into the second half, which opens Friday against No. 8 Ohio State at the Kohl Center. The Badgers slumped to the finish line in the first half, and Gorniak had only one assist over the last five weeks after scoring his only goal on Nov. 1.
You have free articles remaining.
He sat out four times as a healthy scratch during that span.
"You're going to experience it sometime in your career, no matter where you play," Gorniak said. "So it's all about just using it the right way — using it as a learning experience. Not hanging your head and just knowing you've got to go to practice and keep working hard and get out there to benefit the team."
It was bad luck — or maybe bad timing — for Gorniak that his best game of the season to date was one that didn't count.
That, he said, was last Wednesday, when he matched his first-half production with a goal and an assist in the Badgers' 3-2 victory over the U.S. Under-18 Team.
Because it was an exhibition game, the stats didn't go toward Gorniak's season total, which sits at a goal and an assist in 14 contests. Still, he took his performance as a launching point for the second half.
"I thought I just made really smart puck decisions, played well in both ends and worked with my linemates really well," he said. "So that was something that helped. That was my main focus: using my speed, getting to the net and creating plays."
As a freshman, Gorniak had five points at the break before recording 10 in the second half. UW coach Tony Granato said he thought the 20-year-old's finishing touch would come along quicker than it has.
Gorniak isn't alone among Badgers players struggling to equal their output from a year ago. Only three of 16 returning skaters improved on their first-half point total from 2018-19.
There's never a question about Gorniak's practice habits and the work he puts in off the ice, Granato said. He's effective in forechecking and in getting back to the defensive zone.
"He creates more chances than the numbers show," Granato said. "And now it's about figuring out how to turn those chances into numbers."
Gorniak said pushing the pace when breaking out of the defensive zone might help him get more scoring chances. He's averaging 1.93 even-strength shot attempts per game, 10th among UW's 16 forwards and down from the 2.38 he averaged as an every-game player last season.
Regardless of whether the shots start going in, Gorniak can fall back on something he has taken out of being a part of two development camps with the Canadiens, who selected him 123rd overall in 2018.
"You've got to find a role at the next level," he said. "So you've got to be a guy that the team can rely on. It's just about adapting. You've got to focus on how much you can benefit the team rather than an individual basis."