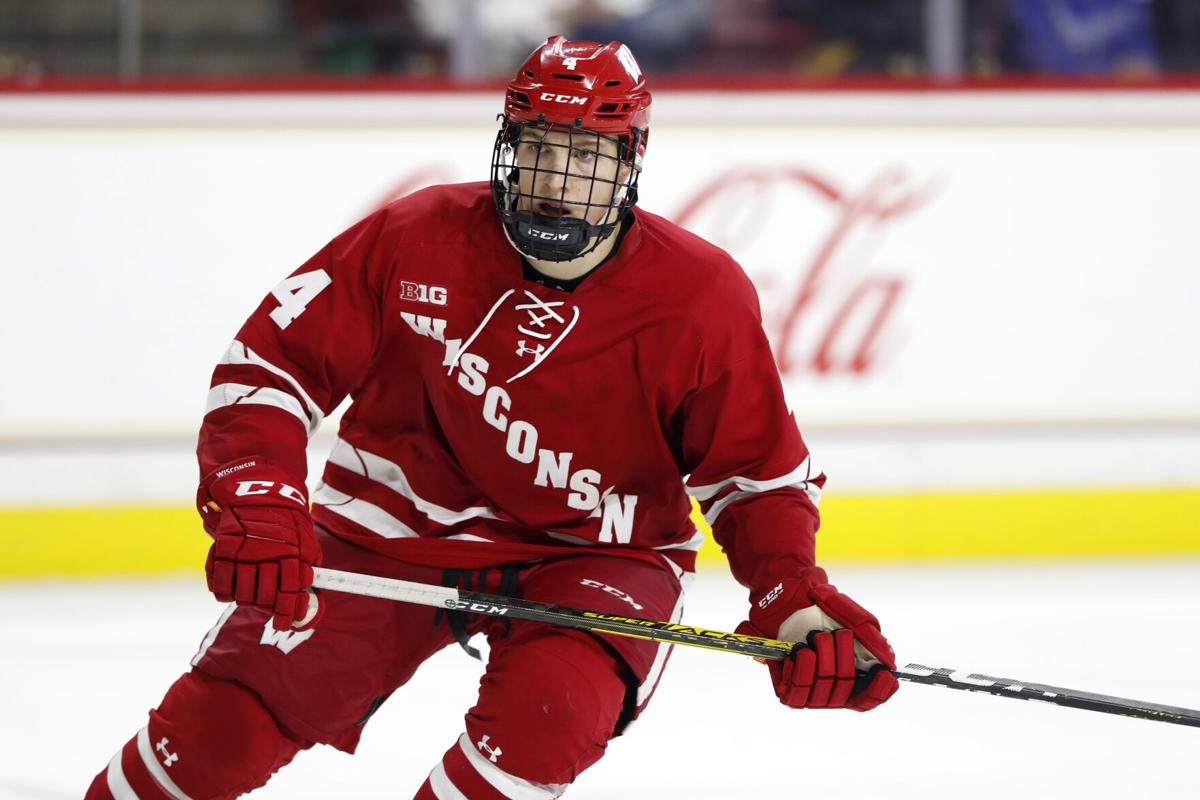 New layers of complexities to the pandemic-delayed 2020-21 University of Wisconsin men's hockey season seem to be around every corner.
One of the latest questions: Will forward Dylan Holloway be with the Badgers when the season starts Nov. 13, or will he already be in camp with players hoping to make Canada's team for the World Junior Championship?
There aren't definitive answers yet, Badgers coach Tony Granato said, but he hopes to have the NHL first-round draft pick for a few weeks before tournament preparations begin.
Holloway and other Canadians prospects set to play NCAA hockey this season — Michigan's Owen Power and Boston College's Alex Newhook — have been contacted about the possibility, McKenzie reported.
Through a UW spokesperson, Holloway confirmed that Hockey Canada had reached out to him.
The World Junior Championship runs Dec. 25-Jan. 5 and will be played in a secure bubble in Edmonton, Alberta, much like the NHL's Stanley Cup Playoffs.
In past years, U.S. and Canadian teams have met up in mid-December for their final camp before the under-20 event. With extra time needed for a pre-bubble quarantine this year, USA Hockey plans to bring players in around Dec. 10, meaning the Badgers could have four weeks with U.S. team players once their season starts.
UW forwards Cole Caufield, Owen Lindmark and Sam Stange participated in the U.S. evaluation camp this month. Caufield, a member of last year's World Junior team, got high marks from coach Nate Leaman.
While the Big Ten and other NCAA hockey leagues are planning to start the season in November, Canada has a complicating factor of an even more delayed start for two of its major junior leagues that supply most of the World Juniors roster.
A November camp could provide an outlet to compete for Canada's prospects from the Ontario Hockey League and Western Hockey League, which are planning to start playing Dec. 1.
Granato said if the Badgers aren't playing when Canada holds its camp, Holloway should be there. Although the Big Ten schedule hasn't been finalized, it appears that Holloway could be playing six to eight NCAA games during that time period.
"He would be more ready playing Big Ten games than he would be going to a camp in November," Granato said.
Holloway, who was the No. 14 overall pick by the Edmonton Oilers in this year's NHL draft, didn't make the Canadian World Junior team last year.
Another element that could factor into the scheduling of when Holloway heads back over the border: Canadians returning home from the U.S. are subject to a two-week quarantine.
Be the first to know
Get local news delivered to your inbox!