For Jim Leonhard, finding motivation to keep working has never been an issue.
That trait led the former walk-on to become an All-American safety at the University of Wisconsin and a 10-year NFL player. It's also what drove him to become a coach, one who's entering his fifth season as the defensive coordinator as the Badgers started spring practices this week.
Leonhard turned down an offer to become the Green Bay Packers' defensive coordinator in February, a decision he told reporters Wednesday was difficult.
"I've said it a lot of times: I love Madison," Leonhard said. "To me, there's some unfinished business with the University of Wisconsin. I love this group of kids and I want to continue to develop them. And with COVID being the way it was last year, I'd have felt a specific way about myself having left after that season. But I am excited about being in Madison and I think we got a great opportunity this coming season."
Leonhard earned All-America honors three times (2002-04) as a player at UW but never won a Big Ten Conference championship. Since he came back to the program as a coach in 2016, the Badgers haven't won the league title despite three trips to the title game.
For all the successes Leonhard has had as the program's coordinator — including nine defensive players drafted to the NFL and statistical rankings in the top-10 nationally — it's the fact UW hasn't yet reached the heights of the college football world that drives him.
"I think all coaches, the players, the staff, we have the highest goals here," he said. "I came here wanting to win a national championship, right? I came here wanting to win the Big Ten as a player, nothing's changed as a coach. We haven't done that since I've been back, so the goals haven't changed. I feel like we have a group that can accomplish that."
The Packers weren't the first NFL team to come calling for Leonhard. The Los Angeles Rams reportedly wanted to poach him in the 2019 offseason after the Badgers narrowly lost the Rose Bowl to Oregon.
But Green Bay did have a particular appeal to the Tony native, and he said it was a hard decision to turn down the offer to join Matt LaFleur's staff.
"Obviously, it's a huge opportunity. Very humbled to be in the conversation for that position," Leonhard said. "It's an organization, obviously being from the state, (I) know a lot about and have a tremendous amount of respect for the way that organization operates. And they're right on the fringe of a Super Bowl and they have been for a while now."
In Leonhard's four years as defensive coordinator, the Badgers have the third-best scoring defense in the FBS (17 points per game allowed), second-best total defense (294.5 yards per game allowed), second-best passing efficiency defense (109.7) and the second-best third-down defense (30% conversion rate allowed).
UW coach Paul Chryst knows Leonhard's a rising star in the coaching world and outside interest won't end if Leonhard continues leading top-tier defenses. But he said he knows Leonhard made his choice for the right reasons.
"For him, it never was in question whether this program meant what it meant to him," Chryst said.
"I've known that even before he got into coaching and when he was here just coaching the defensive backs. A big reason why — I shouldn't speak for him — but I do think a big reason why he's doing this is because this place means a ton to him. And I think that he believes he can help, help our players. So we're very appreciative of that and love being around him."
Leonhard's affinity for his players helped keep him on the sidelines. The players' excitement for him staying with the program was evident by their social media posts that morning.
He believes the group can be special, and he said he's going to push them to be more consistent and more dynamic in their roles this spring. He's here for them, and he's determined not to let an unaccomplished goal gnaw at them by the time their careers are done.
"I try to earn respect with that group and hopefully they trust me and understand what I help them with," Leonhard said. "They all have goals of reaching the highest level here at Wisconsin and further. Honored to feel that they think I'm the right guy to do that.
"I'm excited about them — these are kids we all recruited here because of who they are, the character they show on top of their football abilities. So anytime you earn their respect as a coach, you know you're doing something right. Having some confirmation with their reactions to that, you know, makes you feel good and now I have more work to do to help continue to push this group."
---
Five spring practice storylines to watch on Wisconsin's defense
Five things to watch on Wisconsin's defense as spring football starts
RELOADING AT DEFENSIVE END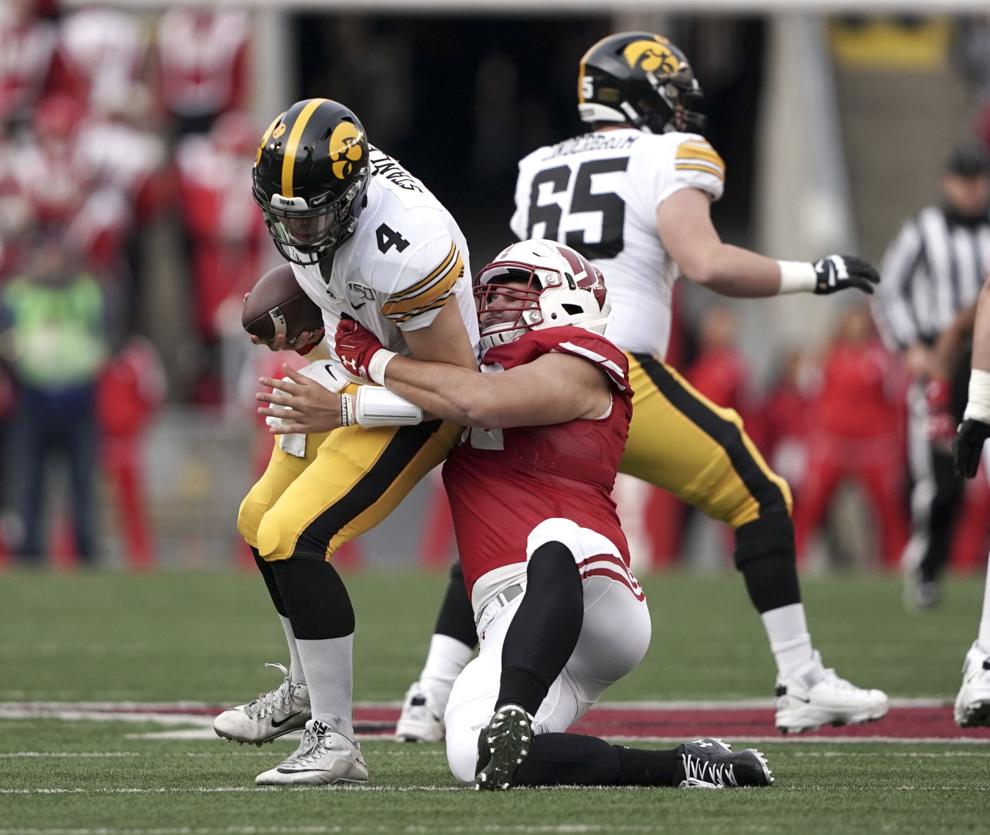 After two years of productive play at the defensive end spots from Isaiahh Loudermilk and Garrett Rand, the Badgers must find a new top unit. Loudermilk is making a run at the NFL while Rand stepped away from football due to injuries.
Junior Matt Henningsen, who missed five games last season after an elbow injury, and sophomore Isaiah Mullens are the most experienced players in the group and can serve as the starters, but building up the talent behind them will be crucial this spring.
Freshmen Cade McDonald and James Thompson Jr. played in two games each last season, but Thompson suffered a season-ending right leg injury against Michigan and his availability for spring practices is unlikely. Two names to watch are freshmen early enrollees Mike Jarvis and TJ Bollers. Jarvis is the only true defensive line recruit in the 2021 class and Bollers — a touted four-star prospect — is someone Leonhard believes can play an "outside linebacker-plus" role, potentially playing along the line at some point.
RISING BATCH OF OLBs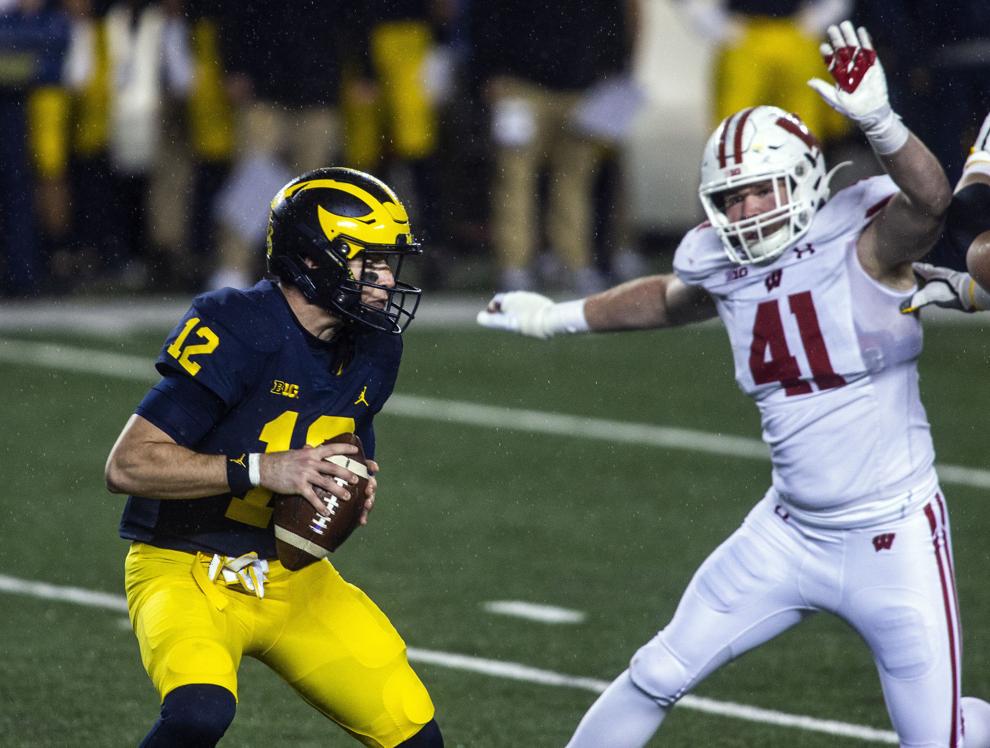 The Badgers have been churning out pro-ready outside linebackers in recent years, with players like Zack Baun, Vince Biegel, Andrew Van Ginkel, Leon Jacobs and T.J. Watt becoming NFL starters. The current group of outside backers has high-level talent, but didn't have the most productive year in 2020. UW had 11 sacks last season, with four coming from their outside linebackers.
Both starters return in senior Noah Burks and freshman Nick Herbig, and key rotation players like C.J. Goetz, Spencer Lytle, and Marty Strey are also back. This group could be defined by the development of freshmen Kaden Johnson and Aaron Witt. Johnson was a four-star recruit and saw action in three games last season, while Witt played in five games and tallied a strip-sack in the Duke's Mayo Bowl win over Wake Forest.
Bollers again is a player to watch in this group, as is junior Izayah Green-May. It's been a difficult pair of seasons for Green-May, with a thumb injury derailing him in 2019 and a right-arm injury limiting him to one game in 2020.
DEPTH BEHIND CHENAL AND SANBORN
Senior Mike Maskalunas will play his final year at UW this fall after serving as the backup at both inside 'backer spots last season. This spring could be a showcase for young players in this group like Tate Grass, Maema Njongmeta, Malik Reed and Jordan Turner to push for roles.
It's difficult to earn snaps on defense behind a duo like Chenal and Sanborn because they rarely leave the field, but Grass proved to be a valued special teamer last year, playing all seven games. Ensuring this crew is ready if Chenal or Sanborn were to suffer an injury is pivotal to ensure the defense doesn't come unglued without one of its stars.
FINDING BURRELL'S REPLACEMENT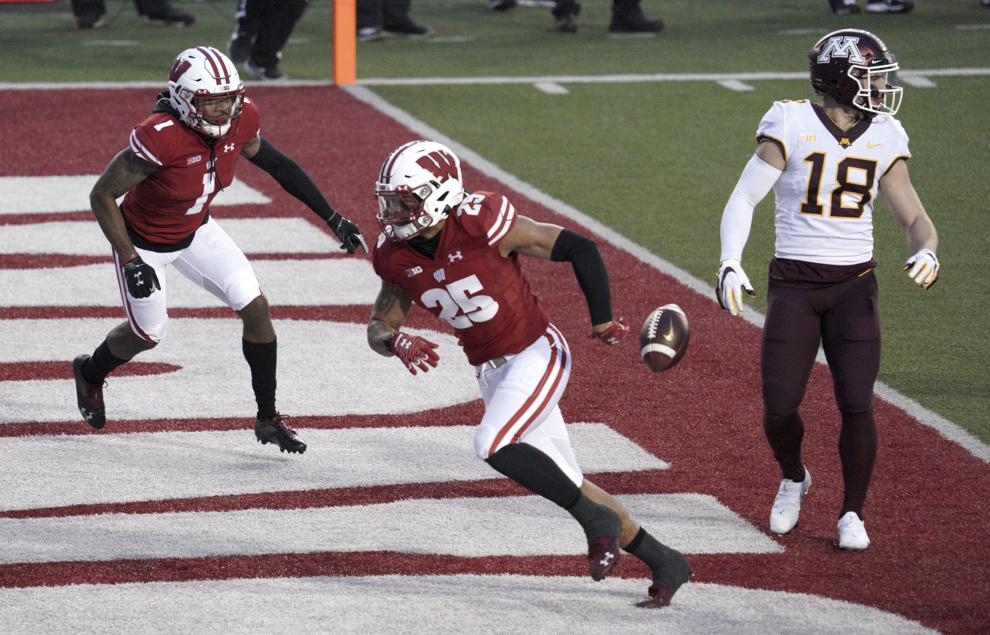 The only vacated starting role in the Badgers' defense without a proven replacement is at safety. Eric Burrell played in 48 games and made 26 starts over four seasons at UW, but the Badgers need to find his replacement this spring as he makes him way to the pros.
There are options for the spot in players like Titus Toler and John Torchio, who have seen time over the past two seasons. Leonhard could opt for Scott Nelson and Collin Wilder to man both safety spots after the two rotated at one last season.
Impressing this spring could help a player get his foot in the door of the starting lineup before a pair of four-star freshmen arriving this fall — Braelon Allen and Hunter Wohler — make the competition at safety even tougher.
DEVELOPING NICKELBACKS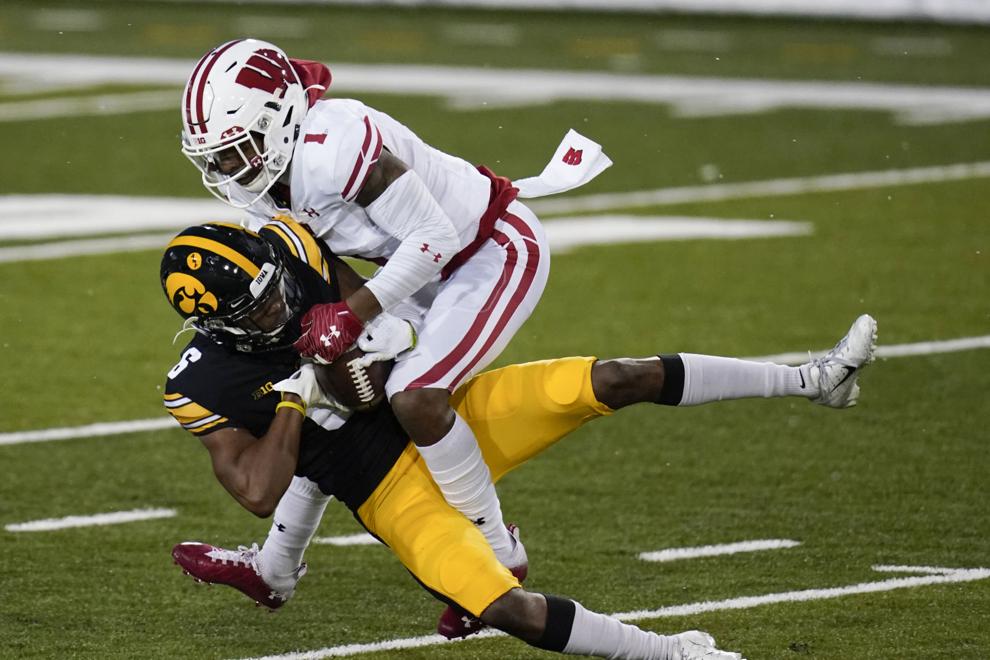 UW cornerbacks were short on highlights in 2020. None of the team's seven interceptions came from corners, they were beat for big plays on multiple occasions in rivalry games at Northwestern and Iowa, and they didn't take the step forward one would expect from a group that had between six and seven players with significant playing time under their belts.
New cornerbacks coach Hank Poteat inherits a room with multiple starters back, including Faion Hicks and Casear Williams, and young players needing to become more consistent like Donte Burton, Deron Harrell and Semar Melvin.
One position in this group that is of key importance this spring is the nickel back, or slot corner. Hicks filled that role most of last season, and he could once again, but UW needs to have more options to move inside other than one of their better outside corners. Or, if one of the younger corners can improve on the outside this spring, UW can feel more comfortable having Hicks move to the slot in sub packages.