Logan Bruss has felt the dynamics of the University of Wisconsin offensive line's meeting room shift this offseason.
The Appleton product has preferred throughout his career to allow his actions to set the tone for the group and keep his talking to a minimum. But Bruss views it as his obligation to be a sounding board for his line-mates as he enters his fifth year in the program and third as a regular starter.
"Every time you get to your senior year, you kind of feel a responsibility that it's kind of your time to take over the reins," he said. "I think we have a real good thing going right now and I'm excited to see where it goes."
Bruss has been one of the most consistent players on the Badgers' offensive line the past two seasons, associate head coach and offensive line coach Joe Rudolph said. He and Jon Dietzen were the only two Badgers offensive linemen to start all seven games last season. The Duke's Mayo Bowl in December was Bruss' 26th start and 33rd career game.
He's started games at both guard and tackle, which allows him to be a mentor for almost all of the offensive linemen.
Check out the State Journal's complete coverage of Barry Alvarez's retirement announcement
The Wisconsin State Journal is providing our readers with comprehensive coverage of Barry Alvarez's retirement from his position as athletic director at the University of Wisconsin.
From a look back at Alvarez's football coaching days and the changes the department has made since he came to Madison in 1990, to an examination of what lies ahead in the university's search for a successor, we have you covered with all the latest updates and in-depth analysis of this landmark moment in Badgers history.
To continue to support journalism like this and gain full access to all of our Badgers' coverage throughout the year, please consider a digital subscription. To all of our current subscribers, we thank you for your continued support of local journalism!
Tyler Beach, a senior tackle for UW and Bruss' roommate, said the experience Bruss has carries weight when he's giving players advice.
"Bruss is more of the quiet type of guy, but when he wants his voice heard and he speaks, he's going to speak," Beach said. "I ask for help from him for tackle stuff and things like that, so I definitely view Bruss as a leader in the room."
Rudolph said all Bruss' teammates need to do is watch film of practice and games to see how they can pattern their game off Bruss' play.
"When you watch him, you're kind of like, 'Damn, that dude is doing the stuff that I want to put on tape and he's cutting it loose and he's playing fast and there's the details,'" Rudolph said. "So I think he earns a voice through how he plays."
Senior center Kayden Lyles spends a good deal of time with Bruss outside of football. They're both industrial engineering majors and have shared a number of classes together. His relationship with Bruss off the field helps them bond on it.
"He's somebody that's going to go out in the field and work every play, every opportunity that he has," Lyles said. "So it's something that when you're watching him that you pick up from."
Rudolph has Bruss back at right tackle this spring, the spot he played for 13 games of the 2019 season before playing mostly right guard in 2020. That move is part of a number of position switches Rudolph made along the offensive line to create competition at every spot.
Dividing reps this spring are: Bruss and redshirt freshman Trey Wedig at right tackle, redshirt freshman Jack Nelson and junior Michael Furtney at right guard, Lyles and redshirt freshman Tanor Bortolini at center, senior Josh Seltzner and junior Cormac Sampson at left guard, and Beach and sophomore Logan Brown at left tackle.
"I think every time a guy comes here, that's what you want, a competition and being pushed by the guys next to you," Bruss said. "I think it's a healthy competition, though, because I think sometimes competition gets to the point where you want the guy that you're competing with to fail, and I don't think it's like that at all."
Transitioning back to tackle requires Bruss to re-learn certain techniques and adjust to having more space to his outside shoulder when pass blocking. Still, he said tackle is the position he's most comfortable playing.
Having a reliable, seasoned starter at right tackle is a good step toward getting the Badgers offense kick-started after a down year in 2020.
"It just gives you a different appreciation for the game," Bruss said about playing multiple positions. "You understand a lot more coming from a different spot and hopefully I can use some of those experiences I had at guard last year to help me be even better at tackle."
---
Five things to watch on the Badgers offense this spring
Five things to watch on Wisconsin's offense as spring football starts
MERTZ AND CHRYST TOGETHER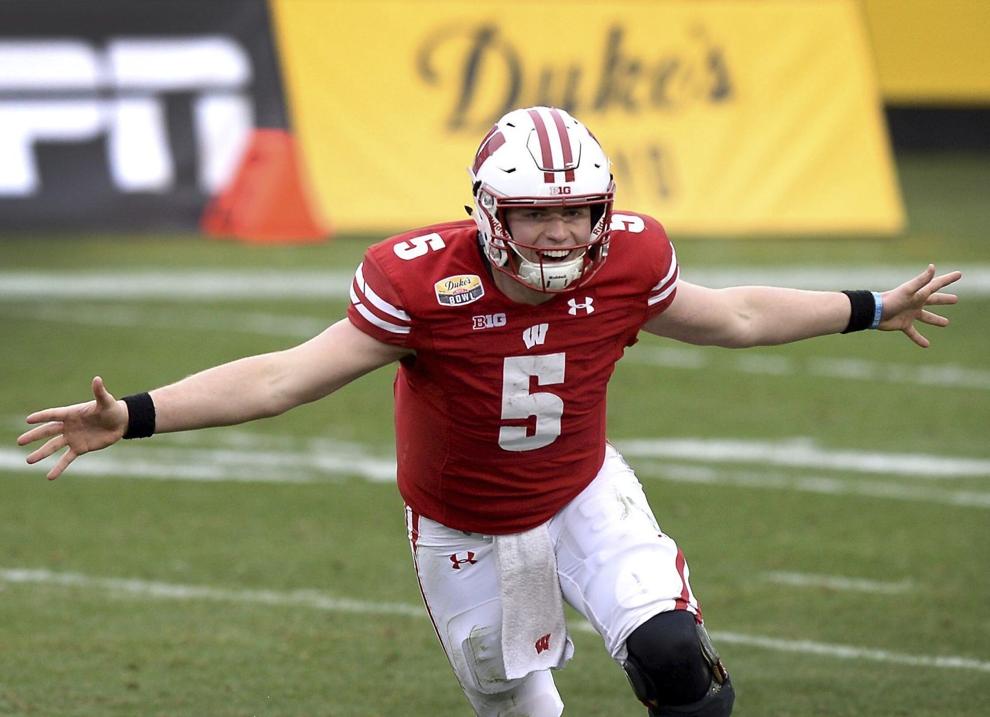 Redshirt freshman Graham Mertz struggled to find consistent rhythm after a record-setting performance in his starting debut. Mertz completed just under 57% of his passes, threw four touchdowns and five interceptions the rest of the season after completing 20 of 21 passes against Illinois, tying a program record with five touchdowns.
Cutting down on turnovers — Mertz also lost two fumbles last season — is the first step, but doing so will be the result of establishing better timing in the pocket. A majority of Mertz's interceptions last seasons were due to holding the ball too long or trying to throw a pass too late and the window of opportunity closing.
Coach Paul Chryst's track record of coaching quarterbacks at UW includes the heights of Russell Wilson's stellar season in 2011 and a through line of consistent, smart play. Spring practices are the time to meld that coaching with Mertz's talent so the quarterback can take a big step forward this fall.
WHO'S BEHIND BERGER?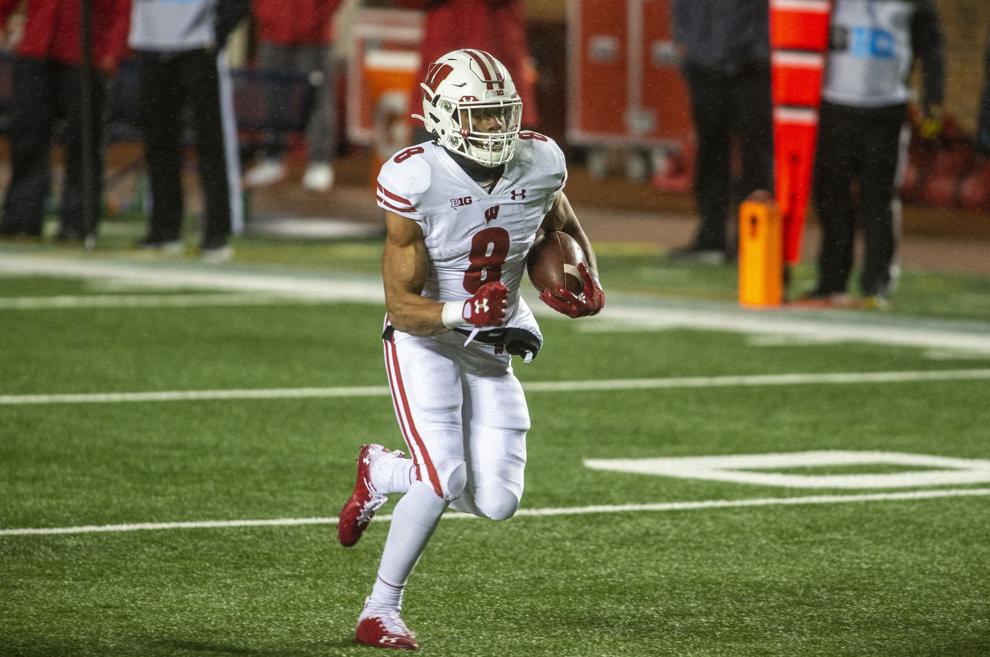 Jalen Berger showed flashes of being the next in the line of great Badgers tailbacks last season, displaying good vision and a suddenness to his cuts that make him hard to tackle. He led UW last season with 301 yards rushing despite playing four of the seven games — he missed the opener against Illinois due to a nagging injury from training camp then missed games against Iowa and Minnesota due to COVID-19.
The Badgers have a solid starting running back with Berger returning, but the depth behind him is a significant question mark. Isaac Guerendo was expected to be in the backfield rotation last season, but he was limited to one game due to unspecified injuries. Julius Davis is another option, but the redshirt freshman only played in one game last season as well.
ANOTHER TIGHT END THREAT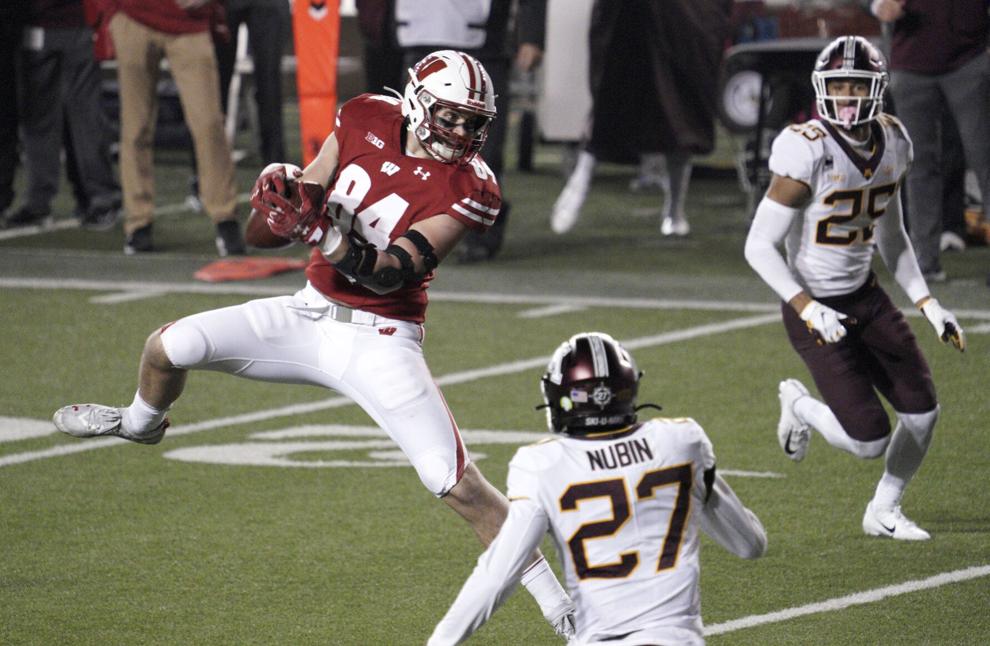 Junior Jake Ferguson returning to the Badgers instead of taking a shot at the NFL not only gave the team its leading receiver back, but also a guide for a talented but inexperienced group of tight ends behind him.
Redshirt freshman Hayden Rucci established himself as the top blocking option in the second tight end spot and likely will be used in a similar role next season, but associate head coach Joe Rudolph said last fall he felt Rucci was developing as a receiver, too. Sophomore Jack Eschenbach was the only tight end besides Ferguson to tally a catch last season.
Cam Large, a 2020 recruit, and Jack Pugh, an early enrollee in the 2021 class, also are waiting in the wings as receiving threats. Ferguson said in December that spring practices are pivotal for this group to develop.
"I couldn't imagine myself after that first year if I didn't have a spring ball," Ferguson said. "That's literally where I gained all my knowledge, how I got really good at my technique — blocking or route running, whatever, and they didn't get that (in 2020). And I think that's really tough on them. Not just physically, but mentally as well. Just not being able to learn, day in day out, getting all the coaching."
DEVELOPING DEPTH ON THE O-LINE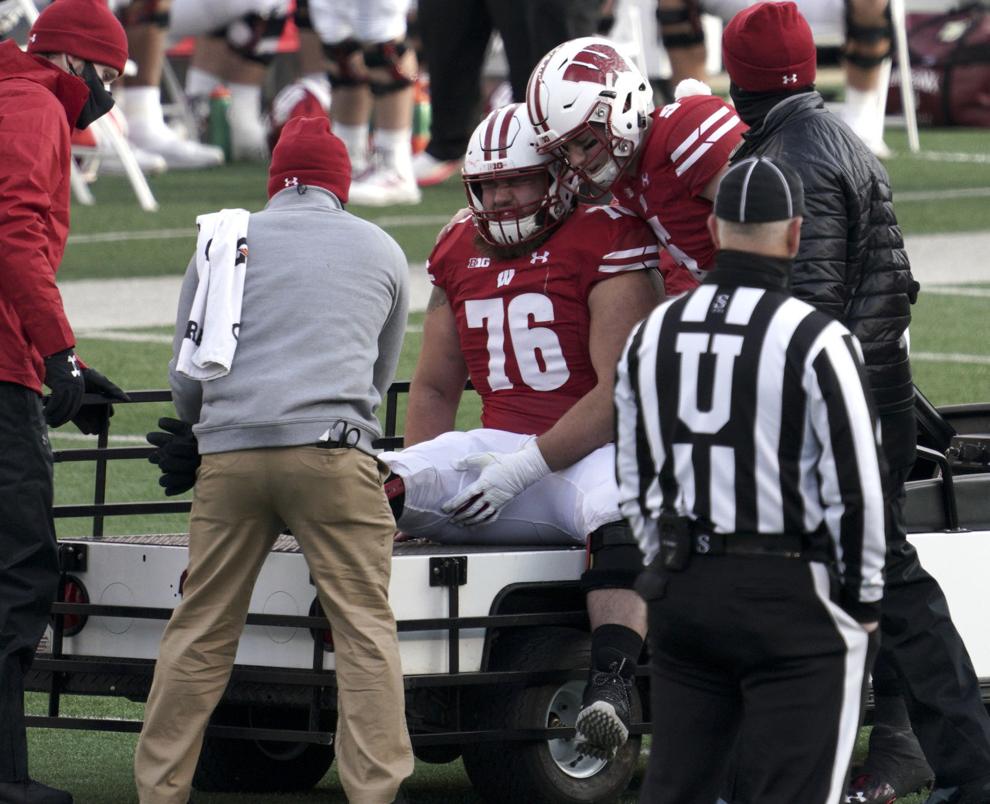 UW's offensive line wasn't the dominant force that fans have come to know in 2020, but that could change in 2021.
After filling in well at left tackle in the second half of the Duke's Mayo Bowl, that spot is former five-star recruit Logan Brown's to lose. Center Kayden Lyles will return from a knee injury in the fall, and the right side has established veterans in guard Logan Bruss and tackle Tyler Beach. Josh Setlzner is presumably a frontrunner for the left guard spot, but touted 2020 recruits like Jack Nelson and Trey Wedig could be pushing for a role there.
Few players behind the aforementioned group have much experience. Cormac Sampson provides depth at center and freshman Tanor Bortolini played extensively when Lyles and Sampson were hurt last season. How the young linemen take advantage of spring reps will determine how much competition there is for roles this fall.
YOUNG RECEIVERS FINDING NICHES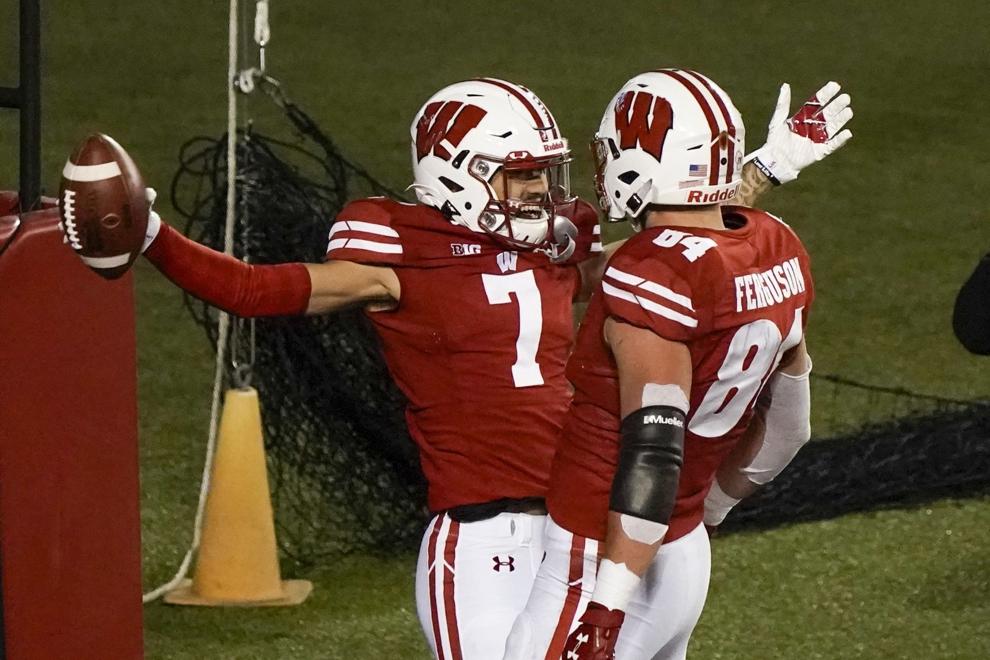 UW got welcomed news this offseason when seniors Danny Davis, Jack Dunn and Kendric Pryor all decided to come back for their final years in the receiver room. Davis and Pryor battled injuries most of the season, with Davis missing five games and Pryor four. Dunn emerged as a solid option on short routes, posting career highs in catches (28) and receiving yards (255).
Freshman Chimere Dike had strong moments last season, but he had trouble getting open consistently.
This will be the first spring practices the receivers get with position coach Alvis Whitted, who was hired last year just before the pandemic hit the U.S. Whitted's task this spring is to develop the younger group of receivers — players like Dike, Devin Chandler and Isaac Smith — into dependable options this fall. Chandler showed good burst as a returner last season, and he might be a candidate for a head-turning spring session after two classes of receiver recruits failed to break through.