Both as a player and a coach, Ross Kolodziej has seen bonds build in the weight room.
The University of Wisconsin football team's head strength and conditioning coach knows how powerful working together and celebrating teammates' success and effort in training is to forming a cohesive team. He also knows that, given the world we're in at the moment, the Badgers have to express that joy for one another in a different way.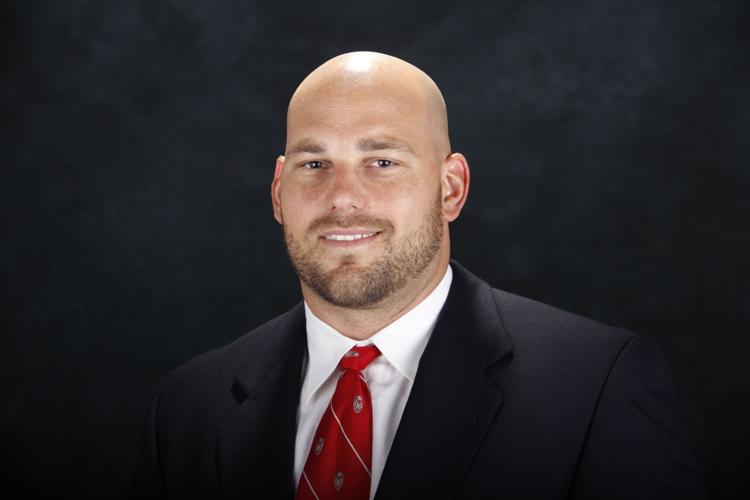 "There's great data on the physical touching component — high-fives, hugs, after a (personal record) 20 guys piling on you to celebrate — there is a psychological component that will be absent in that way," Kolodziej said in a virtual news conference Monday. "But I do also know that through a shared adversity, there's another opportunity for great growth as well. So I think that while we may not be able to do those things, we're able to work in this environment, which is something nobody's ever done before. So I think we can also rally around that as well."
UW football players were back in the team's weight room Monday, the first day of voluntary workouts after being away from campus for nearly three months due to the COVID-19 pandemic. Kolodziej said there was an air of excitement as 100 of 123 players took part in the workouts, which were conducted in a manner consistent with social distancing guidelines and after players passed tests for COVID-19.
Players were divvied into groups of 10, with each group taking half of the Camp Randall Stadium weight room. Each player had his own rack and equipment, and those stations were spread across the room. The nearly two-hour workout was comprised of about an hour and 10 minutes in the weight room, five minutes of deep cleaning and sanitizing the athletes' stations, then about 45 minutes of work on the field.
Kolodziej said the Badgers are only one week off of their schedule from a normal offseason and the workouts themselves don't need to be adjusted, outside of adding physical distance between players as they're completing them. He added that having smaller groups provides more opportunity for one-on-one instruction.
Getting back on campus and into UW facilities is quite the change for a number of Badgers, who shared their home gym set ups on social media throughout their time away.
"We had a couple guys slap some 2-by-4s together and some cement, guys pushing trucks, guys really challenged themselves to find a way," Kolodziej said.
Kolodziej, who played on the Badgers' defensive line from 1997-2000 and helped the program win two Big Ten Conference titles and two Rose Bowls, said he was happy with the way players attacked the first day of workouts. However, managing players' training as the 2020 college football season is in limbo is another challenge.
After six players at the University of Houston tested positive for COVID-19, the program's on-campus training was shut down, highlighting the importance of cleaning and players being honest about their health at daily screenings. An NCAA vote Wednesday will determine if teams can conduct an extended training camp that would start in mid-July.
All signs point to UW starting its season on time Sept. 4 against Indiana, and the Badgers are preparing as such, but Kolodziej knows the situation is fluid.
"Until there's a finalized camp report date, a finalized (Week 1) kickoff, it's all circumstantial. That's our job, to just continually progress and get them ready," he said. "As things change, we'll adapt."
The Badgers returned to workouts during a time of heightened awareness of race relations across the country, sparked by the killing of George Floyd by a Minneapolis police officer. That awareness carried into college football, as former and current Iowa football players accused longtime strength and condition coach Chris Doyle of racially insensitive conduct.
Doyle — the highest-paid strength coach in the country last season at a salary of $800,000 — reached a separation agreement with the university on Monday.
When asked if that situation caused him to evaluate how he and his staff interact with players, Kolodziej said he's "always evaluating what you're doing."
"Personally, I think as a staff we have a great communication and dialogue to hopefully keep each other in check, number one. And with our players, that's not how I envision my role and doing my job. I want open dialogue with our guys if there's every any situation that comes up," he said. "They know the door's always open to address those things."
While Monday's workouts didn't have the same high-fives, hugs and other connections that sessions in normal circumstances would, Kolodziej said he was impressed with how well the Badgers adapted and made strides during their time away.
"You see (cornerback) Faion (Hicks), and you're like, 'Man, Faion, your shoulders. (Freshman linebacker) Nick Herbig is a guy, I walked in the gym today like, 'Whoa, he took advantage of it.' The Chenal brothers, they always look like they're ready to go. I could go down the list," Kolodziej said.
"I think, to me, that's what I was most excited about today is that it wasn't like, 'Oh wow, these eight guys crushed it, but these four just stood out because they didn't do anything.' I could sit here all day and go through the 100 guys and each guy what they impressed with today."
Be the first to know
Get local news delivered to your inbox!