Bob Bostad is direct when it comes to which players are in the lineup as inside linebackers for the University of Wisconsin.
"My philosophy is … I want the absolute best player out on the field," Bostad said. "I'm going to play him until I feel I can't."
Making headway and earning reps at inside linebacker is a difficult task, with two stars at the position in senior Jack Sanborn and junior Leo Chenal. But sophomore Tatum Grass was able to do that last season despite being a redshirt freshman walk-on and still new to the position.
Grass made his collegiate debut last season after taking a redshirt in 2019. Playing mostly on special teams, Grass appeared in each of the Badgers' seven games and tallied five tackles. He played sparingly on defense as well and cracked the two-deep lineup in Week 5 against Northwestern when senior Mike Maskalunas was dealing with an injury.
Bostad, who's in his fifth year coaching inside linebackers for UW, said Grass earned his trust by becoming more assertive and taking command of his role.
"Tate's a guy that has some higher-level physical traits," Bostad said.
"Was just (about) putting it all together, being able to understand what we're doing out there on the field. You know, if you're going to be an inside linebacker, you've got to be vocal — you're making a lot of calls, you're making a lot of adjustments. He's gained my trust by doing those things, that's the starting point. And then after that, he's started to be more productive out on the field and he's playing more physical, he's playing more confident. And that's been a real positive in (spring practices) so far."
Grass was a stellar two-way player for Holmen High School at defensive end and tight end. He chose UW over scholarship offers from Division II programs and initially was projected as an outside linebacker. He moved to the inside linebacker position before his first fall training camp and has been learning from players like Chris Orr, Sanborn and Chenal ever since.
He admits it was a difficult move, struggling to be confident in his play early on. Learning the playbook and a new style of play took time.
"That was a pretty big transition, just learning how to play with a lot lower pads, I would say, and a lot more lateral movement," Grass said. "I think what helped me the most was just the drill work with coach Bostad, really just kind of teaching me how to move like a true inside linebacker."
But getting reps on the field bolstered Grass, who has carried that momentum this offseason. He's been impressing coaches and teammates during spring — experienced players like Sanborn, Chenal and Maskalunas see Grass earning more reps with his play.
"The biggest difference I've noticed with Tate is his confidence," Maskalunas said. "I think one of the things coming in as a young guy that a lot of people struggle with is just having the confidence to make those calls and make those adjustments on the fly. Really just knowing how to be a commander of the defense, which is one of the biggest responsibilities of being an inside 'backer. So I think Tate's done a great job of really stepping more into that role, coming out of his shell and being more of a vocal, confident guy out there."
Added Chenal: "We already know what he was capable of, how athletic he was, just his strength. So just being able to like step out there and be more aggressive with what he does. He's making a lot of productive plays. He's grown a lot, his confidence has stepped up and as a result, he's making those plays."
After recovering from COVID-19 before the season began, Grass went from serving on the scout team to practicing against one as he rose through the depth chart. Spring practices give him valuable reps to learn while going against starting-caliber players.
"You're seeing guys that will challenge you, guys that will beat you," Sanborn said. "And that's what it is, it's all about competition. On every play, you're either going to be winning your rep or losing your rep to somebody else. Everything like that, I think just improves you as a player and gets you better."
Making inroads this spring is crucial for Grass.
Maskalunas and redshirt freshmen Malik Reed and Jordan Turner have missed time this spring, opening chances for Grass to prove himself. Cracking the lineup in the fall will be even more challenging with four-star recruit Jake Ratzlaff joining the group, as well as the possibility of four-star safety prospect Braelon Allen moving to the position.
Earning his first college snaps and getting in the mix was the first step for Grass. Keeping himself at that spot is his next challenge.
"The first snaps out there was like, 'Wow, I'm actually on the field, I reached that goal of becoming a part of the team, like playing on the team,'" he said. "Now it's time to become an impact player, like I have a chance to make plays for my team."
---
Five things to watch on Wisconsin's defense as spring football starts
RELOADING AT DEFENSIVE END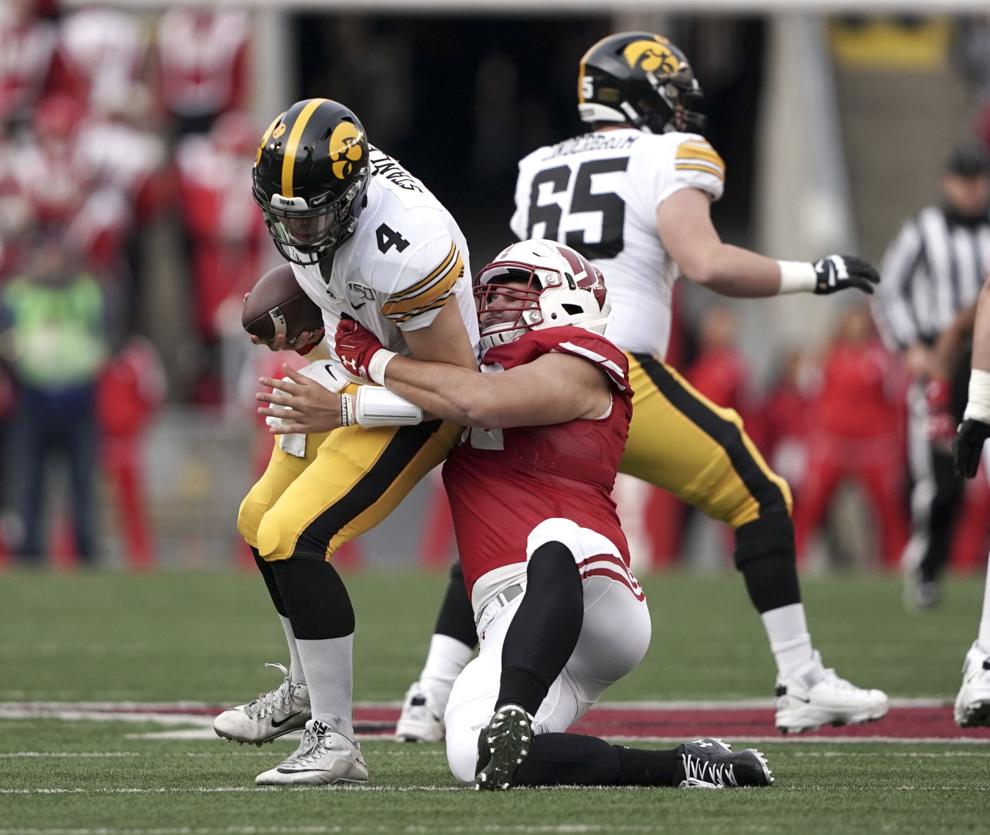 After two years of productive play at the defensive end spots from Isaiahh Loudermilk and Garrett Rand, the Badgers must find a new top unit. Loudermilk is making a run at the NFL while Rand stepped away from football due to injuries.
Junior Matt Henningsen, who missed five games last season after an elbow injury, and sophomore Isaiah Mullens are the most experienced players in the group and can serve as the starters, but building up the talent behind them will be crucial this spring.
Freshmen Cade McDonald and James Thompson Jr. played in two games each last season, but Thompson suffered a season-ending right leg injury against Michigan and his availability for spring practices is unlikely. Two names to watch are freshmen early enrollees Mike Jarvis and TJ Bollers. Jarvis is the only true defensive line recruit in the 2021 class and Bollers — a touted four-star prospect — is someone Leonhard believes can play an "outside linebacker-plus" role, potentially playing along the line at some point.
RISING BATCH OF OLBs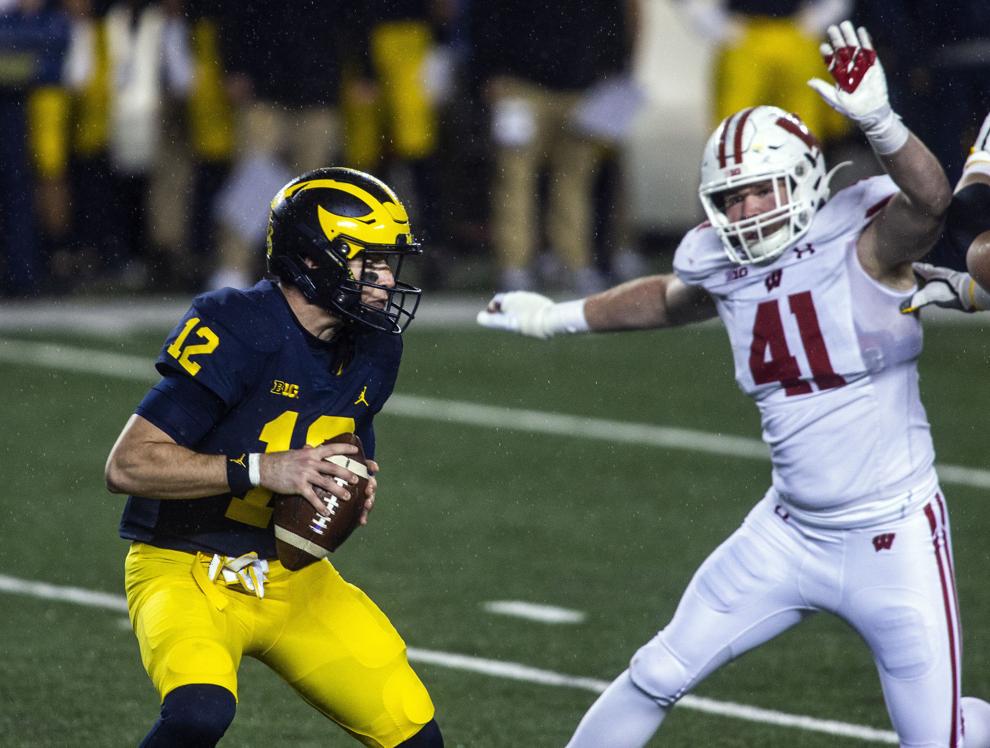 The Badgers have been churning out pro-ready outside linebackers in recent years, with players like Zack Baun, Vince Biegel, Andrew Van Ginkel, Leon Jacobs and T.J. Watt becoming NFL starters. The current group of outside backers has high-level talent, but didn't have the most productive year in 2020. UW had 11 sacks last season, with four coming from their outside linebackers.
Both starters return in senior Noah Burks and freshman Nick Herbig, and key rotation players like C.J. Goetz, Spencer Lytle, and Marty Strey are also back. This group could be defined by the development of freshmen Kaden Johnson and Aaron Witt. Johnson was a four-star recruit and saw action in three games last season, while Witt played in five games and tallied a strip-sack in the Duke's Mayo Bowl win over Wake Forest.
Bollers again is a player to watch in this group, as is junior Izayah Green-May. It's been a difficult pair of seasons for Green-May, with a thumb injury derailing him in 2019 and a right-arm injury limiting him to one game in 2020.
DEPTH BEHIND CHENAL AND SANBORN
Senior Mike Maskalunas will play his final year at UW this fall after serving as the backup at both inside 'backer spots last season. This spring could be a showcase for young players in this group like Tate Grass, Maema Njongmeta, Malik Reed and Jordan Turner to push for roles.
It's difficult to earn snaps on defense behind a duo like Chenal and Sanborn because they rarely leave the field, but Grass proved to be a valued special teamer last year, playing all seven games. Ensuring this crew is ready if Chenal or Sanborn were to suffer an injury is pivotal to ensure the defense doesn't come unglued without one of its stars.
FINDING BURRELL'S REPLACEMENT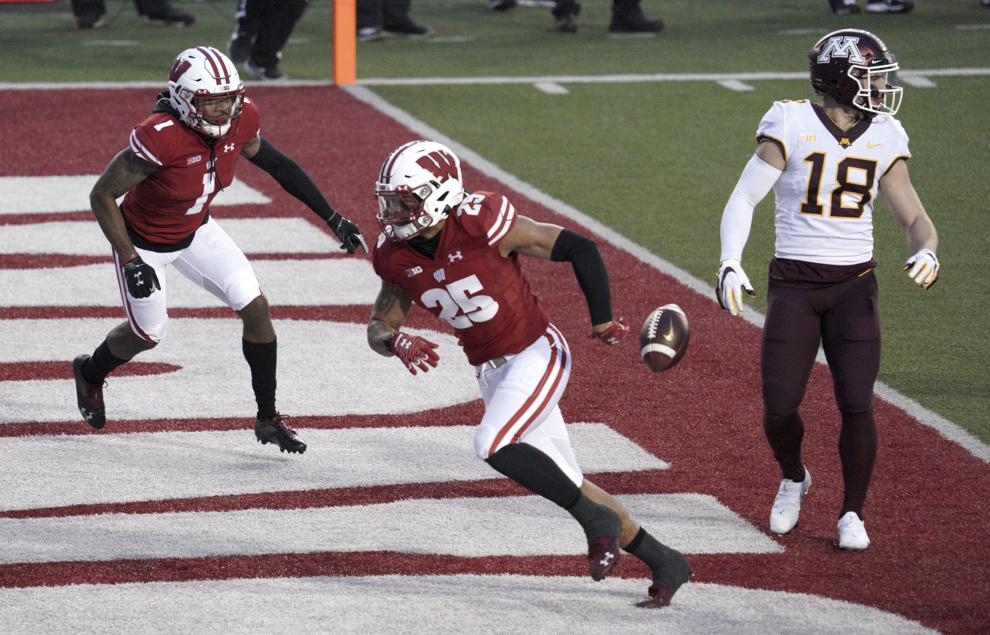 The only vacated starting role in the Badgers' defense without a proven replacement is at safety. Eric Burrell played in 48 games and made 26 starts over four seasons at UW, but the Badgers need to find his replacement this spring as he makes him way to the pros.
There are options for the spot in players like Titus Toler and John Torchio, who have seen time over the past two seasons. Leonhard could opt for Scott Nelson and Collin Wilder to man both safety spots after the two rotated at one last season.
Impressing this spring could help a player get his foot in the door of the starting lineup before a pair of four-star freshmen arriving this fall — Braelon Allen and Hunter Wohler — make the competition at safety even tougher.
DEVELOPING NICKELBACKS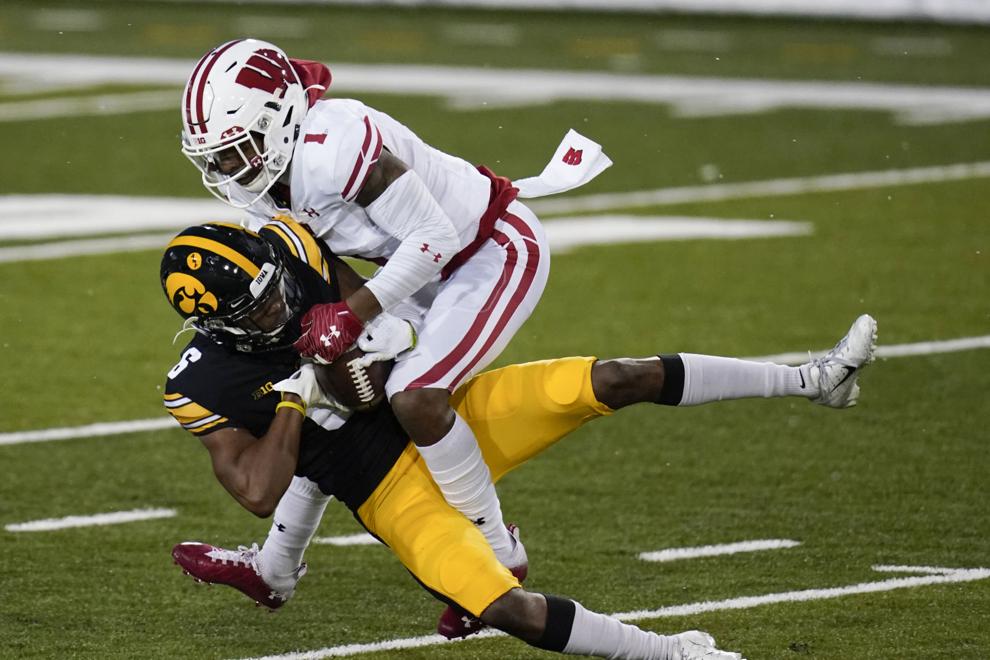 UW cornerbacks were short on highlights in 2020. None of the team's seven interceptions came from corners, they were beat for big plays on multiple occasions in rivalry games at Northwestern and Iowa, and they didn't take the step forward one would expect from a group that had between six and seven players with significant playing time under their belts.
New cornerbacks coach Hank Poteat inherits a room with multiple starters back, including Faion Hicks and Casear Williams, and young players needing to become more consistent like Donte Burton, Deron Harrell and Semar Melvin.
One position in this group that is of key importance this spring is the nickel back, or slot corner. Hicks filled that role most of last season, and he could once again, but UW needs to have more options to move inside other than one of their better outside corners. Or, if one of the younger corners can improve on the outside this spring, UW can feel more comfortable having Hicks move to the slot in sub packages.