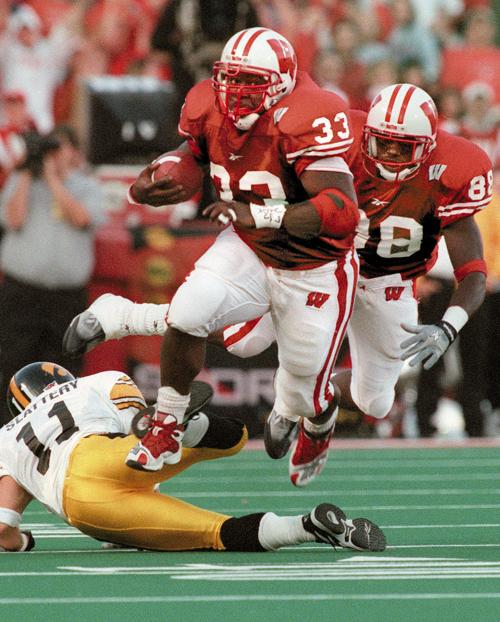 Twenty years ago this week, University of Wisconsin tailback Ron Dayne made history.
With a 31-yard run in the second quarter of a 41-3 victory over Iowa on that magical November day at Camp Randall Stadium, Dayne became college football's all-time leading rusher, helped UW claim a second consecutive Rose Bowl berth and stated a winning case for the Heisman Trophy.
Even after all that time, the memories and the Heisman endure. Unfortunately — and unfairly — the record doesn't.
A change in the NCAA's statistical protocol three years after Dayne's senior season created an injustice that later spawned a mini-controversy. The NCAA record books say Dayne is no longer the all-time leading rusher in the Football Bowl Subdivision. Common sense and our own eyes tell us differently.
It would take some work and a few bucks from the NCAA's billions to rectify this situation and restore Dayne to his rightful place. But the truth is fixing this wouldn't be as as hard in today's digitalized world as the NCAA statisticians said it would be back in 2002, when the NCAA membership determined that stats from bowl games would start counting toward a player's career numbers. Prior to that, bowl results weren't included in the NCAA stats and the ruling body decided that those who played before 2002 wouldn't have their numbers retroactively added to their totals.
According to the official NCAA stats, Dayne rushed for 6,397 yards during his marvelous four-year career at UW. That record stood until 2016, when San Diego State's Donnel Pumphrey rushed for 115 yards against Houston in — you guessed it — a bowl game. Pumphrey ended up with 6,405 rushing yards for his career, eight more than Dayne.
Per the NCAA record book, here is how the top five rushers stand: 1. Pumphrey, 6,405 yards; 2. Dayne, 6,397; 3. Ricky Williams, Texas, 6,279; 4. Tony Dorsett, Pittsburgh, 6,082; 5. DeAngelo Williams, Memphis, 6,026.
Unfortunately for the NCAA, it's easy to do the arithmetic and when you add the rushing yards from bowl games, the order changes: 1. Dayne, 7,125; 2. Williams, 6,597; 3. Dorsett, 6,526; 4. Pumphrey, 6,405; 5. Charles White, Southern Cal, 6,245.
The time has come to fix this obvious error because it is indisputable that Dayne rushed for more yards than any FBS player ever. Indeed, when you add in the 728 yards he had in four bowl games, it's not even close.
The traditional argument behind excluding bowl results from career totals was that the bowls gave players who played in them an advantage because there were so few bowl games. That argument has long since been blown up as bowls have proliferated — there were nine in 1960, there are more than 40 now.
Over the years, however, NCAA statisticians have raised valid but not insurmountable issues about the unintended consequences of recalculating records. For instance, how do you tell a player who won a national statistical title in, say, interceptions, that you're taking it away? There are other reasons that could make going back a logistical nightmare.
Chasing down box scores — some of which might not even exist — from bowl games in the 1940s and '50s would be difficult. Also, there are many more stats in the record book than the high-profile ones such as rushing and they would need to be updated as well. Finally, the NCAA couldn't redo the record book just for the FBS, it would have to do it for all football divisions.
The main argument from those who defend the status quo is that recalculated stats couldn't possibly be accurate. Well, they're not accurate now. The NCAA has already excluded everything before 1937, the first year it compiled football stats. It also set an arbitrary date — 2002 — for the inclusion of bowl stats. The point is, wherever you make the cutoff, you're going to be missing games.
Even though recalculated stats would never be totally accurate, they could be far more accurate than they are now. Since 2002, there have been 533 bowl games played, all of which were included in the NCAA stats. That means the stats from 849 bowl games played from 1937 through 2001 weren't included.
It would be difficult to locate box scores from every one of those 849 games. With some work, however, the number of missing games could become a much more manageable number.
UW, for instance, has box scores for games dating back to 1946, often called the start of the modern era. Many other big-time schools could probably say the same.
If you could somehow find box scores for the bowl games going back to 1946, you would only be missing 60 games from the NCAA's statistical era that began in 1937. Though the record book would still be incomplete, missing 60 games would make it way more complete and accurate than the current stats, which are missing 849 games.
Fortunately, rectifying the problem could be easier now because times have changed. With stats at so many universities digitalized, it could reduce the workload considerably. It would still require some digging, but redone stats with as many bowl games as possible included would be a much more accurate reflection of reality.
In the end, it probably doesn't matter. Dayne gained those 7,125 yards and many of you saw every carry. They can never take that away from him. Or you.
Be the first to know
Get local news delivered to your inbox!