The kids at the Meadowood Neighborhood Center didn't quite know what to make of Tionna Williams when she first showed up at the facility early last summer.
Many of them, shy by nature, were reluctant to approach the tall stranger who appeared unannounced one day. Little did they realize they would not only get to know her, but she would have a lasting impact on their lives.
"The kids here don't really warm up to people that quickly," said Jevona Johnson, a Madison West High School senior and program leader at the center. "But for her to be here those two months and everyone loving her that much, she definitely had a big impact on everybody."
Williams has had a big impact, as well, on the University of Wisconsin volleyball program in her four years. The 6-foot-2 middle blocker from Fort Wayne, Indiana, has accumulated a bevy of honors — Big Ten All-Freshman team, All-Big Ten twice; honorable mention All-American twice and third-team All-American once. All that despite battling chronic leg issues.
Through it all she's been a survivor — the lone senior from an original group of six that was ranked as the No. 3 recruiting class in the nation. Madison Duello is a junior after redshirting a year due to injury.
She will be honored Saturday night when the No. 8 Badgers (16-6, 9-5 Big Ten) close out their home schedule against Indiana, following a match Friday night against No. 12 Purdue (21-4, 10-4). She will be joined by Amber MacDonald, who had to retire from the sport after last season because of injuries but has remained with the program as a manager.
"The fact that I'm the only senior on the team is kind of weird," Williams said. "No it's not kind of weird, it is really weird."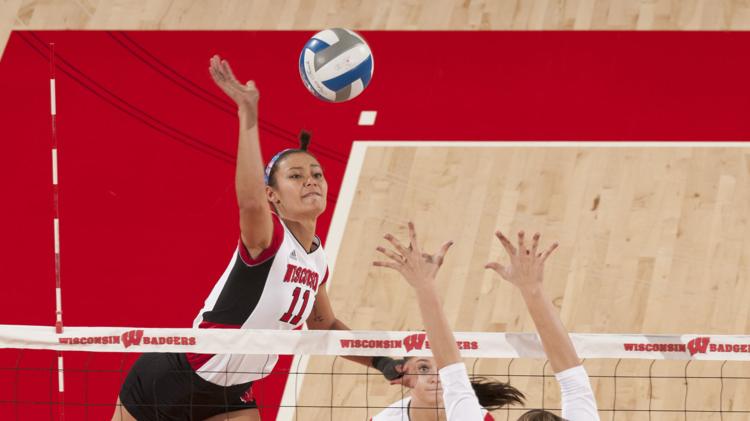 Weird but wonderful, as being part of the UW program has opened up many new worlds for her.
"It has given me so many opportunities that I didn't even think would be possible for me," she said.
She has been a vital part of a team that has posted a 92-28 record to date and advanced to at least the NCAA Sweet 16 each season. She also was selected to play with the Big Ten team that traveled to Europe during the summer prior to her junior year, an experience she cherishes.
But perhaps the longest lasting experience for her will be an internship she had this past summer at the Meadowood Neighborhood Center as part of the Madison School & Community Recreation program.
"It was huge in helping me find my passion outside of volleyball," Williams said of her two-month internship, which was part of the requirements for her major in human development and family studies with a certificate in Afro-American studies. "I knew the demographic I wanted to work with, low-income minority youth.
"The kids I worked with every day, that was me growing up. I come from that similar background. Being able to become more than a product of my environment and to show those kids that they can go on to be more than what their environment tells them that they can, is really what I love to do."
Whether it was through playing games at the park down the street, leading group karaoke sessions, giving a tour of the UW athletic facilities or just offering advice one-on-one, Williams was able to have a widespread impact.
"For me, she changed the way I see things now," said Jeny Maldonado, 14, an eighth-grader at Toki Middle School. "She said that everything has more than one choice. Everyone tells me that but Tionna showed me physically that we have more than one choice."
Ayress Robbins, 13, an eighth-grader at Toki, was one of those originally hesitant to approach Williams.
"It was kind of hard warming up to her because I didn't know who she was," she said. "But I'm glad she came. Tionna has had a lasting impact on me because she gave me a lot of good advice. She told me to do things the first time people ask so they don't have to come back and ask again."
Her internship ended in July, but Williams has kept in touch with many of the kids and stops by the center when her hectic schedule allows.
"I just see their faces light up every time they see her," Johnson said. "When she comes in for surprise visits they get so excited to see her."
"Coming from a similar background, I see a lot of myself in them," she said. "Just seeing the potential in them and how much fun they have was inspiring every day. It's a reason why I love working with them.
"The relationship is mutual. They understand the type of impact I want to have on them, but they don't realize the impact they've also had on me. Creating those bonds is something that is super important to me."