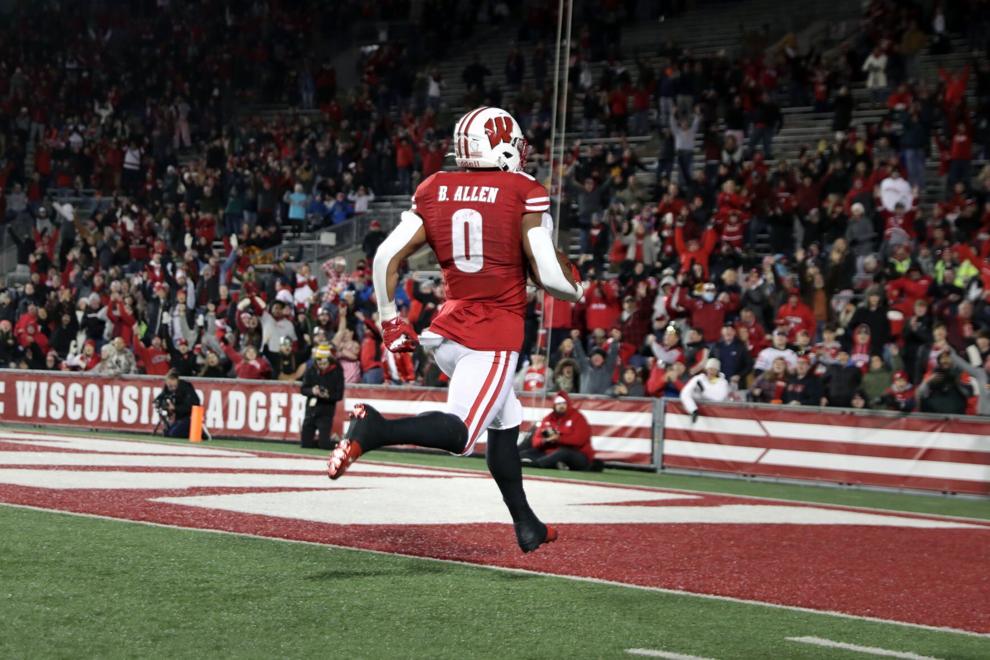 When the Badgers have the ball
Two key factors have helped the Badgers offense get on track the second half of the season, score 31.9 points per game and win seven consecutive games: The emergence of freshman running back Braelon Allen and a lack of costly turnovers.
Allen is earning comparisons to Jonathan Taylor, Melvin Gordon and Ron Dayne for what he's doing to begin his career in the backfield. His career-high 228-yard performance last week against Nebraska was his second straight game with three rushing touchdowns. He has 1,013 yards in the last seven games, the most by any Power Five player in that span, and he trails only Syracuse's Sean Tucker (nine) for most 100-yard games by Power Five players this season.
Quarterback Graham Mertz had a turnover-free outing against the Huskers, throwing for 145 yards and a touchdown.
Minnesota's defense quietly has been one of the stingiest in the FBS. The Gophers are fourth in the FBS in allowing 289.5 yards per game, with its rushing defense (103.6, 12th) and passing defense (185.7, 13th) ranking in the top 13 nationally. Senior linebackers Jack Gibbens and Mariano Sori-Marin are like a light version of the Badgers' linebacker duo of Jack Sanborn and Leo Chenal. Gibbens has 76 tackles and Sori-Marin has 75 this season. Minnesota only has allowed one offense to gain 300 or more yards, and that was Purdue in a 20-13 Gophers victory.
When Minnesota has the ball
Outside of Army, the Gophers are the most run-committed team the Badgers have faced this season. Minnesota is running the ball on 69.2% of its plays and gaining 204.6 yards per game on the ground. That total is third in the Big Ten and 23rd in the FBS.
The Gophers have had success on the ground despite losing four running backs to season-ending injuries, including Mo Ibrahim, the Big Ten running back of the year in 2020.
Minnesota's attack will have to find holes in the FBS' top-ranked rushing defense, which allows 64.3 yards per game, 13 yards less than Georgia, the team with the second-best rushing defense. UW has allowed four teams to rush for 100 or more yards, but two of those games have come in the past two weeks.
Senior quarterback Tanner Morgan is protecting the ball well for the Gophers — he has seven interceptions on 221 attempts this season — but not facilitating the explosive plays he made in 2019 with a pair of star receivers who are now in the NFL. He has directed an efficient third-down offense, though, as the Gophers are third in the Big Ten and No. 20 in the FBS with a 45.2% conversion rate. UW (25.2%) has the best third-down defense in the conference and second-best in the FBS.
UW has forced 19 turnovers in the past six games, but it may need to live with getting off the field with punts.
Special teams
Stephan Bracey gave UW's return game a shot in the arm when he returned the opening kickoff for a touchdown against Nebraska, the first kickoff return TD for UW since the 2020 Rose Bowl. His return abilities likely won't be a factor against Minnesota, which has allowed just 13 returns compared to 40 touchbacks this season.
UW's kickoffs this season have been a concern, and senior Collin Larsh replaced Jack Van Dyke last week after Van Dyke had a low, line drive kickoff. Larsh had a kickoff go out of bounds late in the fourth quarter. UW has 20 touchbacks on 61 kickoffs this season.
Larsh has missed two of his last three field-goal tries and is 13 of 17 this season after starting off hot. Minnesota's Matthew Trickett is 13 of 20 with a long of 50 yards.
The Gophers don't have many threats in the return game.
Trends
The Badgers are trying to have a full rivalry trophy case for the fifth time under coach Paul Chryst by finishing a sweep of Iowa, Nebraska and Minnesota. Chryst's Badgers are 20-4 in November games and have a 5-1 record against the Gophers.
Minnesota is 1-2 since coach P.J. Fleck signed a seven-year, $35 million contract that added two years to his previous deal.
Braelon Allen is the first freshman rusher since Jonathan Taylor to eclipse 1,000 yards in a season, and he is the first to rush for 100 or more yards in seven consecutive games.
UW is 6-5 against the spread this season and Minnesota is 6-4-1.