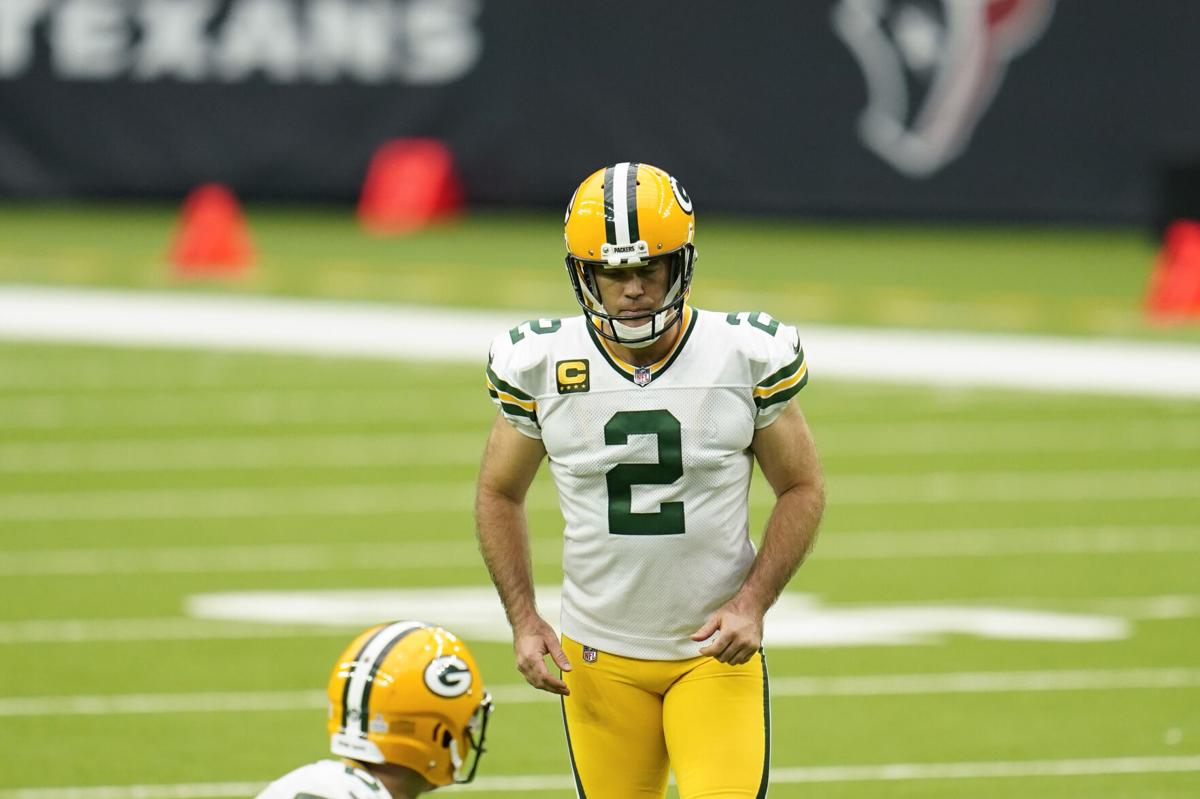 GREEN BAY — Sunday will mark 5,054 days since someone other than Mason Crosby attempted a meaningful kick in a Green Bay Packers regular-season or postseason game.
The Packers and their veteran kicker are holding out hope that the nearly 14-year streak continues uninterrupted on Sunday at Lambeau Field against the Minnesota Vikings.
Battling a calf injury to his left (plant) leg as well as a back injury, Crosby was able to kick inside the Don Hutson Center on Friday during practice — his first work this week — and has been listed as questionable on the injury report.
"That kind of remains in the balance at this moment," coach Matt LaFleur said.
Crosby's streak of 214 consecutive games played is the longest in the NFL among active kickers by five seasons, and through six games he had made all but one of his kicks this season — he is 9-for-9 on field goal attempts and 22-for-23 on extra points. Special teams coordinator Shawn Mennenga said this week that Crosby suffered the calf injury during last week's 35-20 win at Houston but was unsure exactly when it happened.
"From what I understand it happened in the game and (we) found out about that the day after the game," Mennenga said. "Obviously we're preparing for a bunch of different scenarios and going through a lot of different things. We're going to have a plan for whatever happens. We've got multiple plans going. But you can only control what you can control and we're trying to get as many guys ready as possible and just be as prepared as we can."
The Packers will have to make a decision by Saturday afternoon on Crosby's status, though, if they want to add Nick Vogel, a free agent kicker who worked out for the team Friday and who has been in Green Bay taking part in the NFL's required COVID-19 protocols in order to be eligible to play against the Vikings. As of Friday afternoon, the team had not signed Vogel.
"We'll wait it out and we'll see how he's feeling (on Saturday)," LaFleur said of Crosby. "And obviously then we're going to have to make a decision here pretty quickly."
Vogel is a rookie who made 19 of 23 field goal attempts and all 37 of his extra points as a senior at Alabama-Birmingham in 2019. He spent time in training camp with the Baltimore Ravens, whose incumbent kicker, Justin Tucker, is considered the best in the NFL.
The 36-year-old Crosby is in the first year of a three-year, $12.9 million deal he signed after making 22 of 24 field goal attempts last season for a career-best 91.7% success rate.
The Packers' other option, if they felt Crosby was good enough to kick field goals and extra points against the Vikings, would be to have him handle the placekicks and have punter JK Scott handle kickoffs. Crosby did not attempt any field goals against the Texans, but he did kick off six times and made five extra points. Scott is also capable of kicking field goals and extra points in a pinch.
Meanwhile, the Packers ruled out running back Aaron Jones (calf) and cornerback Kevin King (quadriceps) after neither was able to practice all week. Jones will miss his second straight game after experiencing discomfort in his calf following the team's Oct. 22 practice. King has been sidelined since injuring his quadriceps against Atlanta on Oct. 5. King had been on track to return but suffered a setback in practice last week.
"I know they're doing everything in their power," LaFleur said. "We just want to make sure that they're 100 percent before we throw them back out there."
In addition to Crosby, the Packers listed starting left tackle David Bakhtiari (chest), starting safety Darnell Savage (quadriceps), returner/running back Tyler Ervin (wrist), safety Raven Greene (oblique) and defensive tackle Tyler Lancaster (shoulder) as questionable.
Bakhtiari and Savage both sustained their injuries against Tampa Bay on Oct. 18 and didn't play against the Texans. With Bakhtiari out, the Packers started Billy Turner at left tackle and started Rick Wagner at Turner's customary right tackle spot. LaFleur said he liked what he saw from Bakhtiari in practice this week but wasn't ready to pronounce him good to go.
"I thought he did a nice job. Whether or not that's enough to feel confident to go out there and put his body on the line like that, we're not there yet," LaFleur said. "We'll give him up to game time to figure that out.
"But certainly, it's a long season, and he's such an important part of our football team. In order for us to accomplish the goals that I know we all want to accomplish, he's got to be a part of that. So we want to make sure he's fully healthy before he's ready to go."
Ervin has not played since the win over Atlanta but has been dealing with the wrist injury for more than a month.
"I think he's going to be another one that's going to be close," LaFleur said. "Certainly, we hope to have him out there, because he just brings an element to both phases of our team, special teams as a returner and offensively, doing a lot of what we ask him to do. He does such a great job of that and knows his role, and he's a big part of our football team. Certainly we're excited to hopefully have him back, and if he's ready to go we'll put him out there."
Extra points
LaFleur said the team had not heard anything from the NFL indicating Sunday's game might be postponed after the Vikings had their second positive COVID-19 test of the week on Friday. Linebacker Todd Davis was added Friday afternoon to the team's COVID-19/reserve list, where he joined cornerback Cameron Dantzler, who has been in quarantine since Wednesday. "We just have to listen to the NFL," LaFleur said. "I know they're going to be very, very cautious and not try to put anybody in harm's way, but all indications are that they have the situation contained and that we'll be able to play." …LaFleur said wide receiver Allen Lazard (core muscle surgery) and inside linebacker Christian Kirksey (pectoral) had good weeks of practice as they returned to action while being designated for return from injured reserve. But whether they'll be activated before Sunday, he wouldn't say. "I thought they looked pretty good," LaFleur said. "I know they're working hard and they put in a lot of hours to rehab to get to the point where they are right now. We're hopeful that they'll be able to join us sooner than later." … On Minnesota's injury report, the Vikings placed cornerback Mike Hughes (neck) on injured reserve Friday. Cornerback Holton Hill (foot) was also ruled out, and with Dantzler in quarantine and new addition Chris Jones still in the six-day entry testing protocol, the Vikings will likely be without four of their top corners against the Packers. Running back Dalvin Cook (groin) was able to practice in full on Friday but is still listed as questionable, as is wide receiver Dan Chisena.