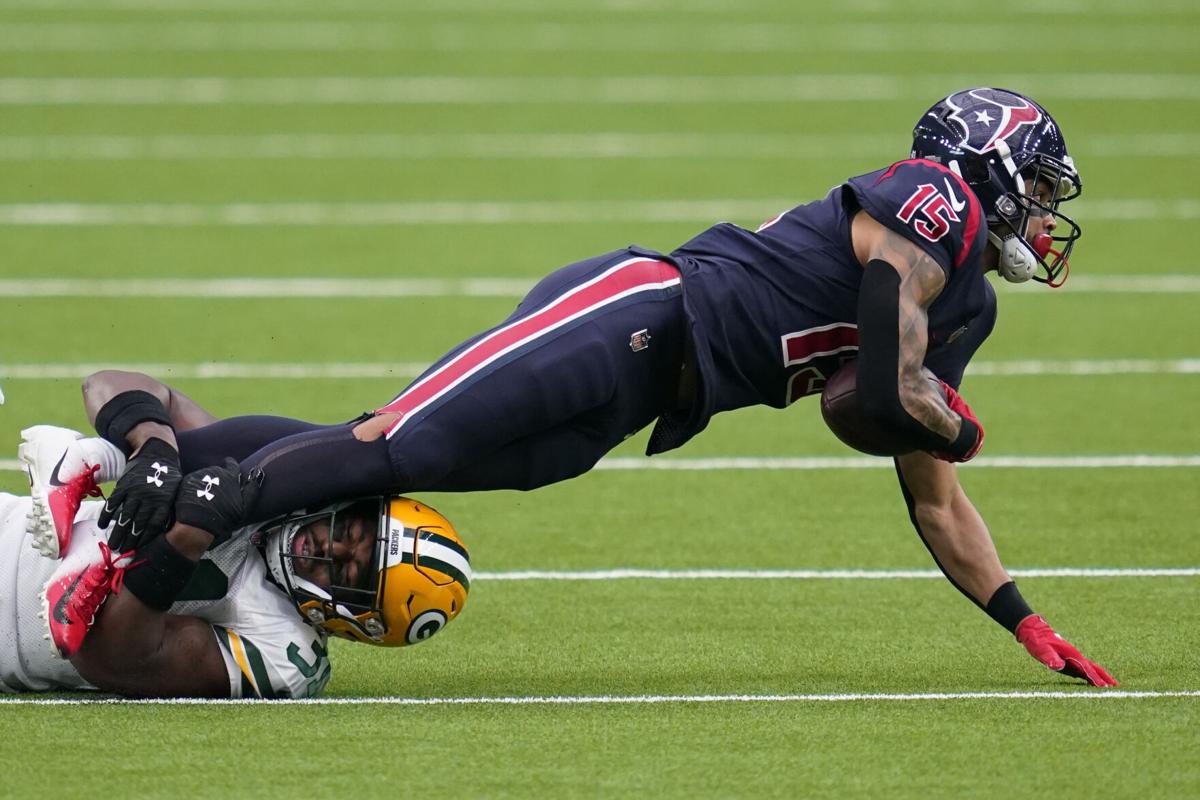 GREEN BAY — Davante Adams was not about to say something foolish.
So even if the Green Bay Packers' No. 1 wide receiver believes in his heart of hearts that general manager Brian Gutekunst needs to swing a deal or two before Tuesday's NFL trade deadline, Adams wasn't about to come right out and say so.
"That's definitely a question (where) it's a little bit safer to say that once you're not playing for the team anymore," Adams said. "I don't know how how it would be looked at if I came through and said, 'Yeah, I'm always looking at that trade deadline, like, why don't we sign somebody? We really need somebody. It sucks that we don't ever sign anybody.'
"Obviously, everybody's open to making the team better and to get us to winning that (Super) Bowl ultimately, but I'm just playing ball and letting those guys take care of it (in the front office). I don't get paid enough to be out here worrying about personnel and all that."
Adams also said that he doesn't even know when the trade deadline is — "I'm like living under a rock and just playing football during the season," he said — but acknowledged that he'd be "ecstatic" if the team added a receiver to his group.
Apparently, Gutekunst is at least exploring such an idea. The Athletic reported Wednesday that the Packers had been among the teams to show interest in acquiring Houston Texans wide receiver Will Fuller, and that the Packers did indeed make a trade offer for Fuller, who caught three passes for 35 yards and a touchdown during the Packers' 35-20 win over the Texans on Sunday.
Fuller, a first-round pick from Notre Dame in 2016 who is set to be a free agent after this season, is playing for his fifth-year option this year, which is paying him a guaranteed base salary of $10.16 million. He has 31 receptions for 490 yards and five touchdowns.
Asked if he expects Gutekunst to make any moves at the deadline, coach Matt LaFleur replied, "We've got a lot of confidence in the guys that we have in this building, and if the right opportunity presents itself, I'm sure 'Gutey' will be all over it. And then he'll make that decision. But that's something that we're in constant communication (about)."
Of course, quarterback Aaron Rodgers has seen plenty of trade deadlines come and go without the Packers adding anyone — last year, for example, the San Francisco 49ers added wide receiver Emmanuel Sanders at the deadline, a deal that helped them reach Super Bowl LIV — so it's unlikely he's getting his hopes up too much.
"Obviously, how do you not hear it?" Rodgers said of trade rumors. "Guys are talking about it. We've got the (NFL) Network on. We've got that other channel (ESPN) on all the time in the cafeteria. So you're looking at it, you're hearing it, guys are talking about it. But we'll see it when we see it, and I'll hear it when I hear it."
From the infirmary
While he didn't say anything definitive, LaFleur's response when asked whether the Packers coaching and medical staffs had gotten the results they'd hoped for from holding No. 1 running back Aaron Jones out of the game at Houston was hardly encouraging for Jones' availability this week. Jones experienced discomfort in his calf during last Thursday's practice, did not practice Friday and, while traveling to Houston, was inactive for the Packers' victory over the Texans.
Jones did not practice Wednesday.
"It definitely helped him," LaFleur said. "(But) he's got to continue to improve and get better each and every day, and I know he's doing everything in his power. We want to be very, very careful with him and not put him in a position where he misses significant amount of time.
"Obviously he's a huge part to this whole team, everything he brings on game day. We'll be smart with him, but (we're) hoping to get him back sooner than later as well."
Meanwhile, kicker Mason Crosby did not participate in practice and was listed on the injury report with two injuries: One to the calf on his left (non-kicking) leg, and one to his back. The Packers have brought in a bevy of kickers for workouts/tryouts in recent weeks but whether they can have one of them on the roster in time for Sunday's game given the NFL's six-day ramp-up testing program is unclear.
The Milwaukee Journal Sentinel reported that the most recent kicker to come to Green Bay is rookie Nick Vogel, who has been in town going through the NFL's COVID-19 testing protocol for tryout players. Vogel arrived Sunday, so if he passes all five tests, he would be able to work out for the Packers on Saturday and could be signed to the roster if Crosby can't go.
It's unclear when Crosby, who was not on last week's injury report, was injured. He did not attempt any field goals against the Texans but did kick off six times and kicked five successful extra points.
Wide receiver Allen Lazard (core muscle surgery) and inside linebacker Christian Kirksey (pectoral) both began practicing on Wednesday, starting the 21-day clock for them to be activated off injured reserve.
LaFleur said in Lazard's case, "hopefully we'll get him back sooner than later," while he said Kirksey is "coming along nicely. ... We'll see how long before he can go."
The Packers had a total of 19 players on their injury report, including left tackle David Bakhtiari, who missed last week's game with a chest injury and was listed as a limited participant in the walk-through style practice.
The Aaron Rodgers/Mike Zimmer Mutual Admiration Society is still alive and well. But this time, their bi-yearly exchange of compliments came with a twist: Rodgers going out of his way to defend the Vikings head coach from criticism about his team's 1-5 start and talk that the team might fire him after the season.
"Anytime you play a Mike Zimmer team, you've got to be ready for everything. He's a phenomenal coach," Rodgers said during his post-practice Zoom call. "I was telling a friend of mine, to see him mentioned being on the hot seat, to me, is absolutely crazy. I think he's one of the best coaches in the league and has been for a long time. I have a lot of respect for the way he coaches and the way he especially coaches the defense."
Rodgers has been a fan of Zimmer's since before he took over as Vikings coach in 2014, dating back to his days as a defensive coordinator. Just as Zimmer has had respect for Rodgers for years.
"I don't want to disrespect any other quarterbacks, but this guy's the best in the business in my opinion. I watch him every day," Zimmer said during a conference call with Wisconsin reporters Wednesday morning — while responding to a question about the Packers' running backs catching balls out of the backfield, not a question about the guy throwing those balls.
"The things he can do with his legs, the way he manipulates a defense with his checks, and obviously the arm talent is unbelievable. But he does so many things mentally that affect the defense to get them to where he wants them to get to that this guy is amazing. He's got to be extremely intelligent, too. He has to be."
Zimmer also said that he's emphasizing to his players not to fall for Rodgers' hard count at the line of scrimmage, as they did during the opener on Sept. 13 at U.S. Bank Stadium in Minneapolis. Of course, that's easier said than done.
"His hard count is unbelievable. He hard-counts somebody every game. He's got to be loving this no-fan thing I'm sure," Zimmer said. "Anyway, that's just kind of my opinion."
Extra points
The Texans shut down their facility after guard Max Scharping, a Green Bay native who played five special teams snaps against the Packers on Sunday, tested positive for COVID-19. But LaFleur said he got no indication from the league that his team was in any greater jeopardy. "All indications that I've gotten is that we're good to go here," LaFleur said. … LaFleur is monitoring a forecast that calls for 40 mph winds in Green Bay on Sunday. "That's something that is definitely in the front of our minds in terms of, it's hard to throw the ball in 40 mph winds," LaFleur said. "We'll see where the weather report ends up. Certainly that could be something that alters some plans." … The Packers added guard Ben Braden, cut from the 53-man roster earlier this week, and cornerback KeiVarae Russell to the practice squad.
---
Photos: Packers' 2020 season so far in pictures