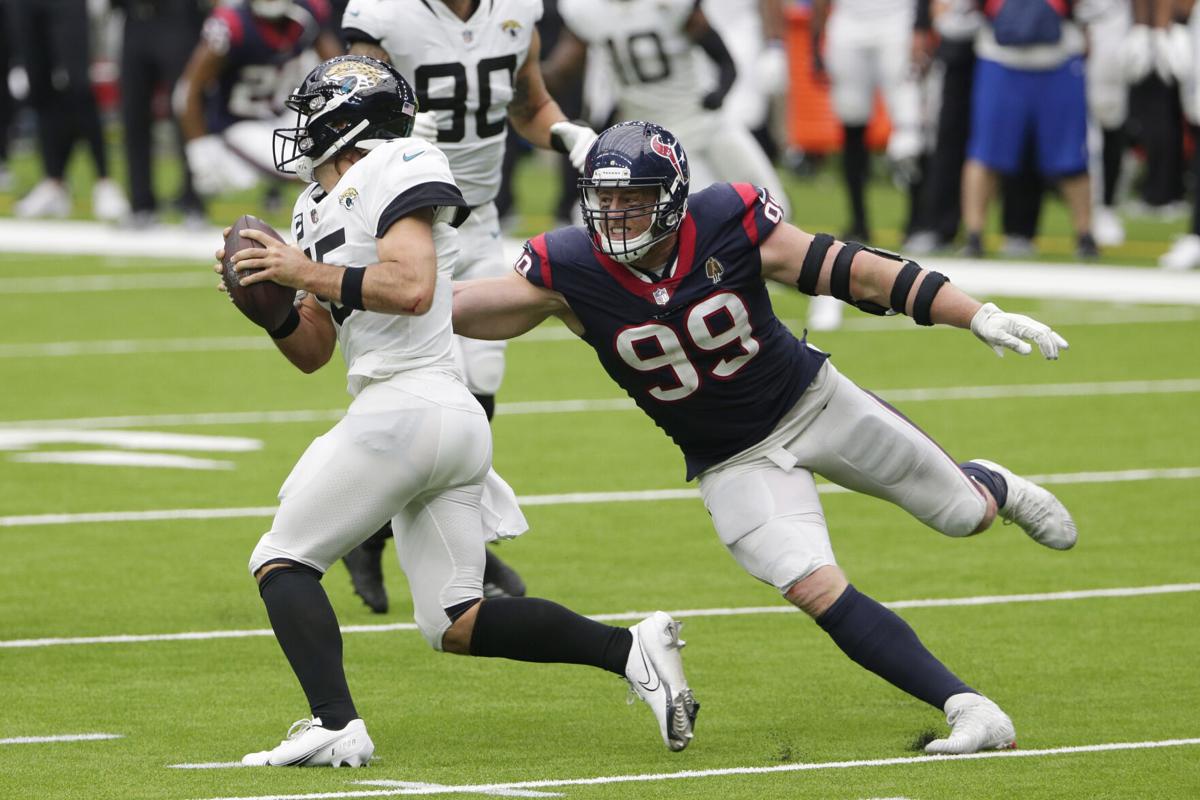 GREEN BAY — Joe Thomas can empathize. Even though J.J. Watt has had it better than he did.
"At least J.J. has been to the playoffs," the self-deprecating Thomas quipped. "So you won't see me crying in my cheese curds for him. Try going 1-31 over two seasons!"
Yes, the two former University of Wisconsin stars and state natives both built Pro Football Hall of Fame-worthy careers while playing for organizations that never achieved the ultimate team success.
In Thomas' case, he played 11 NFL seasons at left tackle with the Cleveland Browns and never even made the playoffs. Set to turn 36 in December, Thomas retired following the 2017 season having been selected to 10 Pro Bowls, eight All-Pro teams (including six first-team selections) and the NFL's 2010s All-Decade team — but having experienced only one winning season, a 10-6 finish in his rookie year of 2007. Over the 2015 and '16 seasons, the Browns won just one game, going 0-16 in Thomas' final year.
Watt, meanwhile, enters today's game against his home-state Green Bay Packers on a going-nowhere 1-5 Houston Texans team that started the season 0-4, leading to the firing of head coach/general manager Bill O'Brien.
Despite all the talented defensive end has accomplished individually — three Associated Press Defensive Player of the Year awards, five Pro Bowl and first-team All-Pro selections, 99 career quarterback sacks and a spot alongside Thomas on the 2010s All-Decade team — the 31-year-old Watt is in his 10th NFL season and has never advanced beyond the AFC divisional round of the playoffs. The Texans have made the playoffs six times during his career, but he has only four wild card wins to show for those postseason trips to go with his six elimination-game losses.
It's to the point in Houston that there's talk that the Texans should, out of the kindness of their hearts, trade Watt to a contender to give him a chance at a championship before his career comes to an end.
"With the way the Texans have performed, I believe it is in the best interest of J.J. Watt to be traded before the (Nov. 3) deadline," said Matt Thomas, an on-air host on Houston's SportsTalk 790 AM. "J.J. Watt's been pretty good for this franchise, and they're not going to win the Super Bowl this year, and they're probably not going to win the Super Bowl next year.
"Would the Packers have any interest in trading for J.J. Watt?"
Maybe, maybe not. More importantly, would Watt, who grew up in Pewaukee, be interested?
"My goal since I got here was to bring a championship to the city of Houston. That remains my goal until the day I'm not a Houston Texan anymore," Watt said. "That will always be my goal. That's what I'm working towards. That's what I'm working towards today and that's what I'll work towards tomorrow."
Despite Watt's best efforts, that goal appears out of reach. Having dealt with myriad injuries in recent years and with plenty of post-football options awaiting him — perhaps even an acting career in the vein of former football player and WWE wrester Dwayne "The Rock" Johnson — it's hard to imagine Watt playing another four or five seasons. And despite having a 21-0 lead on the eventual Super Bowl LIV-champion Kansas City Chiefs in last year's AFC divisional round, the Texans appear on the verge of yet another rebuild with a new GM and new head coach in 2021.
His frustrating postseasons are yet another cautionary tale of how difficult it is to win an NFL championship — something Packers quarterback Aaron Rodgers, who led the team to the Super Bowl XLV title a decade ago but hasn't been back despite three other NFC Championship Game berths (2014, 2016, 2019), knows all too well.
"It's a team sport. It takes a lot of guys to win championships — not just offensive players, but defensively, special teams, backups, role players, coaching, personnel. A lot of things have to come together," Rodgers said. "When we won ours, it was backups, guys signed off the street, people elevating their game at the right time, timely wins. And then those role players who played a big part.
"So, you can be a dominant player in this league like J.J. has been for a long time and also understand and embrace the beauty that it is a team sport and it takes a lot of guys moving in the same direction in order to get to that stage and to hold up that trophy."
No one understands that better than Thomas, who never had a quarterback like Rodgers as a teammate — or many elite players elsewhere on the roster, either.
During his 11 seasons in Cleveland, Thomas played for six head coaches (including now-Texans interim head coach Romeo Crennel) and the Browns went a combined 48-128.
"Winning a Super Bowl is so challenging because it takes such a combination of unlikely factors," said Thomas, now an NFL Network analyst and a likely first-ballot Hall of Famer who'll be eligible for enshrinement in 2023. "Being on a good team — with a good QB, with a good head coach, with your key players staying healthy, with your team getting hot in the playoffs, and then of course a healthy dose of luck.
"It's not like basketball, where you can pretty much predict the four or five teams that are going to compete for a championship because two or three stars on a team make you a championship contender, and injuries don't affect your season the way they do in the NFL.
"Very few players have been successful in chasing a ring because of all those factors. Plus, other than super elite QBs, individual star players have so much less impact on overall team success. J.J. has been one of the best and most influential defensive players of all time — and he still will win only two or three games for his team over his replacement. It's just so much more of a team game."
For his part, Watt insists he's focused on nothing else but getting the Texans back into contention while focusing on his own performance and leadership.
Even if it never leads to a title.
"As a competitor, you love going out there and getting better. If you don't, you're in the wrong business," Watt said. "Every day is an opportunity to get better. I said this before: One of my favorite quotes is, 'You never get today back.' If you don't utilize today, if you don't get better today, if you don't find a way to move yourself forward closer towards your goal today, you wasted it and it's gone. Somebody else, your competitor, may be getting better and you're making the gap that much wider.
"All you can do is control what you can control today and try and get better today because you never get it back. That's what I'm doing. That's what we're doing. That's what we can control."
---
Photos: Packers' 2020 season so far in pictures