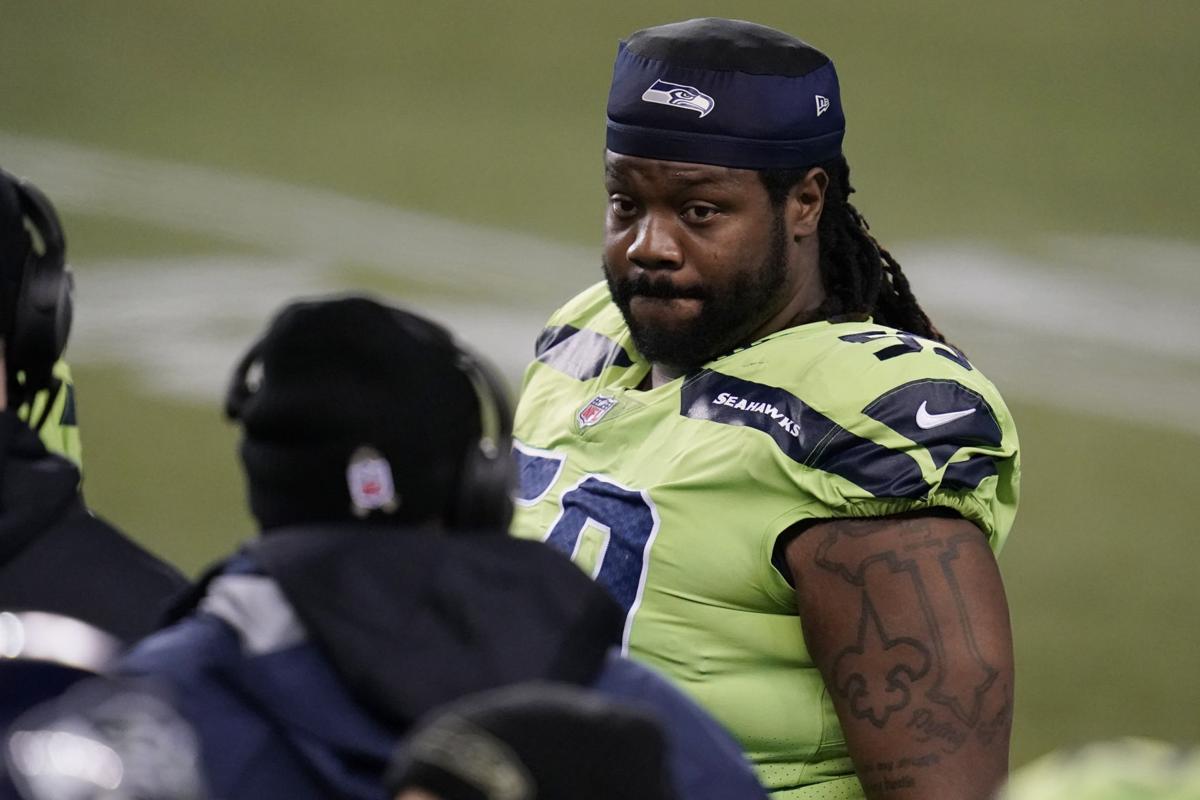 GREEN BAY — During his first eight years in the NFL, Damon Harrison had shared a football field with Aaron Rodgers six times: Three times with the Detroit Lions over the past two seasons; twice with the New York Giants, including in the 2016 NFC playoffs; and once with the New York Jets in 2014.
But the 6-foot-3, 339-pound defensive tackle — better known by his nickname, "Snacks" — had never seen the Green Bay Packers' two-time NFL MVP quarterback from the perspective he did last Sunday: As teammate.
So, as Rodgers made his way to the visitor's locker room at Soldier Field after the Packers' 35-16 win over the Chicago Bears, his newest teammate got his attention.
"(He said), 'It's good to be on the right side of one of these for once,'" Rodgers recounted Thursday afternoon, during the Packers' playoff bye week. "That definitely made me smile and chuckle."
Harrison's teams were 1-5 against the Rodgers-led Packers — the lone victory coming with the Lions in 2018, and the playoff loss with the Giants being at Lambeau Field in the only postseason game of his career — so it's understandable that he's excited about being in Green Bay after the Packers claimed him off waivers from Seattle last week, in time to face the Bears. Harrison played 12 snaps despite limited practice time.
"To me, it's the chance of a lifetime," said Harrison, who played for Packers defensive coordinator Mike Pettine with the Jets in 2012 and who asked for his release from the Seahawks after he was inactive for his final game in Seattle. "I played in this defense my rookie year and somewhat my first two years, so a lot of it is just trying to reach back in my memory bank and bring it out, trying to get a better understanding of the playbook and ways that guys play. You're learning that on the fly, so last week was a little tough. But it was alright."
Pettine, who called Harrison "an ultimate pro" and "very conscientious," was pleased with Harrison's debut and believes his presence will lighten the load on former Pro Bowl defensive tackle Kenny Clark. Harrison can spell Clark on some downs and line up beside him on others, allowing Clark to line up somewhere other than at nose tackle.
Harrison said Thursday that he wasn't second-guessing his decision to sign with the Seahawks' practice squad (with the expectation of joining the regular roster, which he did) in November when he also had a visit to Green Bay scheduled. He said Seahawks general manager John Schneider and head coach Pete Carroll made such a strong impression on him that he felt it was the right fit at the time.
But as some of the Seahawks' younger defensive linemen got healthy, Harrison was the odd man out. After being inactive against the Los Angeles Rams on Dec. 27, he asked Schneider for his release, and it was granted.
"I told him that I just wanted an opportunity to get out there on the field," Harrison explained. "The team was getting healthy. They've got some really good young guys that need the reps, and I just felt like I was making progress week after week, day by day. And I didn't want to delay that progress by not playing. I just asked them if they could let me go to find another opportunity to play."
The Packers were one of the teams Harrison was interested in playing for, and after figuring out the logistics of moving his wife, Alexis, and the couple's seven children to Green Bay, he's ready for the postseason.
"They just got here, which is probably why you can see the sleep in my eyes — because they kept me up all night last night," Harrison said. "It's amazing to have them here. I feel like I can focus a little better."
The 32-year-old Harrison is also excited to be aligned with Rodgers, who left him in awe during last Sunday's win.
"(When) you get a chance to see him work, you know something's going to happen. You know '12' has got something up his sleeve (to) something magical happen," Harrison said. "To get a chance to be on that sideline and watching it rooting for him instead of hoping nothing bad happens, it was just amazing to see."
Replied Rodgers: "Bringing in a veteran who's played a lot of football, there's a legitimacy to that person and that opportunity. He's got a good presence about him. I think that's the exciting thing for a veteran player — I would imagine — as you see your career winding down: Being able to be a part of something that legitimately can go the distance. It's special."
---
Photos: Packers' 2020 season so far in pictures