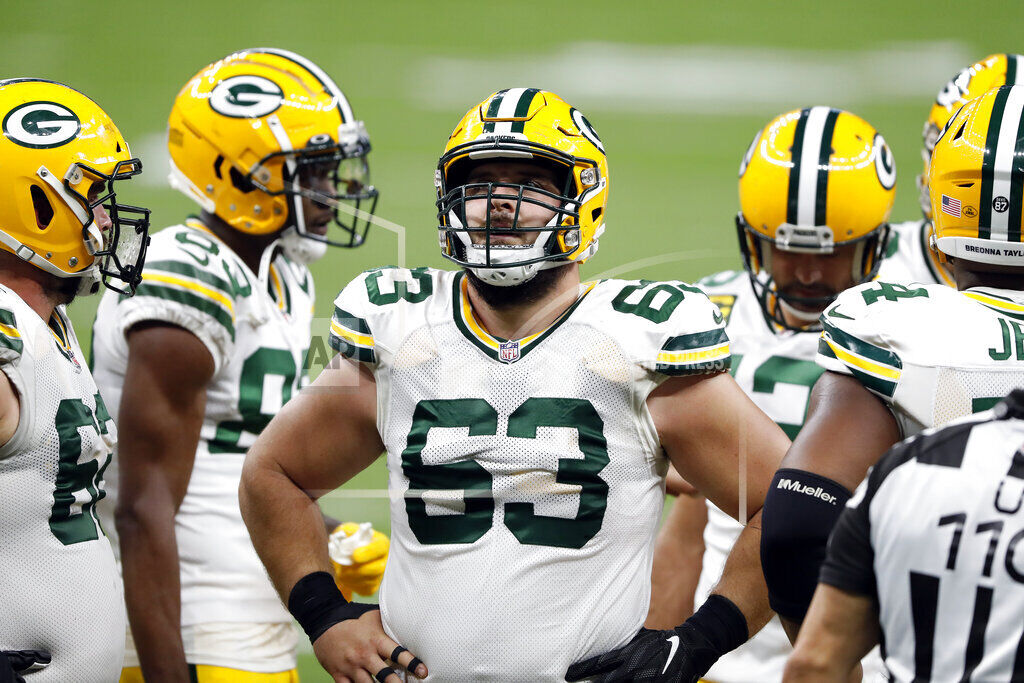 GREEN BAY — While Corey Linsley insists he is on focusing on his weekly responsibilities on the field and not thinking about his contract situation, his wife, Anna, isn't doing quite as well with it.
"Anna's biggest thing is, if we don't come back, she's all worried about, 'How are we going to move?' I'm like, 'With a truck?'" Linsley, the Green Bay Packers veteran center, said with a smile Thursday. "She stresses on a lot of the non-football stuff. But I think it's going to be all right. We're just kind of taking it as it comes."
In the wake of franchise left tackle David Bakhtiari's four-year, $103.5 million extension, which he signed late Saturday night and made him the NFL's highest-paid offensive lineman, it's reasonable to wonder whether the Packers will have enough salary cap space to get something done with Linsley, a 2014 fifth-round pick from Ohio State who is in the final year of the three-year, $25.5 million extension he signed on Dec. 30, 2017.
Linsley and Bakhtiari, while drafted a year apart, are both 29 years old and are arguably the NFL's best at their respective positions. Entering Sunday's game against the Indianapolis Colts at Lucas Oil Stadium, Linsley has yet to be called for a penalty this season and he has been charged with only one of the Packers' 11 sacks allowed.
According to Pro Football Focus' grading system, Linsley is far and away the league's highest-rated center with a 90.4 grade — almost 14 points higher than the next-highest rated center, Cleveland's JC Tretter at 76.8. (Tretter, coincidentally, was drafted by the Packers in 2014 in the fourth round — the same round as Bakhtiari, who went 13 picks earlier — but the Packers opted not to re-sign Tretter in March 2017 and invested in Linsley nine months later.)
"I'm nothing but happy for Dave," Linsley said. "I've been taking this year one week at a time from the beginning. I didn't enter the season thinking, 'I can't wait for my deal to get done.' I'm thinking, 'Worst case scenario, I'm out and I've got to play well for myself and this team — not necessarily for a new contract.
"It is what it is, and that's just been my mentality from Day 1. It's not really going to change. I'm not, like, surprised Dave got paid. It's obvious it was coming. It was just a matter of how much for him and whether he was going to break the bank or not. But that's been my mentality from Day 1 — just perform at my best and everything will fall into place. I've got to go do that."
And he has. While Linsley pooh-poohed this being his best season — "Yeah, I think I've been playing up to my standard, but it can change on a dime," he said — he has not only blocked effectively in the run and pass games, but his off-the-charts football IQ pairs well with quarterback Aaron Rodgers and his on-field intellectual savvy.
"When you look at the game of football, everybody focuses on the quarterback and the calls and the checks and all the things that he'll make (at the line of scrimmage)," offensive coordinator Nathaniel Hackett said, echoing praise he had for Linsley last month as well. "A lot of quarterbacks do that, but it's also the same thing for a center. I mean, there's all kinds of things that we put on those guys, and Corey is unbelievable at his craft.
"It's awesome to watch him go to work. I play middle linebacker during walk-throughs, and being able to watch him just talk and communicate with those guys confidently and then be able to go play fast, I mean, it's just awesome. Obviously as coaches, we're always going to try to push the envelope and we're always going try to do more things, new things, always try to find something creative and fun, and I think when you have a guy like that, you can do that stuff because you see so many different things from defenses, different coverages, different fronts, different pressures.
"I can't speak highly enough of him."
And yet, that may not be enough to keep Linsley in Green Bay. Even with the reduced salary cap, there will be teams with money to spend, and just as Bakhtiari reset the tackle market, Linsley could easily wind up as the NFL's highest-paid center. If he has to go elsewhere to do that, it will mean leaving behind Green Bay, where the Linsleys — Corey, Anna and son Seamus — live year round and have become extremely active in the community, including the Brown County chapter of CASA (Court Appointed Special Advocates for Children). 
"Corey is definitely better at compartmentalizing than me," Anna Linsley said. "If I get too far ahead of him in asking what he thinks might happen or this, that or the other thing, he's usually quick to reply with the trusty old, 'We'll just cross that bridge when we get to it.' While he stays grounded in the present and focused on the day-to-day, I'm usually the one mulling over what the future might bring. I've always been a planner and one thing in life the NFL has taught me is to not make too many plans and just appreciate the moment.
"Green Bay has definitely become home, and when I think of the possibility of not being here next year, the hardest part is leaving the community. We've developed some incredible friendships and are forever grateful to those who've made this place so easy to call home. On the flip side, as with any potential new chapter in life, there's some excitement and curiosity for what might play out. I think our biggest thing as a family is to focus on the positives in all of this and just have faith that we will end up right where we are meant to be."
And so, while his wife frets, Linsley focuses — on the Colts, and on helping the 7-2 Packers to another NFC North division title and, he hopes, a Super Bowl run in this bizarre 2020 season.
"I really don't have time to just sit back and wonder and twiddle my thumbs and all that stuff," he said. "The chips are going to fall however they fall. There's nothing I can do about that besides play at a high level — and if I don't, regroup and get that back the following week.
"I've had a wonderful experience, and if it continues, that's awesome. If it doesn't, that's the nature of the game. There's 31 other teams out there, so hopefully it'll happen here or happen somewhere else. I don't know. How I'm looking at it is, I'm just playing ball."
Extra points
One day after expressing some trepidation about his injured right ankle, wide receiver Davante Adams didn't practice at all on Thursday. He had practiced on a limited basis on Wednesday and had said that while he hoped to play against the Colts, it was no sure thing. … Cornerback Jaire Alexander, who didn't play last week while still in the concussion protocol, participated fully in Thursday's practice. … Wide receiver Allen Lazard, who was activated from injured reserve after missing the past six games with a core muscle injury that required surgery, was still limited in practice. … Having been in the NFL's intensive protocol until last Friday, the Packers have not had to adjust much after the league decided to require all 32 teams to adhere to those guidelines, which include wearing masks while lifting weights and at practice.