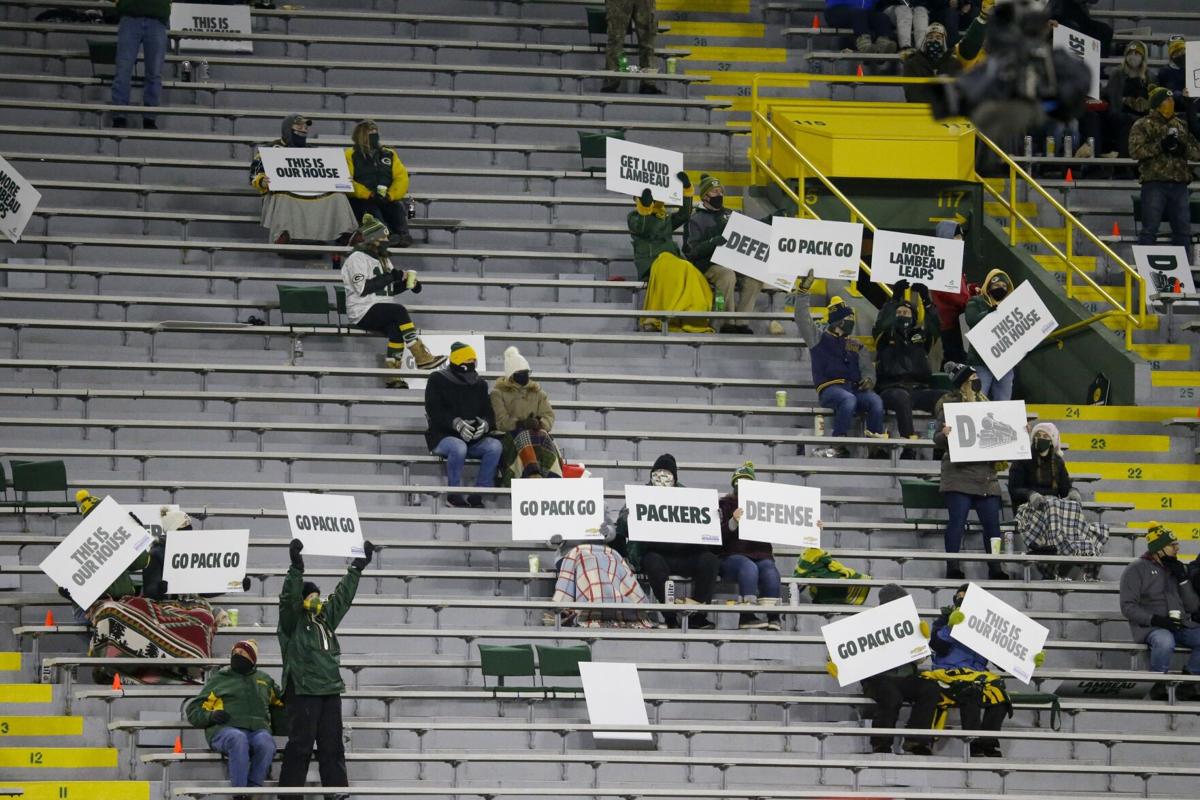 GREEN BAY — The Green Bay Packers want to have fans in the Lambeau Field stands. Absent that, they at least want to have hope for that possibility in the NFL postseason, where they're likely to host at least one playoff game.
As of now, there won't be anyone — other than Packers employees and their families — in the bleachers for the final two home games: Dec. 19 against the Carolina Panthers and Dec. 27 against the Tennessee Titans.
And the team isn't exactly getting its hopes up for having paying customers at postseason games, either — though team president/CEO Mark Murphy isn't ruling it out just yet.
What Murphy did rule out Tuesday afternoon was the possibility of having paid ticketholders in the stands for the final two regular-season home games, something that was looking like a possibility after team employees and their immediate families had been allowed to attend the Packers' Nov. 29 victory over the Chicago Bears and last Sunday's win over the Philadelphia Eagles.
Murphy made the decision with Wisconsin COVID-19 infection rates still high but trending downward after a major mid-November surge.
"While our community and state currently are seeing a promising trend in the infection rates, we made the decision, along with our healthcare and public health partners, to continue hosting only the group of employees and their families," Murphy said in a statement. "As always, the health and safety of our community, players and fans is our top priority. We appreciate the continued guidance from Bellin Health and the Brown County Public Health Department for advising us and, importantly, for the work they are doing to battle COVID."
After playing in front of an empty stadium bowl in their first four home games, the Packers allowed select team employees and their immediate families to attend the Bears and Eagles games. That seemed to point to the possibility of selling a limited number of tickets to fans for the Panthers and Titans games, and Murphy admitted last month the approach for the Bears and Eagles games was at least in part a trial balloon on bringing back a portion of the stadium's capacity of 81,441.
"We've seen other teams have implemented these protocols and had success, and we're very confident in our operations," Murphy said last month. "Obviously, it's an outside venue. There's a big difference between outside venues and indoors."
That possibility of fans against the Panthers and Titans came off the table Tuesday, the same day the state of Wisconsin's Department of Health Services reported a 30.5% positivity rate, with 4,114 new cases and 68 new deaths reported. The state's seven-day average of new daily cases stood at 3,876.
At the same time, DHS secretary-designee Andrea Palm expressed concern the average daily number of tests statewide had dropped precipitously, and there are also concerns holiday gatherings could lead to another spike in positive cases. The 14-day incubation period of the virus means a rise in cases resulting from Thanksgiving get-togethers could still be coming, too.
In their statement, the Packers acknowledged the greater Green Bay area has the fourth-highest COVID-19 positivity rate among NFL cities, and that "with the holiday season coming up, there is concern that the rate may spike again." As a result, the team decided "it would be safest for the community to maintain the current level of attendance, composed of employee household 'pods' and not introduce a wider audience of ticketed fans."
At 9-3, the Packers are on course for potentially hosting multiple playoff games. Entering this week's games, they were one game behind the New Orleans Saints for the NFC's No. 1 seed and the first-round playoff bye that comes with it.
Should the Packers finish with the top seed, they would have that bye week and then host an NFC divisional playoff game on Jan. 16 or 17 and, if they advanced, host the NFC Championship Game on Jan. 24. Super Bowl LV is scheduled for Feb. 7 at Raymond James Stadium in Tampa, Florida. Earlier this season, the Packers played the Tampa Bay Buccaneers with 15,540 fans in Raymond James Stadium. The Packers lost 38-10.
In its statement, the team said "the approach to any potential home playoff game(s) will be decided at a later date."
Meanwhile, though a host of other NFL teams have had outbreaks among their players and coaches, the Packers have avoided any such major spreads. Rookie running back AJ Dillon, the first player to test positive since training camp, has been on the reserve/COVID-19 list since Nov. 2, after getting a positive result on a test taken one day earlier before the team's game against the Minnesota Vikings at Lambeau Field. Fellow rookie Krys Barnes, an inside linebacker, subsequently tested positive but has since been cleared to return to action.
"We are extremely proud of how seriously our players and employees have taken the virus and of the steps they have taken to avoid contracting it and infecting others," Murphy said. "While Lambeau Field feels very different this year, we look forward to giving our fans watching from home some more great wins. We can't wait to see packed stands again next season."
Extra points
The NFL Network reported running back/returner Tyler Ervin is set to be placed on injured reserve with what was announced Sunday as an ankle injury. The injury won't require surgery, the network reported, but he'll miss at least a month and may not return this season. … Defensive end Billy Winn also is expected to go on IR with his triceps injury, but a source confirmed it is not a season-ending injury, meaning he could return before season's end. … The team announced it had signed safety Henry Black to the active roster after using all of his allowed game-day call-ups from the practice squad. The team also added center Anthony Fabiano to the practice squad. The 6-foot-4, 302-pound Fabiano has played in nine career NFL games with two starts but hasn't seen game action since 2017.
---
Photos: Packers' 2020 season so far in pictures
Photos: Packers' 2020 season so far in pictures
Check out photo galleries from every game of 2020 through the end of the regular season and the playoffs — if the Packers make it.