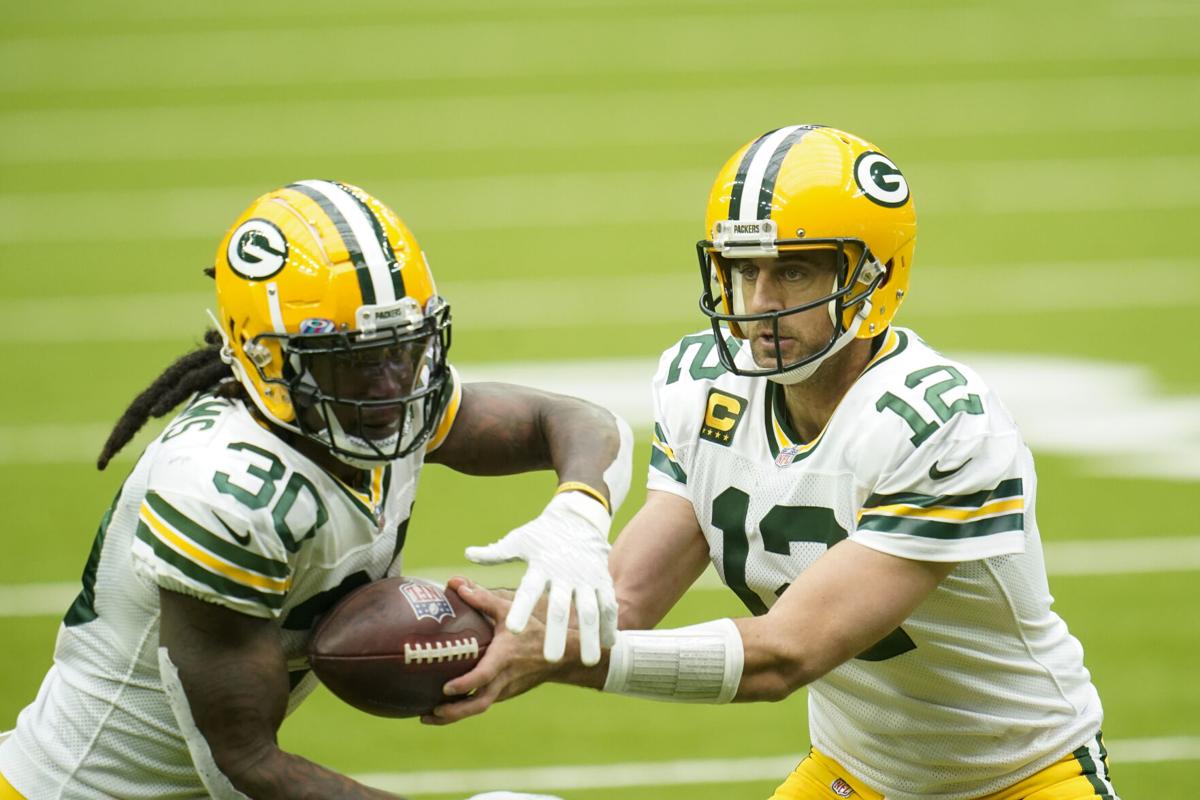 GREEN BAY — Jamaal Williams didn't necessarily think of it as an audition. But if it was, well, the Green Bay Packers No. 2 running back certainly made an impression — one other NFL teams he hopes will take note of come March.
Forced to start and carry the backfield load with lead running back Aaron Jones sidelined by a late-week calf strain, Williams delivered a tone-setting catch-and-run to start off the Packers' 35-20 victory over the Houston Texans on Sunday. By game's end, he'd racked up 114 total yards of offense — 77 yards on 19 carries, and 37 yards on four receptions, plus a 1-yard victory-sealing fourth-quarter touchdown run.
Those 19 carries were more than Williams had gotten the previous three weeks combined (18 carries, 58 yards). His 23 total touches were the most he's had since the second half of his rookie season of 2017, when Jones was the lead back during the final weeks of the year.
For all the focus on Jones being in the final year of his rookie contract, Williams — drafted one round ahead (fourth) of Jones in 2017 — is playing for his next deal, too. And Sunday reinforced what the Packers already felt about him: That he's a starting-caliber back.
"Really, (my attitude is) just to take every opportunity I get," Williams said during a Zoom video call with reporters on Monday afternoon. "I'm sad that my boy couldn't play, but it's always next man up.
"I'm really just taking every opportunity I can to show I can be a starting running back and show my potential and everything that I have to put on the field for the team. I'm just trying to make sure that we come out with the 'dub' (win) and be productive every time I touch the ball."
That was obvious on the Packers' opening touchdown drive, when Williams picked up 17 yards on a quick across-the-middle pass from Rodgers that ended with Williams absorbing a helmet-to-helmet hit from Texans safety Justin Reid. While Reid was flagged 15 yards for the hit, which knocked Williams' helmet off, Williams got up, flexed his muscles, shook his head up and down and screamed.
"Man, he loves to play, he loves to complete. That's who he is," Packers coach Matt LaFleur said. "Every time we step out on that field, he brings it. I think that brings a ton of energy to our football team.
"That was the play that really got us going. For him to score a touchdown and make some big plays for us, I love the energy and juice that he brings to our football team. it's infectious. And I think it brings everybody kind of with him."
Interestingly, LaFleur said that he didn't dramatically alter his offensive game plan even though Jones' injury didn't crop up until midway through Thursday's practice. Jones was still intending to practice Friday and play in Sunday's game before the medical staff opted to hold him out, meaning that LaFleur essentially went ahead with the offensive approach he'd already put in place before Jones complained of discomfort in his calf.
Williams finished the game having played 55 of the Packers' 62 offensive snaps, while rookie AJ Dillon, the team's No. 3 back, had only five carries for 11 yards and played just 14 snaps — some of them in the two-back set that Williams and Jones had been running together in recent weeks.
"The only adjustments that we really had to make, and there weren't many, is just we've been running some of the two-halfback stuff with Jamaal and Aaron in the game, and those got kicked to AJ," LaFleur said. "Jamaal knows what his role is going to be. No matter who's up in the lineup, you always have to be ready to go, and sometimes you might be called upon more than in other games.
"This was a good opportunity for Jamaal to get a bunch of snaps, and AJ's workload went up a little bit. You have to prepare like you're the starter at all times. (And) he is a starter. Again, I'm really proud of his effort and what he brings to us. We've got all the confidence in the world in Jamaal."
Asked when he learned that Jones wouldn't play, Williams wouldn't say, insisting that his mentality didn't change when he got the news.
"Our relationship is, we're both in our fourth year, we're both in that 'vet' mindset. So for me, I just do my role and know if I need to be the next man up, I'm ready to be up and always ready at all times," Williams said. "Finding out that he couldn't play, (the feeling was) just sad for my boy that he couldn't play. But at the same time, I just have to make sure I do my part and step up for the team and let them always have trust to me to know that I can be in that role, too, and make sure it's productive."
And Williams did just that. While his focus remains on the Packers' 10 remaining regular-season games — starting with Sunday's matchup with the Minnesota Vikings at Lambeau Field — the Packers could face an challenging dilemma when free agency arrives in the spring. Jones, who has followed up his breakout 2019 season with 550 total yards of offense and seven touchdowns in only five games, appears in line for an upper echelon contract like the ones contemporaries such as Dalvin Cook, Joe Mixon and Alvin Kamara have signed.
Would the Packers let Jones, who has repeatedly expressed the desire to stay in Green Bay, move on for a more lucrative free agent deal elsewhere and keep Williams on a less expensive deal, pairing him with Dillon, having invested a second-round pick in him in April?
For his part, Williams isn't thinking that far ahead. With Jones presumably back in the lineup against the Vikings, Williams knows he must be ready for whatever he's asked to do Sunday — even if it's less than the load he carried against the Texans.
"(I'm) just grateful for these opportunities to be playing with my brothers," Williams said. "I take every game like I'm going to get the ball, but when you know you're going to get more touches and stuff, of course you're excited and you're ready to go. (I) try to stay focused on what I need to do in the game. and then once we get out there, then it's that time to just be me and have fun out there."
---
Photos: Packers' 2020 season so far in pictures
Photos: Packers' 2020 season so far in pictures
Check out photo galleries from every game of 2020 through the end of the regular season and the playoffs — if the Packers make it.