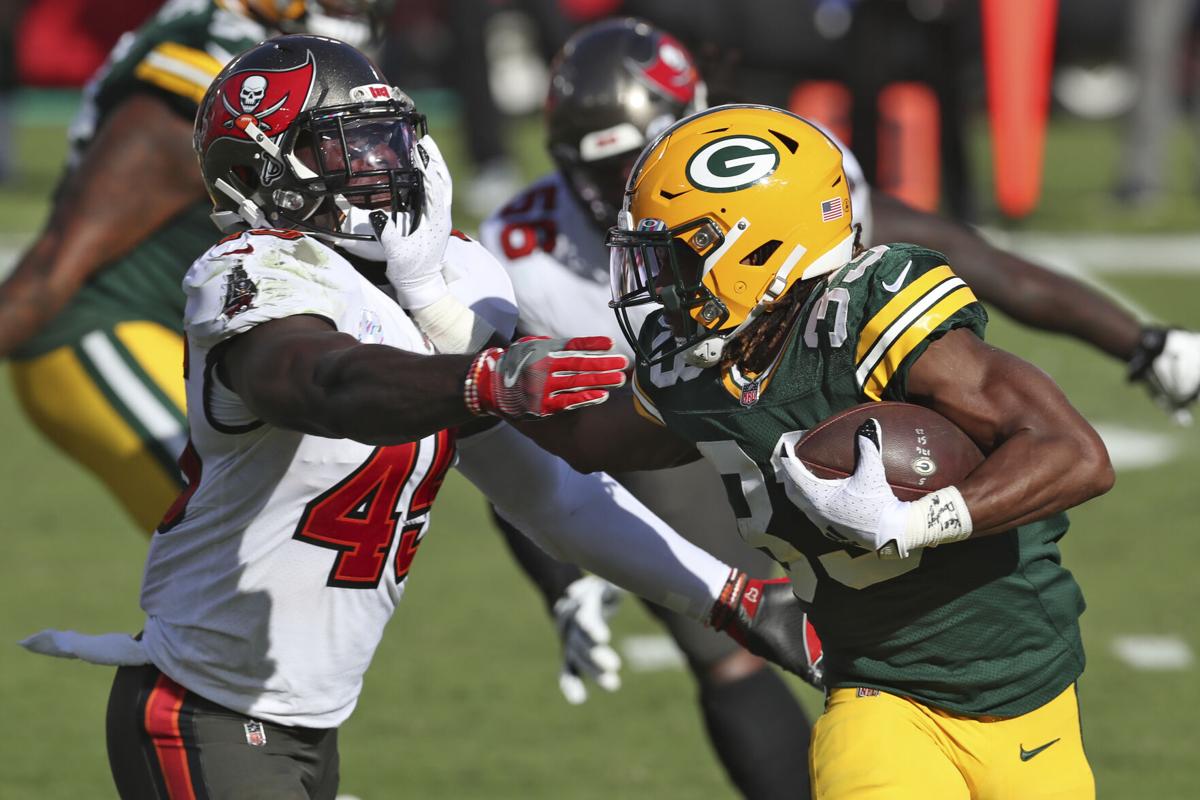 GREEN BAY — The juxtaposition was startling.
For while many things went wrong during the Green Bay Packers' 38-10 loss to the Tampa Bay Buccaneers on Sunday, the one jump-off-the-TV-screen, no-contest difference between the two teams was at inside linebacker.
The Buccaneers' lightning-fast inside linebackers, Lavonte David and Devin White, essentially wrecked the Packers' offensive game plan with their sideline-to-sideline speed, their quickness to avoid the offensive linemen's blocks and their ability to take away those underneath passes across the middle that quarterback Aaron Rodgers had been getting out of his hand so quickly during the team's 4-0 start.
"It was just … those guys are so fast," Rodgers marveled when asked how big of an impact David (eight tackles, 1.5 sacks) and White (10 tackles, one sack, three tackles for loss) had on the game. "They're so good sideline-to-sideline. We just had a hard time getting on them in some of our zone blocking schemes. (They were) just outrunning some of the angles. And that's a credit to them — not necessarily us not doing our job.
"You just don't see two inside 'backers that can run like that a lot. You've got to give both those guys credit. I think they were disruptive for sure."
You certainly don't see them in Green Bay, where the Packers haven't put a premium on the position, at least in terms of draft-pick and financial investment.
In fact, maybe there should be an apology forthcoming from the Packers coaches who were offended by now-New York Giants inside linebacker Blake Martinez saying upon arriving in the Big Apple that he was merely a "clean-up crew guy" in the Packers defense the past two years in defensive coordinator Mike Pettine's scheme.
For while Martinez, a 2016 fourth-round pick, surely had his faults as a high-volume tackler and low-volume playmaker during his four seasons in Green Bay, it was hard to deny on Sunday that the Buccaneers put far more value on the inside linebacker position than the Packers do.
"Those two guys they have can flat roll. They are two of the better linebackers in this league," Packers coach Matt LaFleur said. "I never want to get into comparisons with our guys. It is a different style of defense, there's no doubt about it. And they did a good job. They flat whipped us."
With no intention of re-signing Martinez even before he got a three-year, $30 million offer from the Giants, the Packers signed veteran Christian Kirksey to a bargain two-year, $13 million deal this offseason to replace him. Kirksey surely would have gotten more — and presumably would have been out of the Packers' price range — had he not missed 23 of a possible 32 games the previous two seasons because of injuries.
With Kirksey now on injured reserve with a pectoral injury, and promising rookie fifth-round pick Kamal Martin on injured reserve with a knee injury and just having returned to practice, the Packers' inside linebacker options have been undrafted rookie free agent Krys Barnes, a pleasant surprise in camp; 2019 seventh-round pick Ty Summers, who did not play a single defensive snap as a rookie; and Oren Burks, a 2018 third-round pick whose first two-plus seasons have been a keen disappointment.
"First things first: The Tampa Bay Buccaneers are a good football team. They've got a great defense and they blitz and pressure," starting right tackle Billy Turner said. "(But) their two inside linebackers; (Lavonte) David has been doing it for (almost) 10 years about and (White), he's a good young player. They're fast and they're instinctive players at that, so even when they aren't blitzing, just the ability that they have to go sideline to sideline and to pull the trigger like that, it does make it a little bit tougher. But at the same time, we've got to be able to execute as an offense."
Asked during the offseason about Martinez's contention that it was his job to play off of outside linebackers Za'Darius and Preston Smith and nose tackle Kenny Clark while those players more or less had carte blanche to freelance, Pettine replied, "That's his impression of how things ultimately played out, but that's certainly not how we taught it last year or how we've ever taught it in the system. Everybody has an assignment each play, whether it's a gap in the run game or whether it's a coverage assignment that they're dropping off of a certain player. If it worked out that way and that's how it played out and that was his impression of it, that's his impression.
"Certainly, the way our system is built is that the 'Mike' linebacker, a lot of times the ball will get funneled to him. If you just look at the tackling numbers the last couple years, I think it bears that out, or in that system in general. I know he said what he said on his way out, but that's something that we don't pay much attention to."
Perhaps the Packers should start paying attention to the position and investing in it. The 30-year-old David was a second-round pick in 2012 and, now in his ninth season in Tampa, he has 1,055 career tackles, 12 interceptions (two returned for touchdowns), 22 forced fumbles, 15 fumble recoveries, 24 sacks and 121 tackles for losses.
The 22-year-old White, meanwhile, is in his second season and has 141 tackles, one interception, three forced fumbles, five fumble recoveries, 3.5 sacks and nine tackles for loss. He was the fifth overall pick in last year's draft.
While the Packers were set to pick 30th in April by virtue of reaching the NFC Championship Game — where they encountered another set of fast, physical linebackers in the San Francisco 49ers' Fred Warner, Kwon Alexander and Dre Greenlaw — Green Bay still had a chance to draft a potential difference-maker at the position when they traded up four spots to No. 26 overall.
For as much criticism as general manager Brian Gutekunst has endured for not using his first-round pick on a wide receiver given the team's dearth of quality depth at that position, perhaps the second-guessing should be directed to the defensive side of the ball.
Because at No. 26, instead of taking Jordan Love, their expected quarterback of the future, the Packers could have selected LSU inside linebacker Patrick Queen, another of those trendy fast, athletic inside linebackers. After the Packers took Love with Queen still on the board, the Baltimore Ravens pounced on Queen at No. 28.
In six games, Queen has 44 tackles (32 solo), four tackles for loss, five quarterback hits and two sacks along with forcing two fumbles, recovering two fumbles and breaking up one pass. In the Ravens' 27-3 win over the Cincinnati Bengals on Oct. 11, Queen had nine tackles, a sack, a forced fumble and two fumble recoveries.
The Buccaneers tandem's numbers are also impressive. In six games, White and David have combined for 97 tackles, 2.5 sacks, 10 tackles for loss, six quarterback hits, five pass breakups, one interception, one forced fumble and two fumble recoveries.
The Packers' crew? Through five games, Barnes (33 tackles), Kirksey (27 tackles), Summers (20 tackles) and Burks (three tackles) have had virtually no impact plays.
No sacks. No quarterback hits. No interceptions. No fumbles forced. No fumble recoveries. Two tackles for loss (both by Barnes).
Moreover, during Pettine's tenure as coordinator, which began under previous head coach Mike McCarthy, the Packers' inside linebackers have made hardly any splash plays. They have forced two fumbles, broken up five passes, recorded 17 tackles for loss, intercepted one pass and registered nine sacks — eight by Martinez in that span.
Martinez, meanwhile, has 64 tackles (38 solo), two sacks, five tackles for loss, two quarterback hits and a fumble recovery while being as durable as ever, playing all but five of the Giants' 401 defensive snaps.
That's not to say that the Packers should have re-signed Martinez; during his Packers tenure, half of which was in Dom Capers' scheme and the other half of which was under Pettine, he had three interceptions, 10 sacks, two forced fumbles, two fumble recoveries and 29 tackles for loss
It certainly appears the the game is evolving with offenses like LaFleur's, San Francisco's Kyle Shanahan's and the Los Angeles Rams' Sean McVay — the NFL saw more touchdowns scored in the first six weeks of this season than ever before — to the point where inside linebackers must evolve, too. Whether the Packers alter their approach to the position remains to be seen.
Pettine has used hybrid safety/linebacker types like Raven Greene, Will Redmond and Ibraheim Campbell during his time in Green Bay, and Burks seems to have the physical traits that match up with the trend. Perhaps Martin, who was having a strong rookie camp before his knee injury, will be the answer.
Until then, the Packers will likely be envious of teams like the 49ers and Buccaneers.
"I don't think it's just necessarily they have two fast linebackers," LaFleur said of the Bucs' defense. "I think it's a combination of a lot of things. I think they've got two of the better edge rushers, they have (Ndamukong) Suh inside, and their safeties and corners do a great job. It's just a good complementary defense. They do it on all three levels — and same with the Niners.
"There are just good players out there. When you combine good players with good scheme, you have a good defense. And a lot of good defenses can give people problems."
---
Photos: Packers' 2020 season so far in pictures
Photos: Packers' 2020 season so far in pictures
Check out photo galleries from every game of 2020 through the end of the regular season and the playoffs — if the Packers make it.