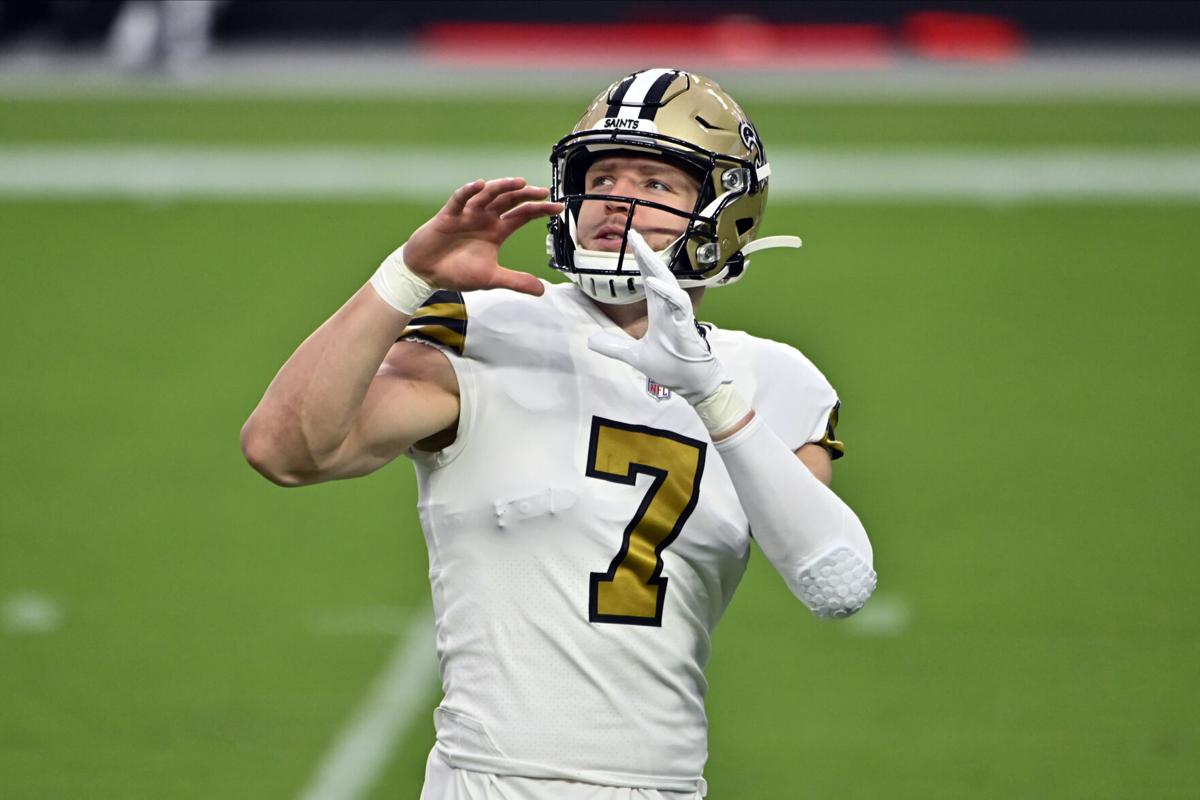 GREEN BAY — Sean Payton loves the story so much that, when given the opportunity to not have to retell it, the New Orleans Saints longtime coach still insisted on regaling his audience with the epic tale of how he ended up with Taysom Hill on his roster.
Hill, of course, has developed into one of the NFL's most intriguing multi-dimensional weapons — the kind of versatile player who, frankly, would fit in well with the Green Bay Packers, the team that let him go at the end of training camp in 2017 and set the stage for his emergence in The Big Easy.
"There's not too many Taysom Hill-type players out there," said Packers coach Matt LaFleur, who wasn't with the team back when Hill was an oft-injured, 27-year-old undrafted rookie quarterback from BYU. "Those are guys that are just tough to find — a guy who can go in there and play special teams, or you can line up him really anywhere on the offensive side of the ball, whether it's quarterback, running back, tight end, fullback, receiver.
"They're a rarity, man. And if you definitely have a guy like that, that is an added luxury. I think it puts a lot of stress and a lot of strain on the defensive staff trying to prepare for somebody like that."
There was more than a hint of envy in LaFleur's voice, and with good reason: Hill, whom the Packers (2-0) will see during Sunday night's prime-time meeting with the Saints (1-1) at the Mercedes-Benz Louisiana Superdome, is exactly the kind of player the creative LaFleur would utilize in a myriad of ways, just as Payton has the last couple of years. In fact, LaFleur and Packers general manager Brian Gutekunst, who puts a premium on versatility in his scouting, have been on the hunt for a Hill-style player ever since.
"I think that most of the guys that I know in this league that do a really good job of watching other people's tape and seeing how people are having success in this league," said LaFleur, whose team did last month add ex-Princeton quarterback John Lovett, a player who bears some resemblance to Hill. "So anytime somebody comes up with an idea and you see something on tape, a lot of times you're thinking, 'Oh … how can we do that?'"
Road to New Orleans
But then-GM Ted Thompson and then-coach Mike McCarthy were leery about Hill's lengthy college injury history, older-than-a-typical-rookie age and inexperience. On top of that, neither of them wanted to use a 53-man roster spot on a third quarterback, so they cut Hill at the end of camp with the hope of re-signing him to the practice squad.
That's where Payton comes in. He was actually watching film of then-Packers roster hopeful Max McCaffrey, a wide receiver from Duke who, like Hill, had been cut on the final roster reduction.
Because McCaffrey and Hill were often on the field together late in preseason games, Payton's attention started to drift to the quarterback. At first, he thought it was longtime NFL journeyman backup Shaun Hill.
"That's true," Payton interjected as a Wisconsin reporter briefly summarized the tale during a conference call with Payton at midweek. "That's completely true."
As he and assistant GM Jeff Ireland watched more of the 6-foot-2, 221-pound Hill, Payton had the Saints scouting staff put together a cut-up montage of his best plays. And the more they saw of him, the more they liked him.
But even Payton acknowledges he didn't envision the diversified role Hill now plays while biding his time backing up future Pro Football Hall of Fame quarterback Drew Brees. In fact, just as Payton got lucky watching McCaffrey, fate played a role in Hill getting a chance to play something other than quarterback for him, too.
"We did claim him as a quarterback. We still feel strongly in his ability to play that position," Payton explained. "A few weeks into that season, we were nicked up a little bit with (injuries), and we had an extra spot (on the game-day roster). We decided we'd put him on a few special teams, and it kind of took off from there.
"He's obviously a gifted athlete especially for his size. I think sometimes it's hard to appreciate his strength and his speed. So we began to build a role for him in the kicking game and then it evolved to offense. And, it's something that slowly took place."
Said Hill: "My role has evolved so much since the time I first got here until the point that I'm at now. In training camp, I was in this whole mindset that, 'Man I have the opportunity to really work on myself as a quarterback.' And I still have that mindset week to week, but I'm going to be asked to do different things, different weeks. So I do have this mental shift, because the reality is so much of the quarterback position is played mentally. Now, I'm stepping into a role where there's a pretty physical aspect to what I'm going to be asked to do. So that preparation has certainly been different."
'Unique' player
According to NFL Next Gen Stats, Hill is one of only three players leaguewide who have lined up in the backfield, in the slot, out wide, tight to the line of scrimmage and at quarterback for at least one offensive play. Of his 28 official snaps, Hill has lined up at tight end nine times, in the slot seven times, as a wide receiver four times, as a running back four times and at quarterback four times.
Now, in truth, the Saints have another ex-Packers player — tight end Jared Cook — who plays far more snaps on offense — who is far more likely to have an impact on the game. For his career, Hill has rushed for 431 yards and three touchdowns and caught 26 passes for 279 yards and eight touchdowns (including playoffs). He's thrown only 16 career passes, completing eight of them for 207 yards with no touchdowns.
But the beauty of a player like Hill is that the fear of the unknown forces opposing defensive coordinators — including the Packers' Mike Pettine — to devote practice time to him despite his comparatively limited playing time.
"Unique is the perfect word for him," Pettine said. "They can go from a spread-you-out, pro-style passing attack with a Hall of Fame quarterback and a group of skill players, and all of a sudden shift gears and on the very next play and jump into the zone-read world or the option stuff, or the quarterback sweep. I mean, that really has an effect on us from a preparation standpoint.
"Any coach will tell you that the more of those types of things you have to prepare for, that takes away from our ability to prepare for their core offense. So we've got to walk that fine line. Certainly, you've got to be prepared for it. But at the same time, if we practice that too much, now we're not up to snuff against their regular stuff.
"And where he makes it unique is, Taysom is such an explosive athlete, but he's a real quarterback. I mean, there are a couple of throws that were made and I'm thinking it was Drew. And all sudden I realized that that first time skimming through the tape that it was No. 7 (Hill)."
Which is another reason why LaFleur would love to have that kind of weapon in his offensive arsenal. He already values players like rookie tight end/H-back/fullback Josiah Deguara, running back/receiver/returner Tyler Ervin and Lovett, but Hill is next level.
"That's always something that you think about, in terms of how much time is a team going to devote to a certain thing," LaFleur said. "Defensively, we've put a lot of time into where Taysom could be and the things that he does well. Because a lot of times, when they use him in different spots, they result in explosive plays. And that's certainly something that we can't afford to have happen to us."
For his part, Hill holds no ill-will toward the Packers, adding he has several friends still on the roster from his brief stint in Green Bay.
"I had a great experience in Green Bay, going from the number of injuries that I had, and then being undrafted. And the reality is, Green Bay created an opportunity for me to be seen," Hill said. "I'll forever be grateful to the Packers and their organization. And they certainly have a soft spot in my heart because of the opportunity that they created for me."
It's interesting to consider what might have been. That 2017 season, Rodgers sustained the second fractured collarbone of his career and missed most of the season, with Hundley struggling throughout his time in the lineup. Would Hill have fared better? And once Rodgers returned to health, would McCarthy have found a unique role for Hill during the 2018 season, the way Payton did?
No one can say. But this much is certain: The current Packers coach would have loved to have had the chance Payton now has.
"In our league, we're all — I don't want to say guilty of this, but we all pay close attention weekly to what's trending, who's doing what," Payton said. "You look at the teams that are at the top each week, you're paying attention to what they're doing defensively and offensively, and also the player types. The challenge sometimes in doing that is trying to manufacture that player.
"I just think Taysom is unique. When the question was asked at the beginning, 'Who does he remind you of?' I don't have that immediate player to say, 'Oh, this guy's a lot like …' Looking for or trying to find players of that skill-set, obviously, we're in that business. I think if there were two of them here or three Taysom Hills here, I kind of feel like we'd have spots to use an athlete like that on the defensive and offensive side of the ball.
"It happens occasionally, where (a player) has some injuries in college. Green Bay sees something, and they sign him. And, again, we kind of fumbled onto him. We were looking at Max for a practice-squad spot and kind of fell into Taysom. So, we were fortunate."
---
Photos: Packers' 2020 season in pictures
Photos: Packers' 2020 season so far in pictures
Check out photo galleries from every game of 2020 through the end of the regular season and the playoffs — if the Packers make it.