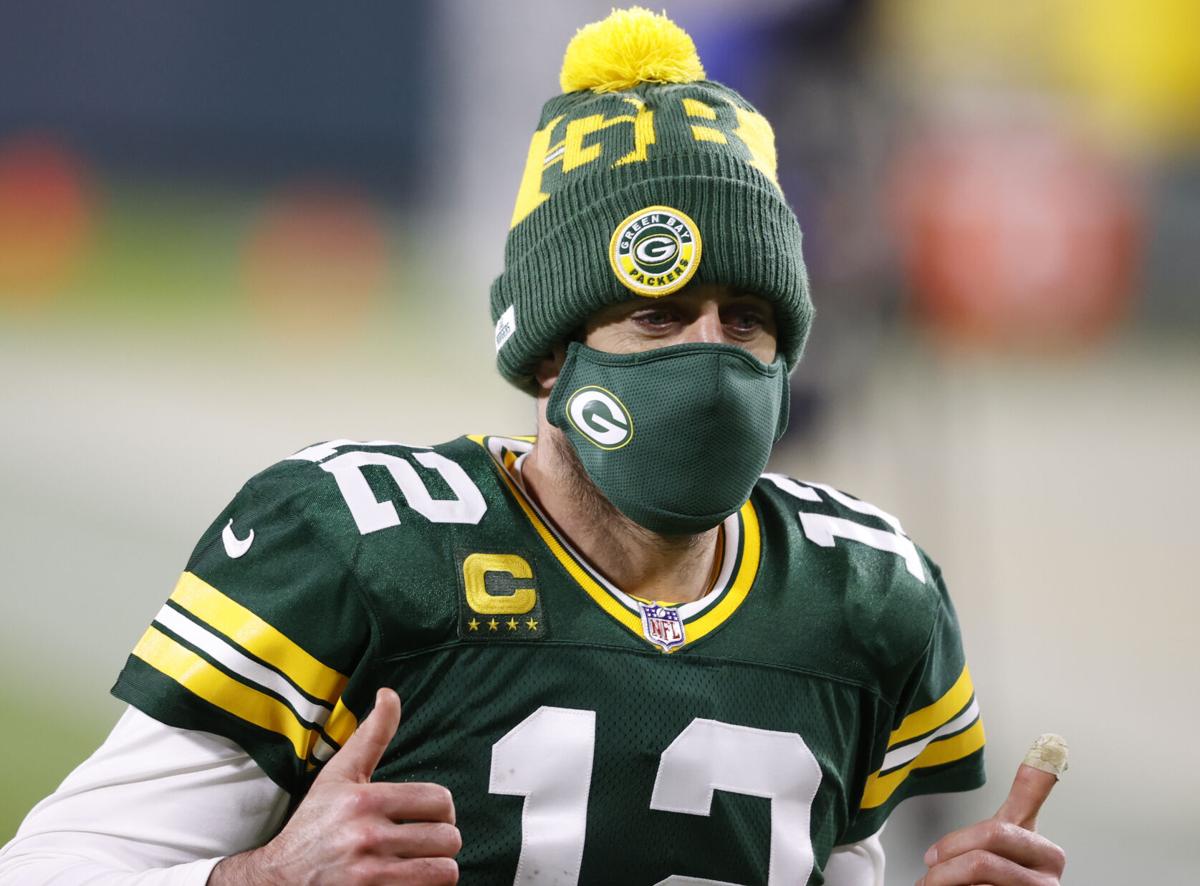 GREEN BAY — Turning 37 on Wednesday didn't necessarily make Aaron Rodgers any more introspective or thoughtful than he normally is. The Green Bay Packers quarterback has been that way all season, and truthfully, throughout nearly all of his 16-year career.
But it did lead to a fascinating guided tour through history, one that included glimpses of his thoughts on the day of the 2005 NFL Draft; his concerns that Brett Favre might never, ever retire; how much he has grown as a player and as a human during his NFL journey; how his 21-year-old self never would have imagined he'd still be going strong with designs on playing into his 40s; and yes, even another not-so-subtle hint that he wants to be the Packers quarterback as long as he can — regardless of who the team drafted to replace him 7½ months ago.
"If you had told that 21-year-old he'd still be sitting here at 37, I'd be pretty happy about that," Rodgers said Wednesday. "As happy as I am today to still be here."
To be sure, the Packers couldn't be happier with the way their quarterback is playing in his 13th year as the starter — and second year in coach Matt LaFleur's system — as he continues to put up numbers that rival those of his previous two NFL MVP seasons. He enters Sunday's game against the Philadelphia Eagles at Lambeau Field having completed 261 of 381 passes (68.5%) for 3,100 yards with 33 touchdowns and four interceptions for a 117.6 passer rating.
Entering the week's games, Rodgers led the NFL in passer rating and in touchdown passes, and only Kansas City's Patrick Mahomes (two) and New Orleans' Drew Brees (three) have thrown fewer interceptions.
"I mean, you're talking about one of the all-time greats," LaFleur said. "I don't know how he does it, but he's doing it. And he's doing it consistently — day in, day out, helping us win a lot of games. We're so fortunate to have a guy of that caliber. He makes everybody around him better, and you can see it every time he steps out on that field."
While that may be true, Rodgers has made himself better by embracing LaFleur's system while also continuing to do the things he's done for years when appropriate. Appearing blissfully comfortable in LaFleur's offense, Rodgers has seemingly found a way to incorporate his natural ability to extend plays and ways to put his encyclopedic knowledge of what he's seen while also playing within the confines of LaFleur's innovative scheme.
"You see everything more in sync and in rhythm," Eagles coach Doug Pederson, who spent eight seasons as a backup to Favre in Green Bay, said. "Aaron obviously has a great command of the offense, and everything runs through him and how he controls things. That's what you see in games and on tape — just how smooth things are operating, and Aaron really thinking the same way the play-caller's thinking. That's got to be in sync, and that's what you see — just fluidity throughout the whole offense."
Asked if he's surprised Rodgers is playing as well as he is at age 37, Pederson replied, "No, not at all. One thing these guys are doing probably a better job than when we played is just taking care of their bodies — just overall health. The nutrition is better, the strength and conditioning is better. Everything's just much improved since I played."
That said, Rodgers' adaptability has been another fascinating development in his game. When Sports Illustrated's Bill Huber remarked to Rodgers on Wednesday that his willingness to get the ball out quickly and in rhythm within LaFleur's offense has made him look at times this season like he's not the same player, Rodgers replied sunnily, "Well, I'm not.
"I think you have to play different. And for me, it was just embracing this offense and also really breaking things down after the first season and seeing where I could improve fundamentally within this offense. Because it is different fundamentals. When you're playing in one system forever and you have those fundamentals down from that offense, things just change — things change with the timing. We do so much with splits and the splits really adjust the catch points on so many of these routes that it does change the footwork."
Rodgers still extends plays, like he did on his touchdown pass to Davante Adams in last Sunday night's 41-25 victory over the Chicago Bears. But he has done so more judiciously than he did last year, when he was feeling his way in LaFleur's system and leaning on what he'd done under previous head coach Mike McCarthy, whose offense is predicated on receivers winning their 1-on-1 matchups to dictate where the ball should go.
"That's a credit to him. I would say the majority of experienced quarterbacks that have spent a long time in a certain system, there is a transition period. There always is," LaFleur said. "I know that he's worked really hard at it. I think you're just seeing him become more and more comfortable with what it is we're trying to get done on offense, and he's excelling.
"Just the poise that he has, you cannot coach that. You just can't coach it. I don't know any other way to explain it. It's just a fine line in terms of getting the ball out quickly. Certainly, when the play's designed for a certain thing and it's open in rhythm, yeah, it's great if you can get it out in rhythm. But he just has such a great feel."
Which brings us to Rodgers' trip down memory lane. From not going No. 1 overall in 2005, to biding his time behind Favre, to general manager Brian Gutekunst trading up in the April NFL Draft to select Jordan Love as Rodgers' heir apparent, it's been an interesting journey for Rodgers in Green Bay — one he reiterated he doesn't want to see end anytime soon.
"A lot of emotions over the years," Rodgers said. "After the '07 season, I thought Favre would never retire. Once I became the starter, I thought I was going to have the gig for a while. Haven't had thoughts in the last eight or 10 years about doing anything other than this, for sure. This is what I've wanted to do, be the quarterback here. It's been a dream come true.
"I was drafted at 21 years old, so I've had a lot of birthdays here. I feel really fortunate to have spent so much time here, to be a resident of the great state of Wisconsin, to live in this city for so many years. I've gotten to know some great people that live here and I've enjoyed all my teammates I've played with.
"I've really enjoyed all the special moments here, so many of them. I just feel really fortunate to have grown up here and just have a lot of great memories that I've made here that I'll take with me one day.
"Hopefully, that day isn't too soon."
Extra points
Newly signed wide receiver Tavon Austin took part in his first practice with his new team and is trying to get up to speed with LaFleur's offense. Austin was with LaFleur with the Los Angeles Rams in 2017, although the offense is different from the one Rams head coach Sean McVay runs. "We're just trying to figure out where I'm going to fit in," Austin said. "And whatever they need me at, I'm going to try and fulfill that role." … Center Corey Linsley (knee) did not practice and is not expected to play against the Eagles, meaning rookie Jon Runyan will likely start at left guard against his father's old team with left guard Elgton Jenkins starting at center. "It's really exciting," Runyan said. "Every week, this whole year has been a really awesome experience." … In addition to Linsley not practicing, right guard Lucas Patrick (toe) was limited in practice. If Patrick can't play, the Packers will likely go with the line they finished with against Chicago, with Billy Turner moving inside to right guard and ex-University of Wisconsin standout Rick Wagner playing right tackle. … The Packers have activated inside linebacker Krys Barnes from the reserve/COVID-19 list, while running back AJ Dillon remains on the list.