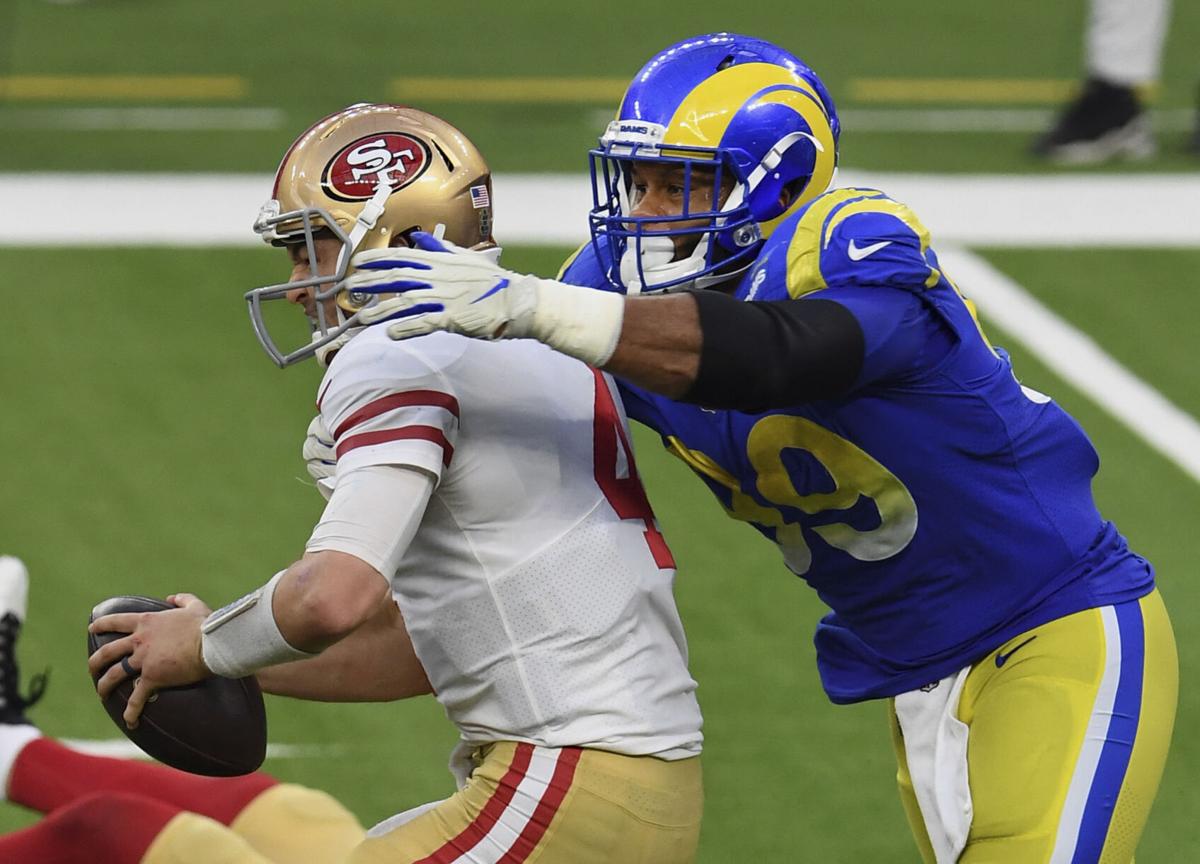 GREEN BAY — With a gleam in his eye, Sean McVay delivered the news that the Green Bay Packers were hoping not to hear.
"He's feeling really good," the Los Angeles Rams head coach said, grinning. "So, unless something unforeseen happens, 'The Terminator' will be ready."
The Terminator, of course, is Rams all-world defensive tackle Aaron Donald, who was a unanimous pick for The Associated Press 2020 All-Pro team — the sixth time he's been selected. The two-time NFL Defensive Player of the Year, who last month was also chosen to his seventh straight Pro Bowl, finished the regular season with 13.5 sacks (his fourth straight season in double-digits) along with 44 total tackles, four forced fumbles, one fumble recovery and one pass breakup.
And the Packers know full well that he can terminate an offensive game plan — even if he'll be playing in Saturday's NFC divisional playoff game at Lambeau Field at something less than 100% because of a rib injury suffered in the Rams' NFC wild card win over the Seattle Seahawks last week. Donald played only 30 of the Rams' 64 defensive snaps because of the injury, although he said it felt like he simply got the wind knocked out of him and lobbied to return to the game.
"He's a once-in-a-lifetime-type player," said Packers coach Matt LaFleur, who spent the 2017 season with the Rams as McVay's offensive coordinator and watched Donald up close. "Being there with him, I don't think you truly appreciate him until you start game-planning against him. This guy is dynamic."
Whether he can be as dynamic on Saturday remains to be seen. The Rams rested him for most of the week, with Donald only participating in Thursday's practice on a limited basis after not practicing at all on Tuesday or Wednesday.
"I know he's going to be ready to go. You guys know what an elite competitor he is and how important these games are," McVay said. "For a guy that's accomplished so many individual accolades, he's all about the team, and all about accomplishing those team goals and continuing to try to advance."
Said Donald: ""The way I'm feeling right now, I'm not too worried about it. I feel good, I feel strong, and I'll be ready come Saturday."
The 29-year-old Donald has missed just two of a possible 117 games (including playoffs) during his seven-year NFL career, with both those coming in 2017. He was certainly a force the last time the Packers and Rams faced off during the 2018 regular season, when he sacked Aaron Rodgers twice, registered four total quarterback hits and had two tackles for loss in the Rams' 29-27 victory over the Packers, who were coached at the time by Mike McCarthy.
"I said it back in 2018: It's very rare that you have an impact player that rushes from the inside. There's just not as much space," Rodgers said this week. "J.J. Watt has done it for a long time and also done it on the edge, but most of the real, real impact players when it comes to pass rush are edge rushers. A little different with '99.'
"He's a special, special player, obviously a first-ballot Hall of Famer (and) an impact player every single year, a guy that you have to game plan for, have to be aware of where he's at at all times and just one of those special talents that we haven't seen a whole lot of in the history of the game. He's somebody that you've got to be worried about."
Donald, meanwhile, has his own admiration for Rodgers, who finished the regular season having thrown for an NFL-best 48 touchdowns with a league-high 121.5 passer rating and who is the presumptive NFL MVP, which will be Rodgers' third if he indeed wins it.
"He's a great quarterback that's playing lights out this year," Donald said Wednesday. "He's making some great throws and good decisions. Obviously, he can do things with his feet. (He's) not the fastest guy, but he can move. He can get away from you and make things happen. So we have to do a great job as far as bottling him up, getting pressure on him, and not letting him have a clean pocket to the point where he can make all those great throws. So, we have a challenge. But that's what you expect in a playoff game."
No other COVID risks
The Packers appear to have avoided any high-risk close contact designations and should have all of its offensive linemen other than Jared Veldheer available against the Rams.
Veldheer, who arrived from the Indianapolis Colts on Monday, took part in practice and meetings on Tuesday, and then learned Wednesday that he'd tested positive for the coronavirus, landing him on the reserve/COVID-19 list.
But because of the Packers' strict adherence to the NFL's rules about social distancing, masking and others protocols, and because the linemen are so far away from each other in the media auditorium, the team appears to have avoided any high-risk close contact designations.
The team wasn't forced to work remotely on Thursday, no one was absent from practice, and unless the results of the team's morning COVID-19 swabs come back with unexpected positives, Veldheer should be the only player unavailable against the Rams because of the scare.
Extra points
The Rams ruled out quarterback John Wolford, meaning usual starter Jared Goff will start despite his still-healing surgically repaired right thumb with Blake Bortles will back him up. LaFleur said the Packers and defensive coordinator Mike Pettine were expecting Goff all along. "I think there may be a few things (that change) — I'd have to go talk to 'Pett' — but we were pretty much preparing for Jared all week," LaFleur said. "So it doesn't change too much." … The Rams also listed wide receiver Cooper Kupp (knee) and ex-University of Wisconsin offensive lineman David Edwards (ankle) as questionable.
---
Photos: Packers' 2020 season so far in pictures
Photos: Packers' 2020 season so far in pictures
Check out photo galleries from every game of 2020 through the end of the regular season and the playoffs — if the Packers make it.