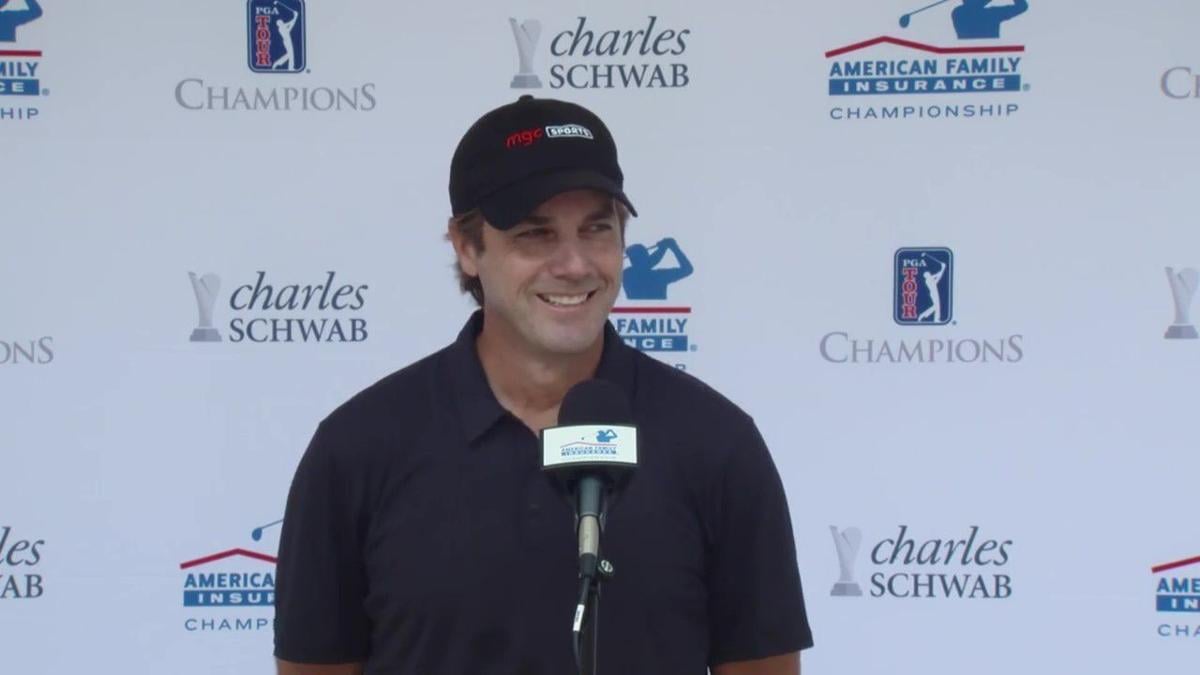 Mario Tiziani bluntly lays out the issues his golf game faced back in 2005.
He didn't love the game anymore. The hours he was putting into traveling, practicing and playing weren't giving him the results he wanted, and it wasn't bringing him the joy it once did.
"Didn't really have a lot of love for the game, to be honest," he said Thursday. "I played for a long time, was very marginal in terms of success and just really needed to get away from it. Didn't really enjoy it for the right reasons I got into it. I think over the past 10 years I found the love for golf again and I think that's probably helped me."
The Madison East grad and former University of Wisconsin golfer is ready to reignite his flame for the sport this weekend at the American Family Insurance Championship. Tiziani earned a spot in the 81-player field as a sponsor's exemption at University Ridge Golf Course, where he once earned Big Ten Conference Freshman of the Year honors.
Tiziani's father, Dennis, was the longtime coach of the school's men's and women's golf teams.
After playing on various pro tours, Tiziani earned a PGA Tour card in 2005, but that was his only season at the highest level. He last played on a professional tour in 2007.
Despite a full-time career as a sports agent at MPC Sports, Tiziani was never able to completely step away from golf. In recent years, he's been a caddie for his brother-in-law Steve Stricker at PGA Tour Champions events. Stricker is the AmFam's player-host, and was part of the equation that got Tiziani interested in playing again.
"It's amazing, you feel those butterflies on that side of the clubs, too," Tiziani said. "I've learned a ton. I've learned that these guys hit bad shots and get nervous just like everybody else and I'm not sure everybody really understands that, so I learned a lot."
The mental aspects of golf are often what separate the great players from the average — the best are able to tamp down the nerves present with each shot. That was something Tiziani had to learn.
He says he's seen top senior players such as Stricker and others in the AmFam field experience those anxieties and play through them. He believes he'll have a better handle on how to do that now that he's 50.
"I know it's in there," Tiziani said. "I've said before, it's in there, it's just bringing it out at the right time. I played against a lot of these guys. I've played at the highest level on the PGA Tour and these are the same guys. I feel like I'm probably a better golfer now than I was then in terms of mentally, and maybe even physically to a degree."
Jerry Kelly, the AmFam's defending champion, was a senior at Madison East when Tiziani was a freshman. Through a big grin, he recalled showing his younger teammate some "East rituals" that he promises weren't hazing.
Seeing Tiziani making a return to the course is fun, Kelly said. Despite not seeing Tiziani practice yet, Kelly has got no doubt his old friend will be able to compete.
"Mario can play," Kelly said. "It's something about when you caddie and you see so much good coming out, especially when you're watching Steve and so much good comes out, it just kind of breeds that in you, you expect to see that. Then you work on the right things to have it actually come out and you're like, 'Yeah, I can do this. This is cool.'
"He's definitely a good enough player he can do it, he chose to go a different route. … I think he'll do really well."
Tiziani tried to shake off the rust in his game last week when he won the Minnesota Senior Open by four strokes. He's paired in Friday's first round with Skip Kendall — a Milwaukee native whom Tiziani said was great to junior golfers such as himself in the state — and former MLB Cy Young Award winner John Smoltz.
He's learned to embrace the butterflies he'll feel on the course. And he's preparing himself for a supportive hometown crowd.
"Certainly look forward to that," he said. "I think already just people are happy that I'm here, happy that I'm back playing. That's pretty gratifying for me. There is that support there and they are behind you, and they have been even though I've been absent. I'm excited for the cheers, but they've showed already that they're excited that I'm here, so that's pretty gratifying."
---