Three Sauk Prairie students spent Wednesday afternoon driving around an arena playing a souped-up version of soccer.
Karl Bergen, Xander Luckey and Colin Wernsing didn't have to leave school to do so. As members of Sauk Prairie's new esports team, the freshmen sat in the Room 65 computer lab at the high school while facing off with East Troy in a virtual game of Rocket League.
It's a scene that's becoming more and more common across the area, as Baraboo, Reedsburg and Wisconsin Dells are also members of the Wisconsin High School Esports Association, which has grown rapidly since starting with seven schools in the fall of 2017.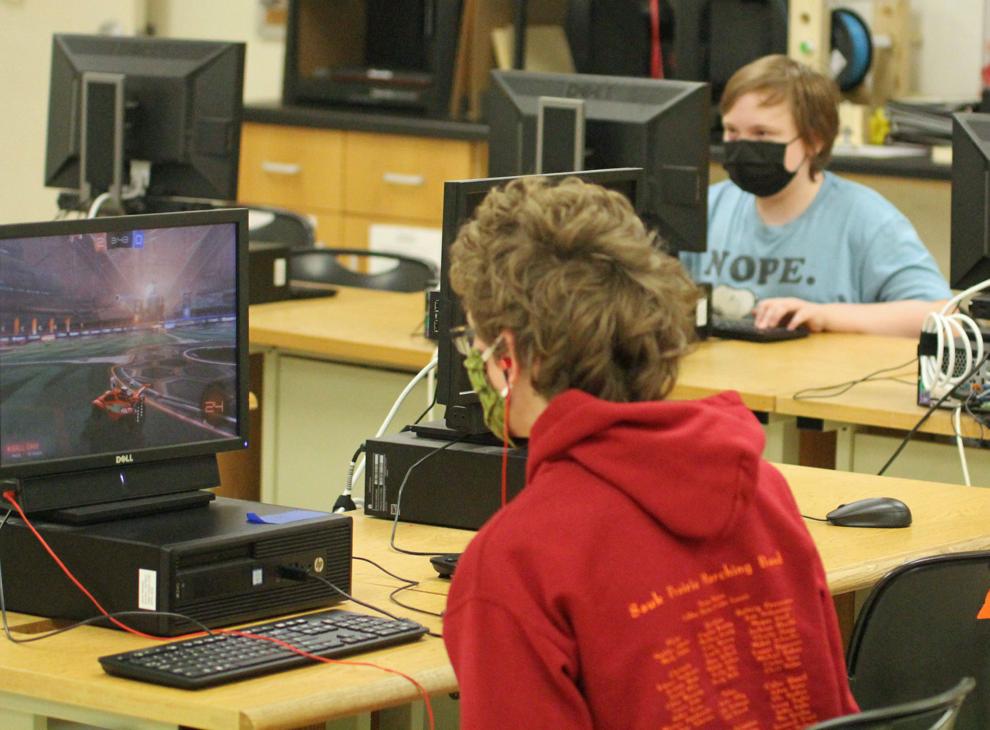 "That group has created basically our own esports WIAA," said Dan Rhode, a co-facilitator for the Baraboo team, which is one of the 29 founding members of the WIHSEA. "We have our own organization and we play against schools all over the state. There are hundreds of teams competing in multiple divisions for four different video games that are perfect for esports.
"It's become a really big, cool thing over the last couple years."
Opportunities spur friendships
While Baraboo already has a second-place state finish to its name, Sauk Prairie is on the tail end of its first year in the WIHSEA. Sauk Prairie's esports team is just one aspect of its new Computer Sciences Club, which formed in the leadup to the 2020-21 school year and immediately jumped into a full schedule of activities like esports and CyberPatriot.
"Giving students another opportunity to be involved in a co-curricular where they can learn collaboration skills. Teaching math and computer science ... I see a lot of problem solving," Sauk Prairie club advisor Mary Walz said, noting that the IT department set up the games to be available on certain school computers after 3 p.m. "There's a lot of strategy in this, and opportunities for them to meet each other. I know it can also be addicting, so that's another thing is to have those conversations about good choices."
The data goes directly to the WIHSEA. The same thing that allows teams to play opponents from all over the state also allows the players to practice with each other on their own time. That's not possible during the day, however, as Sauk Prairie's IT department has set the computers up so that the games are only available after 3 p.m.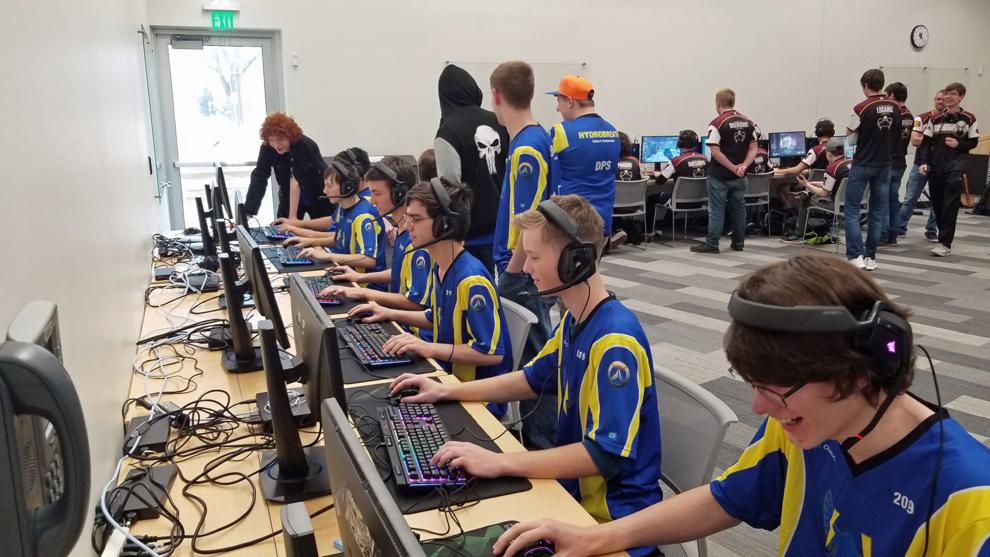 Baraboo's Computer Club has a few more years under its belt. In that time, the club has attracted an enthusiastic group that has developed strong relationships.
"My freshman year, I heard about Computer Club and decided to join," Baraboo junior Nickolas Ball said of what got him involved with esports. "The first year we did it, we all kind of knew each other but we weren't really close friends. I think the team and the game really brought us together.
"One of the best parts about it having a team around you and people you not only play with but have fun with and interact with. It forms friendships."
Taking ownership
Esports are also an opportunity for students to develop leadership skills. While traditional sports like football and basketball typically see ideas and strategy filter from the coaches down to the players, Rhode and Walz say they're both just there to help their respective teams run smoothly.
"It's sort of the teaching dream, where you can provide a world where the kids thrive," said Rhode, who leads Baraboo's team along with Mike Pullen. "It's really self-organized. In order to establish positions and stuff, they had to have tryouts. Kind of like a band where you compete for a chair ... They organize all that and if they can explain it to me, then I let it go. They're super, super into it.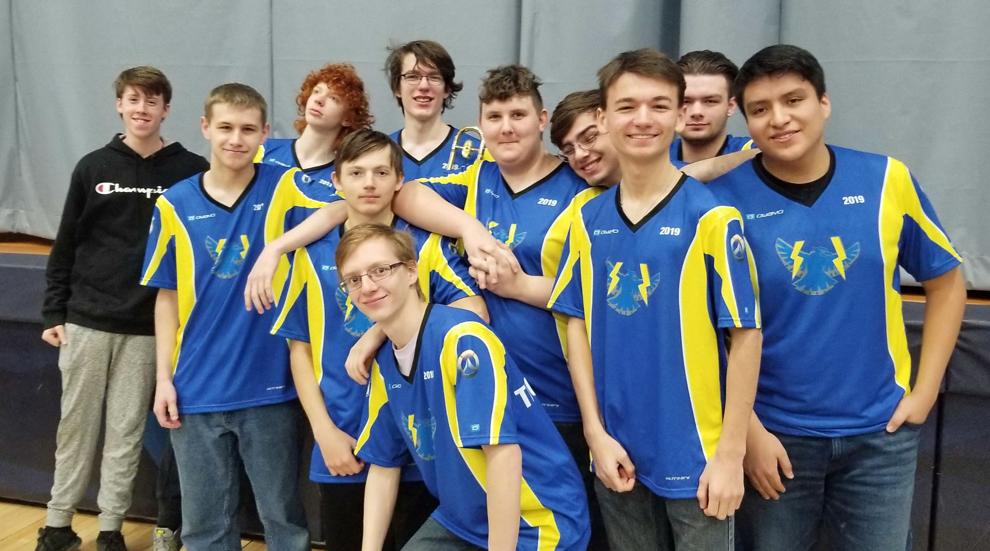 "What's tragic about esports to me compared to other sports is that they don't have an advisor that plays the game at the level they play. A football coach usually played football, right? Instead, I am more of a facilitator. I just provide them an environment, supervision, monitor eligibility and make sure they behave themselves because they're not playing in their mom's basement anymore. They're at school and need to behave themselves. That's more of what I do then say, 'let's rush them," or any strategy. But they definitely talk like that to each other and, 10 years from now, all the esports coaches will be people that did this."
It's a generation that — in some aspects — is learning as they go.
"Ms. Walz lets us run it how we do and we're fortunate that she's supportive of it," said Sauk Prairie junior Elijah Green, who serves as a captain within the entire Computer Sciences Club. "We learn from each other. If I know something, I'll help teach and if someone else knows, they'll teach."
During Sauk Prairie's loss to East Troy on Tuesday, Bergen, Luckey and Wernsing each felt emboldened often to throw out ideas and gameplans.
"This is the most conversation we've had," Walz said of Sauk Prairie's third week of competition in Rocket League. "They're feeling a lot more comfortable so their communication is better ... I try to keep it so its not the same three players. That's a pro and con too. If you keep the same three, they can get used to working together, but I also want to make it more inclusive. We're not doing a starting three."
Ease of entry
While Sauk Prairie's trio was socially distanced on three separate computers Tuesday, esports has proven to be a relatively reliable activity while most in-person activities have been shut down by the COVID-19 pandemic. With esports, the only barrier to competition is having a computer, a game and connectivity.
"Even when the kids couldn't get together, they could still get together," Walz said.
Whether they were on site or not. Green and freshman Michael Guillen Martinez dialed in Tuesday to watch their classmates take on East Troy.
"I'm fairly knowledgeable in computers, so I can help Ms. Walz whenever she needs it for esports and I know almost all mainstream games, so I can at least help in one way or another," Green said. "For Rocket League, I have the game ... I don't play much, but I know it enough to help. I'm here to keep it as smooth as possible and to get everything working. If it's a game I like, I'll play it too."
Freshman Dominick Horne, freshman Erick Ramirez and senior Brody Wolfe are also part of Sauk Prairie's group.
"All boys, which is a little bit of a struggle," Walz said. "We've had some girls interested, but we haven't been able to break the barrier."
"It's about computers. I absolutely love computers," Green said of what's made him so invested in the club. "My setup right in front of me is my pride and joy. I have a bunch of computer parts and I love everything about computers. I started to learn things from Computer Science Club that I never would have learned otherwise. And I'm also hopefully teaching others what I know."
The WIHSEA currently offers four games: Overwatch and Super Smash Bros. Ultimate in the fall, and Rocket League and Smite in the spring.
"Very few had experience with Smite, so they're all just trying it," Walz said of the five-on-five game. "That's one thing I look for in computer science, you can't be afraid to just try. That's a lot of what computer science is, just figuring things out.
When a game concludes, each team fills out a WIHSEA form that asks them to evaluate their opponent on a variety of criteria. East Troy scored high marks Tuesday, with Sauk Prairie's players saying that the Trojans were good sports, prompt and nice.
Highly competitive
The WIHSEA offers varsity and junior varsity competition in all four of its games, while the best teams in Wisconsin advance to state tournaments.
Baraboo's Overwatch team came home away with a second-place finish last school year. The Thunderbirds traveled to Madison College to compete at state on Dec. 14, 2019, finishing behind only Elkhorn in Division 2.
"We even got a school assembly sendoff where they gather everyone in the gym and everyone cheers you on," Rhode said. "They did really well, they were one game away. It was really close too, it was super exciting, suspenseful and all that good sports stuff. It was a lot of fun."
That success is part of the reason Baraboo bumped up to Division 1 this year.
"With Overwatch, they actually played at their homes this year," Rhode said, noting the pandemic has still made certain things difficult. "In the past, they played here in the computer lab. They were all in the same lab communicating and working together ... They play against Brookfield, Whitefish Bay or whatever the teams are in the state. They're organized by size and a little bit by previous reputation."
The reputation has also helped spread the word within Baraboo's halls, encouraging people to join as the club develops.
"Our first year, four of the people on our team were seniors, so they graduated. But we had done really well so that's how we got more people interested." Ball said, noting that Baraboo's Overwatch team started to get together every Saturday to practice. "Typically, we just kind of practice beforehand so everyone knows how to play their roles and then when the time comes we work together in our groups. ... You can't rely on one person to win the game, all six people have to actively participate and put effort in."
More than a game
The esports — and computer sciences — space is growing rapidly. CyberPatriot and National Cyber League are also offered, and see teams of students working to protect computers against cyber attacks.
"It's basically guarding a castle that has been abandoned," Green said of CyberPatriot, which Sauk Prairie will start again in the fall. "You need to go in and purge out all the things that are wrong with it and then guard it for the future. You want to take out viruses, you want to take out unauthorized users, you want to authorize users, take away power from those who can't have it and give powers to those who should."
"There is just so much out there," Walz said.
Sauk Prairie is also participating in the American Computer Science League on Fridays while a couple students are preparing for a programming contest run by Marquette. It's a similar story in Baraboo, where the Computer Club is highly active in esports and cybersecurity programs, while also offering a social gaming program that got 30-40 kids together each week prior to the pandemic.
"We've always had a really active group," said Rhode.
Computer clubs offer opportunities to students who previously might not have been interested in any extracurriculars the school offered.
"There's some great research out there that if you're involved in one activity in the school, you just do so much better. It's that first activity. If you're involved in 10 activities, you don't necessarily do better. But if you're involved in one, that really helps. We are that one for a lot of students," Rhode said.
"Their passion and energy for this is just unbelievable. You wouldn't believe how excited they are and how into it they are. I'm just a facilitator of steering their enthusiasm. It's had a great impact on several students and their grades and other things, because they have to be academically eligible to play."
Just getting started
It's an opportunity Green and Ball never really considered before high school.
"I never really thought about doing esports until ... around eighth grade I think I was interested, but I never really made any attempts to go for it," Ball said. "Once I heard the high school had a league, it really opened the door for me."
"The thought never really came to me in middle school or whatever," Green echoed. "I always heard about esports teams and I thought, 'ah, that'd be fun.' I heard about them but never thought it'd come here to Sauk. With the help of Ms. Walz, (2020 graduate) Aaron Zhang and a few others created this club and then I took up where they left off when they graduated to help make esports esports and try to help it become what it is.
"I'm hoping eventually we can branch out and make connections with others. I'd love to do that sort of thing, but right now we're just getting our footing."
The opportunities are going to continue to grow as colleges and high schools across the country continue to add programs and flesh out how esports are run. Scholarships are becoming regular in the space, while ESPN has showcased big esports events the past few years.
"That's actually what got me interested in this," Wernsing said. "A couple years ago, I saw an Overwatch game on TV and thought, 'Oh, that looks cool.' But I never really had a computer or anything to play it."