DEFOREST — DeForest junior quarterback Mason Keyes didn't begin Friday night's game against Stoughton thinking about the deep ball.
"We were going to try to checkdown all game, but the deep passes were open," Keyes said. "So, we were going to hit them."
The 6-foot, 190-pound Keyes threw four touchdown passes — two apiece to senior receivers Deven Magli and Max Weisbrod — and ran for another score in host DeForest's 40-14 victory in a non-conference football game between two state-ranked teams.
Keyes, who had 202 first-half passing yards as the Norskies (2-0) opened a 27-14 halftime lead, finished 17-for-25 for 291 yards against the Vikings (1-1).
"Unfortunately, we just got outplayed," Stoughton coach Jason Becker said. "DeForest is extremely well-coached and they are an extremely disciplined football team. We knew defensively we needed to contain their QB and we didn't do a great job of that. He made some great plays with his feet and, obviously, some great plays with his arm tonight."
Weisbrod caught seven passes for 126 yards, including touchdowns of 20 and 25 yards. North Dakota commit Magli had five receptions for 114 yards, with second-quarter touchdown catches of 40 and 47 yards that broke open the contest.
"We have talent everywhere," said Keyes, whose father, Bud Keyes, played quarterback for the University of Wisconsin and was a Green Bay Packers' draft choice. "Our line is great. The wide receivers are crazy good."
Norskies junior running back Cale Drinka added 157 yards rushing on 18 carries, including an 84-yard touchdown run that allowed DeForest to overcome a 7-6 deficit and seize a 13-7 lead with 1 minute, 32 seconds left in the first quarter. It was the start of 21 consecutive points for DeForest, which took a 27-7 lead.
"I thought we ran it really, really effectively and efficiently," DeForest coach Aaron Mack said. "At the end of the day, it's about staying on the field, not turning the ball over and putting points on the board. However, we have to do that, we are committed to doing it."
DeForest's defense also rose to the challenge against Stoughton's formidable — and beefy — offensive line, which included 6-7, 270-pound senior right tackle Barrett Nelson, a University of Wisconsin commit; 6-3, 279-pound junior left guard Gabe Rousseau, who's orally committed to Minnesota State-Mankato; and 6-3, 260-pound junior left tackle Griffin Empey.
Keyes capped the game's first scoring drive with a 1-yard run after completing all six of his passes on the Norskies' first series, including four passes to Weisbrod.
A screen pass from Stoughton senior quarterback Isaac Knutson to senior running back Darrick Hill turned into a 91-yard touchdown, giving the Vikings a 7-6 lead with 5:46 left in the first quarter.
But the Norskies — led on the defensive front by seniors Luke Castillo (who had two first-half sacks), Evan Oberg and Alex Winters — responded by slowing the Vikings' running game. Stoughton also lost Hill to a first-quarter ankle injury.
"We were a little undersized tonight, but you wouldn't know that with the way they competed," Mack said about the Norskies' defense.
Hill's injury with 4:23 left in the first quarter was a setback, considering Stoughton piled up 355 yards rushing against Oregon in last week's opener, led by the 5-9, 185-pound Hill (271 yards on 30 carries, four touchdowns).
DeForest — after its 42-0 victory last week over Mack's high school alma mater, Madison East — entered Friday's game ranked ninth in the Large Schools Division in The Associated Press state poll and ranked fourth in Division 2 in the state coaches' WisSports.net poll. Stoughton, which edged Oregon 27-21, was ranked sixth in Division 3 in the WisSports.net poll.
"I thought we did a lot of the things we wanted to do (at the beginning of the game)," Becker said. "We took advantage of their aggressiveness on that screen pass to get that touchdown to Darrick and certainly he started with a nice run (of 35 yards). He was doing exactly what he did last week — running hard."
Badger Large football preview: 10 players you need to know this season
Gabe Klatt, so., Beaver Dam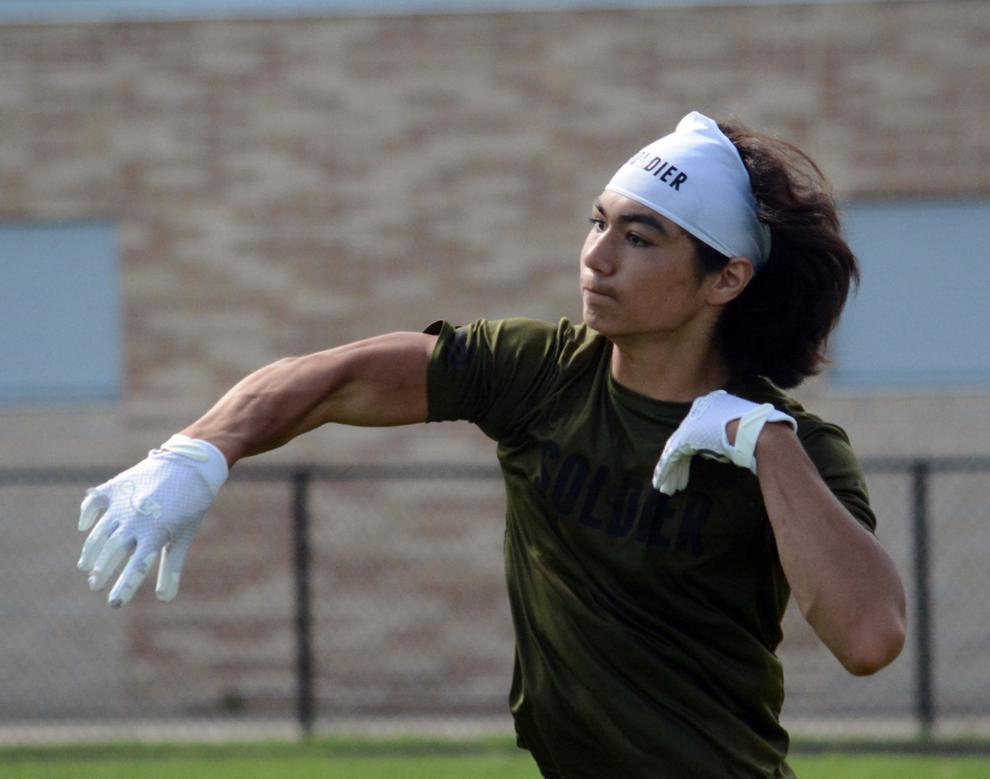 Klatt is expected to be a key contributor this season, particularly at running back and defensive back. He showed promise at those positions last season, but injuries derailed his campaign.
Deven Magli, sr., DeForest
Magli, a North Dakota commit, is one of the Norskies' leaders in the secondary and as a receiver. He was an AP first-team All-State selection as a defensive back for the alternate season and was a WFCA Large Schools All-State pick. He had 24 tackles, including 19 solo, forced a fumble and had two interceptions returned for scores. He is set to move from cornerback to safety. He also averaged 19.3 yards per catch on 16 receptions.
Marshaun Harriel, sr., Janesville Craig
Harriel, a running back and cornerback, is one of the Cougars' key returning players. The 5-9, 160-pound Harriel was a threat in the passing game, totaling 21 receptions for 310 yards and a touchdown in the alternate season.
Zack Bothun, sr., Milton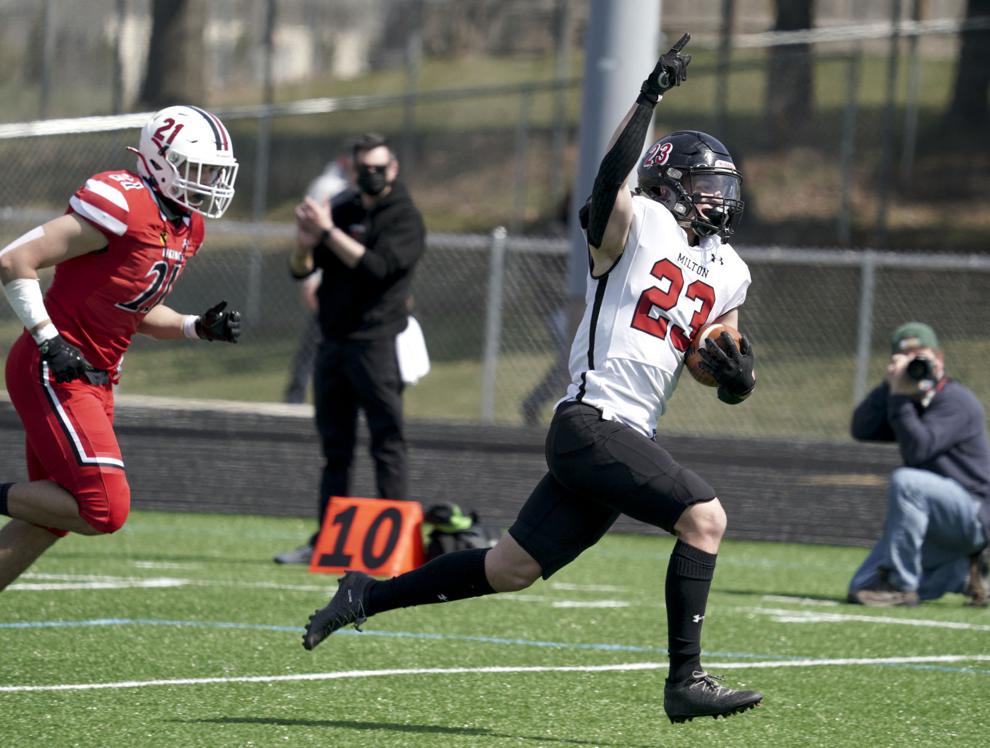 The 6-1, 205-pound Bothun, a linebacker and running back, was second on the team in tackles (72) and had four tackles for loss, three sacks, three forced fumbles, three fumble recoveries and an interception for a touchdown in the spring.
Jack Campion, sr., Milton
The 5-10, 155-pound Campion is a versatile performer for the Red Hawks, playing safety, receiver, kick returner and punt returner. Milton coach Rodney Wedig described Campion as "one of the best three-sport athletes in the state." Campion had 57 tackles and four interceptions on defense and averaged 25.4 yards per punt return, returning a punt, a kickoff and interception for touchdowns.
Cooper King, sr., Oregon
King, a linebacker and fullback, led the Panthers' defense with 49 tackles last spring, including 12 solo, and had two tackles for loss and a sack as Oregon finished 2-3, defeating the Janesville schools.
Caleb Huff, sr., Watertown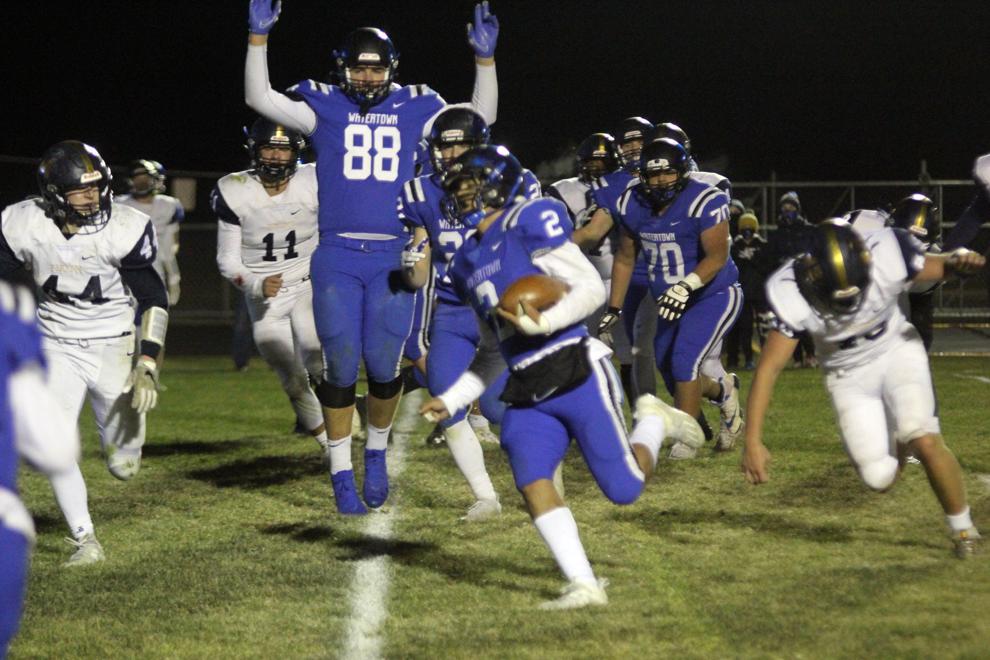 Huff, one of the top dual-threat quarterbacks in the Badger Large, threw for 916 yards, with eight touchdowns and four interceptions, last fall — often targeting Oliver Meyers. Huff also rushed for 204 yards and eight touchdowns, behind a line led by Caden Maas.
Jack Dotzler, sr., Waunakee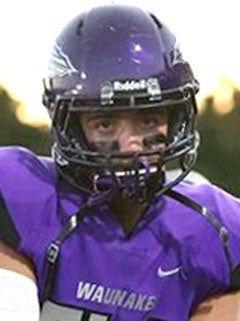 The 6-foot-7, 255-pound Dotzler, who's committed to the University of Iowa, turned in a stellar junior season in the WIAA's alternate fall season in the spring. He was a unanimous selection on The Associated Press fall season All-State football first team, a Wisconsin Football Coaches Association Large Schools All-State pick and WisSports.net's spring offensive lineman of the year for undefeated Waunakee, which averaged 47.3 points per game.
Andrew Keller, sr., Waunakee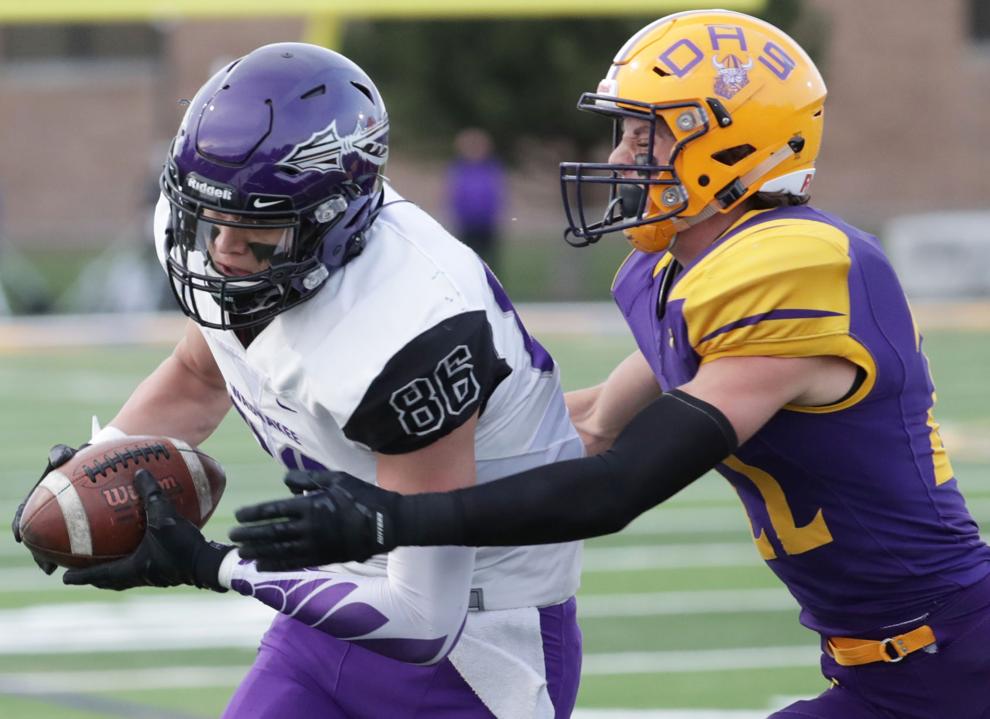 The 6-5 Keller, who has committed to Iowa State, was one of the top pass-catching tight ends in the state last season with 19 catches for 321 yards and five touchdowns. He was a unanimous first-team selection on the AP alternate fall season All-State team and a WFCA Large School's All-State choice.
Quentin Keene, sr., Waunakee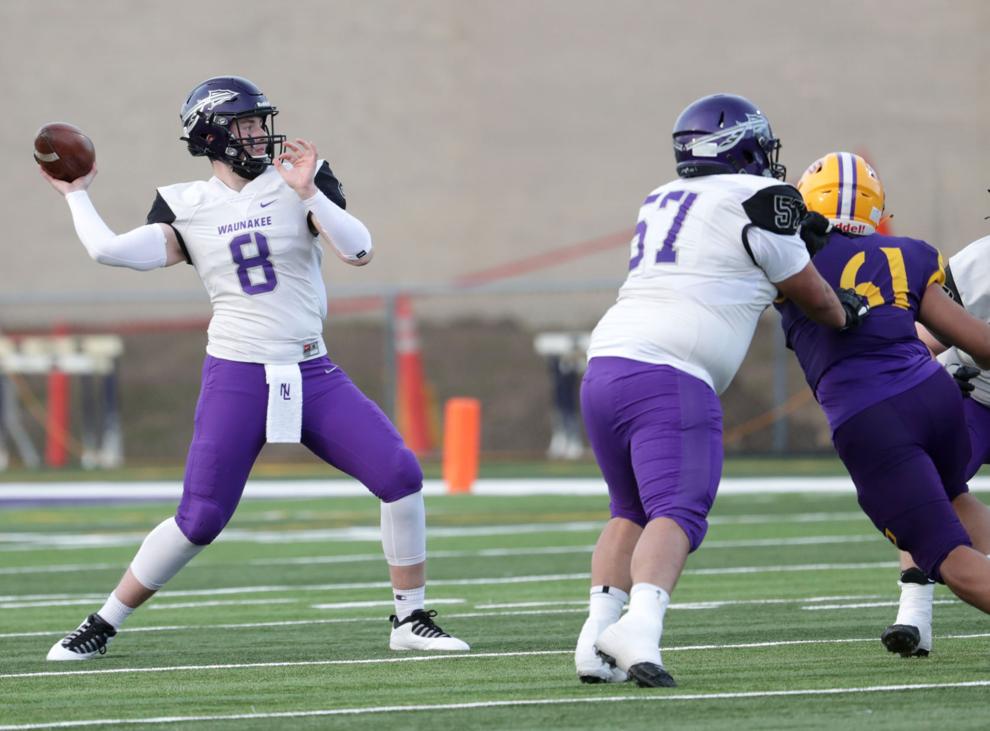 The 6-1 Keene was an AP honorable-mention All-State choice and a WFCA Large Schools honorable-mention selection after a breakout season as a quarterback for the Warriors. He threw for 1,112 yards, with 18 touchdowns and three interceptions last spring, and completed 78.2% of his passes.