After a rousing first week of high school football, area teams look to build off those performances.
Week 2 again features Thursday games, including Madison La Follette at Monona Grove, Madison West at Oregon and Wisconsin Rapids at Sun Prairie (which was ranked third in the state in this week's Associated Press Large Division poll). The majority of the games will be Friday, including an interesting non-conference game between visiting Marshall and Black Hawk/Warren (Ill.), eighth-ranked among Small Division schools.
Among games to watch, here's this week's Pick 6:
Thursday
Madison La Follette (0-1) at Monona Grove (1-0), 7 p.m. – Neighboring schools tangle in this non-conference game. Monona Grove unleashed a high-octane passing attack in a 35-14 victory over West Bend East. Casey Marron threw for 344 yards and five touchdowns. La Follette led early and was embroiled in a tight game with Kenosha Indian Trail, trailing 21-19 in the third quarter, before Indian Trail pulled away. Kamarion James-Ragland threw two touchdown passes, while K'shawn Gibbs and Carter Borcherding each caught six passes.
Friday's games
Lake Mills (1-0) at Madison Edgewood (1-0), 4:30 p.m. – Lake Mills opened with a 23-10 victory over Mineral Point in its opener, pulling away in the fourth quarter on Michael Stenbroten's touchdown. Madison Edgewood went on the road for a 42-14 victory over River Valley in Spring Green. Edgewood's Joe Hartlieb tossed three touchdowns in his 247 yards passing and Mason Folkers passed for one touchdown and ran for another. Edgewood announced that it will be its first home game on its home field in 30 years. 
Stoughton (1-0) at DeForest (1-0), 7 p.m. – Stoughton comes off a thrilling 27-21 victory over Oregon. After Oregon tied the game at 21-all, Stoughton drove downfield and Darrick Hill scored on a 1-yard run with 12 seconds left. Hill finished with 271 yards rushing and four touchdowns, as the Vikings piled up 355 yards rushing. DeForest, ranked ninth among Large Division schools, blanked Madison East 42-0. The Norskies' Deven Magli scored on a punt return and a touchdown reception and Cale Drinka rushed for two scores.
Waunakee (1-0) at Middleton (0-1), 7 p.m. – Quentin Keene threw for two touchdowns and Michael Gnorski ran for two scores in Waunakee's 35-6 home victory over Madison Memorial. Lineman Jack Dotzler, an Iowa commit, is out indefinitely with an ankle injury for the Warriors, ranked sixth among Large Division schools. Coach Jason Pertzborn's team continues its difficult non-conference schedule, after Bay Port rallied past the Cardinals 26-14 last week. Logan Raffel connected with Cole Toennies on a touchdown pass and Elijah Gray rushed for Middleton's other touchdown.
Monroe (1-0) vs. Mount Horeb/Barneveld (1-0), 7 p.m. in Mount Horeb: Monroe, tied for seventh among Medium Division schools, defeated Sauk Prairie 43-7. The Cheesemakers' running attack in the Delaware Wing-T was led by Keatin Sweeney (116 yards, three touchdowns) and Alex Hernandez (113 yards). University of Wisconsin commit J.T. Seagreaves rushed for 94 yards and two touchdowns, one rushing and one receiving. Mount Horeb/Barneveld got off to a good start with a 37-30 victory over Racine St. Catherine's. Tyler Buechner had 228 yards rushing and three touchdowns and Trenton Owens added a kick return touchdown and a rushing touchdown.
New Glarus/Monticello (0-1) at Belleville (1-0), 7 p.m. – The neighboring schools – New Glarus/Monticello is in the SWC and Belleville in the SWAL – meet in non-conference action. Belleville defeated Cambridge 55-0, behind Trevor Syse's four touchdown passes. Max Marty threw for 287 yards and three touchdown passes and Jack Parman caught eight passes, including one for a touchdown, but New Glarus/Monticello dropped a 27-26 decision to Clinton. A late 2-point conversion try was unsuccessful. When the teams last met, Belleville rallied for a 21-20 victory over New Glarus/Monticello in the WIAA's alternate fall season last spring.
(This report includes information and statistics from the State Journal, other published reports, teams and WisSports.net).
Badger Large football preview: 10 players you need to know this season
Gabe Klatt, so., Beaver Dam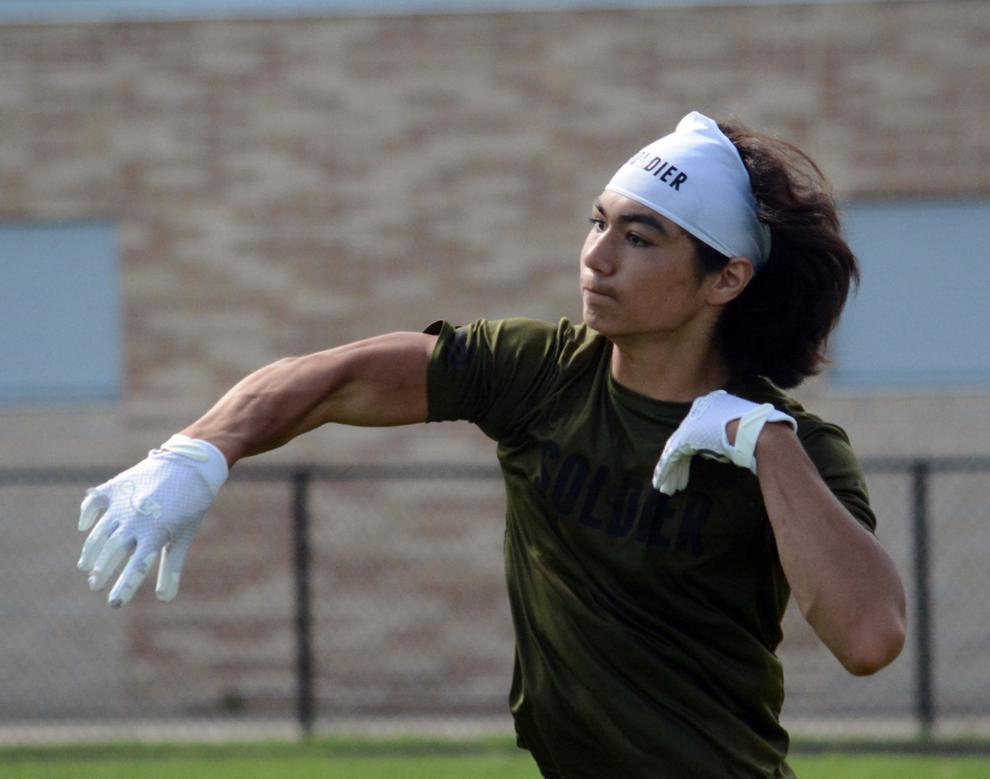 Klatt is expected to be a key contributor this season, particularly at running back and defensive back. He showed promise at those positions last season, but injuries derailed his campaign.
Alex Soto, sr., WR, Beaver Dam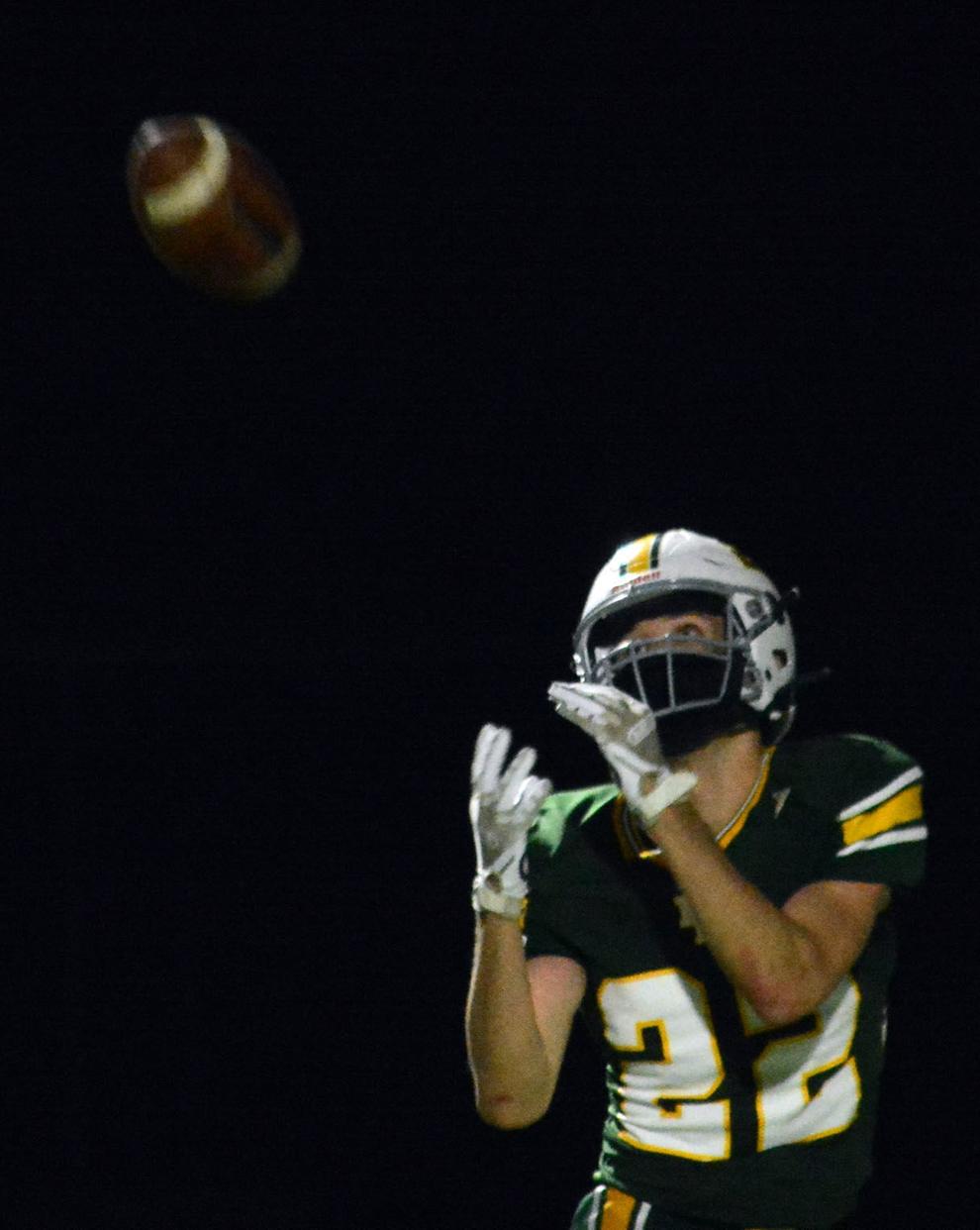 Soto was making strides to be a standout playmaker for the Golden Beavers last spring. The 6-foot-1, 170-pounder caught 19 passes for 166 yards and two TDs through the first three games before suffering a season-ending injury against Whitnall. Fully healed, Soto is primed to make an impact in his final season with the Golden Beavers. With Beaver Dam moving from a pass-happy attack to a bigger run game, look for Soto to get a lot of his work on jet sweeps.
Deven Magli, sr., DeForest
Magli, a North Dakota commit, is one of the Norskies' leaders in the secondary and as a receiver. He was an AP first-team All-State selection as a defensive back for the alternate season and was a WFCA Large Schools All-State pick. He had 24 tackles, including 19 solo, forced a fumble and had two interceptions returned for scores. He is set to move from cornerback to safety. He also averaged 19.3 yards per catch on 16 receptions.
Marshaun Harriel, sr., Janesville Craig
Harriel, a running back and cornerback, is one of the Cougars' key returning players. The 5-9, 160-pound Harriel was a threat in the passing game, totaling 21 receptions for 310 yards and a touchdown in the alternate season.
Jack Campion, sr., Milton
The 5-10, 155-pound Campion is a versatile performer for the Red Hawks, playing safety, receiver, kick returner and punt returner. Milton coach Rodney Wedig described Campion as "one of the best three-sport athletes in the state." Campion had 57 tackles and four interceptions on defense and averaged 25.4 yards per punt return, returning a punt, a kickoff and interception for touchdowns.
Cooper King, sr., Oregon
King, a linebacker and fullback, led the Panthers' defense with 49 tackles last spring, including 12 solo, and had two tackles for loss and a sack as Oregon finished 2-3, defeating the Janesville schools.
Caleb Huff, sr., Watertown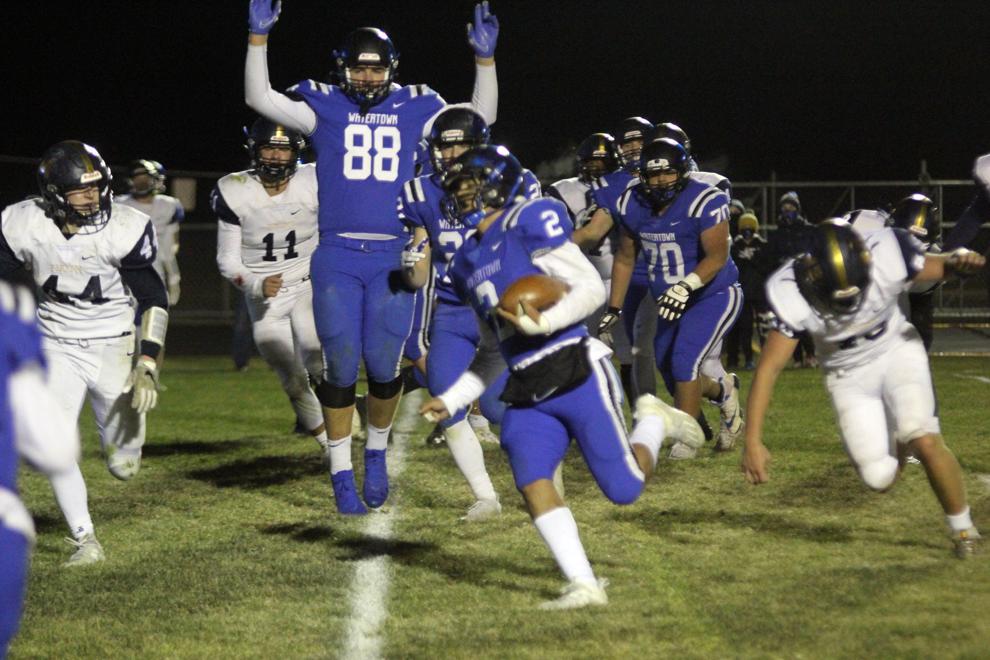 Huff, one of the top dual-threat quarterbacks in the Badger Large, threw for 916 yards, with eight touchdowns and four interceptions, last fall — often targeting Oliver Meyers. Huff also rushed for 204 yards and eight touchdowns, behind a line led by Caden Maas.
Jack Dotzler, sr., Waunakee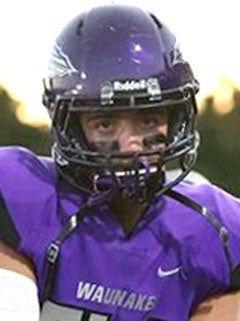 The 6-foot-7, 255-pound Dotzler, who's committed to the University of Iowa, turned in a stellar junior season in the WIAA's alternate fall season in the spring. He was a unanimous selection on The Associated Press fall season All-State football first team, a Wisconsin Football Coaches Association Large Schools All-State pick and WisSports.net's spring offensive lineman of the year for undefeated Waunakee, which averaged 47.3 points per game.
Andrew Keller, sr., Waunakee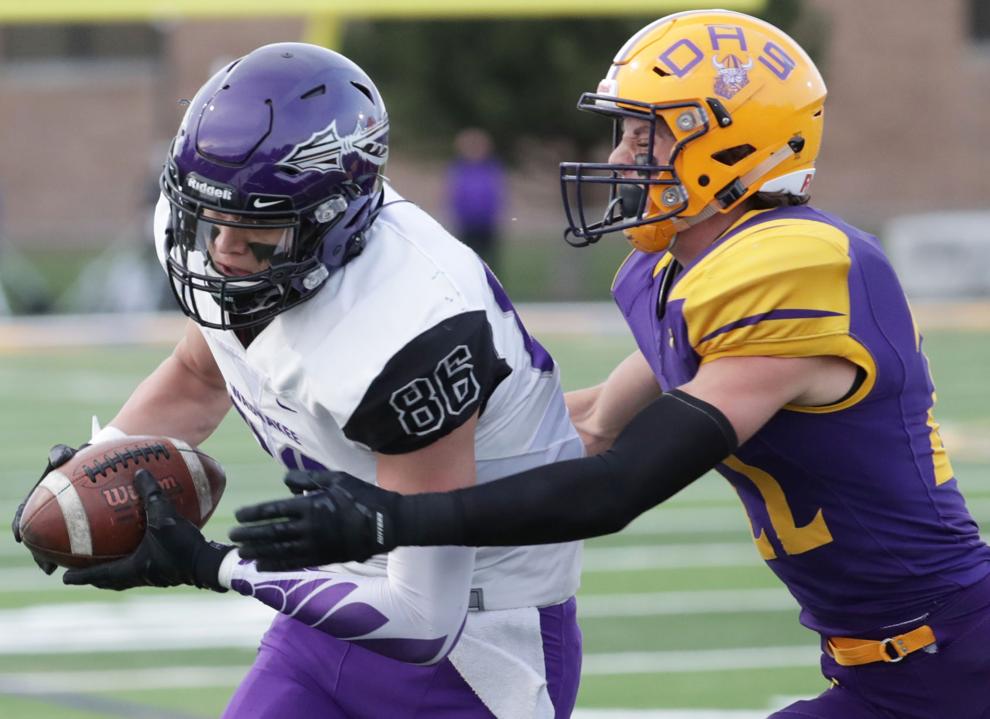 The 6-5 Keller, who has committed to Iowa State, was one of the top pass-catching tight ends in the state last season with 19 catches for 321 yards and five touchdowns. He was a unanimous first-team selection on the AP alternate fall season All-State team and a WFCA Large School's All-State choice.
Quentin Keene, sr., Waunakee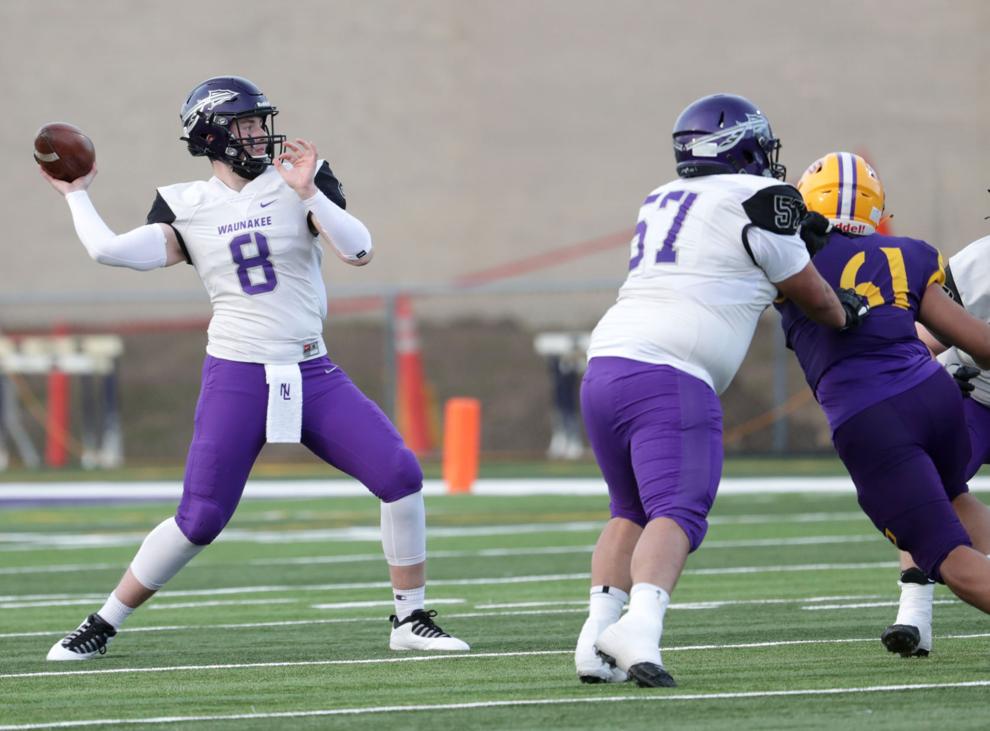 The 6-1 Keene was an AP honorable-mention All-State choice and a WFCA Large Schools honorable-mention selection after a breakout season as a quarterback for the Warriors. He threw for 1,112 yards, with 18 touchdowns and three interceptions last spring, and completed 78.2% of his passes.