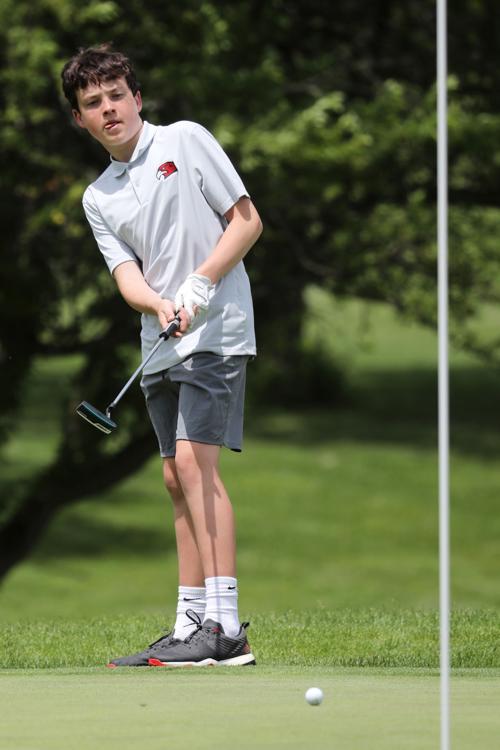 It's been a while since the WIAA faced a controversy as large as the one it found itself in on Tuesday and Wednesday.
An obvious math error — apparently the result of a computer glitch or data-entry mistake — got in the way of the Milton boys golf team's legitimate, hard-earned chance to qualify as a team for next week's WIAA Division 1 state tournament.
After a series of texts and emails late Tuesday and early Wednesday — which went so far as to include the threat of legal action — the WIAA reversed its initial position following an online Zoom meeting Wednesday with representatives from Milton and Mukwonago high schools.
As a result, the Milton and Mukwonago teams will meet at Riverside Golf Course in Janesville at 8:45 a.m. Thursday in a playoff to determine which school was the true Parker sectional runner-up — and which school will play Monday and Tuesday in the 16-team Division 1 state tournament in Wisconsin Dells. Each sectional runner-up gets a state berth, and the third-place teams do not.

Tuesday's error kept Milton, Mukwonago and tournament officials from noticing that there should have been a second-place playoff on Tuesday afternoon. Both schools said Wednesday they are willing to hold a playoff, and after the WIAA cited its tournament manual in declining to honor Milton's request on Tuesday night, the subsequent Zoom meeting helped to remedy the situation.
"We are in the process of working with the WIAA right now, and hopefully we'll have more information in the next hour or two," Milton principal Jeremy Bilhorn said at 9:20 a.m. Wednesday.
At 9:40 a.m. Wednesday, the WIAA tweeted that "both coaches have agreed to a playoff. This morning, WIAA staff has been working on getting a time scheduled for that to take place."
Within an hour, they had scheduled it for 8:45 a.m. Thursday.
Here's a blow-by-blow recount of the consternation that eventually led up to Wednesday's common-sense decision:
Coach Kirk Wieland's Milton Red Hawks shot a team total of 324 in Tuesday's Janesville Parker sectional at Riverside Golf Course. (How WIAA golf team scoring works: Each team sends out five players, and their four best scores are added to produce the team total.)
According to the official results posted to the WIAA's website, Milton wound up in third place among the eight-team Parker sectional field, apparently four strokes behind Mukwonago's second-place score of 320. At each of eight WIAA Division 1 sectionals, only the top two teams qualify for state.
Beloit Memorial won the sectional, shooting 312 at Riverside Golf Course. No one is disputing that.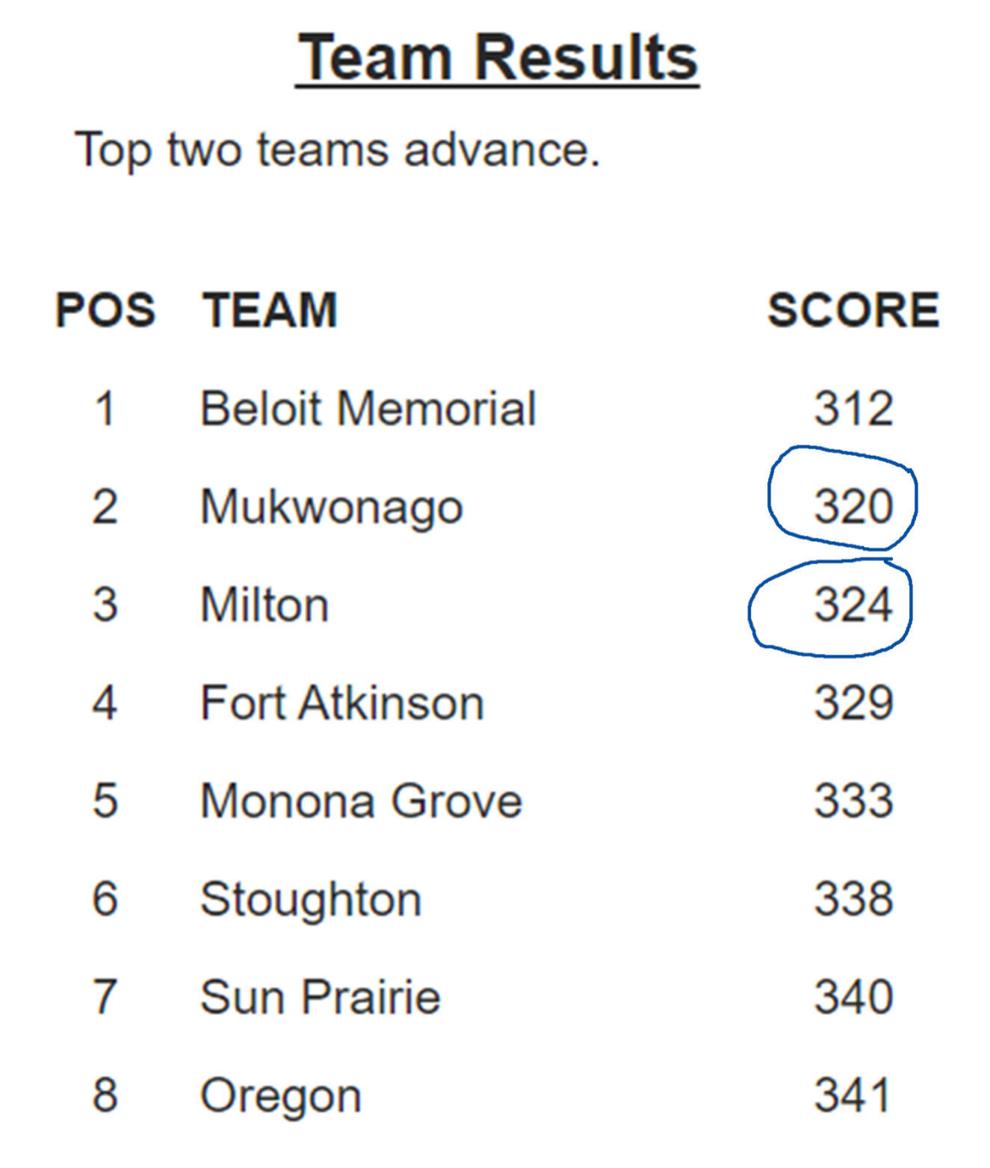 But Wieland has proof — complete with corroboration from Mukwonago — that Mukwonago didn't shoot 320 on Tuesday. Mukwonago's actual team total was 324 — which should have left Mukwonago in a second-place tie with Milton, thus forcing a playoff for the sectional's second and final team state berth.
According to Wieland, Mukwonago coach Jay Christiansen agrees that his team's total was 324 and that a playoff should have taken place before the teams left Janesville on Tuesday. In fact, Wieland says it was Christiansen who initially blew the whistle on the discrepancy, even though it put his team's state berth in jeopardy.
"Mukwonago called and said there was a problem: Their No. 4 player (junior Cooper Barry) had his score counted as an 81, even though he shot 85," Wieland said. "The (hole-by-hole) scores add up to 85. He shot 42 on the front nine (his second nine of the round), but it's posted as a 38."
Barry, by the way, is free from blame. The scorecard he signed and submitted indeed does add up to 85. So, it appears, the mistake was strictly a problem with the WIAA's scoring program, or a data-entry error made by a tournament official. The most obvious assumption, though not confirmed, was that Barry's final hole, a 4 on No. 9, somehow was not counted.
Oddly enough, Wieland has a screenshot of the WIAA's scoring page that does show Mukwonago and Milton in a second-place tie. But the WIAA's computer apparently later "updated" the totals to show the incorrect 320 score for Mukwonago.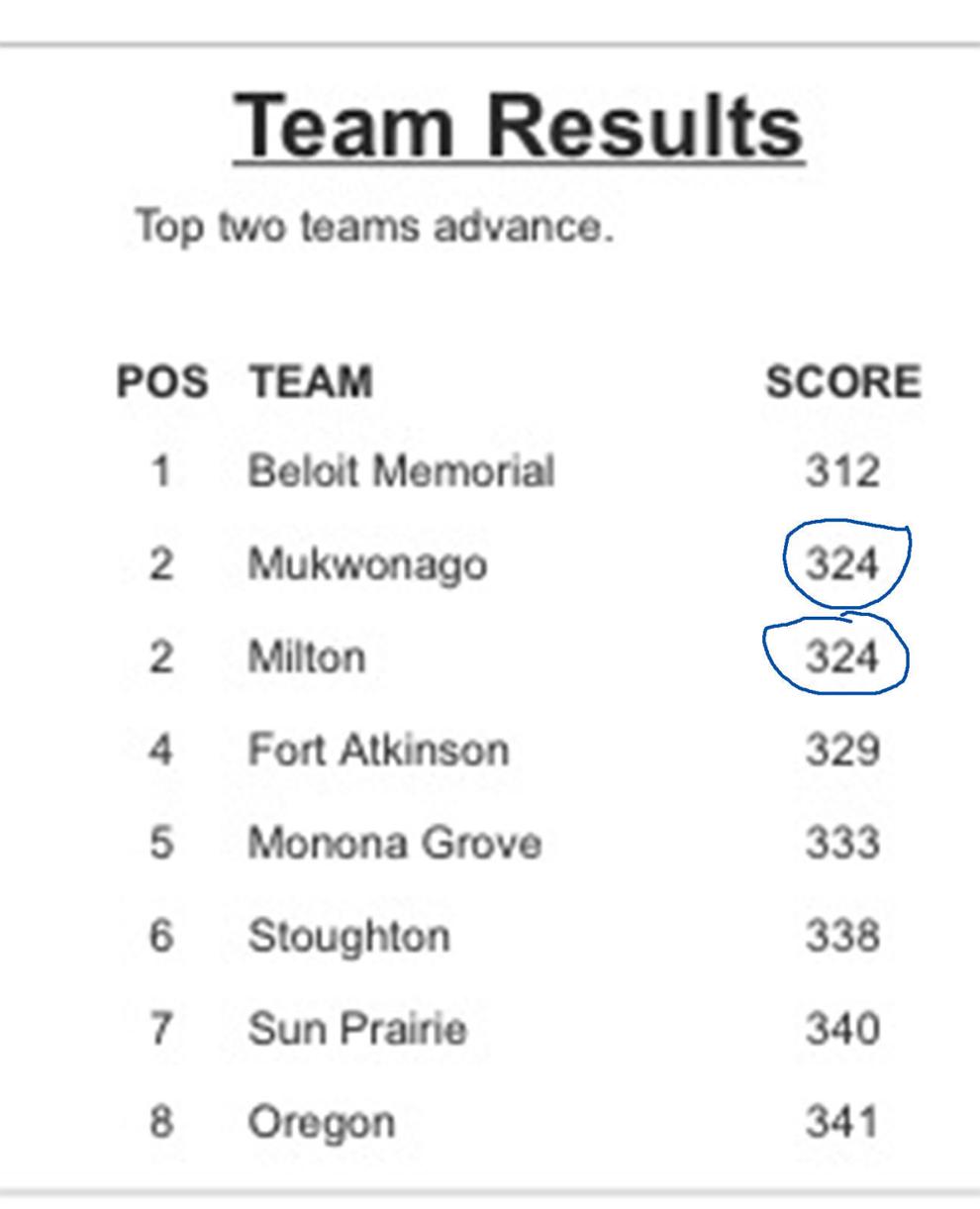 Initially, the WIAA insisted that right or wrong, what's done is done because those are the rules. It was a disappointing return to bad form for the WIAA, which had shown commendable flexibility, creativity and common sense while adjusting to the unprecedented impact of the COVID-19 pandemic over the last year-plus.
"I contacted Tom Shafranski (the WIAA assistant director in charge of the boys golf tournament), and he said that when a score is announced, when a score is posted, that's it," Wieland said Tuesday night.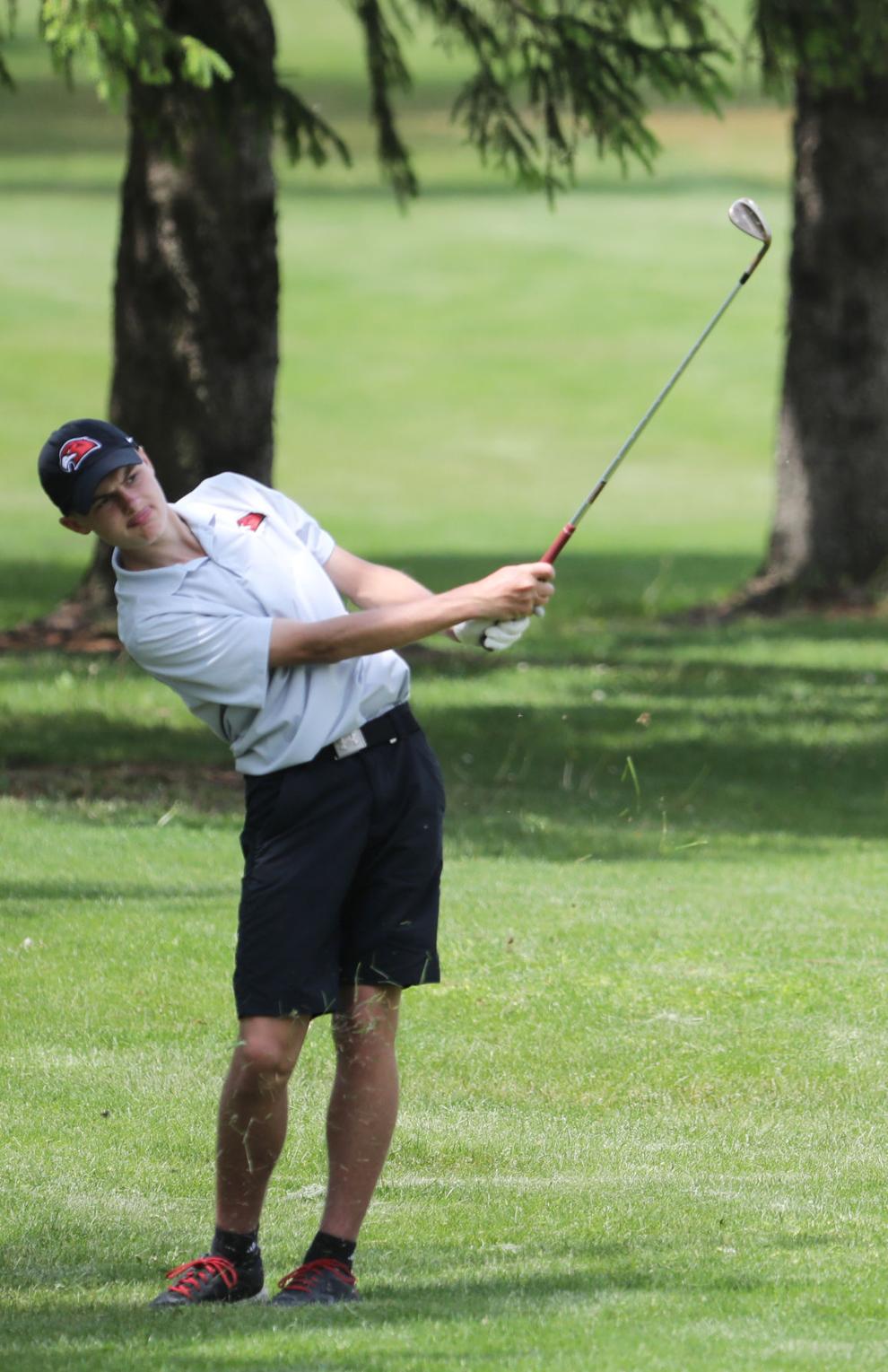 Wieland shared with the State Journal an exchange of text messages with Shafranski, including this statement from Shafranski:
"Earlier I was investigating how the error in scoring occurred. I was able to find the error as you've identified. Please know the golf meet was closed and all committee decisions stand once the meet was officially announced following completion of the meet."
In an email Tuesday night, Todd Clark, the WIAA's director of communications, shared this line from Page 13, Line J of the WIAA's Spring Season Regulations manual:
"A golf meet is closed and all committee decisions will stand once results of the meet have been officially announced."

A call to the WIAA office at 9:35 a.m. Wednesday yielded the news that Shafranski couldn't be reached because he was on a Zoom call. Five minutes later, the WIAA tweeted about its change of heart.
And Wieland, after a busy, emotional and likely sleepless night, got what he wanted for his Red Hawks: A chance.
"If we get to state, we might take dead last, I know," Wieland said. "But if we got to play at all, it would be unbelievable."