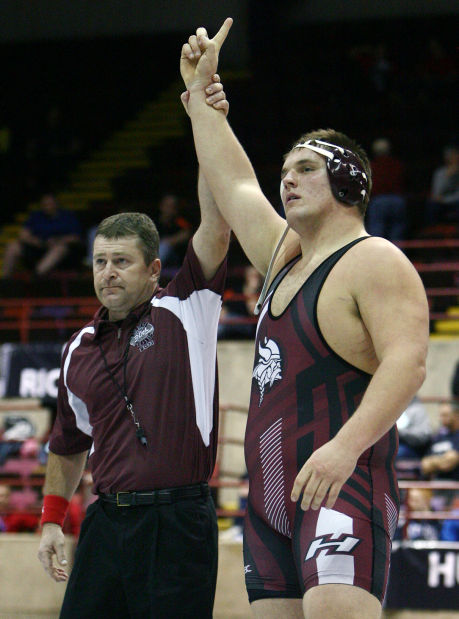 Maybe he wasn't an angry heavyweight as he scaled the steps to the stage on the floor of the La Crosse Center, but he was certainly a motivated heavyweight.
Hunter Hauser wasn't exactly thrilled with the way his quarterfinal and semifinal matches at the Bi-State Classic ended.
Sure, he'd won them both, but the Holmen High School senior had bigger plans. He wanted pins in those victories.
That made Marshfield's Tristan Wilson a target for Hauser, who capitalized on the first opening he was given and pinned Wilson in 1 minute, 55 seconds for the 285-pound championship at the Bi-State Classic on Saturday.
Hauser (17-1) gave the Coulee Region a fourth straight 285-pound championship in the event in his first chance at a title.
"It's a lot better wrestling on that stage for first place than it is for third place like I did last year," said Hauser, who had three pins and two major decisions in helping the Vikings win the Division 1 team championship with 215 points. "I worked harder at this match to get the pin because that's how I wanted to finish."
Wilson, who was pinned twice in less than 1 minute by Hauser in last year's Bi-State, didn't score before Hauser caught him with about 15 seconds left in the first and pinned him 10 seconds later.
Hauser was the second Holmen champion of the day.
Senior Ryan Stalsberg (20-4) gave the Vikings their first title when he beat Westby's Ross Withington (18-4) 5-4 with a late takedown in the 138-pound championship match.
Stalsberg scored the tying and winning points on a takedown with 11 seconds left after giving Withington a point and 4-3 lead with an escape to start the third.
HUNTER BECOMES THE HUNTED: Jordan Reisinger was a bit of a surprise as he wrestled toward a fourth-place Division 1 state finish at 182 pounds last year.
The Tomah senior is hardly an unknown commodity this season, and he's now spending his time fighting off the best efforts his opponents can muster.
That didn't matter this weekend as Reisinger (14-0) won six matches and beat Two Rivers' Scott Skornicka 4-3 in a hotly contested championship bout at 195.
Reisinger scored the winning point on an escape just 6 seconds into the third period and finished the battle in neutral position.
"The third period was crazy even though there wasn't a lot of scoring," Reisinger said. "We went back and forth and back and forth, and I don't think either one of us wanted to show how tired we were.
"It got a little heated, but it was a tough and fun match."
Skornicka's effort was also consistent with what Reisinger has seen all season.
"I have that target, and everyone is coming after me," Reisinger said. "But I also put higher expectations on myself after last season, and I'm just trying to reach my goals.
"Winning Bi-State was one of them."
CONFIDENT AND SUCCESSFUL: West Salem/Bangor freshman Devin Bahr has a reason to be confident.
Twenty-two wins without a loss going into Saturday night's 132-pound final was the source of that confidence, and Bahr did nothing to shake it by beating Lancaster's Kyle Mezera 9-3 for a championship.
Bahr (23-0) was reversed with 51 seconds left in the first period, but he never trailed Mezera (17-2), a fifth-place state finisher and Bi-State runner-up last season.
"He's really good at cradles and headlocks, so I had to be sure I defended against those," said Bahr, who beat Mezera 12-0 at a tournament earlier this season. "I didn't think he was in real good shape when we wrestled last time, but he is now, and this match was harder."
Bahr broke away from a 2-2 tie with an escape to open the second period before putting Mezera on his back for three points at the end of the second.
He picked up two more back points in the third.
"I didn't get frustrated when I didn't (pin Mezera) in the second," Bahr said. "I don't get frustrated because that showed me I could put him on his back."
ELLIOTT BEATS STATE CHAMP TO BECOME TWO-TIMER: Prairie du Chien senior Taylor Elliott took care of Weston/Ithaca's Hunter Dischler 11-5 for the 113-pound title, and it was an impressive win over last year's Division 3 state champ at 106 pounds.
Elliott (18-1), a state runner-up in Division 2 last year, won his second Bi-State title with a pin, a technical fall and three decisions.
He built a 6-2 lead after one period in Saturday's final, led 9-4 after the second and finished they victory off with a late takedown.
"I'm aggressive and quick on my feet, that's just the way I wrestle," said Elliott, who took Dischler down twice in the first period and had a career Bi-State record of 23-5. "I wanted to keep moving and keep him thinking all the time, and that gave me chances for my shot."
RUNNERS-UP: Central's Jaden VanMaanen (21-1) and Westby's Chase Nottestad (21-1) joined Viroqua's JJ McClelland and Withington as second-place finishers.
VanMaanen couldn't recover from allowing a first-period takedown and lost a 2-1 decision to Riverdale's Riley Lull in the 106-pound final, and Nottestad couldn't get on the board in a 1-0 loss to Luxemburg-Casco's Luke Destiche (22-0) in the 220 final.
Lull was the Division 2 state runner-up at 106 last year, and Destiche won the Division 2 220 state title.
Get in the game with our Prep Sports Newsletter
Sent weekly directly to your inbox!