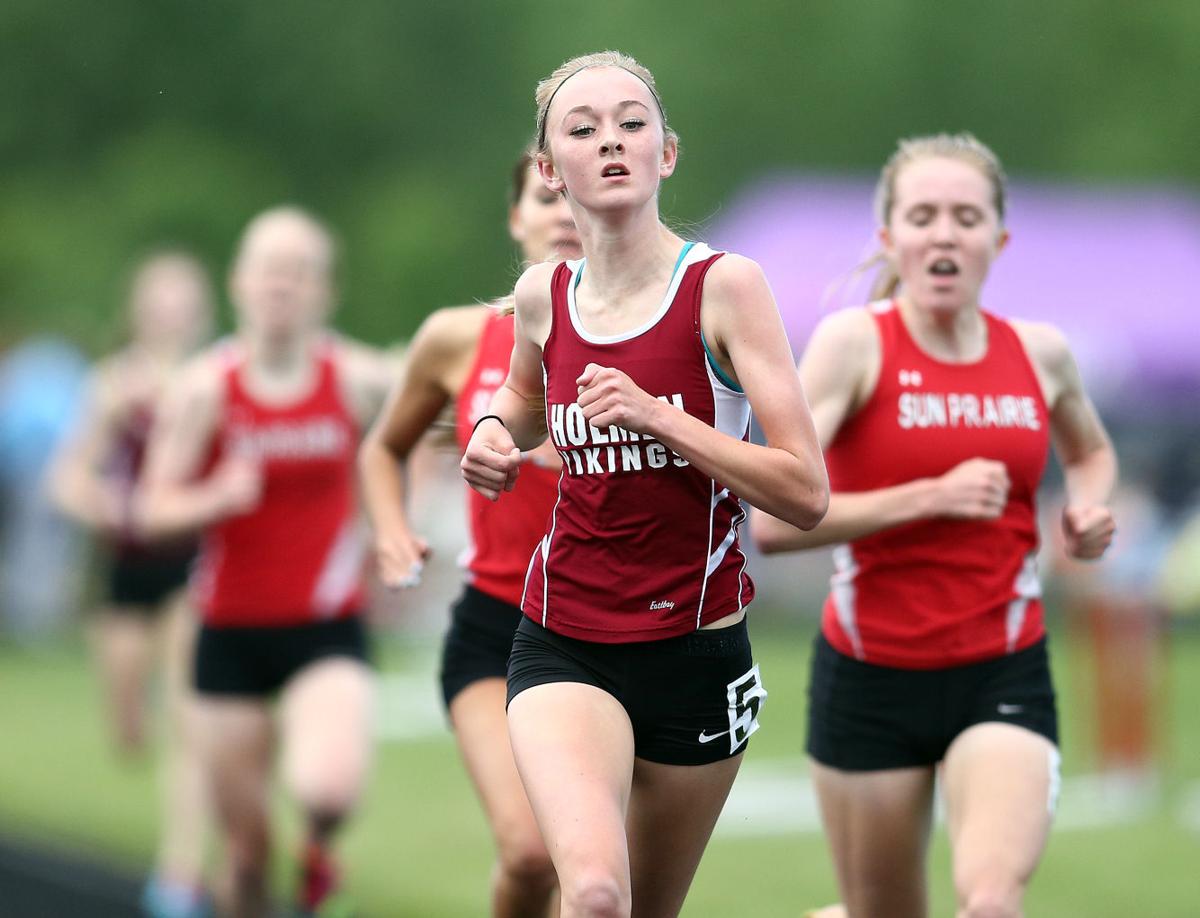 HOLMEN — The first blast of speed was impressive enough, but the second almost defied description. It left some speechless and everyone struggling to find the right words to explain what Holmen High School freshman Mason Kalander had just accomplished during the WIAA Division 1 Holmen track and field sectional at Empire Stadium on Saturday.
Kalander, who won the 1,600-meter run by dominating the final 200 meters and placed third in the 3,200 with an incredible kick over the final 100, didn't really know how she did it, either.
"I didn't think I had anything left," she said of her finish in the 3,200. "I just knew I didn't want it to be my last 3,200 of the season."
It appeared that there was no way for Kalander to avoid that as she ran in fourth place — the top three finishers in each raced qualified for next weekend's state meet at UW-La Crosse — with about 200 meters to go.
A couple of hours earlier, that's where she made her move while trailing four runners in the 1,600. In that race, she was a few strides behind a pack she chased with precision for three laps. When she made her move, she was gone and cruised to a winning time of 5 minutes, 4.08 seconds.
"That was our plan," Kalander said of the 1,600. "Coach (Steve Mally) told me to run with them until the final 200 and then go, so that's what I did."
Kalander wanted to make a move with 200 meters left in the 3,200, too, but it didn't look possible. As Sun Prairie's Katie Hietpas and McKensey Van Wie — two of the four runners Kalander passed down the stretch of the 1,600 — and Madison Memorial's Delaney Eigenberger started their final kick around the curve at the north side of the track, Kalander seemed to fade a bit.
She only had to catch one to become a state qualifier, but the odds of that happening didn't look good.
"Coaches were shouting that I had to go if I wanted to catch (Eigenberger)," Kalander said. "I didn't think I could."
But something clicked as she came around the final turn and faced what appeared to be a 20- or 30-meter gap to catch Eigenberger and qualify in a second event. Kalander somehow found another gear and took over third place in the final 10 meters.
"That's something you can't coach," Mally said of Kalander, whose 3,200 time was 11:08.93. "She was obviously exhausted, and the gap was building near the end of the race.
"We work on acceleration, and she found that extra gear on the last 100.
"That's all her. It was amazing to watch."
But that's become the norm when describing a Kalander race, and it has Mally excited for her future at Holmen. The speed is there, he said. The smarts of learning how to race a 1,600 or 3,200 are starting to appear, too.
"She had to learn that, and she is still learning it," he said. "The first couple of races she ran, she finished and said, 'I can go faster than that.'
"So we've worked on that and developed it."
Kalander qualified for the WIAA state cross country meet with a third-place finish at the Tomah sectional, but she was too ill to compete. She now has a chance to make up for that missed race with two big ones that she's been building toward all spring.
Kalander said her confidence and focus really kicked in with her performance at the MVC meet, which included a victory and time of 5:09.53 in the 1,600 and second-place finish and time of 11:35.17 in the 3,200.
"I didn't start thinking about (state) until about a month ago," she said. "That's when I set some goals and thought it might be possible. Conference was big for me."
Kalander is hoping that her first state track and field meet could be even bigger.
HOLMEN SPRINTERS ENJOY BIG DAY: Holmen senior Seth Holden made it to the infield and collapsed after running the first leg of the 1,600 relay and handing off to teammate Aaron Zmolek.
It said a lot about the way the Vikings were pushing themselves in the boys 400 and 1,600 relays at Empire Stadium.
Holmen had the lead, lost it and took it back during a winning performance and school-record time of 3:24.22 that made this next week a busy one for several runners.
Brandon Christnovich put an exclamation point on a big afternoon by taking the baton in third place for the anchor leg and blowing by both runners that led him after about 100 or 150 meters.
"That's a great way to finish our last race at Holmen High School," said Christnovich, who also qualified with the winning 400 relay (42.34) and 200 (21.97). "I saw (Holden) collapse after he ran, and that really got me motivated for when I got my turn.
"We had to make the most of this."
LOGAN: Senior Jarrod Besl is a double state qualifier after placing third in the long jump (21-9 3/4) and helping the 1,600 relay team place third (3:25.48). Logan's girls also third in the 3,200 relay (9:41.75).
CENTRAL: The Red Raiders will be represented by senior Abbi Klos in the 300 hurdles and freshman Abbi Stafslien-Dumale in the shot put.
Klos ran the 300 hurdles twice after a disqualification in the first race and wound up third with a time of 47.21. Stafslien-Dumale was second with a throw of 38 feet, 1/4 inch.
ONALASKA: Sophomore Austin Glynn continued his hot second half of the season by winning the discus with a toss of 164 feet.
Junior Amanda Wiebke advanced with a second-place finish in the triple jump (36-3 1/4 ), and sophomore Isaac Lock was third in the pole vault (13-0).
The boys 800 relay team of Andy Thorsen, Mitchell Schaller, Lock and Austin Mihalovic also qualified with a time of 1:32.03 and third-place finish.
Get in the game with our Prep Sports Newsletter
Sent weekly directly to your inbox!