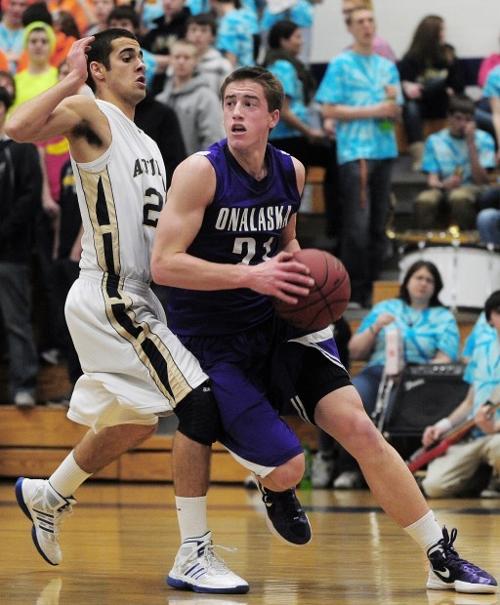 Martha Thomas remembers the moment specifically. Any mother would. It was exactly where she never wanted to be. She was gathered with her three children and trying to find a way to share some awful news.
Martha's ex-husband, the father of Tony, Matt and Josie, had committed suicide.
It was a scary enough word and scary enough reality for Martha, let alone a seventh-, fifth- and second-grader to have to accept in that room at their home in Onalaska.
"It was such a hard thing to explain to them," Martha said. "One of the hardest parts was that he used to always take Josie out for her birthday, and the next day was her birthday.
"She said, 'I guess I won't get to go on any more birthday dates,' and that was so hard to hear."
Martha thought that Matt, then a fifth-grader, had the closest relationship with his dad.
"He was crying, and it hit him pretty hard," Martha said of Matt, now an All-State junior guard for the Onalaska High School basketball team. "I think it was the toughest on him because of his age and because they were so close."
But that moment also may have made the four of them much closer than they already were.
Martha started limiting some of the time her kids spent with their friends, not to shelter them, but to strengthen the bond at home.
"She really kept us together a lot," Tony said. "There were a lot of times where we wanted to go do something on our own, and she'd say, 'No, let's spend time as a family.'
"We stuck together and were there for each other, and that got us through it."
As Matt's involvement with athletics grew, so did relationships with other families in Onalaska.
He said he reached out to find support there, too.
"We were close; he was my dad," Matt said. "But there have been a lot of people in my life, like friends' parents and stuff, who have been there for me.
"That's been very cool, and I look up to people like that."
The basketball community in Onalaska is a tight one, and Martha and her children have always fit in with it very well.
That, more than anything, probably explains the kind of person Matt has become.
He's currently being pursued by some pretty big NCAA Division I universities for his basketball skills.
That kind of national attention could make Matt unapproachable, but he isn't.
It could turn him into an insufferable egomaniac, but it hasn't.
The way he carries himself on the court and off of it has a lot to do with the last six years of family bonding that has taken place.
Try going to Onalaska and starting up a conversation about Matt's basketball skills with anyone in the basketball community.
It won't take more than a minute or two before you are asked a question of your own and receive a variation of the same observation.
"Have you met Martha?" they will ask. "Boy, what a great family."
Martha said she could see something special in Matt's basketball skills as early as 4 years old and maybe sooner.
Matt, a member of the AP All-State third team a year ago, didn't really start to feel like he was a special player until he was in sixth or seventh grade.
"That's when I thought I had a chance to be one of the best players on my team and in the area," Matt said. "That's when I started to work really hard on getting better.
You have free articles remaining.
He caught his mom's eye with his ability to dribble. Soon, his shooting ability convinced her that he was going somewhere with the sport.
"He was truly amazing as a shooter," Martha said of her boy, who has grown into a 6-foot-4 guard who can play inside and outside despite his reputation as a perimeter shooter.
The success he enjoyed during those few years before high school is what slowly pulled his attention from football to basketball.
Once obsessed with running pass patterns in the back yard and catching passes from Martha, Matt starting concentrating on his jump shot.
Matt's discipline carried him through early development in the game, and he practiced his shooting whether he was with friends or alone.
"Even then, I'd see that I could get a lot more done by myself," Matt said. "I loved playing basketball with my friends, but there were things I had to do myself, too."
He turned into the 20-point scorer that he is now with a lot of hard work, and plenty of it came at a young age.
"His teachers have told me that he has this drive and ambition that says he can get whatever he wants," Martha said.
He's shown that with incredible individual performance for both the Hilltoppers and his AAU team.
He poured in 40 points during one AAU game over the summer, and Tony said he had a blast watching the college coaches in attendance shake their heads with every shot that Matt made.
"They were in disbelief," Tony said. "They were talking to each other and laughing and giggling whenever he did something.
All feedback is that Matt wants to play basketball on the highest collegiate level he can, and the way he's played this season for the state's top-ranked Division 2 team — through passing, rebounding and defending just as much as shooting — shows that he should get that chance.
The number 48 is brought up periodically in the Thomas household and outside of it.
Martha laughs when asked about it, but you can also tell that she's thrilled to have something basketball-related to hang over the heads of her children.
Martha was a swimmer, tennis player, softball player and basketball player during her days at Dubuque Wahlert High School.
She was a state qualifier as a swimmer, but the 48 points that Martha scored in a 101-91 loss to Waukon on Jan. 18, 1980 is the piece of history that keeps coming up.
She's shared her record-setting performance with Minnesota coach Tubby Smith, Iowa State coach Fred Hoiberg and other prominent people when the chance has been there.
"Whenever we go on a college visit with Matt, she has to mention it," an amused Tony said. "She still has the (school) record, and it's a fun story."
Martha said it only becomes a topic when prompted.
"I only bring it up when they ask me if I ever played basketball," Martha said with a laugh. "It was a different kind of game, but I did get 48."
Martha played the game of six-person basketball at Wahlert. It had three offensive players and three defensive players, and they all remained on their own half of the court.
Offensive players were allowed two dribbles before having to make the choice of shooting and passing.
"There wasn't a lot of driving to the basket," Martha said. "We didn't have a 3-point line, but most of my shots were from the perimeter."
Matt laughs when asked about not yet scoring as many points as his mom once did in a game.
"We just tell her that isn't basketball," he said. "But I think it's great that she has the record."
Matt seems well on his way to setting a record or two of his own, too.
Get in the game with our Prep Sports Newsletter
Sent weekly directly to your inbox!