It doesn't take a psychological study to understand the COVID-19 pandemic has taken some sort of mental toll on everyone, everywhere.
The pandemic has claimed the lives of 125,000 Americans while affecting the mental, physical and financial health and well-being of everyone in Dane County, Wisconsin, the United States and beyond.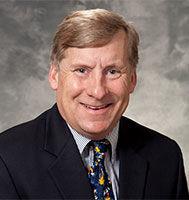 But a recent study of Wisconsin high school-age athletes, taken by Dr. Tim McGuine and his team at the University of Wisconsin School of Medicine and Public Health, has produced some alarming numbers regarding the pandemic's effect on the mental state of student-athletes.
The results make it obvious state and county health officials and school administrators face an extremely difficult choice next month:
Should they allow high school sports to come back to ease the mental health of participants? Or should they keep everything shut down — as they did with the end of the state boys and girls basketball tournaments and the entire spring sports season — in order to minimize the spread of the potentially deadly virus between student-athletes, coaches, officials, friends and families?
"That is a big issue. We always talk about benefits and risks," McGuine said in a WIAA-sponsored online meeting on Tuesday. "For instance, to me, the benefits of playing football far outweigh the chances of suffering a concussion.
"But this is different. The chance that we can spread this disease (to others) changes the dynamic quite a bit."
And in a landscape that changes from day to day, it's too early to make any calls.
"The hard part for this is we really don't know what next month will bring," said Dr. Kevin Walter, chief resident in pediatrics at Children's Hospital of Wisconsin. "So, being able to predict what happens in August is impossible.
"With life, we cannot eliminate risk. There are going to be hard decisions."
McGuine and his team offered an eight-minute online survey in May that drew responses from 3,243 Wisconsin adolescent athletes, age 15 to 17. Fifty-eight percent of the participants were female, and 71 of the state's 72 counties were represented.
The study showed 65% of student-athletes reported anxiety symptoms that normally would lead health professionals to recommend counseling. And more than 25% of respondents reported moderate to severe anxiety.
Another alarming finding: 34.8% of student-athletes described themselves as mildly depressed (up from 21.7% in previous years) and 33.4% rated themselves as moderately to severely depressed — more than triple the previous level of 9.7%.
Student-athletes' physical activity levels dropped by more than half during the shutdown, and their self-assessed overall quality of life fell more than 14% to 78.4 (on a scale to 100) from 90.9.
"In the short term, mental health disorders can impact whether these students use drugs (and) alcohol, stay in school, engage with peers or graduate from high school," the study reported. "In the long term, these disorders can become chronic and influence whether these individuals go on to college, use drugs (and) alcohol extensively or form meaningful lifelong relationships."
"We think the psychosocial effects will impact these kids not only now, but into the future," McGuine said.
McGuine said his study focused only on student-athletes because he wanted to compare the results against results of surveys he has conducted of student-athletes who have come under his care over the past five years.
"We wanted to collect data on athletes to compare and not make generalizations," he said.
Walter said the American Academy of Pediatrics announced on Monday that while social distancing between students and adults should remain at six feet, but between student and student the distance could be reduced to three feet if both are masked.
"The rate that kids pass it on from each other is less (and) the rate that it affects them is less," Walter said.
However, in sports such as football and volleyball, heavy breathing and shouting can cause much larger potentially infectious aerosol sprays than a classroom situation — even though the time of contact is much shorter.
Walter said those in their low 20s and teens are "at very low risk for exposure to COVID-19."
However, during the recent surge in the number of infections, California reported 44% of new cases are people younger than age 35. And studies show that while up to 80% of young people who contract the virus show slight or no symptoms, it's thought these people still can potentially transmit the virus to others who could face more severe reactions.
And if sports resume, adult coaches, administrators and officials will be asked to put themselves in harm's way — along with cheerleaders, friends and fans, if schools choose to allow them.
The study did not ask students to specify whether it was just the lack of sports opportunities that led to anxiety or depression, or whether their mental health was influenced by factors such as closed schools, lack of social interaction or the shutdown's financial impact on the student's family.
From here, state, county and local health departments will have the biggest say as to whether school and school sports resume in the fall. Based on their recommendations, it will be up to individual school districts (and, in some cases, athletic conferences) to make final decisions.
The WIAA's role will be to facilitate understanding of the potential impact of the districts' decisions, to come up with a set of sport-specific guidelines that coaches can follow during practices to minimize the spread of the virus and to administer regular seasons and tournaments as needed.
So far, WIAA executive director Dave Anderson said, no WIAA-member school districts have called off fall sports seasons. The decisions will be made by the school districts and their conferences.
"If we have members that are open and want to have a regular season, we will do everything we can to support that," Anderson said. "If we have members that are open and wish to have a (WIAA) tournament, until our Board of Control gives us different marching orders, we will do everything we can to offer a tournament opportunity."
Concerned about COVID-19?
Sign up now to get the most recent coronavirus headlines and other important local and national news sent to your email inbox daily.