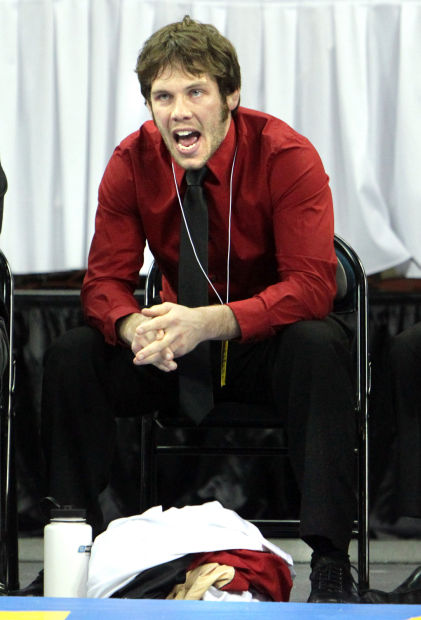 Jake Larsen understands the concept of hard work.
The fact that he can teach that concept to wrestlers is what kept him so busy for two days at the Kohl Center last month.
There were 232 teams represented at the WIAA individual state wrestling tournament at the end of February.
Just five of those 232 coaches took more than Larsen's group of seven wrestlers from Sparta High School.
Larsen had wrestled and coached at the state meet before, but he knew right away that this was going to be a new experience.
"It was a good problem to have," he said of having a large group to coach on the craziness that is the Kohl Center floor. "Then we seemed to hit a point there where we really got on a roll."
Four Spartans wound up on the medal stand, and two of them had the chance to wrestle for a Division 2 championship.
"They really fed off each other while we were there," said Larsen, who has been chosen as the Tribune's wrestling coach of the year. "One of the kids was talking about our strength of schedule and how that helped them handle (the tournament) mentally and physically."
On championship day, Larsen and his program were able to celebrate second-place finishes by Dylan Winchel (113 pounds) and Kyle Burkhalter (182), a third-place finish by John Roddick (120) and a fourth-place showing by Tristan Zurfluh (138).
Those performances will serve as a springboard to the next phase of Larsen's big-picture look at his program.
Larsen's teams have won 27 of 30 MVC dual meets, but he expects things to get even better in the coming seasons.
"Next year will be one of those bubbles from our youth program," said Larsen, a two-time WIAA state qualifier for Turtle Lake and an All-American wrestler at UW-La Crosse. "We're going to get a lot of freshmen coming to the program, and they'll be good, quality wrestlers."
That is a key to the development of a program. Coaches always want to get to the point where fielding a team isn't a rebuilding project from season to season, and Larsen just might be reaching that.
The reason for it is probably his philosophy, which focuses on regimen for younger wrestlers until competition takes over when they are older.
Larsen doesn't care if a 10- or 12-year-old wrestles any tournaments — well, a couple would probably be welcomed to develop an understanding of them. His preference is that they spend their time familiarizing themselves with the sport and getting into a routine of working at it on a regular basis.
It's why he hosts open mats — open to anyone interested — year-round and recently met with the parents of Sparta youth wrestlers to talk about the desired approach to the sport.
"When they are younger, the important thing is that they get on the mat," Larsen said. "It doesn't matter to me if they don't go to the freestyle tournament in Reedsburg on Saturday or Sunday.
"I want them to know that the way they get better is by being at those practices and not skipping them just because they don't want to go. That's how we got to where we are right now."
Without that kind of commitment — from both wrestlers and coaches — a program can't become a contender.
When it becomes a contender, it can become a champion, and that's just where Larsen's focus is with the Spartans.
Get in the game with our Prep Sports Newsletter
Sent weekly directly to your inbox!